Brussels to Amsterdam
From the largest city in Belgium to the largest in Holland..
This bike and barge holiday combines the countries Belgium and the Netherlands in a very surprising and attractive way. In 8 days time you will cycle from Brussels to Amsterdam.
On the arrival day your floating hotel stays in Mechelen. The next day you have time to visit the beautiful Belgian capital of Brussels.The Flemish port town of Antwerp is also one of the highlights of this tour. Belgium is famous for it's tasty beers. They say you don't really know Belgium without tasting some!
Crossing the Dutch border you reach the well preserved fortified town of Willemstad. In the old town of 's Hertogenbosch, the St. Jans cathedral is certainly worth a visit. Across Hollands fruit garden, the Betuwe, and along the rivers Vecht and Amstel you cycle to Amsterdam.
Standing at the Dam Square in Amsterdam the Market Square in Brussels seems miles away!
Be sure to check out our full list of bike and barge tours in the Netherlands.
Where
You'll Stay
Aboard Standard plus boats, the Zebra or the Tijdgeest.
What's
Included
7 nights' accommodations on board
Breakfasts, packed lunches, & 3-course dinners
Coffee & tea on board
7-speed hybrid bicycle
Route descriptions & maps
Multi-lingual tour guide
Train ticket Mechelen - Brussels
Beer seminar at 't Waagstuk, Antwerp
Several City Walks
Bicycle protection
Transfer from Amsterdam airport to Mechelen
What's
Not Included
Beverages, available on board
Tour
Dates
On Standard plus boats: 
Tijdgeest: June 18 and July 30, 2016
Holland: August 13, 2016
Skill
Level
Easy, guided bike & boat tour with average distances between 20 to 28 miles a day over flat roads and bike paths with little to no traffic.
Tour
Boats
Day-To-Day
Itinerary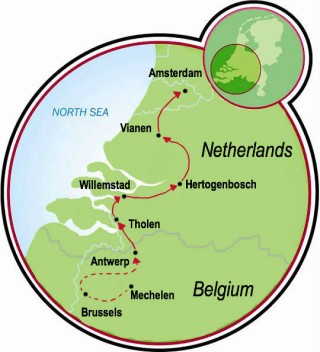 Day 1: Arrival in Mechelen, optional cycling 6 mi. (10 km)
Day 2: By train Mechelen - Brussels - Antwerpen, day of rest.
Day 3: Antwerp - Tholen, 22 mi. (35 km)
Day 4: Tholen - Willemstad, 28 mi. (45 km)
Day 5: Willemstad - 's Hertogenbosch, 28 mi. (45 km)
Day 6: 's Hertogenbosch - Vianen, 25 mi. (40 km)
Day 7: Vianen - Breukelen - Amsterdam, 19 mi. (30 km)
Day 8: Departure from Amsterdam.
*All distances are approximate. The above planned itinerary is subject to change due to changing wind and weather conditions and other unforeseen circumstances having to do with mooring requirements, etc.
Day 1: Arrival in Mechelen, optional cycling 6 mi. (10 km)
Arrival in Mechelen (appr. 20 minutes by train from Brussels). Your tour leader will invite you for a small trip on your bike in and around Mechelen.
Day 2: By train Mechelen - Brussels - Antwerpen, day of rest.
You get up early to go by train to Brussels and enjoy a walk to the town centre with your tour guide. There's time to visit some of the highlights of the capital of Belgium. When you become hungry or thirsty, try one of the culinary specialties: mussels, chocolate, waffles or french fries. At the beginning of the afternoon you return to Antwerp by train. In the evening you'll be tasting some special beers during a cozy beer seminar in a typical Belgian bar.
Day 3: Antwerp - Tholen, 22 mi. (35 km)
Your tour guide will lead you to the town center of Antwerp. There is enough time to visit the Rubens House, do some shopping, or to simply relax at a sidewalk café. Around noon the boat begins cruising across the Dutch/Belgian border to the Kreekrak locks where we today's cycling tour starts. You will reach the peninsula of Tholen in the province of Zeeland.
Day 4: Tholen - Willemstad, 25 mi. (40 km)
The cycling trip leads us from Tholen to the walled town of Willemstad, where you spend the night. Willemstad has many well-preserved fortifications worth admiring.
Day 5: Willemstad - 's Hertogenbosch, 28 mi. (45 km)
You disembark in the town of Geertruidenberg to begin your cycling trip to the charming capital of the province of Noord-Brabant: 's Hertogenbosch, translated "the Duke's forest". This town is home to the oldest remaining brick house in Holland (de Moriaan), built in the early 13th century.
Day 6: 's Hertogenbosch - Vianen, 25 mi. (40 km)
You leave 's Hertogenbosch and sail to the town of Tiel, situated in the Betuwe, the 'fruit garden of Holland'. Here you start pedaling across some fine Dutch landscapes and visit the town of Wijk bij Duurstede located on the Rhine. The trip ends in Vianen where you stay for the night.
Day 7: Vianen - Breukelen - Amsterdam, 19 mi. (30 km)
After a sailing trip the barge moors in Breukelen. From here you make the last cycling stretch: enjoy the rural scenery of tiny villages at the banks of small and winding rivers that show the way to the Dutch capital Amsterdam. In the evening you have the possibility to make a short guided city walk and a round trip of the Amsterdam canals.
Day 8: Departure from Amsterdam.
After breakfast, it's time to say goodbye to your tour guide and crew. Individual departure.
Important note: Due to restrictions by Belgian naval authorities, passengers are no longer allowed to remain on board while the barge motors the Belgian waterways. Non cycling participants will be required to take a taxi or public transportation at their own expense. The tour leader will provide details on board. 
Looking for more?  View all of our featured bike and boat tours, or our full list of bicycle tours.
Email or Call 800-951-4384 +1 570-965-2064
---
Brussels to Amsterdam
Boats + Barges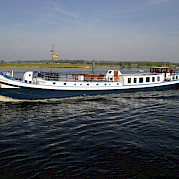 Holland Belgium, Netherlands, Germany Standard Plus Class Boat Aboard the Holland, the owner has succeeded in using all available space as optimally as possible. All air conditioned cabins have private facilities.The chef will serve your meals in the spacious dining room. With the availability of WIFI, you have the possibility to use your own laptop on board. When the sun is shining, the comfortable sundeck is the place to be. The crew guarantees your stay aboard will be unforgettable.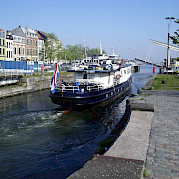 Tijdgeest Belgium, Netherlands Standard Plus Class Boat Built in the year 1897, the Tijdgeest was one of the first passenger barges on the river Rhine in Germany. More than 100 years later, in 1998, the ship was completely renovated and rebuild into a hotel ship. On the lower deck you'll find the cabins, all with private facilities. A number of cabins have twin beds, while others use bunk beds. On the upper deck you'll find a very spacious living/dining room with panoramic view. An on-board computer is available for you to use.