Tulip Tour - 4 Day
Tulips and more tulips!
When the sun rises during Spring in the Netherlands, millions of eager bulbs also rise for the occasion. Acres upon endless acres of the most brilliantly exquisite tulips transform dozens of ordinary fields into a colorful kaleidoscope of hues.
Having been grown in the Netherlands for more than 400 years, 1200 different varieties of these flowers are now harvested, along with a healthy bushel of daffodils and hyacinths, just to name a few. Those familiar with the tulip are also likely familiar with the term "tulip mania". April and May are the tulips' blossoming months, and now there is a 4-day spring cycling tour that revolves around their peak season.
This tulip bike tour will visit the ever-popular Keukenhof (a park filled with hundreds of different tulips) as well as the world's largest flower auction in Aalsmeer. Additional highlights include a visit to a Dutch cheese farm (only applies to certain itineraries) and of course there are the famous Dutch windmills that decorate the expansive Dutch sky. Along the way, you'll also make a stop in Leiden (the quaint University town & famous birthplace of Rembrandt) as well as Haarlem. Considered Amsterdam's "little sister city", Haarlem is adorn with some great examples of late Gothic architecture, such as the famous St. Bavo Church, on whose organ Mozart, Handel and Liszt all played.
A comprehensive list of all of our bike and barge tours in the Netherlands is here.
Tour
Dates
On the Standard Plus boats: 
Holland: April 11, April 14, April 18, April 21, April 25, April 28, 2015
Tijdgeest: April 25, April 28, May 2, and May 5, 2015
On the Comfort Class boats: 
Gandalf: April 18, 2015
Jelmar: April 4, 7, 11, 14, 18, 21, May 2, 5, 9, and 12, 2015
Where
You'll Stay
Comfort class boats, the Gandalf or the Jelmar or the Standard Plus class boats, the Holland or Tijdgeest
What's
Included
On the Gandalf
3 nights' accommodations on board ship
Breakfasts, packed lunches, + 3-course dinners
Coffee & tea on board
Tour guide
Hybrid bicycle equipped with pannier bags
Entrance to the Keukenhof
On the Holland, Jelmar, or Tijdgeest
3 nights' accommodations on board ship
Hybrid bicycle equipped with pannier
Breakfasts, packed lunches, + 3-course dinners
Coffee & tea on board
Tour guide
Entrance to Aalsmeer flower auction
Entrance to a cheese farm & windmill
What's
Not Included
Individual arrival to the boat
Beverages (incl. alcohol) available on board
Other museum entrance fees
Gratuities
Day-To-Day
Itinerary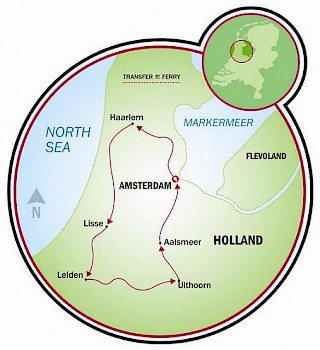 On the Gandalf: 
Day 1: Amsterdam - Haarlem 9 mi. (15 km)
Day 2: Haarlem - Leiden 25 mi. (40 km)
Day 3: Leiden - Amsterdam 25 mi. (40 km)
Day 4: Departure from Amsterdam
Day 1: Amsterdam - Haarlem, 9 mi. (15 km)
Arrival and meeting on board at 1PM in Amsterdam, at the dock of the Gandalf. The boat departs for Harlem by 2 PM. Enjoy a welcome lunch and presentation of the tour. Bike tour of the city of Haarlem and its surroundings. Dinner on board at 6:30 PM.
Day 2: Haarlem - Leiden, 25 mi. (40 km)
Your first bike tour begins at 9 AM. See the endless expanses of colorful flower fields all the way from Haarlem to Lisse. Visit the Keukenhof. Lunch with a stop at a cafe. Continue by bike to Leiden. Dinner at 6:30PM. Night visit to the city.
Day 3: Leiden - Amsterdam, 25 mi. (40 km)
During breakfast the barge cruises to Kudelstaart. From there, you'll bike to Amsterdam. Along the way, visit a cheese farm. You'll enter the city along the Amstel River. After dinner, explore the city of Amsterdam!
Day 4: Amsterdam
Departure from Amsterdam following breakfast.
On the Holland, Jelmar or Tijdgeest:
Day 1: Arrival in Amsterdam. Cruise to Spaarndam; by bike Spaarndam - Haarlem, 6 mi. (10 km)
Day 2: Haarlem - Lisse (Keukenhof) - Leiden, 9 mi. (15 km)
Day 3: Leiden - Uithoorn, 19 mi. (30 km)
Day 4: Uithoorn - Aalsmeer - Amsterdam, 9 mi. (15 km), Departure
Day 1. cycle trip ± 10 km.
After the embarkation in Amsterdam, you'll be sailing to Spaarndam, the picturesque village of Hans Brinker. From here there is a short cycling trip to Haarlem. In the evening you your tour leader takes for a nice city walk through the old centre.
Day 2. cycle trip ± 15 km
Today you sail to Lisse here you disembark and cycle to the famous flower garden 'Keukenhof' for a visit. Here you see about 6 million tulips, hyacinths, daffodils and other flowers. After your visit, the cycle tour crosses the blossoming bulb fields and ends in Leiden.
Day 3. cycle trip ± 30 km
In the morning you will make a walkingtour through Leiden, the birthplace of Rembrandt.
Later you will cycle through the fine Dutch landscapes in the so-called Green Heart of Holland to Kudelstaart. During this cycle trip you will visit a traditional cheese farm and a miller will tell you about the history and working of his windmill.
Day 4. cycle trip ± 15 km
You rise early, because you visit the world's biggest flower auction in Aalsmeer. Before leaving the barge you have to clear your cabin. After the visit you get back on board and sail back to Amsterdam.
*All distances are approximate. The above planned itinerary is subject to change due to changing wind and weather conditions and other unforeseen circumstances having to do with mooring requirements, etc
---------------------
TIME FOR TULIPS*
Holland truly is the land of bulbs, tulips and many other flowers. Every year, The Keukenhof has a huge horticultural exhibition. In addition, Aalsmeer is the location for the world's biggest Flower Auction Halls (and you will visit them!). Holland: the country where the magic blooms!
Every month of the year Holland surprises its visitors; the earliest bulbs have barely shown their faces, before pastel-hued fruit trees burst into bloom around mid-April. Hundreds of glorious gardens create a colorful atmosphere all over the country.
THE KEUKENHOF
Imagine... a day of complete enjoyment in a park filled with colorful tulips, daffodils and hyacinths in harmony with ancient trees, ponds and fountains. The perfect place to find a splendid spring sensation!
Keukenhof offers 80 acres in size for wonderful walks, with miles of paths leading to a variety of unusual gardens, including the Japanese Garden, the Nature Garden and the Historical Garden, a sources of inspiatiofor your own garden.
In 1830, the German landscape architect, Zocher, inspired by English landscapes, drafted the basic design for Keukenhof's park. In 1949, a group of prominent bulb growers and exporters came up with the idea to establish an outdoor display for the bulb-growing industry.
Each spring Keukenhof bursts with new energy and there are no less than 7 million bulbs about to bloom in different colors and scents. From the very first day of the opening it is possible to admire different, magnificent indoor flower exhibitions in four pavilions.
But Keukenhof offers more than just flowers... throughout the park, works of art by Dutch artists, both famous and less so, are on display, as well as exhibitions of paintings and photographs.
Opening hours are daily from  March 20, 2014 until May 17, 2015
The park will be open daily from 8 AM to 7:30 PM (ticket office closes at 6:00 PM).
To learn more about the Keukenhof, please visit  the Keukenhof web site. Click on the British flag for the English version.
* Time for Tulips and The Keukenhof information above is courtesy of the Netherlands Board of Tourism.
Looking for more?  View all of our featured bike and boat tours, or our full list of bicycle tours.
Questions? Contact Us or Call 877-965-2064
---
Tulip Tour - 4 Day
Boats + Barges