Tulip Tour - Amsterdam to Bruges
Come see the beautiful spring flowers of this famous cycling route!
In April and May all of Holland is blooming. Therefore this is the perfect time to see the famous bulb fields showing the colorful tulips and hyacinths. Furthermore, this tour shows you some lovely old Dutch towns like Dordrecht and Gouda, famous for it's delicious cheese! Crossing the border to Belgium takes you to the Belgian pearls of Antwerp, Ghent and on top of that, Bruges!
Want to see more bike and barge tours in Holland?
Tour
Dates
2016 Dates:
On Comfort Plus boat:
Merlijn: April 23 & May 7, 2016
2017 Dates
On Comfort Plus boat:
Merlijn: April 15, 2017
Skill
Level
Easy, guided bike & boat tour. Bicycle routes follow mainly flat bike paths & country lanes with little traffic. Occasionally heavier traffic is encountered when entering the bigger cities. Daily cycling distances range from approximately 16 to 25 miles (25 to 40 km). Guide bikes with the group but it's also possible to cycle on your own.
Where
You'll Stay
Click barge information for further details about the classes of boats.

What's
Included
Welcome drink
Accommodations for 8 days/7 nights on board
All meals breakfast, packed lunches and three course dinners (excluding one dinner)
Entrance fee to the Keukenhof
24-gear tour bike, incl. water bottle, universal sized helmet and bike bag
Tour guide
Unlimited coffee, tea and hot chocolate during the trip on board and potable ice water through out the meals
Harbor fees
What's
Not Included
Excursions not mentioned
Biking maps (for sale on board)
1 dinner
Day-To-Day
Itinerary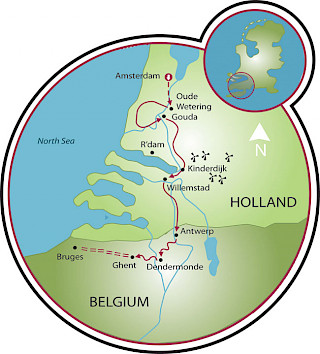 Aboard the Merlijn
Day 1: Arrival in Amsterdam, cruising to Harlem
Day 2: Haarlem - Lisse - Keuhenhof - Leiden, 18 mi. (30 km)
Day 3: Leiden - Gouda - Dordrecht, 21 mi. (35 km)
Day 4: Dordrecht - Willemstad - Tholen - Antwerp, 27 mi. (45 km)
Day 5: Antwerp - Baasrode, 21 mi. (35 km)
Day 6: Baasrode - Merelbeke - Ghent, 27 mi. (45 km)
Day 7: Ghent - Bruges, 24 mi. (40 km)
Day 8: Departure from Bruges
Day 1: Arrival in Amsterdam, cruising to Harlem
The Merlijn, your sailing hotel, awaits you in Amsterdam. Embarkation is between 1 and 1:30 PM. The barge departs at 2PM to Haarlem. It is necessary to leave on time because of the operating hours of the bridges. The crew will welcome you on board and while you enjoy a welcome drink, you will be informed about the barge and the daily tours. The barge stays overnight in the neighborhood of Cruqius, just past Haarlem.
Day 2: Haarlem - Lisse - Keuhenhof - Leiden, 18 mi. (30 km)
During breakfast, the Merlin will take you a little closer to the Keukenhof and docks at Lisse. Here, your first bike tour will begin to the Keukenhof. After this visit you will cycle to Leiden.
Day 3: Leiden - Gouda - Dordrecht, 21 mi. (35 km)
Enjoy breakfast while the boat cruises to the starting point of the bike tour at Gouda. You will begin by biking through one of the most beautiful parts of Holland, the"Green Heart of Holland " en route to the Kinderdijk, world famous for its impressive row of large windmills. They were built to drain the Alblasserwaard. You have the opportunity to take a tour inside one of the mills. From here, board the Merlijn and cruise to Dordrecht, one of the oldest towns of Holland, where you will enjoy a walking tour through this charming old city
Day 4: Dordrecht - Willemstad - Tholen - Antwerp, 27 mi. (45 km)
During breakfast the boat cruises to Willemstad, where your bike tour to Tholen starts. Tholen was once an island in the middle of the large Zeeland streams, where many people were fisherman by trade. Today, Tholen is connected to the mainland in various ways, but it is still a picturesque village with many relics of an eventful past. Today's bike tour ends here and the barge takes you into the Willemdok of Antwerp. Antwerp is not only known as diamond city, but also as native city of the painter Rubens. In the Rubens House, you can admire his work. In the heart of the city you will see the Cathedral of Our Lady and beautiful town houses from a rich past are situated around the Market Square. Tonight you will enjoy your dinner on your own in one of the many local restaurants in Antwerp.
Day 5: Antwerp - Baasrode, 21 mi. (35 km)
After breakfast you will have more time to explore the city of Antwerp. At around 9 AM you will board a tram that brings you into the heart of Antwerp. You may want to visit the Rubens House if you did not get an opportunity earlier, or a diamond factory. You can also go shopping in the lively center. After your visit, board the Merlijn and have lunch on board while cruising to Rupelmonde. Here, your bike tour for today begins. The tour follows the river Schelde further upstream via Temse to Baasrode.
Day 6: Baasrode - Merelbeke - Ghent, 27 mi. (45 km)
After breakfast, bike along the river Zeeschelde. Our first stop will be in Dendermonde, a nice country town on the Dender estuary. The route follows this beautiful but capricious tidal river, Schelde, upstream to Ghent, a lively university city. This city has a rich past with origins in Roman Times, and is located at the place where the rivers, Leie and Schelde converge. This favorable situation brought a great deal of prosperity over the years, which had its peak late 13th, early 14th century. The textile industry brought great wealth. In the city center many old patrician houses have been preserved. In the Clothmakers' Hall (1425) textile merchants used to meet. The major church is St. Baafs' Cathedral, built in various ages and in various styles. In the cathedral you can admire a number of medieval paintings, including, 'Adoration of the Lamb' by Jan van Eyck. 
Day 7: Ghent - Bruges, 24 mi. (40 km)
During breakfast, the barge cruises to Aalter, where your last biking tour begins and leads through the pleasant countryside of Western Flanders to Bruges. Bruges, also called the Venice of the North, maybe is the most beautiful of all Flemish cities. Its old center, which dates from the Middle Ages, is almost completely in tact. At the time, Bruges was a metropolis, the center of trade and art. Bruges is also great for shopping. In the afternoon, enjoy a walking tour through this city. You may even want to include a ride through the canals. Farewell dinner on the Merlijn and your last overnight stay on board.
Day 8: Departure from Bruges
Please note, 2017 itineraries are subject to change. 
Looking for more?  Check out our full list of bike and boat tours or view all our featured bike trips, specials, and news.
Email or Call 800-951-4384 +1 570-965-2064
---
Tulip Tour - Amsterdam to Bruges
Boats + Barges