Tyrrhenian Sea
Italy Bike + Barge Tours
Bike Italy and the Amalfi Coast! See the country by land and sea…
This Italian cycling adventure takes you along the Amalfi Coast and Gulf of Naples, and inland to Pompeii, Sorrento, Ravello, and more.
The tour in Pompeii is especially profound, as you relive the terrible erruption of the volcano Vesuvius that buried thousands in poison and ash.
Atop the majesty of Ravello whose dreamlike gardens inspired Wagner, you will gaze out upon the Amalfi coast. Explore the mystery of the impressive cathedral, the venerable Duomo, dedicated to San Pantaleone whose blood is a treasured relic and according to locals, liquefies every year.
Stand atop the mountain peak at Cimbrone and feast your eyes on what has been described as the most beautiful sight in all the world. A sight that legend claims was used to tempt Jesus himself.
Check out all of our bike tours in Italy.
Tour
Dates
2016 Dates
Deriya Deniz: Saturdays from April 30 to June 25, 2016 and from August 27 to October 15, 2016 (except September 3)
Caicco Mariagiovanna: May 7, May 14, May 21, May 28, September 3, September 10, September 17, September 24, 2016
Skill
Level
This Italy bike tour is considered moderate with daily biking distances ranging between approximately 19 to 25 miles (30 to 40 km). Terrain is hilly and each day there will be climbs to conquer on narrow roadways with traffic. Difference in elevation is between 0 and 650 m per day. This tour requires a very good fitness level and command of the bike.
Where
You'll Stay
Aboard the Turkish gulet, the Derija Deniz. A gulet is the traditional design of a two-masted wooden sailing vessel from the south-west coast of Turkey. Though this is traditionally a sailing vessel, the sails will not be relied upon for wind power but the motor will always be utilized.
What's
Included
Accommodation in double cabin with private bath
All meals (except 1 x dinner in Amalfi)
21 speed bike rental
Italian/English speaking guide
What's
Not Included
Transportation to/from harbor
1 x dinner in Amalfi
Beverages (including water)
Entrance fees and excursions (museums, parks, monuments)
Unexpected docking fees due to adverse weather (Approximately €150 to be split among tour participants)
Gratuities
Day-To-Day
Itinerary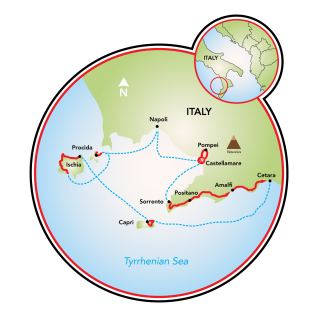 Day 1: Arrival and embarkation, Marina di Castellammare
Day 2: Pompeii, 9 mi. (14 km)
Day 3: Sorrento - Positano - Amalfi, 21 mi. (34 km)
Day 4: Amalfi - Minori - Vietri - Cetara or Salerno, 18 mi. (29 km), alternate route: add Ravello, 24 mi. (35 km)
Day 5: Capri
Day 6: Island Ischia, 15 mi. (25 km)
Day 7: Procida and Napoli
Day 8: Departure
*All distances are approximate. The above planned itinerary is subject to change due to changing wind and weather conditions and other unforeseen circumstances having to do with mooring requirements, etc.
DAY 1: Arrival and boarding at Marina di Castellammare
Embarkation at 6 PM at the Marina di Castellammare di Stabia. Welcome drink, dinner and presentation of the program.
DAY 2: Pompeii, 9 mi. (14 km)
You will start in a fascinating way with a tour in Pompeii, the forgotten city. In 79 AD, Mount Vesuvius erupted and Pompeii and nearby Herculaneum disappeared from the face of the earth. Gradually grass and vines covered the land where the towns once stood. The local people eventually forgot that these towns even existed. In 1748, Pompeii was rediscovered. Under the ash everything remained as it was at the time of the eruption which ended the lives of 20,000 Pompeian residents. After returning to the boat, you will set off for Sorrento and spend the night there.
DAY 3: Sorrento - Positano - Amalfi, 21 mi. (34 km)
In the morning, you will visit Sorrento. This small town overlooks steep, white cliffs and offers a fantastic view over the Bay of Naples. It lies on a Tufa terrace and is enclosed by the impressive rocks of the limestone mountains. For 2000 years, visitors from all over the world have been attracted to Sorrento by its breathtaking sunsets and fragrances of orange and lemon gardens. You will cycle along a wonderful road overlooking the sea up to Positano.  You will love the vibrant colors; the white of the buildings, the bright flowers which decorate the houses, and the small artisans' shops with their multihued cloths. After Positano, you will continue cycling Amalfi. You will want to visit the cloister of Paradise and the church and to walk the narrow streets lined with the white houses of fishermen.
DAY 4: Amalfi - Minori - Vietri - Cetara or Salerno, 18 mi. (29 km), alternate route: add Ravello, 24 mi. (35 km)​
Leaving Amalfi, you will continue your bike tour of Italy, cycling along the coast on a road that overlooks the sea. You will encounter some ups and downs, passing through the villages of Minori, Maiori, and Cetara. If you desire, you can take an alternate route at this point and cycle towards beautiful Ravello. At the top of the mountain, there is a terrace called "The Terrace to The Infinite", aptly named, as you will see. Back on the road, you will continue along the coast through Vietri to Salerno where you will board once again to spend the night.
DAY 5: Capri
You will start your day with a boat to Capri, a beautiful island with beaches to take swimming breaks on. The boat will anchor at the Marina Grande, from there you can explore the island on foot. The Grotta Azzurra (Blue Grotto) is here. It is known throughout the world for its size, the intense blue tones of its interior and the magical silvery light which emanates from the objects immersed in its waters. You will return to the ship and cruise around the island to reach the famous 'faraglioni'. Faraglioni are three large blocks of jutting rocks which have survived coastal landslides, erosion by the sea and all manner of atmospheric corrosion.
DAY 6: Island Ischia, 15 mi. (25 km​)
Cycling from Ischia port you will cross by bike the west part of the island among the scents and flavors of the Mediterranean sea, crossing little villages with the possibility of visiting little museums along the stage. Overnight in the thermal village of S. Angelo.
DAY 7: Procida and Napoli
From Ischia, you travel on board up to Procida. You can enjoy a walking tour of the town and the San Michele Abbey. Continue on to  Naples where you will disembark and visit the city. Starting from Spacca Napoli, the old quarter and heart of Italy, dense, dark and intoxicating, its ancient Greek streets teem with tourists, scooters, shrines and secret hidden treasures. Walking the narrow streets, you will see baroque churches and palaces, the San Carlo theater, and the Plebiscito Square.
DAY 8: Departure
This cycling adventure will end after breakfast.
You can view all of our bike tours in Europe or look at our featured bike trips, specials, and news.
Email or Call 800-951-4384 +1 570-965-2064
---
Tyrrhenian Sea
Boats + Barges