Girona Countryside
Spain Bike Tours
A Girona Cycling Experience for all to enjoy!
In the northeast corner of Spain, bordering France, the Catalonian province of Girona encompasses a rugged and beautiful stretch of the Costa Brava, the inland plains of the Empordà and the western section of the Pyrenean mountain range. The countryside throughout inland Girona is stunning.  The climate is excellent for crop growing as the ground is fertile. On this Girona bike tour you'll see fields of fruit, vegetables and sunflowers and lots of wooded areas.
This tour is also available as a road bike tour called Premium Girona Road Bike Tour, providing different itinerary with a little extra mileage for the road cyclist that loves to be atop a road bike but still loves a relaxed itinerary with time to explore the surroundings.
For a list of all of our bicycle trips in Spain click here.  A list of bike tours in Portugal can be found here.
Where
You'll Stay
Luxury accommodations which include a fabulous restored 14th century hospital and upscale sea front hotel.
What's
Included
6 nights accommodations
Breakfast
Luggage transfer
Route books
Detailed maps
Welcome meeting
Cycling jersey and water bottle
Bicycle rental
Bike fitting
What's
Not Included
Meals other than breakfast
Tour
Dates
Arrivals possible any day, all year round, 2014
Skill
Level
Daily rides range from 16 miles to 32 miles. On Day 4, there are some ascents along a serpentine road. Routes are on regular country roads and cycle paths.
Day-To-Day
Itinerary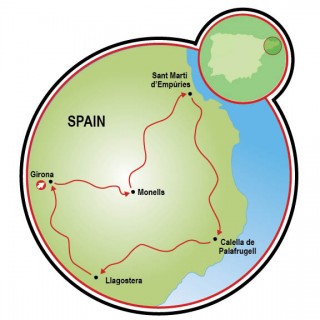 Arrival in Girona
Girona to Monells, 16 mi. (25 km)
Monells to Sant Marti d'Empúries, 22 mi. (35 km)
Sant Marti d'Empúries - Calella de Palafrugell,  25 mi. (40 km)
Calella de Palafrugell - Llagostera, 31 mi. (50 km)
Llagostera - Girona, 16 mi. (25 km)
Departure from Girona
DAY 1: Arrival in Girona
Girona has all the charm of a large city but without the crowds. Located in the northeast of Spain on the Costa Brava, near the French border, it is a beautiful walled city.  Experience walking the ancient streets and exploring the old quarter. You will either have a welcome meeting and bike fitting this day or on Day 2.
DAY 2: Girona to Monells, 16 mi. (25 km)
Your first day biking Girona takes you around the famous mountain of Els Angels at 484 m altitude, winding along country roads through a landscape dotted with medieval villages and rolling Mediterranean vistas. This day is an easy ride allowing time to relax. No need for an early start so you can relax and refresh.
DAY 3: Monells to Sant Marti d'Empúries, 22 mi. (35 km
Your second day on the bike has you cycling north through rolling hills dotted with olive groves and vines visiting the walled village of Verges and the hilltop hamlet of Sant Iscle d' Empordá. It is a stunning ride on quiet country roads with no long climbs but a few small hills. You will stay in either the sea front hotel located only about 10 m from its own secluded beach or in a typical Catalan town hostel in this tiny cliff top village.
DAY 4: Sant Marti d'Empúries - Calella de Palafrugell,  25 mi. (40 km)
Today's ride runs south along the coast offering  diversity with  perfect twists and turns on rural roads. You pass through several of the  picturesque seaside villages including  L'Escala and the famous medieval town of Pals. As well as views of the coastline and mountains, Pals has cobbled streets and ancient village walls and archways The Gothic Quarter of the town has been substantially restored and the  cobbled streets are graced with semicircular arches, façades with pointed arched windows and stone balconies. The town wall contains four square towers which date from the 4th century. This ride takes in the best that the area has to offer, a region that produces wine, olives and grain, the route leads through vineyards, olive groves and rice growing fields. Overnight will be in the sea side town of Calella de Palafrugell.
DAY 5: Calella de Palafrugell - Llagostera, 31 mi. (50 km)
Continuing south, you follow the coast before cutting inland to the hilltop village of Llagostera. Enjoy the Costa Brava and visit some of the hidden gems of the coast like La Fosca bay and ride the Sant Antoni de Calonge promenade. 
DAY 6: Llagostera - Girona, 16 mi. (25 km)
Today your return to Girona  on a mainly flat cycle path right to your hotel door. You pass the market villages of Cassá de la Selva and Quart as the landscape begins to change  as you come closer to the Pyrenees.
DAY 7: Departure.