Heidelberg to Strasbourg
A fascinating three region bike tour in Europe
This bike tour in France and Germany takes in areas renowned for their wine growing: Pfalz, Baden and Alsace. By day, you'll cycle through scenic landscapes dotted with farms, meadows, cathedrals, and castles, while in the evening, you can sit, relax, enjoy some local wine with your dinner, and possibly stroll through whatever lovely little city you'll be spending that night in. Since you will be spending a few nights in spa-resort towns, there will be ample opportunities to treat yourself to after an invigorating day of cycling.
You will bike Heidelberg, whose fame and history extend back to Martin Luther and the Calvinists. Located nicely on the Neckar River, Heidelberg is well-known for its University, which was the leading one of its kind in 19th century Germany and is also the oldest in the country (having been founded in 1386)!
Worms contains an impressive imperial Cathedral (Wormser Dom) that is one of Germany's finest examples of Romanesque architecture! Worms also played a prominent role in the ancient German Nibelungenlied (an epic poem that tells the tragic story of a dragon slayer and the royal Burgundians family). A festival is held every year to retell the tale. The Nibelungensaga is said to be factually based on individuals and events of the 5th and 6th centuries. While in Worms, be sure to indulge in some of their well-known Liebfraumilch wine! And what about Bad Dürkheim's Wurstmarkt? It is said to be the greatest wine and sausage festival in the world held every September. These are just some of the highlights on this great tour!!
Want to see more bicycle tours in France?
Where
You'll Stay
Category A: 3 star to 4 star hotels
Category B: 3 star hotels and B&B's
What's
Included
Accommodations for the duration of the tour in selected category
Personal tour information
Breakfasts
21-speed hybrid bicycle
Luggage transfer
Tour information
Route descriptions & maps (1 set per booked room)
Sign posted route
GPS tracks (on request)
What's
Not Included
Train ticket Frankfurt to Heidelberg, ± € 25
Lunches and dinners (it is possible to include dinners for a supplement)
Tour
Dates
Arrival possible daily from April 23 to October 9, 2016
Season 1: April 23 to May 8 and September 26 to October 9
Season 2: June 13 to August 14
Season 3: May 9 to June 12 and August 15 to September 25
Skill
Level
This is an easy self-guided hotel tour with daily distances ranging from 28 to 44 miles. Routes make use of good, hard asphalt roads (bike paths/side streets). Terrain is almost entirely flat with a possible sloping hill or two.
Day-To-Day
Itinerary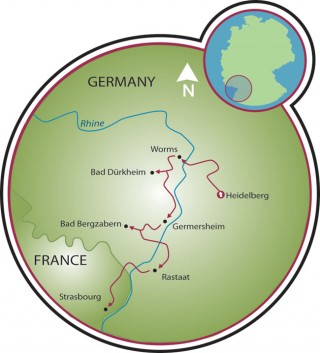 8 Day Tour:
Day 1: Arrival in Heidelberg
Day 2: Heidelberg - Worms, 28 mi. (45 km)
Day 3: Worms - Bad Dürkheim,  25 mi. (40 km)
Day 4: Bad Dürkheim - Germersheim, 41 mi. (65 km)
Day 5: Germersheim - Bad Bergzabern, 31 mi. (50 km)
Day 6: Bad Bergzabern - Rastatt, 31 mi. (50 km)
Day 7: Rastatt - Strasbourg, 37 mi. (60 km)
Day 8: Departure from Strasbourg
All distances are approximate.
DAY 1: Arrival in Heidelberg
Individual arrival followed by a welcome briefing and distribution of the bicycles. Enough time remains for an evening stroll to the famous castle of Heidelberg, down to the banks of the Neckar River with its bridges,and through the idyllic old University town.
DAY 2: Heidelberg – Worms, 28 mi. (45 km)
Your bike tour in Germany begins along the Neckar River to the old Roman town of Ladenburg, with its very beautiful and historic old town. Through the Rhine-plain, you will arrive at the old imperial town of Worms. The Cathedral of Worms from the 12th century as well as the old town, the old city walls, the Martin Luther Monument and the oldest well-preserved Jewish cemetery should not be missed.
DAY 3: Worms – Bad Dürkheim, 25 mi. (40 km)
Today, you will cycle the Rhine and go on to the northern part of the German Wine Route. Through almost endless vineyards you visit lovely wine-growing villages, offering quality wines directly from the grower. Further on the route leads to Freinsheim with its beautiful medieval center and the old fortifications. Today's destination is the health-spa town Bad Dürkheim with the biggest wine-barrel in the world. The health-spa offers a variety of relaxing treatments perfect after a day of cycling!
DAY 4: Bad Dürkheim – Germersheim, 41 mi. (65 km)
Through Deidesheim (with its medieval Town Hall), you will cycle to the secret wine capital of Neustadt (collegiate church, town hall, town hall market). You'll leave the vineyards and cycle through the Rhine-plains to Speyer. Enjoy the old town; visit the cathedral and maybe also the historical museum (cathedral treasure, wine-growing museum). Along the banks of the Rhine, you will travel through the nature-reserve of the Old Rhine to Germersheim, a historic fortification.
DAY 5: Germersheim – Bad Bergzabern, 31 mi. (50 km)
You cross the important nature-reserve of the Hördter Rhine with meadows and big tobacco growing areas; again you reach wine-growing regions. Because of the lovely climate and the special ambiance, this region is also called the "German Tuscany". Get to know the changing German-French history in Landau and enjoy the amazing views of the vineyards. A detour to the Landeck fortification and the Klingenmunster monastery can be recommended.
DAY 6: Bad Bergzabern – Rastatt, 31 mi. (50 km)
Only a few kilometers south from Bad Bergzabern, the total of 85 km that make up the German Wine Route come to an end. You'll cross the German Wine Gateway in Schweigen and start cycling in Alsace. In Wissembourg, you'll visit the historical old town and cycle on the banks of the idyllic Lauter. After Lauterbourg, you'll leave the Alsace and cycle on to Baden until you reach today's destination Rastatt.
DAY 7: Rastatt – Strasbourg, 37 mi. (60 km)
Today, you'll cycle the Rhine valley directly to the Rhine. The charming meadow landscapes are very idyllic. After crossing the Rhine, you'll go on to the 2,000 years old artistic- and cultural town of Strasbourg. You'll look forward to the unique town center with its Cathedral.
DAY 8: Departure from Strasbourg
Your bike tour ends in France with individual departures or additional nights.
7 Day Tour:
Day 1: Arrival in Heidelberg
Day 2: Heidelberg - Germersheim, 31 mi. (50 km)
Day 3: Germersheim -Bad Bergzabern, 31 mi. (50 km)
Day 4: Bad Bergzabern - Rastatt, 31 mi. (50 km)
Day 5: Rastatt - Hagenau, 30 mi. (45 km)
Day 6: Hagenau - Strasbourg, 25 mi. (40 km)
Day 7: Departure
You can view all of our bike tours in Europe or look at our featured bike trips, specials, and news.
Email or Call 800-951-4384 +1 570-965-2064
---