Taste of England
This wonderful cycling tour in England provides you the opportunity to explore famous English landmarks such as London's Tower Bridge, the Royal Windsor Castle, the Roman Baths at Bath and ancient Stonehenge. Most of the way you'll be taking Britain's National Cycle Route 4, which is a well developed cycle route with large sections of traffic free cycling in mostly flat countryside, especially along the idyllic River Thames and the impressive Avon & Kennet Canal. This canal weaves through spectacular scenery between the river and the Bristol Avon, as natural rolling landscapes give way to the World Heritage Site of Bath. Its breathtaking architecture is in perfect harmony with surroundings that provide a habitat for a diverse range of flora and fauna. On the  excellently maintained towpath, it's ideal for exploration by bike.
In the beautiful rolling hills of Wiltshire you'll mostly cycle on empty country lanes, encountering the occasional moderate climb. Between the cities of Bath and Bristol you'll cycle on England's first cycle path along the course of a dismantled railway, taking you from one city center to the other without cycling in any busy traffic. The grand finale of the tour consists of a route through the dramatic Avon Gorge, reaching England's West Coast at Clevedon, providing great views onto Wales and the Atlantic.
Skill
Level
Total route is 205 miles over 6 cycling days, entailing approximately 3 to 5 hours a day cycling. The route is mostly flat, but you do have to deal with some moderate, gradual but longer climbs and occasional strenuous short steep climbs, especially in Wiltshire. Be prepared to deal with some steep descents and since this tour is offered year round, to deal with English weather conditions.
Where
You'll Stay
Top quality 3* hotels and typical English style Bed and Breakfast accommodations
What's
Included
3 nights accommodations in Bed and Breakfast in top quality 3 * hotels
4 nights accommodations in Bed and Breakfast in typical English style small scale establishments
7 breakfasts
Daily luggage transfer
Support van
18 gear hybrid bike rental for 6 days equipped with handlebar bag for every 4th person, odometer, mud guards, luggage racks, helmet, group bike lock and emergency repair kit
Taxi ride from Clevedon accommodation to Yatton station
Standard class train ticket from Yatton to London Paddington (valid for all regular train services on day of travel)
Route Book (London-Land's End by Bicycle, one copy for every two people)
GPS tracks to download
High visibility vest
Standard class train ticket from Yatton to London Paddington (valid for all regular train services on day of travel)
Taxes
What's
Not Included
Entrance fees for museums and attractions
Lunches, dinners, additional drinks and snacks
Tour
Dates
Arrival any Saturday all year long.
Day-To-Day
Itinerary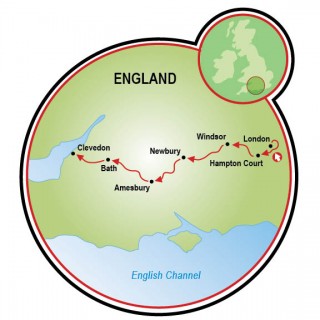 Individual arrival
Central London - Hampton Court: 22 mi./36 kms
Hampton Court - Windsor, 23 miles/37 kms
Windsor - Newbury, 46 miles/75 kms
Newbury - Amesbury, 33 miles/54 kms
Amesbury - Bath, 46 miles/75 kms
Bath - Clevedon, 33 miles/54 kms
Transfer to London, departure
DAY 1: Individual arrival
Your holiday starts on any Saturday and you can check in at your Central London accommodation from 4 pm onwards. Your hotel is conveniently located on London's Southbank near London Bridge Station (direct train link from Gatwick Airport, also good connections from Heathrow airport). You'll find various famous London attractions within walking distance here, like the Tower Bridge Experience, the historic Tower of London, the Tate Modern, Shakespeare's Globe Theatre, warship HMS Belfast and London Dungeon.
DAY 2: Central London - Kingston upon Thames: 20 mi./32 kms
Sunday is your first cycling day and your bike will be delivered to the hotel in the morning just after breakfast. You will be provided  with a full personal briefing on cycling in England at this point. The first day of cycling is reasonably short as you'll cycle past various famous London icons like the London Eye, Westminster Parliament, Big Ben and Buckingham Palace. The route across Central London is mostly via quiet back streets, so you'll only run into busy traffic at famous junctions like Parliament Square and Hyde Park Corner, where it is easy to walk your bike across the junction. You also take on the great traffic-free routes in Central London like the green havens of Hyde Park and Richmond Park, taking you to Kingston upon Thames at the end of this first stage.
DAY 3: Kingston upon Thames - Windsor, 25 miles/40 kms
On Monday you'll mostly cycle the towpath along the idyllic Thames River. This terrain is exclusively for cycling, walking or boating and has picnic areas, pubs and cafes all along the waterfront. This unique route makes it extremely easy to leave the city, guiding you along to Royal Windsor Park. This park is managed by Prince Philip, Queen Elisabeth's husband. Peace and quiet is the name of the game here, unless there is a horse riding event taking place. In that situation you'll get a unique insight into England's upper class equestrian culture. The stage ends in Windsor, renowned for its exclusive shops and the Royal Castle which dwarfs this busy historic town. A visit to the castle is a must!
DAY 4: Windsor - Newbury, 46 miles/75 kms
This is the first stage in which the cycling itself has a major role. Beyond Windsor you will head into rural Berkshire, offering a first substantial section of English country lanes cycling experience. Maidenhead is a big town on the way, as is Reading. It is just before Reading where you say farewell to the Thames River before joining the towpath along the Avon & Kennet Canal. This path takes you across Central Reading in the most pleasant way available. The canal route is a green oasis for anglers, boaters, walkers and cyclists, with the occasional pub providing the perfect break. The further you cycle beyond Reading, the quieter this route becomes. Newbury is a friendly and quiet stage town, providing typical English High Street shopping. The 4-star hotel accommodation of our more luxurious package is located 3 miles out of town in a lovely countryside setting.
DAY 5: Newbury - Amesbury, 33 miles/54 kms
This stage takes you into the rolling hills of the county of Wiltshire, made famous in the Sting song "Fields of Gold". These rolling hills are a Wiltshire icon, as is its premium historic ancient site Stonehenge. This stage will be the hardest of your holiday, mostly following quiet country lanes, with various climbs on the way. On the way you cycle through the small town of Hungerford and the sleepy village of Great Bedwyn, before arriving on the Salisbury Plains. This sparsely populated area is where Stonehenge is located, within walking distance of the nearby town of Amesbury. It is a pleasant walk from your Amesbury accommodation to the famous landmark, although you'll need to cross over a busy road to get to the site. You might prefer to visit Stonehenge during the early hours of the next morning before checking out at your Amesbury accommodation. Visitor numbers will be less and you'll have the opportunity to experience the perfect dawn, with the first sun light striking the ancient stones.
DAY 6: Amesbury - Bath, 46 miles/75 kms
On this stage you'll encounter another Wiltshire icon; the depiction of a white horse on a high hill side at Alton Barnes. There are several of these depictions around, mostly dating from the 17th or 18th Century. You might also be able to see the Devizes White Horse on the horizon just before arriving at the historic town of Devizes. From here you rejoin the Avon & Kennet Canal towpath and the route to Bath will blow your mind. In the first place you'll cycle along the canal's famous 29 locks of Caen Hill, covering a height of 72 meters. A bit further down the route you arrive in the scenic hills of the Cotswolds where the canal manages to maintain a flat route thanks to some impressive historic aqueducts across deep valleys. The cycling and the views are superb here, bringing you in the right frame of mind for your visit to the historic city of Bath. The Roman Baths are open until late evening and you might even want to visit the newly opened spa. Also make sure not to miss the Georgian Royal Crescent, a highlight of English architecture.
DAY 7: Bath - Clevedon, 33 miles/54 kms
The last stage is probably the most varied of all and you might want to have an early start to allow yourself enough time to take it all in. From Bath you join the well-known Bath & Bristol Railway Path, England's first long distance traffic free cycle route. On the way you'll pass an historic steam railway and a graveyard full of English steam railway heritage. Bristol is a large modern city, with a rich history on trading with the Americas. Its heritage can mostly be felt at Floating Harbour where you'll not only find the excellent Bristol Museum, but also the SS Great Britain, the first ocean ship made of iron in the world. Beyond Bristol you cycle into the Avon Gorge, spanned by the impressive Clifton Suspension Bridge. Just before the Avon River reaches the Atlantic
Ocean the route turns west into the pleasant rural Gordano Valley, where on its end the seaside town of Clevedon welcomes you. Clevedon has a typical English seaside promenade and an historic pier, the perfect finish to a great ride!
DAY 8:  Departure and transfer to London