Circling Nol
Here, the charming bike paths slice through thick forests, colorful heather meadows, golden sand dunes, and grazing pastures with sheep, horses, and cows. Large farmsteads display the traditional Dutch architecture while windmills can be seen far off in the distance. One of the routes on this tour will take you through the Betuwe over the beautiful dikes along the Rhine and Waal Rivers, through rustic villages and past many fruit orchards. A visit to the Hoge Veluwe National Park with the hunting-castle of St. Hubertus and the famous Rijksmuseum Kröller-Müller is also included. The Hoge Veluwe is Holland's largest and most fascinating nature conservation area (13,000 acres), where many creatures can be seen. In the center of the park is the Kröller-Müller Museum, where Van Gogh's largest collection of works are on display as well as masterpieces by such 19th and 20th century artists and sculptors as Seurat, Rodin and Moore. The shipbuilding heiress, Helene Kröller, bequeathed her large art collection to the Museum.
Waar
u zult verblijven
In the 3 star Hotel Nol in 't Bosch with tennis courts. Hotel is located just outside of Wageningen.
Wat is
inclusief
4 nights' accommodations
3/4-speed hybrid bicycle
Breakfasts & 2 dinners
Entrance to Hoge Veluwe National Park
Route descriptions & maps
Tour information packet
Wat is
exclusief
Train ticket Amsterdam to Ede-Wageningen, ± $25
Local tourist tax, ± $2 per day
Ferry ticket
Reis
data
Arrival possible daily, year round.
Moeilijkheid
niveau
Easy, self-guided based tour over flat terrain and good asphalt bike paths; daily distances can be varied.
Dag-tot-dag
programma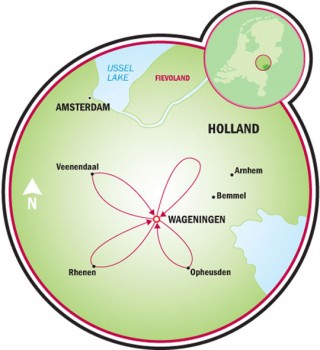 Cycling within the vicinity of Nol and Wageningen. Daily distances on the 5 routes range from 26 to 40 miles; although distances can usually be adjusted according to preference.
Day 1: 26 miles; can be shortened by 8 mi.
Day 2: 35 miles; can be shortened by 7 or 10 mi.
Day 3: 40 miles; can be shortened by up to 3 mi.
Day 4: 34 miles; can be shortened by 4 to 8 mi.
Day 5: 34 miles; can be shortened by 4 mi.