Passau to Vienna
Passau is known as the City of Three Rivers because three rivers come together here for a spectacular view: the Danube, Inn and Ilz River. This lively port town is a marvel to see in its romantic river setting complete with the great Veste Oberhaus (a fortress built 13th–16th century that overlooks the town). There's also the elegant Gothic Town Hall and the grand Stephansdom, which is a true masterpiece of Italian Baroque architecture and houses one of the world's largest church organs (17,774 organ pipes), on which concerts are frequently played! En route to Vienna, you'll cycle to Engelhartszell, through the famous 180º Schlögen loop in the Danube, and into Linz (with its dominating Poestlingberg Church) and Grein with the impressive 15th century Greinburg Castle. Melk is most recognized by its immaculate Baroque Benedictine Monastery Stift Melk. Stretching from Melk to Krems, the Wachau region offers an enchanting landscape of apricot orchards and tree-lined avenues that are almost as well known and inviting as the region's fruity wines.
Vienna will impress you immediately with its grandness! This capital city whose glorious history and old roots as a monarchy reveal themselves around every corner is filled with treasures. Some of the city's greatest highlights include the St. Stephen's Cathedral (located in the heart of the city), Belvedere Palace (of Baroque style with delightful gardens and magnificent views), Schönbrunn Palace (of Rococo style with great gardens), and the Hofburg Palace (the residence of Hapsburg emperors). And of course one of the best highlights of this tour is the delectable Viennese cuisine: from Wiener schnitzel and Tafelspitz served with Gerösteten Kartoffeln, Apfelkren and Schnittlauchsauce to its many great pastries: Apfelstrudel and Palatschinke, you will feast and feast!!!!
See the daily itinerary for information on how you can extend your holiday including 3 days aboard the MS My Story, making your way back to Vienna by bike & boat!
Please note: This tour can be taken as a 14 day tour from Passau to Budapest. Please contact us for details.
Waar
u zult verblijven
Option A: 4-star hotels, or if fully booked the very best 3-star hotel in town
Option B: 3 & 4 star hotels
Option C: 2-3 star hotels, usually typical Austrian inns

Wat is
inclusief
7 night accommodations
Breakfasts
21-speed hybrid bicycle (equipped with handlebar bag, pannier, and odometer)
Luggage transportation (1 suitcase per person, max 20 kilo or 44 pounds)
Route descriptions & maps
1 free bottle of wine from vineyard in Wachau
Tasting of regional delicacies
Train transfer Krems - Tulln
Service hotline
Wat is
exclusief
Individual arrival to Passau
Remaining meals (dinners included, except in Vienna, is optional)
Reis
data
Daily from April 13 to October 12, 2013.
Moeilijkheid
niveau
Easy self-guided hotel bike tour. Daily distances are variable. Routes used are flat or slightly down or uphill.
Dag-tot-dag
programma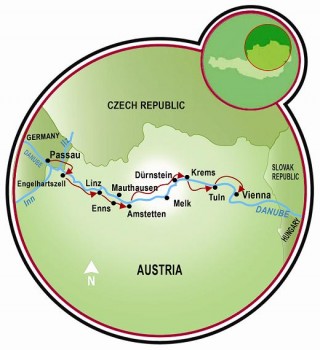 Arrival in Passau.
Passau – Schlögener Loop/Surroundings, 28 mi. (44 km)
Schlögener Loop – Linz, 33 mi. (53 km)
Linz – Grein/Surroundings, 38 mi. (60 km)
Grein – Melk, 32 mi. (51 km)
Melk – Krems/Traismauer, 20/35 mi. (40/55 km)
Krems/Traismauer – Vienna, 25 mi. (39 km)
Departure from Vienna.
Distances are approximate.  
This tour is very flexible!  Tour is also available for 6 days / 5 nights or 10 days / 9 nights.  Daily distances are also variable ranging from 16 to 28 miles (26 to 45 km), 28 to 38 miles (45/60 km), or 44 to 54 miles (70 to 85 km) of cycling per day.  Please contact us for details.  See the bottom of the itinerary for details about the extension by bike & boat.  
DAY 1: Arrival in Passau.
Independent arrival to Passau. Use any extra time for a walk through the picturesque old part of town. Or you may want to take a boat cruise around this '3 river city' (not included).
DAY 2: Passau – Schlögener Loop/Surroundings,  28 mi. (44 km)
The morning starts with a personal welcome meeting with our agent. Afterwards you will receive your bikes. You bike through the Upper Danube Valley to Schlögen. In Engelhartszell you can visit the only 'Trappisten' Monastery in Austria, where you can taste very good liquors. You bike on through to the impressive Danube Loop, where the river makes a 180 degree turn.
DAY 3: Schlögener Loop – Linz, 33 mi. (53 km)
There are many little ferries between the river banks; enjoy this special experience. You bike through the Eferdinger basin to Linz, the upper Austrian capital. Enjoy the summer evening with a shopping tour in the charming old part of town, with many interesting sights to see.
Day 4: Linz – Grein/Surroundings, 38 mi. (60 km)
Today you have the choice of making a side trip to Enns, the oldest city in Austria. You bike through the Celt village Mitterkirchen. You will also see the famous church in Baumgartenberg and the romantic castle Clam. At the end of the day, you reach the beautiful baroque town Grein, where you can visit the oldest theater of Austria.
Day 5: Grein – Melk, 32 mi. (51 km)
Enjoy the Danube landscape of the Struden and Nibelungenau regions, with high wooded rock formations on both sides of the Danube. High over the Danube you will see the pilgrimage church of Maria Taferl. And further on in the distance, the Benedictine Monastery town of Melk greets you.
Day 6: Melk – Krems/Traismaue, 20/35 mi. (40/55 km)
Another highlight of this tour is the beautiful landscape of the Wachau. You bike past the apricot trees to find a wine terrace, and with castles and monasteries in between. During your ride to Krems, you bike through the attractive wine towns of Spitz, Weissenkirchen and Dürnstein. Along the way can stop at a cozy tavern and enjoy the Austrian hospitality.
Day 7: Krems/Traismauer – Vienna, 25 mi. (39 km)
By train you will leave the unique cultural landscape of this UNESCO world heritage region. In Tulln, you start your last leg of this bike trip. Don't forget to visit the Monastery in Klosterneuburg before you reach Vienna!
Day 8: Departure from Vienna.
Be sure to visit the famous 'Naschmarkt' (market) and the beautiful 'Schönburnn' castle. You may opt to include a transfer back to Passau by request.
EXTEND YOUR HOLIDAY....
Include 3 days aboard the MS My Story or the MS Theodor Korner while it makes it's way back to Passau by boat......
If you end your tour (Day 8) on a Thursday you may join the MS Theodor Korner for it's journey back to Passau.  OR If you end your tour (Day 8) on a Friday you may join the MS My Story for it's journey back to Passau.  The journey back to Passau begins on Day 6 of the itinerary of the Along the Danube - Four Country tour.  Day 6 would be the day you board the boat.  Included in the extension are all meals, and 7-speed bicycle rental.  .