Salzburg to Kitzbühel
Austria Road Bike Tour
It will be you and your road bike along the magnificent mountain passes of Austria. Come ready to be challenged on the countless serpentines and ready to be rewarded with breathtaking alpine landscapes. You will be physically challenged, no doubt, but there is culture and history to explore as well! Perhaps you will want to spend an extra night or two in Salzburg to celebrate your accomplishments. Salzburg is the jewel of Austria and one of the most beautiful of all European cities. It is a city of music, birthplace of Wolfgang Amadeus Mozart. There is a memorial to him at the Salzburg Mozart Square that you will want to see. Nestled between two mountains Kapuzinerberg and Mönchsberg and the River Salzach, Salzburg is teeming with culture and history. Stroll the small alleyways with their quaint colorful town houses.The exceptionally well-preserved Medieval and Baroque old town (Aldstadt) will be a highlight of your time in the city. It is tucked into the space between the cliffs of the Mönchsberg, a rocky hill that is topped by the massive fortress of the Hohensalzburg, and the left bank of the river. The 900 year old fortress, reigning over the city, provides a stunning view. Bring your appreciation of beauty and culture, your love of history and your sense of adventure.
Skill
Level
This is a difficult, self-guided road bike tour with daily distances ranging from 38 to 75 miles and climbs ranging from 1640' to 5905', requiring a high level of fitness. There will be alternative tours possible depending on the day. This option entails less mileage, and climbs of lesser grades. Information will be on the maps provided.
Where
You'll Stay
6 nights in selected 3 star hotels with comfortable rooms including breakfast.
What's
Included
6 nights in selected 3 star hotels with comfortable rooms including breakfast
Daily luggage transfer
Route descriptions and maps (1 per room)
Locked garage for bikes in each hotel
7 days per week service hotline
Cycle t-shirt
Return transfer by bus (bikes included) from Kitzbühel to Salzburg.
What's
Not Included
Road bike rental €110
Lunches and dinners
Tour
Dates
Arrival possible on Saturdays from April 27 to September 28, 2013
Day-To-Day
Itinerary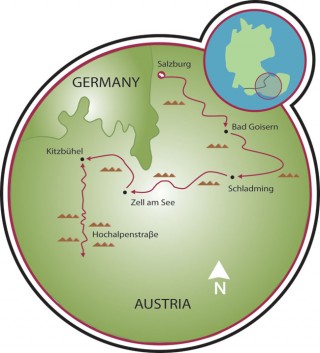 Saturday: Arrival in Salzburg.
Sunday: Salzburg - Bad Goisern: 37.5 mi. (60 km)
Monday: Bad Goisern - Schladming: 37.5 mi. (60 km)
Tuesday: Schladming - Zell am See: 72 mi. (115 km)
Wednesday: Zell am See - Zell am See: 43 mi. (70 km)
Thursday: Zell am See - Kitzbühel: 56 mi. (90 km)
Friday: Departure
All distances are approximate.
DAY 1: Arrival in Salzburg
Start your tour with a stroll through Salzburg along the world famous Getreidegasse. The Getreidegasse is Salzburg's most famous shopping street. It has a unique atmosphere and is instantly recognizable from the tall houses bunched closely together on both sides and the traditional wrought-iron signs that hang over the doors of the many shops. The many passages and courtyards adjoining the main thoroughfare of the Getreidegasse are particularly atmospheric. Although the German name of the street means 'Corn Alley', the Getreidegasse had nothing to do with crops when it first came into being. On old maps, the Getreidegasse is marked as the Trabe-, Trab-, or Travgasse, which is derived from the verb traben, here referring to the noise of trotting horses' hooves. Let your imagination carry you back in time. As the home of Mozart and the setting for the "Sound of Music", Salzburg is known worldwide as a musical city. Nestled in between the Kapuzinerberg and Monchsberg mountains on the Salzach River, Salzburg is visually stunning with its surrounding Alpine scenery and incredible baroque architecture. Be sure to visit the Hohensalzburg Castle atop the Festungsberg Hill. It is one of the largest medieval catles in Europe, but by no means, the only fortification on the hills surrounding Salzburg. A stroll around Monchsberg Mountain provides not only the opportunity to explore ancient 13th century walls and fortification but to take in the most magnificent views of the city and its surroundings.
DAY 2: Salzburg - Bad Goisern, 37.5 mi. (60 km)
You start your tour with a relatively short ride from Salzburg to Bad Goisem. You will be riding in the unforgettable and breathtaking Salzkammergut region. You ride through the village of Fuschl on the Fuschlsee Lake surrounded by forest and through the village of Wolfgangsee and its large, pristine lake that is over 20 square miles. You will also pass through Bad Ischl before spending this second night in Bad Goisern. Whenever you see the word 'Bad' in the name of a town, it is a title given by the government to cities with a medicinal or thermal bath. 1640'/ 500 m altitude difference
DAY 3: Bad Goisern - Schladming, 37.5 mi. (60 km)
Today your first climb leads you across the Pötschenpass. Try to reserve some energy for the Sölk pass which is yet to come and really quite challenging. Returning to the Ennstal valley, you will spend the night in Schladming. You are now in the Styria area of Austria, one of the nine federal states. Styria is known as "The Green Heart" of Austria for its well preserved forests of fir trees. In fact, Styria possesses a great variety of landscape; mountains and glaciers, deeply slashed gorges and valleys, ranges of gently rounded hills, and of course those great expanses of forest. 1640'/500 m altitude difference
DAY 4: Schladming - Zell am See, 72 mi. (115 km)
Prepare yourself for this day! The legendary "Kamelbuckeln" (camel back) between Schladming and Zell am See awaits you. There are three climbs up more than 1000 m in altitude difference. Overnight in Zell am Zee, on the shores of Lake Zell, whose deep glacial waters reflect the mountain backdrop. It is a lovely way to end your day! 5577'/1,700 m altitude difference
DAY 5: Zell am See, round tour, 43 mi. (70 km)
Nobody would find fault with you if you decide to use this day as a rest day. It will be tempting to do just that as Zell am See is the perfect lake and mountain resort to spend a day in. The center of Zell is especially conducive to strolling with pretty, flower-decked streets, cafes and shops to rest at or browse in, and many good restaurants. In summer not a week passes without an event of some sort, usually a concert, theater or art exhibition, held in some special setting like the 12th century Kaprun Castle. For those of you who cannot bear a day without a cycle beneath you, be prepared to tackle the Großglockner Hochalpenstraße and you can call yourself the "King of the Glockner." The top of Austria's highest mountain awaits you! 5577'/1,700 m altitude difference
DAY 6: Zell am See - Kitzbühel, 56.3mi. (90 km)
The absolute highlight of this tour awaits you today! Across the Grießen pass you reach the medieval city of Tyrol. Your final climb takes you up to the Kitzbüheler Horn. Overnight in Kitzbühel. 5905'/1800 m altitude difference
DAY 7: Departure
Return transfer by bus from Kitzbühel to Salzburg included in tour price.