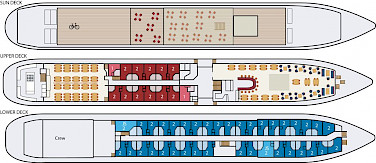 Bordeaux
Comfort Plus Class Boat
Size of boat: 78 meters (256 ft.) long and 10 meters (33 ft.) wide
Maxiumum number of guests: 80
Bathroom features: En-suite bathroom with shower + toilet
Cabin features: The lower deck has 36 cabins: 34 twin cabins (approx. 7.5 – 8.00 M² = 81 – 86 sq.ft., 2 single beds next to each other), 2 junior suites (approx. 11.6M² = 125 sq.ft., 2 single beds next to each other, small sitting area); The upper deck there has 11 twin cabins and 2 single cabins (same size as twin cabins on lower deck). Twin cabins for single use are available on the lower deck.
Cabins on both decks have Individually regulated air conditioning, small windows that can be opened, satellite television, and mini-safe
Services: Daily cabin cleaning and fresh towels on request. The boat has several hair dryers that can borrowed from the main desk.
Special features: In the front part of the ship is the tastefully furnished salon/lounge with a nice bar and a small dance floor, large panoramic windows all around, and a separate restaurant. The sun deck has a large sunroof, chairs and tables & cycle shed (aft deck).
Wine Policy and Tasting: On the first or second night of the tour, there will be a special presentation on the wine regions of Bordeaux and an optional tasting of 6 wines will be offered for €7,50. The boat will have a large selection of wine from the various regions available for purchase by the glass or by the bottle. If you purchase wine off the boat and wish to drink it on board, there is a corkage fee of €12,50. Wine is allowed in the lounge, restaurant, and on deck. Wine is NOT allowed in cabins.
Bordeaux
Photos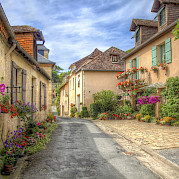 Bordeaux - Châteaux, Rivers & Wine France 4.4/5 (38 ratings) 2018 Castets-en-Dorthe to LibourneLow Season: … The region of Bordeaux, located in sun-drenched, south-west France is the perfect setting for a bike and boat tour. Set at the confluence of the Garonne River …
view details
| | |
| --- | --- |
| Tour | Bike+Boat |
| Type | Both |
| Skill | Easy–Moderate |
| Length | 8 days |
---