Fiep
Comfort Plus Class Boat for Bike Tours
The Fiep was converted from a cargo ship into a modern and spacious passenger ship, specifically designed for bike and barge tours in the Netherlands and Belgium. The ship has recently been renovated.
There are two decks on board. On the upper deck is a lounge, a spacious seating area, a cozy bar, and a large sundeck. The dining room is located on the lower deck.
Additional information:
Capacity: 24 passengers
Length x Width: 45 x 6.55 meters
Total of 12 cabins, 2 cabins with split level beds and 10 cabins with 2 low beds
Bathroom with toilet, shower, and hairdryers in each cabin
Central heating
Air conditioning in cabins, saloon, and restaurant
All cabins have windows that can be opened
WiFi
​Special dietary needs may be subject to a supplement of €50 depending on request.
Fiep
Photos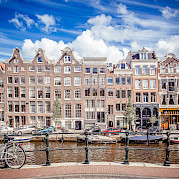 Bruges to Amsterdam Belgium, Netherlands 4.8/5 (162 ratings)2019 On the Comfort plus class boats: Magnifique: … A bike and barge tour beginning in Bruges and ending in Amsterdam showcases the best of both Belgium and Holland. The motto in Bruges is 'feel the past under …
---