Andela Lora
Comfort Plus Class Boat
We had the exciting opportunity to see this boat through from construction to launching. The Andela Lora is an elegant boat launched in June of 2012 and is one of the largest of the Croatian fleet at 131 feet long and 28 feet wide.
Year of construction: 2012
Size of boat: 40 x 8.50 m
Size of cabins: 12 - 14 square meters
Number of cabins: 17 guest cabins
Bathroom features: Tiled, shower cabin, washing basin & toilet
Cabin features: Air-Conditioning, mirror, hair-dryer
Beds: some cabins have three- or four-bed cabins, the other doublecabins provide a French bed or two seperated beds
Services: Daily cabin cleaning, fresh towels at mid-week, wireless (limited)
Special features: Quiet generator, bathing platform at the stern, sunbeds and mats on the sundeck, big tables and chairs on deck in the shadow, cargo hold for Ebikes
The friendly crew will always make sure that you have the most comfortable and relaxing journey on board!
Andela Lora
Photos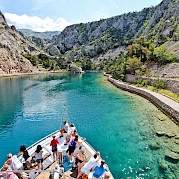 Kvarner Bay Multi Adventure Tour Croatia 2018July 15, July 22, and August 12, 2018 This adventure cruise in the Kvarner bay is a tour especially designed for families, in a way that everyone can enjoy! Along with the planned activities in …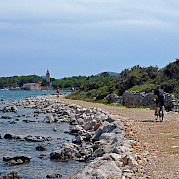 Kvarner Bay Croatia 5/5 (3 ratings)2018 DATESOn the Comfort Class boat the Linda: … Kvarner Bay is made up of countless islands in crystal clear water with deeply fissured cliffs, picturesque beaches, and numerous small bays. Every island is …
view details
| | |
| --- | --- |
| Tour | Bike+Boat |
| Type | Guided |
| Skill | Moderate–Difficult |
| Length | 8 days |
Kvarner Bay Plus Croatia 4.9/5 (7 ratings)2018 DatesApril 22, May 13, May 27, June 10, June … Discover the charm of Kvarner Bay in the northern Adriatic Sea aboard the brand new deluxe boat, the Andela Lora. The tour explores countless islands with …
view details
| | |
| --- | --- |
| Tour | Bike+Boat |
| Type | Guided |
| Skill | Easy–Moderate |
| Length | 8 days |
---