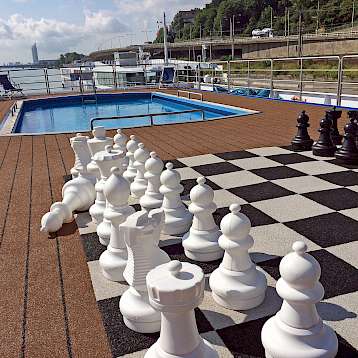 MS Carissima
Comfort Plus Class Boat for Bike Tours
We are pleased to offer the introduction of a new comfort plus/deluxe vessel for touring along the Danube. This boat did undergo major renovations in the 2016-2017 off season.
The first thing you will experience when boarding this vessel is the inviting atmosphere on board. Cycling by day, you will experience the different cultures along the Danube, back on board, in the restaurant, you will experience a true culinary excursion through the region while enjoying fantastic views!
In the Panorama Lounge, where the bar is located, you can enjoy a glass of wine with your friends and fellow cyclists. Comfortable lounge chairs on deck will invite you to linger and savor. Afterall, even when actively vacationing, you have to take the time to relax.
The spa with sauna and whirlpool is wonderful after a day of cycling and the on deck pool (June through August) allows for a refreshing swim as the river passes by.
The comfortable ship will make your journey unforgettable.
75 Deluxe cabins, 14.5 m square
Capacity: 150 passengers
Length: 110 m
Breadth: 11.4 m
Draft: 1.6 m
Speed: 21 km/h
Crew: approximately 35
Electricity: 220 v
Language: German and English
Private bathrooms with shower, hair dryer, TV, safe, and full air-conditioning
Hotel style double bed which can be converted to two single beds
Upper deck and middle deck cabins feature full size picture windows which can be opened
Main deck (lower deck), half height windows (cannot be open)
ECO cabins are located in the front/rear part of the ship (engine noise possible).
Library
Pool (open June through August)
Sauna and whirlpool
Wifi available but limited
MS Carissima
Photos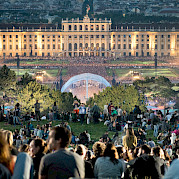 Along the Danube - Four Country Tour Austria, Germany, Slovakia, Hungary 4.6/5 (212 ratings)2019 Aboard the MS Carissima: SUNDAYS, from April … This bike and boat tour along the Danube River has proven to be one of our most popular bike tours and with good reason. Between the Austrian and Hungarian …
---