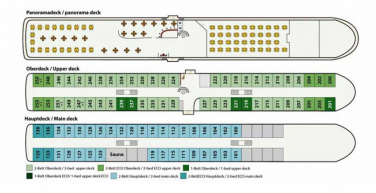 My Story
Comfort Plus Class Boat
The My Story is a very spacious and traditional ship. The crew aims to satisfy and the ambiance on board is very comfortable and informal. The Sun Deck with its awnings allow you to enjoy the passing scenery. On deck there are both deck chairs and ordinary chairs and tables. The Panorama Restaurant and the Panorama Lounge with its bar provide not only excellent food and drinks, but also a sense of conviviality with old friends and new acquaintances. There are 87 comfortable cabins (approximately 9 m squared) equipped with 1 - 2 low beds (during the day one bed can be folded to the wall), air conditioning, private facilities, TV, WiFi (fee of €2.50 per hour), and hairdryers. The windows can be opened in the cabins on the upper deck. Triple cabins are equipped with 2 lower beds and one folding bed above. For families, the cabins with connecting doors are very convenient.
Technical details:
Year of manufacture: 1971
Length: 105m
Breadth: 11.6 m
Draft: 1.70 m
Maximum passengers: 174
Languages on board: German and English
Click here to see a virtual tour!
My Story
Photos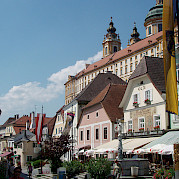 Along the Danube - Four Country Tour Austria, Germany, Slovakia, Hungary 4.6/5 (99 ratings)2017Aboard the MS Carissima: Every Sunday from April … This bike and boat tour along the Danube River has proven to be one of our most popular bike tours and with good reason. Between the Austrian and Hungarian …
---