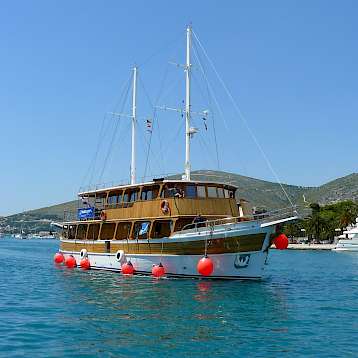 Kapetan Jure
Comfort Class Boat for Bike Tours
In the year 2000, Captain Anton started to build the Kapetan Jure. Anton originates from a seafaring family from Krilo, a seafaring town near Split. With his father also being a Captain, Anton's biggest dream is that his son will become a captain someday too. Since Anton is a very experienced sailor, guests on the Kapetan Jure feel assured that they are in good hands.
At 27 x 7 m the Kapetan Jure built in 2000, counts as one of the smallest ships of our Croatian fleet. With an impressive 100 navigated tours . The fine detail etched into the wooden ship mirrors the seafaring affection of its captain. The spacious salon is decorated with shells, amphorae and showcases full of sailor's knots. At the bow a mermaid keeps watch for the safe navigation of the ship. The Kapetan Jure provides 15 cosy guest cabins each with air conditioning, shower and WC. A spacious living room suite on the quarterdeck and a sundeck with cushioned sleeping mats play a part in contributing to the welcoming atmosphere.
With its 15 cabins, the Kapetan Jure can acommodate up to 30 guests. There are 11 cabins are on deck. Of these cabins, 10 are furnished with 2 beds arranged side by side, while one cabin has bunk beds.The remaining 4 cabins are below deck and are furnished with a French bed (140 cm wide).
Due to the shape of the ship's hull, the size of the cabins may vary.
Each cabin is equipped with a private bathroom (shower/toilet).
Year of construction: 2000
Size of boat: 27 x 7 m
Size of cabins: 7 - 8 square meters
Number of cabins: 15 guest cabins
Bathroom features: tiled, all-in-one shower, wash basin, and toilet
Cabin features: Air-conditioning, safe, hairdryer, mirror
Beds:

Double beds: 200 x 140 cm
Single beds: 200 x 80 cm

Service: daily cabin cleaning, fresh towels mid-week
Special features: 2 masts with sails, quiet generator, couch mats and lounge chairs on sundeck, 2 big tables with chairs on deck
Kapetan Jure
Photos
National Parks of Dalmatia Croatia 4.7/5 (18 ratings)2019  Comfort Plus boats: Romantica: April 27, … The perfect setting for a bike and boat tour, Croatia is a country with beautiful, well-kept coasts, thousands of islands, reefs, and bays. Numerous Roman …
view details
| | |
| --- | --- |
| Tour | Bike+Boat |
| Type | Guided |
| Skill | Moderate |
| Length | 8 days |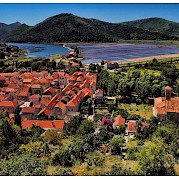 Southern Dalmatia Croatia 4.9/5 (20 ratings)2019 Comfort Plus class boats: Romantica: April … Dalmatia is a region located along the eastern coast of the Adriatic Sea in Croatia. It has become the new hot place to travel to. Tourism in Dalmatia has been …
view details
| | |
| --- | --- |
| Tour | Bike+Boat |
| Type | Guided |
| Skill | Moderate–Difficult |
| Length | 8 days |
---