Sarah
Comfort Class Boat for Bike Tours
The Sarah is a very comfortable and spacious ship. After years of use as a cargo ship, the Sarah was transformed into a passenger boat in 2002. It is a very modern ship with tasteful cabins, a spacious lounge, and large and inviting sun deck.
Capacity: 20-22 passengers
Length x Width: 44.95 x 6.6 meters
Cabins: 6 cabins withe separate twin beds, 2 cabins with separate twin beds and 1 bunk bed, and 2 cabins with twin beds pushed together. All cabins about 10 sq. meters / 108 sq. feet.
Shower and toilet in all cabins
Central heat
Cabin windows may be opened
All cabins have a hair dryer
Unlimited WiFi available on board
Bicycles
Hybrid touring:
Brand Gudereit or equivalent
Unisex (step through) frame
11-speeds gear
Hand and pedal brake
Pannier bag
Helmet
Smaller frame bikes are Target touring bikes These bikes come in three frame sizes.
Electric bikes:
Brand Monaco from Batavus or similar
7 gears
3 support levels
Hand brakes
Limited availability
No helmets are available on board so please bring your own well fitted helmet. Bicycle rental is optional but is included in tour price. Due to the very limited space on deck, guests can bring their own bikes (max. 6) and only with prior approval. A discount will then apply. However, the crew or tour operators are NOT responsible for any damage, loss or theft of such.
*Note: ​Special dietary needs may be subject to a supplement of €50 depending on request.
Sarah
Photos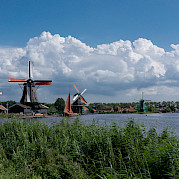 Tulip Tour - 8 Day Netherlands 5/5 (37 ratings)2019 On the Comfort Plus boats: Elodie: April 14*, … One of our most popular, this bike and boat tour in Holland during Tulip season, is bursting with colors and scents. When Spring dawns in Holland, millions of …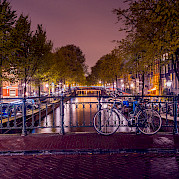 Amsterdam to Maastricht Netherlands 5/5 (3 ratings)Aboard the Sarah Amsterdam to Maastricht: June 8, June … "Thinking of Holland I see broad rivers languidly winding through endless fen, lines of incredibly tenuous poplars like giant plumes on the polder's …
---