Sarah
Comfort Class Boat
The Sarah is a very comfortable and spacious ship. After years of use as a cargo ship, the Sarah was transformed into a passenger boat in 2002. It is a very modern ship with tasteful cabins, a spacious lounge, and large and inviting sun deck.
Capacity: 20-22 passengers
Length x Width: 44.95 x 6.6 meters
Cabins: 10 x 2 low beds. Two cabins have a third bunk bed.
Shower and toilet in all cabins
Central heat and air conditioning in all cabins
No helmets available on board
*Note
​Special dietary needs may be subject to a supplement of €50 depending on request.
Sarah
Photos
Bruges to Amsterdam Belgium, Netherlands 4.7/5 (78 ratings)2017 Dates:On the Comfort plus class boats:Elodie: … A bike and barge tour beginning in Bruges and ending in Amsterdam showcases the best of both Belgium and Holland. The motto in Bruges is 'feel the past under …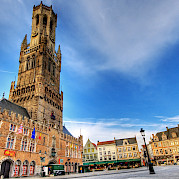 Amsterdam to Bruges Netherlands, Belgium 4.8/5 (61 ratings)2017 DatesOn the Comfort Plus class boats:Elodie: … From Holland's intriguing capital to Belgium's artistic gem, this bike and boat tour follows meandering rivers and canals from Amsterdam to Bruges.The Golden …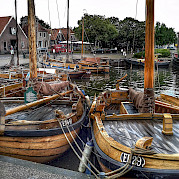 Authentic Holland Netherlands 4.6/5 (5 ratings)2017 DatesComfort Plus boat: Fiep: July 15, … This wonderful bike and boat tour showcases authentic Holland and takes you through the central and Hanseatic region of the Netherlands. It cuts through the …
---