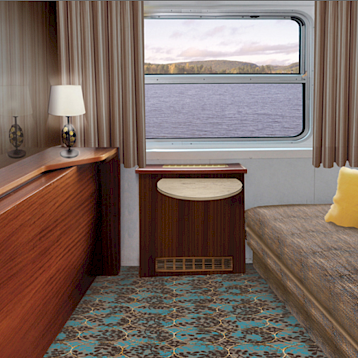 Theodor Körner
Comfort Class Boat for Bike Tours
The MS THEODOR KÖRNER is a very spacious ship that has sailed the Danube for years. The captain and crew are knowledgeable with service always on the forefront.
The ship serves as your hotel during your exciting cycling adventure, through the diverse landscaped and national and regional cuisines you'll be experiencing.
Overview
Length x Width: ca. 87 x 17 meters and a ca. 1.7 m draft. Speed 25km/h.
Ship capacity: 126 passengers, 40 crew members
Decks & Cabin Layout
60 newly designed cabins on three levels

Main deck (bottom) - Windows cannot be opened
Upper deck (middle) - Windows can be opened
Promenade deck (top) - Windows can be opened

2-Bed-ECO: bunk bed cabins
2-Bed: 2 separate beds on floor, approximately 11 square meters
Junior-Suite: double bed, approximately 16 square meters. There are two junior suites on the promenade deck and three on the upper deck. On the promenade deck, one of the suites is designed for two people only (105) and is therefore smaller than the other junior suites. Assignment of suites are first come, first served.
Additional bed: only in Junior Suite (Sofa) or 2-Bed cabin promenade deck (folding bed above)
Cabin Amenities
Air conditioning
Private bathroom
Soap and shampoo provided
Flat screen TV
Safe
Hairdryer
Boat Features & Amenities
Lobby, panoramic bar, and lounge
Infrared sauna
WiFi (can not be guaranteed, fee of €2.50 per hour)
Library equipped with books magazines, and board games
There is no special dress code on board. Casual/travel/activie clothing is sufficient. For the concert and the gala dinner some passengers opt to dress up but it is not required.
Please note that the whole ship (incl. cabins, restaurant, café) is absolutely a non smoking area. Smoking is allowed only on the open sundeck.
On cruise ships gratuities will be collected at the end of the cruise in a box at the reception. This form of giving a tip is useful to credit all crew-members. A noncommittal directive would be approx. € 5,- to 6,- per person and day. The cruise director is not included in this system. If you have been satisfied with his work during the week – there will be a tip box available directly at the cruise director's desk.
All prices are in EURO. With each order you receive a receipt to sign.The invoice can be paid in cash or with credit card (VISA or Master Card) on the day of departure at the reception.
Please be informed: Excursions are only payable in cash!
Bicycles:
Hybrid touring bikes: 21-speed-bikes (unisex) with caliper brakes and override
Equipped with:
28 inch wheels
Caliper brakes with override
1 good sized, waterproofed pannier bag
1 handle bar bag
Repair kit
Air pump
Lock
Electric bike: Unisex Flyer/Kalkhoff and KTM Pedelecs
8 speed
Individual regulation of support
Robust wheels
Deep unisex comfort entrance
1 good sized, waterproofed pannier bag
1 handle bar bag
Repair kit
Air pump
Lock
The bikes have a strong Panasonic Pedelec-mechanism and a strong lithium-ion battery. The batteries last up to 70 kilometers, depending on the type of cycling, weight or rider, and terrain. The more hills, the heavier the weight, the more battery life will be used. You can regulate the range of the battery if you use less support at the beginning and increase as needed. Batteries can be recharged in your cabin at night.
Click here to see a virtual tour!
Theodor Körner
Photos
tours on

Theodor Körner 1

to

1

of

1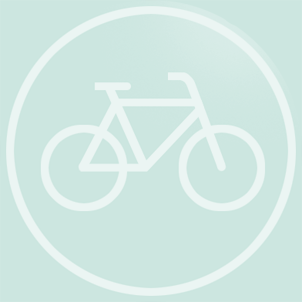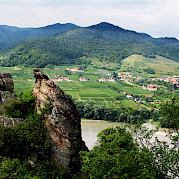 Along the Danube - Passau to Vienna Austria, Germany 4.6/5 (57 reviews)2020 Deluxe Class Arlene II: Sunday departures … Beginning in the German town of Passau, this tour quickly crosses the Austrian border as it follows the Danube Bike Path east downstream through tucked-away …
---