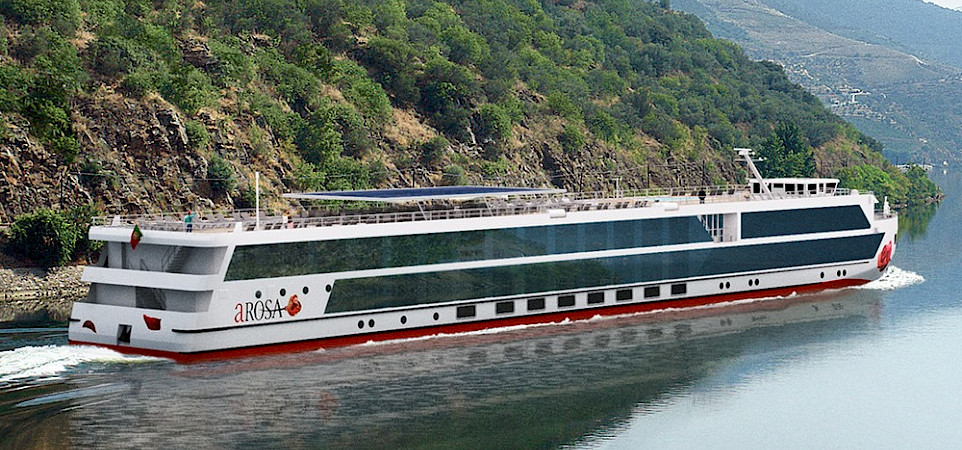 Relax in luxury aboard this state of the art ship built in 2018. Offering luxurious cabins, outdoor pool, spa, fitness center, bar, cafe, and lounge, your floating accommodations will be as comfortable as the scenery along the Douro is spectacular!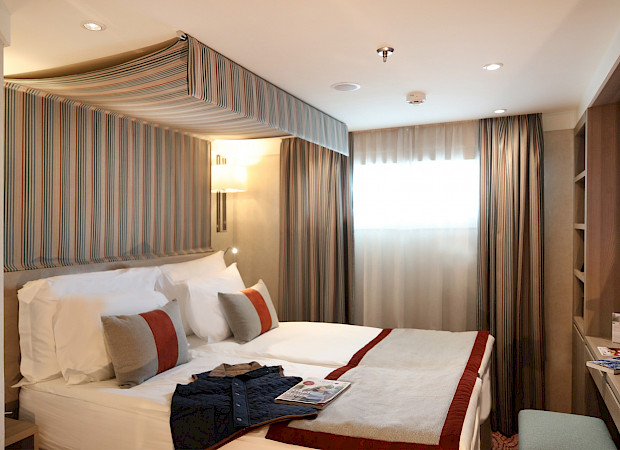 Overview

The "ALVA" is a state-of-the-art cruise ship and the latest in the A-ROSA fleet (built in 2018). At 80 m in length with only 63 cabins, the ship offers understated elegance in a mid ship setting.

Overview

Capacity: 126 passengers
Length x Width: 79.8 m x 11.4 m
Year of construction: 2018

Decks

Deck 1: Category A cabins, massage area, spa, & sauna
Deck 2: Category C cabins, market, restaurant, & gym
Deck 3: Category D cabins, outdoor lounge, indoor lounge, stage & dance floor, bar, onboard shop, receptions
Deck 4: Swimming pool, outdoor restaurant with awnings, putting green, & outdoor shower

Cabin Layout

Cabin A: 12 m², located on the first deck, smaller window, desk
Cabin C: 13 m², located on the second deck, drop-down panorama window, desk, and small sitting area with two chairs
Cabin D: 13 m², located on the third deck, drop-down panorama window, desk, and small sitting area with two chairs

Cabin Amenities

Private bath with shower
Safe
Air Conditioning
TV
Telephone
Hairdryer
Sauna towel
Bathrobe

Boat Features & Amenities

Spacious sun deck with a relaxed atmosphere
Heated outdoor pool
Putting green
Outdoor restaurant on the aft deck
Panorama Lounge with bar and dance floor
Outdoor bar
Small library
Fitness area
Sauna & spa relaxation room
Small gift shop with a limited selection of accessories, souvenirs, traditional and handmade products
Full laundry and pressing service
Elevator between decks 1- 3
WiFi (availability, performance, or speed cannot always be guaranteed)
220 V
Languages on board: English & German

Food & Beverages

Breakfast and lunch is served buffet style. At dinner you can help yourself to the starter and dessert buffet, but the main course is served at the table. Unfortunately, tables cannot be reserved!
Selected wines or exotic cocktails at the bar, in a stylish atmosphere, already included in the premium all inclusive tariff
Pleasant atmosphere: no fixed dress and seating regulations
Outdoor seating
24-hour coffee & tea station

Photos

Tours

Tours sailing on Alva — 1 to 1 of 1

---

Douro River E-Bike & Boat

Easy–Moderate Bike + Boat Tour in Portugal

On its way to the Atlantic, the Douro meanders through a dramatic landscape. It flows through deep gorges and passes steeply terraced slopes that bear witness to its 2,000-year-old wine culture. The…

Bicycles

Please note that an electric bike is heavier than a normal touring bike. Your bike will weight approximately 26 kg. Good balance and good control of the bike is necessary!