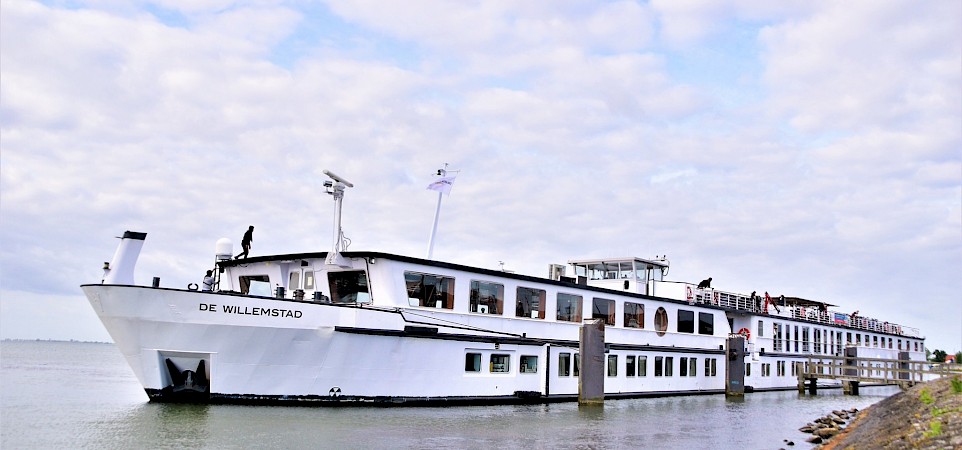 De Willemstad
Deluxe Class Boat
The De Willemstad, no stranger to river cruising the Danube, is now navigating the rivers and canals of Holland, accommodating cyclists who enjoy the mid-size deluxe vessels with all the amenities of the larger river cruisers. On the upper deck you will find a light-filled common area with large panoramic windows, the perfect place to forge new friendships, and enjoy refreshment. The spacious and partly covered sundeck is a favorite spot for those who want to kick back and enjoy the fresh air and Dutch landscape.
Overview

De Willemstad is a comfortable ship that was completely renovated in 2017/2018. The ship was used for cycling cruises for several years on the Danube river. Look forward to meeting friendly people, riding beautiful bike tours, and spending pleasant hours on board.

Overview

Capacity: 96 (max) passengers
Length: 300 ft
Width: 34 ft
Crew: 20
Electricity 230 V

Decks & Cabin Layout

There is a total of 48 cabins.

Upper deck - 24 cabins total

8 Suites (approx. 15 m² / 161 sq.ft) equipped with French balcony and floor to ceiling sliding glass doors, two single beds set together to make a queen bed, and a small seating area
16 Twin Cabins (approx. 10 m² / 108 sq.ft) equipped with two separate single beds and panoramic windows that can be opened

Lower deck

24 twin cabins total (approximately 108 sq. ft) with two separate single beds and a large window with an upper hinged window that can be opened for ventilation

Cabin Amenities

All cabins are 'outside cabins' that are equipped with two single beds, TV, mini-safe and individually controlled air conditioning. Each cabin has a bathroom with a shower, toilet, and hairdryer.

Boat Features & Amenities

Large salon with panoramic windows on upper deck
Air-conditioned restaurant, bar, and lounge area
Partially covered sun deck
No laundry available
Sun deck
Wifi available for a fee
Currency processed on board: Debit and credit cards

Food & Beverages

Special Diet Requests: Special dietary needs may be subject to a supplement of €50 depending on request.
Water on board is drinkable

Bicycles

Rental bikes:

7 speed Gazelle hybrid touring bike equipped with one pannier
Hand brakes
Children's bikes, e-bikes, and tandems are also available on request.
If you prefer, you can request a back pedal brake bicycle and we will do our best to confirm based on availability
Helmet rental (€10) is possible with advanced reservation

Electric bikes (limited availability, please reserve in advance):

Brand, Flyer or similar
3 support levels
7 to 8 gears
Pannier bag

Photos

Tours

Tours sailing on De Willemstad — 1 to 1 of 1

---

North Holland Tour

Easy Bike + Boat Tour in Netherlands

During this bike and boat tour in Northern Holland, you will explore the best of the urban north, such as Amsterdam, Alkmaar, and Volendam, but also the best of the rural landscape. You will bike the…

Bicycles

Touring Bicycle

Velo de Ville City 100

Aluminum step-through frame
Adjustable stem
Shimano Nexus 7 speed
Schwalbe Marathon tyre
Roller brakes
Comfort sadle
28" Wheels
Flat pedals

Accessories

Pannier bag that can be detached
Helmet rental included and available onboard
Pump & repair kit available

Bicycle rental is included in tour pricing but is optional. Guests are also allowed to bring their own bicycles (discount will apply). However, the crew or tour operators are NOT responsible for any damage, loss, or theft of such. In the Netherlands and Belgium, cyclists are not obligated by law to wear a bike helmet. There are bike helmets available onboard at no charge but please request them when booking.

Electric Bicycle (E-Bike)

Velo de Ville CEB 200

Aluminum step-through frame
Bosch Active Line Mid-Engine
Adjustable stem
Front suspension
Nexus 7 speed
Hydraulic brakes
Comfort sadle
28" Wheels
Schwalbe Marathon tyre
Flat pedals

Accessories

Pannier bag that can be detached
Available for people taller than 155 cm (5'1")
Pump & repair Kit available on board

*NOTE: E-bikes feature a small electrical engine and battery that assist and ease your pedaling but you still have to pedal yourself. While riding an e-bike can greatly contribute to the enjoyment of your trip, it is not intended for untrained cyclists as it is not easy to handle such a bike. The engine and battery make the bike much heavier than a regular bike and it also accelerates faster. Handling it well requires good basic cycling skills and confidence.