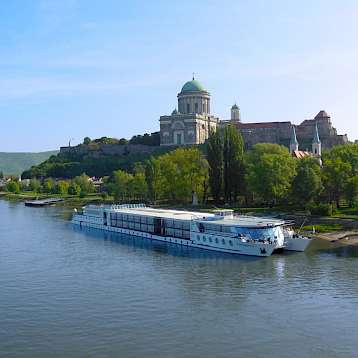 Primadonna
Deluxe Class Boat for Bike Tours
The MS Primadonna is a luxurious Austrian cruise liner that was completely remodeled in 2009 with the focus on luxury. The architecture combined with a dedicated staff makes this a first-class experience. The vessel boasts an interesting double-hull design (catamaran), 6 meter high bow ventrification, and a glass floor in the reception through which you glimpse the underwater world of the Danube.
Overview
Capacity (passengers): 160
Crew members: 47
Dimensions: 113.5 m x 17.4 m
Height above water: 8.2 m
Electricity: 230 Volt
Decks & Cabin Layout
Cabins: 80

Promenade deck (uppermost):

Size of cabin: 16.5 m square
Large sliding glass doors with small balcony and bench seat
Two chairs
Writing desk
Double bed (cannot be separated)

Upper deck:

Size of cabin: 16.5 m square
Large sliding glass doors with small balcony and bench seat
Sofa (turns into sofa bed 75 x 185 cm)
Writing desk
Double bed (cannot be separated)

Main deck (midship):

Size of cabin: 11. 5 m square
Two separate twin beds (cannot be pushed together)
Small porthole (cannot be opened)
Writing desk

Main deck (astern):

Size of cabin: 9.5 m square
One lower and one upper bed, economy cabin (the upper bed is bunk bed)
Porthole, 1 meter in diameter (cannot be opened)
Writing desk
Cabin Amenities
Air conditioning
Shower and toilet
Soap, shower gel, shampoo, shower cap, body lotion
Hairdryer, safe, satellite television, telephone
Mini-bar
Spacious wardrobe
Boat Features & Amenities
Jacuzzi
Sunny seating area on the outdoor deck
Currency accepted on board: Credit card or cash
Wifi available only between Passau and Bratislava
No laundry service on board
Spa area offering a large, indoor Jacuzzi, a Kneip pool, and a sauna
Massages may be available with an advanced reservation
Food & Beverages
Special Diet Requests: Vegetarian diet requests can be accommodated. Vegan diet requests can not be accommodated.
Sophisticated and international cuisine with specialties of the Danube countries, especially Viennese cuisine.
Meals are prepared primarily with organic ingredients.

The day begins with a breakfast buffet, which offers a healthy start to the day, ranging from vegetable juices to the organic corner.
For lunch, a 3-course menu is available with multiple options and a 4-course menu is available in the evenings. In the late afternoon, a traditional 5 o'clock tea is provided, including homemade cakes and pastries in the Primavera café.
At midnight - when the cinema evening in the board theatre is over - midnight refreshments await you.
For cycling cruises, a lunch packet can be chosen.
Please note, vegetarian diet requests can be accommodated. However, vegan diet requests CANNOT be accommdated aboard the Primadonna.

Possible types of payment on board: Cash, debit card, credit card (Mastercard & Visa)
Rental Bikes
City touring (high handlebars and very upright riding position) bicycles for rental are offered with both men and women's frames: with 7 (Kalkhoff) or 24 speeds (Schauff).
7-8 speed Kalkhoff with either 26 or 28-inch tires with hand and back pedal brake
24-speed Schauff with 28-inch tires with hand brake
Electric bikes
8-speed freewheeling bicycle (high handlebars and very upright riding position) with electronic pedal support, disc brakes (hand), available in men and women's frames. Battery capacity is from 50 - 80 km (dependent on the cyclist's weight/height, power adjustment). Weight is 19 kg.
All bikes come equipped with two rear panniers.
Children's bikes
Three sizes of bike are on offer, 16-inch, 20-inch and 24-inch frame sizes (26-inch being the nearest adult-sized frame). Please specify your child's age and height at the time of booking.
Bike trailers are also available. ("Kiddy-Van" model, safely designed to carry one or two children/max. weight 40 kg). The trailer is of German manufacture fitted with 3-point-lap safety belt.
'Tag-along' bikes are also available. These 'Follow- me-bikes' are suitable for 6-year-old children and upward, who are too big for 'Kiddy-Vans' but still too small to safely ride a bike on their own. The Follow-me Tandem is well equipped with chainguard, mudguards (fenders), an adjustable saddle. These only available for booking in conjunction with booking one of the rental bikes.
Child seat available for free.
Primadonna
Photos
tours on

Primadonna 1

to

2

of

2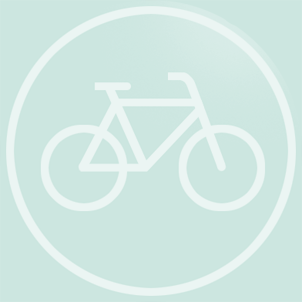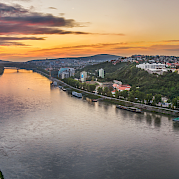 Along the Danube - Four Country Tour Austria, Germany, Slovakia, Hungary 4.6/5 (326 reviews)Deluxe Class Boats PRIMADONNA FRIDAYS: May 8, May 15, … This bike and boat tour along the Danube River has proven to be one of our most popular bike tours and with good reason. Between the Austrian and Hungarian …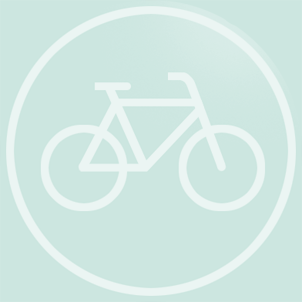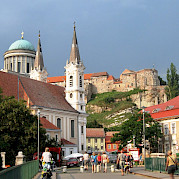 Along the Danube-Passau-Belgrade-Vienna aboard the Primadonna Germany, Serbia, Austria 4/5 (2 reviews)2020  9-day tour Thursdays, May 21 and October 8, … Bike and boat tours along the Danube have always been a best seller and this tour will be no exception. Combine an active vacation with luxury, and you have …
view details
| | |
| --- | --- |
| Tour | Bike + Boat |
| Type | Self Guided |
| Skill | Easy |
| Length | 9 days |
---