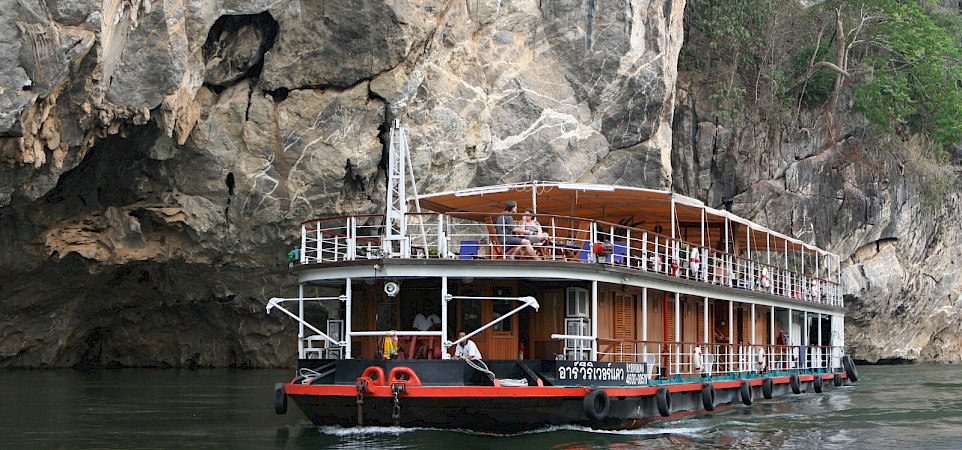 RV River Kwai
Premium Class Boat
This unique vessel is a river cruiser built in the colonial style based on designs used by the original Irrawaddy Flotilla. The RV River Kwai carries a maximum of 20 passengers lodged in 10 teakwood twin bed cabins all located on the main deck. This is a perfect way to see parts of Thailand that are otherwise inaccessible.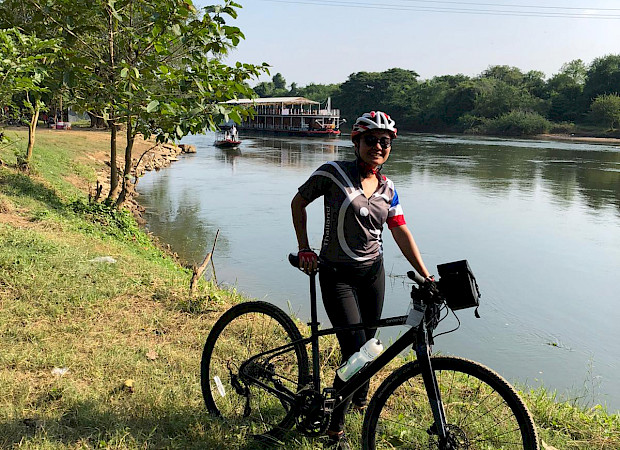 Overview

With just two decks and ten cabins, the RV River Kwai offers unique and intimate accommodations and the opportunity to see the inland regions along the River Kwai with exotic scenery and wildlife as well as observe the local traditional fishing boats and rafts along the way

Overview

Capacity: 20 passengers
Crew: 10 + cruise director
Size of Boat:

Length: 120 ft/36 m
Beam: 25 ft./7.6 m
Draft: 3 ft./90 cm
Tonnage: 156 tons
Year of construction: 2002

Decks & Cabin Layout

Decks: 2
Number of cabins: 10
Cabin type: twin
Cabin size: 12.0 m2
Upper deck: Open plan with dining, bar and seating areas covered by a collapsible frame awning to enable the vessel to pass under low bridges
Main deck: 10 outside facing, teak enhanced cabins with sliding floor to ceiling glass doors and private bathrooms with shower

Cabin Amenities

Outside cabins
Airconditioned
Floor to ceiling glass doors
Private bathroom with shower
Bath products
Hairdryer
Mini-safe
Minibar
Coffee and tea service

Boat Features & Amenities

Laundry service available for a reasonable fee
Room service
Large outdoor deck

Photos

Tours

Tours sailing on RV River Kwai — 1 to 1 of 1

---

Thailand Adventure

Easy–Moderate Bike + Boat Tour in Thailand

Head off on an exotic bike and boat tour in southeast Asia that combines boating on the River Kwai with cycling, and multi-activity exploration on land. Then end off your vacation in style with a…

Bicycles

Electric Bicycle (E-Bike)

Cannondale Trail Neo

Bosch power pack and drive unit from Bosch
10-speed Shimano gearing with plenty of range for all conditions
Hydraulic disc brakes
Front suspension
Battery that is integrated into the frame

Accessories

*NOTE: E-bikes feature a small electrical engine and battery that assist and ease your pedaling but you still have to pedal yourself. While riding an e-bike can greatly contribute to the enjoyment of your trip, it is not intended for untrained cyclists as it is not easy to handle such a bike. The engine and battery make the bike much heavier than a regular bike and it also accelerates faster. Handling it well requires good basic cycling skills and confidence.