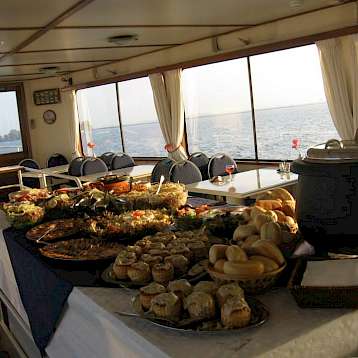 Tijdgeest
Standard Class Boat for Bike Tours
Built in the year 1897, the Tijdgeest was one of the first passenger barges on the river Rhine in Germany. More than 100 years later, in 1998, the ship was completely renovated and rebuilt into a hotel ship.
On the lower deck you'll find the cabins, all with private facilities. On the upper deck you'll find a very spacious living/dining room with panoramic view. An on-board computer is available for you to use.
Overview
Capacity: 31
Boat size: 43 meters long x 6.3 meters wide
Decks & Cabin Layout
Cabins: 14 total; all on lower deck
Cabins; some with bunk beds and some with twin beds
8 double cabins equipped with lower double beds
1 double cabin equipped with lower single beds
1 triple cabin equipped with lower single beds
2 double cabins with single split-level beds (L-shaped above eachother)
2 cabins for single use, each equipped with a lower single bed
Cabin Amenities
Windows can not be open
Private shower and toilet in all cabins
Hair dryers are not available on board
Electricity 220 Volt power socket
Boat Features & Amenities
Air conditioning in the salon
Bar&Dining area
Internet available on board for light surging only. Please discuss terms of use with the skipper.
Central heating
Helmets are not available
Food & Beverages
Special Diet Requests: Special dietary requests are subject to a €50 surcharge, payable in advance.
Tijdgeest
Photos
---