Amsterdam to Brussels
Crossing borders on a splendid guided European cycling adventure…
This great tour combines two exciting capital cities! On arrival day, you will have the afternoon to explore the first vibrant city, Amsterdam. The next day, you'll sail to Breukelen (Brooklyn's namesake in NY) along the charming Vecht River. En route, you'll notice gorgeous stately houses that have been beautifully restored and which belonged to the wealthy during the prosperous Dutch Golden Age (17th century).

Continuing on, you will pass the very impressive Castle De Haar and the village of Montfoort before reaching Vianen. Across Holland's many fruit gardens, the Betuwe, the boat will cruise the Waal River to the town of Tiel. Via dikes and waterways, you'll next arrive in the town of 's Hertogenbosch with the impressive St. Jans Cathedral. The beautifully preserved fortified town of Willemstad is strategically situated on several waterways. Pedaling over the stilled islands of Zeeland, you'll cross the Belgian border. Belgium is famous for its many tasty beers! The Flemish port town of Antwerp is another highlight. The trip will visit Belgium's capital, Brussels, renowned for its lace, chocolate, Manneken Pis, and La Grand Place! You end the tour in the enchanting town of Mechelen.

Be sure to check out all of our Bike and Boat tours in Holland.

Tijdgeest (low beds):  £ 796 $ 1,254 € 865 NOK 8362 kr 7718 $ 1,003

*Single supplement:  £ 193 $ 305 € 210 NOK 2030 kr 1874 $ 244

Tijdgeest and Zebra (bunk beds): £ 750 $ 1,182 € 815 NOK 7878 kr 7272 $ 945

*Single supplement: £ 147 $ 232 € 160 NOK 1547 kr 1428 $ 186

*If you are willing to share a cabin with someone else of the same gender, you may forgo the single supplement fee.

extra

options

Discounts for triple and quad cabins (if available): 18%

please

note

Rates are based on double occupancy.

Information to read before you book.

We recommend purchasing bike trip insurance.

† Currency exchange rate set 90 days before travel.
Where
You'll Stay
Aboard Standard plus boats, the Tijdgeest or Zebra.
What's
Included
Accommodations for 7 nights on board
Breakfasts, packed lunches, three course dinners
Coffee and tea on board
Multi-lingual tour guide
7-speed hybrid bicycle
Beer tasting in Antwerp café 't Waagstuk
Train Mechelen - Brussels v.v.
Route information & maps
Several city walks
Bicycle protection
What's
Not Included
Individual arrival to the boat
Beverages (incl. alcohol), available on board
Tour
Dates
On Standard Plus boats: 
Tijdgeest: 
Zebra:
Skill
Level
Easy, guided bike and boat tour with distances of about 20 to 28 miles per day over flat roads/bike paths with little or no traffic.
Tour
Boats
Day-To-Day
Itinerary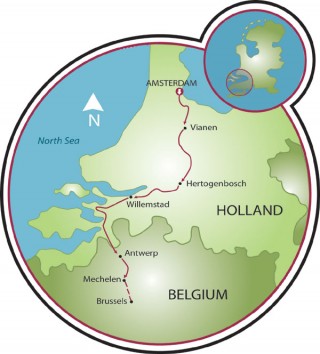 Day 1: Arrival in Amsterdam; optional cycling, 9 mi. (15 km)
Day 2: Amsterdam - Breukelen - Vianen, 21 mi. (35 km)
Day 3: Vianen - Meerkerk - 's Hertogenbosch, 27 mi. (45 km)
Day 4: 's Hertogenbosch - Geertruidenberg - Willemstad, 27 mi. (45 km)
Day 5: Willemstad - Antwerp, 27 mi. (45 km)
Day 6: Antwerp - Mechelen, 25 mi. (40 km)
Day 7: Train to Brussels, day of rest, train back to Mechelen.
Day 8: Departure from Mechelen
*Cycling distances are approximate. The above planned itinerary is subject to change due to changing wind and weather conditions and other unforeseen circumstances having to do with mooring requirements, etc.
Day 1: Arrival in Amsterdam; short bike tour, 9 mi. (15 km)
Individual arrival in Amsterdam where the boat is moored. Boarding time is between 12:30 and 1:30. After you check-in on board you can meet with the crew and your fellow passengers. In the afternoon you have the option of going on a city walk with the tour guide, or a canal tour of Amsterdam!
Day 2: Amsterdam - Breukelen - Vianen, 21 mi. (35 km)
The ship will take you to Breukelen, where you'll start your bike tour. Brooklyn in New York was named after this quaint town. Via the impressive Castle De Haar and Montfoort, you'll ride to Vianen and stay the night.
Day 3: Vianen - Meerkerk - 's Hertogenbosch, 27 mi. (45 km)​
In the morning, there is a short sailing trip to Meerkerk. Today the cycling trip takes you through the rural area between the rivers Lek, Waal en Maas. After having passed many dikes and rich polderland you arrive in the town of 's Hertogenbosch, the charming capital of the province of Noord-Brabant.
Day 4: 's Hertogenbosch - Geertruidenberg - Willemstad, 27 mi. (45 km)
The day starts with a sailing trip on the Maas River. At Geertruidenberg, you'll mount your bike for a very varied tour to the attractive walled town of Willemstad.
Day 5: Willemstad - Antwerp, 27 mi. (45 km)
The boat takes you to the large Kreekrak locks in about 4 hours. From there you will start cycling first across the Dutch - Belgian border and then after that you will head for Antwerp. The boat will be moored in the historical Willemsdok. In the evening the guide will take you to taste some authentic Belgian beer. A perfect way to end the day! 
Day 6: Antwerp - Mechelen, 25 mi. (40 km)
The morning is at your disposal to see more of the great city of Antwerp. Towards the afternoon, you'll cycle Belgium across the Flemish countryside to the charming town of Mechelen, where the barge will be waiting for you.
Day 7: Train to Brussels, day of rest, train back to Mechelen
We start the day with a train ride to Brussels. Your tour leader shows you the way by means of a small city walk. You should have plenty of time to visit all the highlights of the capital of Belgium. In case you become hungry or thirsty, try one of the culinary specialties: mussels, french fries, chocolate, waffles and - of course - a special beer. Late in the afternoon you'll return to Mechelen by train.
Day 8: Departure from Mechelen
Tour ends following breakfast.
Important note: Due to restrictions by Belgian naval authorities, passengers are no longer allowed to remain on board while the barge motors the Belgian waterways. Non cycling participants will be required to take a taxi or public transportation at their own expense. The tour leader will provide details on board. 
You can view all of our bike and boat tours or look at our featured bike trips, specials, and news.
Email or Call 800-951-4384 +1 570-965-2064
---
Amsterdam to Brussels
Boats + Barges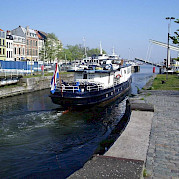 Tijdgeest Belgium, Netherlands Standard Plus Class Boat Built in the year 1897, the Tijdgeest was one of the first passenger barges on the river Rhine in Germany. More than 100 years later, in 1998, the ship was completely renovated and rebuild into a hotel ship. On the lower deck you'll find the cabins, all with private facilities. A number of cabins have twin beds, while others use bunk beds. On the upper deck you'll find a very spacious living/dining room with panoramic view. An on-board computer is available for you to use.