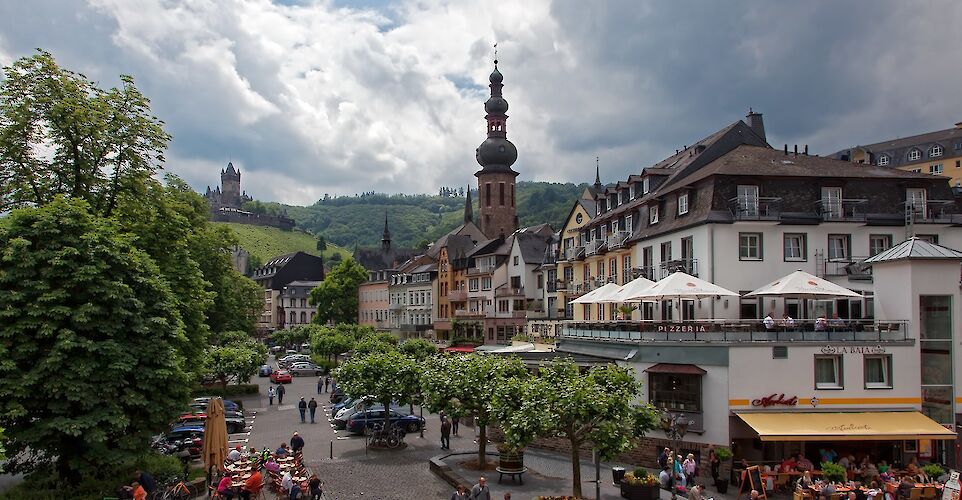 Amsterdam to Cochem
Bike & Boat in Holland & Germany!
Overview

European biking and boating do not get any better than this!

Featuring Holland, the land of canals, windmills, and bikes, and Germany, the land of mighty rivers, this bike and barge tour highlights the river life down through the ages as you follow the mighty Rhine, the pulsing economic vein of Europe.

Around every bend, legends and history spring to life. Medieval villages, rural farms, and gardens tended to perfection all exist alongside sparkling modern cities.

You enjoy easy cycling on flat and lovely riverside bike paths as you connect the present to the past, from the Romans to the Industrial Revolution and from World War II to the German reunification.

Highlights

National Park de Hoge Veluwe
Arnhem and Remagen
The 13th-century Doornenburg Castle
The sparkling city of Düsseldorf
Cologne Cathedral
West Germany's former Capital city, Bonn
The castle of burg Eltz
Romantic Rhine Valley

Take a look at all of our Bike & Barge tours!

Itinerary

Day 1: Amsterdam -  Wijk bij Duurstede
Day 2: Wijk bij Duurstede - Wageningen - Arnhem
Day 3: Arnhem - Pannerden - Rees (Germany)
Day 4: Rees - Wesel - Düsseldorf
Day 5: Düsseldorf - Cologne
Day 6: Cologne - Bonn
Day 7: Bonn - Koblenz
Day 8: Koblenz - Burg Eltz - Cochem
Day 9: Departure from Cochem

 

Day 1: Amsterdam -  Wijk bij Duurstede
Onboard, as the boat navigates, you will get a taste of the beauty of Amsterdam seen from the water. Your cycling begins as a scenic ride past the prestigious houses along the Vecht, where Amsterdam's sophisticated traders and aristocrats had their country homes. The winding little river is a branch of the Rhine and you follow this upstream. The cycling ends in Breukelen. By the end of the afternoon, you board the barge and cruise to Wijk bij Duurstede, a small fortified town on the Rhine River. 

Day 2: Wijk bij Duurstede - Wageningen - Arnhem
What a magical place! No visit to Holland is complete without a ride through Europe's largest drifting dunes in the National Park Hoge Veluwe. Imagine an African safari with grassy plains and weathered pines, bogs brimming with rare species, and hardwood forests filled with birdsong. The geography is wild thanks to an Ice Age glacier that dumped its load of sand and gravel in the region.  Awaiting you on the other side is the world-famous Kröller-Müller art gallery and sculpture park with the largest private Van Gogh collection in the world. Also showcased are works by Claude Monet, Georges Seurat, Pablo Picasso and Piet Mondriaa. The route continues to Arnhem 'Home of Eagles,' given its name by Romans stationed on the Rhine. Perhaps you recall the 1977 classic A Bridge Too Far and the failed Allied-Forces attempt to break through German lines and take several bridges (including Arnhem) in Operation Market Garden? Renamed the John Frost Bridge, you may walk or ride across this beloved landmark into Arnhem center which is teeming with art, fashion, and all things Lekker (Sweet, fun, cool).

Day 3: Arnhem - Pannerden - Rees (Germany)
Of bridges, battlegrounds, and castles, for example, the 13th-century Doornenburg Castle. It's an impressive brick behemoth where German commanders set up headquarters during the Battle of Arnhem. Naturally, it became a prime target for British bombers. After a tour, your route leaves Holland, crossing the border into Germany. Around the bend is Emmerich, home of Germany's longest suspension bridge. This engineering feat spans some 1,600 ft across the Rhine and you can bike across for super aerial photos. Some 500 ships pass underneath it every day. Before the Rhine was channeled in the 1800s, sturgeon, shad, and salmon used to swim the river. Now, the barges are the big fish. Emmerich is also home to a WWII Biber submarine and one-man U-Boat which you can view in the Rhine Museum. Day's destination is Rees, famous for its medieval wall, towers, and river promenade with art sculptures, restaurants, and cafés. This is the perfect place to raise your Riesling glass or beer stein and watch the Rhine flow by. 

Day 4: Rees - Wesel - Düsseldorf
The great Ruhr region was once Germany's blast furnaces during the Industrial Revolution, until recently. Pedaling peacefully along the Rhine, you'll see historic factory stacks, now mostly quiet and converted into other uses and venues—a reminder of when coal was king. This area is also where Neanderthal Man was found in 1856. And, it's home to the mega supermarket chain Aldi. We cruise through the world's biggest inland harbor in Duisburg then it's anchors away to the modern, sparkling city of Düsseldorf—Germany's fashion and advertising capital.  Here you drink Altbier which doesn't mean the beer is old; it's a top-down fermentation style that's hoppy and bitter-crisp. The waiters won't ask if you want a second beer, it will just appear in front of you.  Explore the Altstadt along the river or check out Media Harbor, the rehabbed riverside warehouse district that will blow your mind. The city sparkles with international flair, übermodern architecture, and swanky folk. A casual feeling reigns in the evening when the "suits" loosen their ties at the 17th century Füchschen Brewery for roast pork shank (Haxen). You will need a couple of cold ones to wash down the Haxen. Bring it on Düsseldorf!

Day 5: Düsseldorf - Cologne
Today's ride stretches from one rival city to the other. In Düsseldorf, you drink Altbier, but you'll forget that word exists when you arrive in Cologne. Here, Kölsch is king. Everything worth seeing is within walking distance from the barge. The city isn't just big, it's ancient. The Romans set up their northern military headquarters here in 50 AD.  The blending of Roman and Germanic cultures is showcased in the Roman-Germanic Museum. The cathedral of Cologne towers above all. It is longer than a football field and holds 20,000 people! It takes an army of specialists to maintain the 750-yr old landmark, 80 stonemasons, glazers, and roofers. Once you hear the tolling of its bells, you will never forget it. There are many free concerts. The best place to take it all in is at Café Reichard for a German trifecta, coffee, cake, and cathedral views. district for rambling The medieval Hay Market is a wonderful place to meander.  Here you can fill your steins with good Kölsch beer and top it off with an order of Himmel un Ääd (heaven and earth). Apples and mashed potatoes are Cologne's comfort food!

Day 6: Cologne - Bonn
Today you will pedal to  West Germany's former Capital city. When the wall came down in 1990, most of the government moved back to Berlin. It's the birthplace of musical genius Ludwig van Beethoven. You can visit the world-famous Haribo factory with all the gummy sweets and gadgets—imagine Charlie and the Chocolate Factory.  Bonn's parks and gardens are splendid. The first-rate Botanical Gardens at Poppelsdorf Palace are among the oldest. Have you ever seen a water lily whose giant pads hold the weight of a 95-pound child!? And the world's rarest flowering plant, titan arum, the Sumatran Corpse Flower that takes 7 years to blossom for just one day! Stroll Bonn's endless river promenade and the nearby Rheinaue Leisure Park.  For the best views of the legendary Siebengebirge hills, join the locals under the great chestnut trees at the 'Alter Zoll' beer garden. It's a former Rhine toll station and military fort along the river.

Day 7: Bonn - Koblenz
This morning you cruise past the Siebengebirge (seven hills) and officially enter the legendary middle Rhine valley with its dramatic cliffs and curves, romantic castles, sloping vineyards, and sleepy half-timbered villages. You sail past the ancient volcano, Dragon's Rock where the hero Siegfried killed the dragon and bathed in its blood to become invincible. The Dragon's Castle lies in ruins, a reminder of French revenge. Today's biking starts in Remagen with a stop at Ludendorff Bridge. It was only one of two bridges still intact over the Rhine during Operation Lumberjack in the final days of WWII. In a stroke of good luck, U.S. Army got 25,000 troops, six Army divisions, tanks, artillery, and trucks across the river. You pass little villages with old churches and the medieval harbor crane. Arriving in Koblenz, you moor in the shadows of mighty Ehrenbreitenstein fortress. Here the noble Riesling grape is the Queen of Cups. Trocken means dry. Order one and prepare to become a convert for life. Prefer a beer in the Koblenz' Biergarten? You will find that just steps away. 

Day 8: Koblenz - Burg Eltz - Cochem
In the morning, the boat crosses the first lock and enter the Moselle! Drop off gives us a headstart to the foot of the hills where the Burg Eltz is hidden. Untouched by wars or fires, you will find this beautiful castle worth the effort of walking to it. The guided tour takes you back through the ages.

After our visit, we continue cycling to Cochem, the most visited village on the Moselle River. A bustling and characteristic Mosel town with steep wine-clad mountains, wooded hills, an impressive castle and a picturesque square with beautiful timber-framed houses and cafes. Time for a Moselle wine and our farewell diner!

Day 9: Cochem
Departure after breakfast by 9 AM. 

If biking or biking and boating is not your thing, take a look at all our trips in Europe and beyond!

Map

Boats

Inclusions

What's Included

Accommodation for 8 nights in climate-controlled cabins
Breakfast
6 x dinner
Packed lunches
Coffee & tea on board
Tour guide - two guides will be included for 18 guests and over
Daily cabin cleaning
Bike rental including helmet, panniers, & water bottle
Bike protection
Entrance to the National Park Hoge Veluwe
Entrance to Kroeller Mueller Museum
Entrance & guided tour at Burg Eltz

What's Not Included

Electric bicycle (available with supplement. See pricing)
2 x dinner
Drinks other than mentioned
Entrance fees & excursions not mentioned
Gratuities

Dates & Pricing

Dates

2022

Saturday departure
July 8, 2022

Please Note

Rates are based on double occupancy
Tour prices are based on the fuel costs at time prices are set, often months or years in advance. In rare cases, additional fees may apply for fuel cost increases.

Pricing

2022

Price $ 2896 £ 1630 $ 2,607 € 1892 ₪ 6821 NZ$ 3201 kr 20205 $ 2,036

Extra Options

Electric bike: $ 196 £ 110 $ 176 € 128 ₪ 461 NZ$ 217 kr 1367 $ 138

Extra Info

Skill Level — Easy

This is an easy, guided bike and boat tour with average daily distances between 35 and 45 km.

Airport Info

The closest international airport to your tour start in Amsterdam is Amsterdam Schiphol (AMS) and to Cochem, at the end of your tour, there are a couple of options. Luxembourg Airport (LUX) is 89 kilometers from Cochem and Frankfurt International Airport (FRA) is 99 kilometers.

Local Travel

Amsterdam:
There is a direct train that leaves 6 times per hour from the airport to Amsterdam Central Station. It takes about 16 minutes. The price for a train ticket Schiphol-Amsterdam Central is approx. € 4,20 per person for a single journey. Walking distance to the barge is about 10 to 15 minutes or you could take a short taxi ride. A taxi from the airport to the barge in Amsterdam takes about 30 minutes and costs approx. €45 
Cochem:
Though Cochem is actually closer to Luxembourg than Frankfurt by about 10 kilometers, travel to Frankfurt Airport (FRA) is slightly more convenient in that you can travel by train to the airport. There is a train station on the lower level of the airport. There are no direct routes, and depending on your time of departure, you will have at least one change in Koblenz. Travel time is approx. 2 1/4 hours. Please contact us if you plan on extending your vacation in Germany. We can provide more departure options based on your travel plans.

Climate

Please check local conditions before your arrival. The Netherlands has a temperate maritime climate influenced by the North Sea and the Atlantic Ocean and Cochem, as well, has a mild continental climate.

Important to know

Documents

It is each traveler's responsibility to ensure that you are in compliance with the country or countries you plan to visit.  This includes and is not limited to passport validity, visa requirements and acquisition, blank passport pages required for your destination (s), etc.

US citizens:  A good website to research the requirements of the Schengen Agreement and entry into other countries is travel.state.gov.
Non-EU and EU residents: Please research the requirements of your country of residence for international travel and your destination country or countries.

*Important note: Please check on the  European Travel Information and Authorization System (ETIAS) status as once implemented, this will be required to visit any of the 26 Schengen-member countries for tourism, business, medical, or transit. This is an additional check on security rather than a visa.

Covid-19 Info

Country Entry Requirements

Due to the changing requirements for entry, it is imperative that you stay up to date on requirements set by the country/countries that you are visiting. Please visit our Travel Restrictions Tool page and the country/countries government webpage for this information.

Tour Requirements

Proof of vaccination is required to board. 

---

Photos
Have you been on this tour?
Please leave your feedback