4.7

/

5

(

10

ratings)
Around Paris
France Bike + Barge Tours
Biking the Seine River
Paris, City of Light, is the focus of this bike and boat adventure in France. As you pedal along the banks of the winding Seine and Oise Rivers, you cycle through some famous forests like the dense and lush Compiègne, famous for its oak and beech trees, flora and fauna, and home to a varied array of animal life.

Biking through the picturesque villages of Auvers-sur-Oise and Moret-sur-Loing, you will experience first hand why the painters Van Gogh and Sisley were so inspired here and able to produce their great works.

You will enjoy one full free day in Paris. Explore on your own the famous sites such as the Eiffel Tower, Sacre Coeur, Arc de Triomphe, museum Centre Pompidou, the Versailles palace and much more.

Highlights:

Fontainebleau Castle
Evening cruise through Paris
Villages of Auvers-sur Oise and Moret-sur-Loing
Free day in Paris

Tour runs in opposite directions. One week tour will begin in Compiègne and end in Moret-sur-Loing. The next week, the tour will begin in Moret-sur-Loing.

Don't' forget that Tripsite also provides amazing bike tours in France along with 100s of other other bike tours in Europe.

Price £ 842 $ 1,327 € 915 NOK 8845 kr 8165 $ 1,061

High season supplement (September 2, 9,16 and 23): £ 73 $ 115 € 79 NOK 764 kr 705 $ 92

Single supplement (single cabins can not be guaranteed to be available): £ 203 $ 319 € 220 NOK 2127 kr 1963 $ 255

extra

options

Electric bicycle rental (two per departure available): £ 181 $ 286 € 197 NOK 1904 kr 1758 $ 229 *

*includes mandatory bike protection

Discounts available for children.

please

note

Rates are based on double occupancy.

Information to read before you book.

We recommend purchasing bike trip insurance.

† Currency exchange rate set 90 days before travel.
Where
You'll Stay
On board the standard plus vessel, Clair de Lune
What's
Included
Accommodations for 8 days/7 nights
All meals including breakfasts, packed lunches, and 6 x dinner
24 gear hybrid bicycle with pannier
Guided cycling itineraries
Several city walks
Info booklet and maps
Visit to Castle Fontainebleau
Transfer by bus between Paris/Gare du Nord and Moret sur Loing (day 1 or 8 depending on direction of tour)
Wine and Cheese tasting
What's
Not Included
Excursions other than those included
Helmet
1 x dinner in Paris
Drinks on board
Tour
Dates
Compiègne to Moret-sur-Loing:  August 19, September 2, September 16, 2017
Moret-sur-Loing to Compiègne: August 26, September 9, September 23, 2017
Skill
Level
This is an easy guided bike and boat tour.
Tour
Boats
Day-To-Day
Itinerary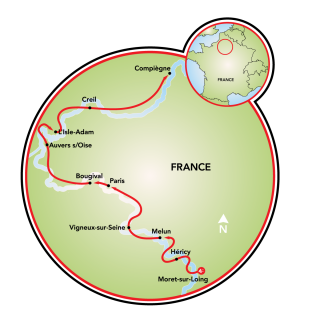 Day 1: Moret-sur-Loing (or Saint Mammès), 4 mi. (7 km)
Day 2: Moret sur Loing - Melun,  28 mi. (45 km)
Day 3: Melun - Vigneux s/Seine - Paris,  31 mi. (50 km)
Day 4: Paris, free day
Day 5: Paris/Bassin La Villette - Bougival, 25 mi. (40 km)
Day 6: Bougival - Auvers s/Oise - l'Isle Adam, 25 mi. (40 km)
Day 7: l'Isle Adam - Creil - Compiègne, 25 mi. (40 km)
Day 8: Compiègne
 *All distances are approximate. The above-planned itinerary is subject to change due to changing wind and weather conditions and other unforeseen circumstances having to do with mooring requirements, etc.
Day 1: Moret-sur-Loing (or Saint Mammès)
Meeting time at approximately 2:00 PM at Paris Gare du Nord for transfer to mooring location of the barge. Arrival at approximately 4:00 PM. Medieval Moret is located on the edge of the Fontainebleau Forest and is a town of indisputable charm with its unparalleled location on the banks of the Loing. It boasts Roman and medieval architecture and history and a rich impressionist artistic legacy. The painter Sisley made his home here.
In the evening, you'll make a short cycling ride to Saint Mammés, a traditional barge village at the confluence of the Seine and Loing rivers.
Day 2: Moret sur Loing - Melun, 28 mi. (45 km)
Today begins with a bike ride to the impressive castle and beautiful gardens of the Château de Fontainebleau. The Seine passes through Héricy and Samois-sur-Seine, ending in the small charming provincial town of Melun. An easy walking tour is on the agenda for you to enjoy several beautiful bridges, historic buildings and old churches.
Day 3: Melun - Vigneux s/Seine - Paris, 31 mi. (50 km)
By bike, the route leads through the forests of the vast Domaine de Senart to Vigneux-sur-Seine. The boat awaits here and after boarding, sails on the Seine to Paris. The boat will moor in the historic Bassin de Bastillelocated in downtown Paris! What better way to be immersed in the Parisian life.
Day 4: Paris, free day
In the morning, there's a cruise by barge from Bassin de l'Arsenal to Bassin la Villette. This impressive sailing trip on the Canal St. Martin (appr. 2,5 hours) takes you through a tunnel, along romantic bridges, and through historic locks. At approximately 10:30 am, you are free to explore Paris and its highlights such as the Eiffel tower, museums (Louvre, Centre Pompidou), do some window shopping, etcetera.
Today is a free day so that you can explore Paris. You can visit the Eiffel Tower, the Louvre, Centre Pompidou, or perhaps you would just like to shop.
In the early evening, the boat motors from the Bassin de l'Arsenal to the Bassin la Villette on the Canal St Martin, 4.5 km long, of which more than 2 km is underground, and a drop of 25 meters. Inaugurated in 1825, the Saint-Martin canal has 9 locks and swing bridges.
Day 5: Paris/Bassin La Villette - Bougival,  25 mi. (40 km)
Starting in downtown Paris you make an easy-going cycling tour mainly on bicycle paths following the river Seine, partly across the famous Bois de Boulogne to the village of Bougival, your peaceful mooring-place for the night.
Day 6: Bougival - Auvers s/Oise - l'Isle Adam ,  25 mi. (40 km)
Your cycling trip passes the château St. Germain-en-Laye, leads through Conflans Ste Honorine, the French Barging capital, to the village of Auvers s/Oise. Here Vincent Van Gogh used to live and work. In the late afternoon, you embark the barge for a sailing trip to l'Isle Adam, a charming village situated on the banks of the river Oise.
Overnight is in St. Leu d'Esserent, a village situated on the banks of the River Oise.
Day 7: l'Isle Adam - Creil - Compiègne, 25 mi. (40 km)
In the early morning, you sail to the town of Creil. Here you start a scenic cycling trip alongside the river Oise that leads to the imperial city of Compiègne. There are several options for a visit: the beautiful park, the Napoleon 3rd palace, the St. Jacques church (13th century). In the evening, your tour leader may take you for a walk in the town center.

Day 8: Departure
After breakfast, your tour officially ends. The station of Compiègne is located near the ship to access trains to Paris-Gare-du-Nord and Charles-de-Gaulle Airport.
Check out our featured bike trips, specials, and news!                                   
Email or Call 800-951-4384 +1 570-965-2064
---
Around Paris
Boats + Barges
Clair de Lune France Standard Plus Class Boat In May 2014, Marco Pouw and his wife Astrid assumed ownership of the ship Clair de Lune. In the winter of 2014, the ship was renovated and made ready for a new bike and boat adventure in and around Paris, launching in the spring of 2015.Marco has great experience as a skipper on freighters in the Netherlands, Belgium and Germany and looks forward to this venture with great anticipation and enthusiasm.