4.9

/

5

(

8

ratings)
Auxerre to Paris and Paris to Auxerre
France Bike + Barge Tours
A bike and boat tour in the Burgundy region of France
This bike tour in France takes you through Burgundy, one of the country's most fascinating regions, and often labeled as the land of fine art and living. This area is well-known for its easy pace of life, mild climate, and friendliness. It has a rich royal history, but you may know it now for the delicious wine and cheeses. By bike and boat you will explore historic towns, imposing castles, and quaint villages.

Wine is a mainstay and the pride of Burgundy. The Romans introduced grapes, here but the production was mastered by the local monks, whose monasteries and medieval churches mark the landscape. Miles of towpaths and routes through the vines and honey-colored villages make for a perfect cycling and gastronomic adventure!

Highlights include:

Paris
Auxerre
Sens and many other towns, villages and cities.
Escolives Chablis winery
Medieval town of Moret-sur-Loing
Fontainebleau
The painter's village of Barbizon

Would you like to see other bike and boat tours in France? Please click here for a complete list of all our bike and barge tours in France.

Twin/double: £ 1604 $ 3,232 € 1855 NOK 17777 kr 16410 $ 2,133

Only available for charters at this time. Ask us for pricing for your group!

extra

options

Mandatory bike protection (for both hybrid and e bike): £ 13 $ 26 € 15 NOK 144 kr 133 $ 17 Electric bicycle rental (two per departure): £ 173 $ 348 € 200 NOK 1917 kr 1769 $ 230 Single cabin on request: 50% surcharge
Bicycle helmet rental: £ 9 $ 17 € 10 NOK 96 kr 88 $ 12

please

note

Rates are per person based on double occupancy.

Information to read before you book.

We recommend purchasing bike trip insurance.

† Currency exchange rate set 90 days before travel.

Travel

Fly to Paris Charles De Gaulle.

Local Travel

From the airport, there are regional trains to Auxerre.

Climate

Check local conditions prior to arrival. Average high/low temperature for the area in degrees can her found here: Weatherbase.com

---
Tour
Dates
Elodie, 11 day tour
Paris to Auxerre: June 30, 2019
Auxerre to Paris: July 11 and August 22, 2019
*Elodie, 11 day tour
Paris to Auxerre: June 28, August 9, and August 30, 2020
Auxerre to Paris: July 9, August 20, and September 10, 2020
(only available for charters at this time)
Skill
Level
This guided bike and boat tour in France is rated easy to moderate. The itinerary is mostly flat with some hills on rural paths and country roads. Cycling experience and good physical condition is expected.There are some hilly stretches but you will be able to walk if necessary. It is important that you have recent cycling experience on roads with traffic and with the distances mentioned in the tour.
Where
You'll Stay
On the comfort plus boat, the Elodie
What's
Included
Accommodations on board for 10 nights
Breakfast buffets, packed lunches and 9 x three-course dinners
Coffee and tea on board
Tour guide
24-speed hybrid bicycle with pannier, water bottle, and lock
Harbor dues and tourist tax
Maps if requested to plan personal itinerary
What's
Not Included
All beverages other than those mentioned
Obligatory Bicycle Protection: €15
Evening dinner on Saturday night
Entrance fees to museums or attractions
Helmet (rental possible)
Day-To-Day
Itinerary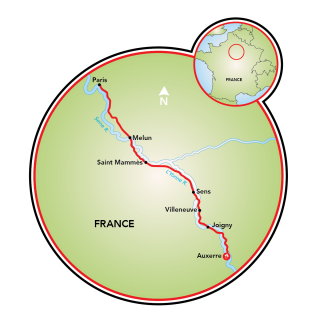 Day 1: Auxerre, 9 mi. (14 km)
Day 2: Auxerre.
Day 3: Auxerre - Joigny, 20 mi. (32 km)
Day 4: Joigny - Villeneuve, 15 mi. (24 km)
Day 5: Villeneuve - Sens, 13 mi. (21 km)
Day 6: Sens - Saint Mammès, 12 or 26 mi. (20 or 42 km)
Day 7: Saint Mammès - Nemour - Saint Mammes 28 mi. (45km)
Day 8: Saint Mammès - Melun, 21 mi. (34 km)
Day 9: Melun - Ablon - Paris, 12 or 25 mi. (20 or 40 km)
Day 10: Paris
Day 11: Paris
Day 1: Auxerre, 9 mi. (14 km)
Embarkation begins at 2 pm. Upon your arrival, the crew will welcome you on board the Elodie with coffee or tea. Once acquainted with the crew, you will be given an explanation of the rules on board and information on the program. After this introduction, a short tour along the cycle paths of Auxerre will follow providing you a chance to get comfortable with your bike and make the necessary adjustments.
Day 2: Auxerre.  
We will explore the area of Auxerre and cycle along the Yonne River to visit a winery where you can taste the centuries of wine craft wine in cellars from the 12th and 17th century. The area of Auxerre has a lot to offer. If you feel like relaxing and just want to stroll around Auxerre please do and enjoy this beautiful city with the Abbey St Germain, the Cathedral St Etienne and the clock tower.
Day 3: Auxerre - Joigny, 20 mi. (32 km)This is a ride along the quiet riverbanks and small lakes. Along the banks you can see the "salmon stairs", a special passage for the salmon to pass the locks. The final destination for the day is Joigny, a picturesque little town, overlooking the Yonne River, with several historical monuments, ancient churches, and also unique townhouses from the 16th-17th centuries, with carved renaissance facades. There are also medieval ramparts still standing. In the evening, the music cafe L'Escargot de Sab is a good place to relax and enjoy.
Day 4: Joigny - Villeneuve, 15 mi. (24 km)
The first part of today's ride is to Villeneuve-sur-Yonne, a great place for lunch. The ride is hilly, but ever so rewarding with forest paths, nice little villages, and beautiful scenery. The second part to Sens is less challenging. The Elodie will moor in the center, on a little island. The gothic Cathedral Saint-Etiennes, the first of the great Gothic cathedrals in France and inspiration for many others, dominates the town with the main points of interest radiating out from here. Traditionally, this was a fishing community and important religious center.
Day 5: Villeneuve - Sens, 13 mi. (21 km)
From Villeneuve, you follow the riverbanks interspersed with many locks all the way to Sens.  Leaving the riverbanks at Pont-sur-Yonne, the farmland terrain that follows is hillier and dotted with lots of small villages. Montereau lies at a crossing where the Elodie will leave the river Yonne and start following the river Seine all the way to Paris.
Day 6:  Sens - Saint Mammès, 12 or 26 mi. (20 or 42 km)
Today's destination is Saint Mammès, with a stop in Moret Sur Loing. If you opt to remain on board this day, you will have opportunity to cycle within the town of Moret sur Loing, a medieval town well worth visiting. If you opt for a full day of cycling, you will enjoy a rural landscape, passing through lovely French villages. A short visit to a goat farm is on the agenda. 
Day 7: Saint Mammès - Nemour - Saint Mammes 28 mi. (45km)
Today can be a day of rest or you can choose to join the bike ride....
We bike along the Loing to visit the beautiful medieval fortified town of St Moret-sur-Loing. The Impressionist painter Albert Sisley lived and worked here and you can find many of the subjects he loved to paint. At about the half-way point, we will find the medieval town of Nemours with its 12th century castle and art museum. After Nemour we follow the nice paths along the river Loing to St Mammes and the Elodie.
Day 8: Saint Mammès - Melun, 21 mi. (34 km)
From St Mammes, we continue to the UNESCO world heritage site of Château de Fontainebleau. Depending on the time we arrive it may be possible to visit a "brocante". These typical French flee markets have a nice, quaint atmosphere and often have a wide variety of the most interesting things, pleasing to either see or purchase. Through the forests of the Château de Fontainebleau where pretty little red squirrels can be spotted we will ride to the artist village of Barbizon. This was the home town of many famous painters like Millet and Rousseau. At the end of the day we will find the Elodie in Melun.
Day 9: Melun - Ablon - Paris, 12 or 25 mi. (20 or 40 km)
The day begins with a cycling excursion to Vaux le Vicomte Castle, along the river Seine, on relatively easy and flat terrain. Today's destination is the Ablon sur Seine, where the Elodie awaits for a beautiful cruise on the Seine into the heart of Paris! 
Day 10: Paris
A day to visit and enjoy the lovely and charming city of Paris. Of course one day will not be enough to see everything but your guide can help you decide what you would like to visit, given the many options. This day we will not have dinner on board the Elodie so you can feel free to pick any restaurant you like as you are strolling the streets of Paris.
Day 11: Paris
Individual departure from Paris.
Paris to Auxerre:
Day 1: Paris, 9 mi. 
Day 2: Paris - Melun, 12 or 25 mi.
Day 3: Melun - St. Mammes, 21 mi. 
Day 4: St. Mammes - Nemours - St. Mammes, 21 mi.
Day 5: St. Mammes - Montereau - Sens, 28 mi.
Day 6: Rest day 
Day 7: Sens - Villeneuve, 13 mi.
Day 8: Villeneuve - Joigny, 15 mi.
Day 9: Joigny to Auxerre, 20 mi. 
Day 10: Auxerre – Escolieve – Auxerre  15 or 20 Miles
Day 11: Today marks the end of your journey. You may enjoy one more breakfast on board before departure 
Itinerary subject to change without notice.  
If you're looking for a different flavor, check out our full list of bike and boat tours or view all our featured bicycle tours, specials, and news.
Email or Call 800-951-4384 +1 570-965-2064
---
Auxerre to Paris and Paris to Auxerre
Boats + Barges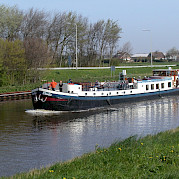 Elodie Netherlands, Belgium, France Comfort Plus Class Boat The Elodie was built in 1931 and has been completely refurbished into a luxury holiday ship. The ship has a saloon and sundeck and all of its cabins come with air-conditioning. The saloon of the Elodie is furnished in ship-style by using various types of wood in the finishing.