Bamberg to Mainz
Germany Bike + Barge Tours
Cycle Germany Along the Main River…
Bamberg, listed as a UNESCO World Heritage Site for its authentic medieval appearance, is the starting point for this once in a lifetime bike and boat tour in Germany. It is home to such wonders as the Bamberg Cathedral. The varied itinerary includes Kitzingen, famous for its leaning tower. Legend has it that the tower was built during a severe drought, and, because of the absence of water, builders had to use wine to mix the mortar. Apparently the workers had a little too much wine for themselves!
You will be able to witness such artistic masterpieces as Maria im Weingarten and Madonna im Rosenkranz by Tilmann Riemenschneider in the charming town of Volkach, as well as enjoy wine from a local vineyard. At the stop in Würzburg, you are in for a real treat: a look inside the Fortress Marienberg. The mighty Fortress Marienberg is a symbol of the strength of Würzburg and the majesty of the prince-bishops who lived there for nearly five centuries. From the top of one of its four towers offers an extraordinary view of the landscape.
During the overnight stay in Miltenberg, it is an absolute must to have a drink in the oldest pub in Germany, as well as a stroll through the meandering alleys and market square. Johannisburg Palace, located on the banks of the Main River, will be the first thing you see as you enter Aschaffenburg as it is the grandest of all Renaissance palace complexes. The upper levels of this castle serve as the town library where you can read scripts from past centuries, and the lower levels are art and science museums. The last stop of this tour is Mainz. The afternoon before departure, there will be time to explore this interesting city full of attractive town squares, impressive churches, and half-timbered houses; a perfect way to end a perfect tour!
If cycling in Germany is what you seek, see all of our guided and self-guided bike tours in Germany here.
Where
You'll Stay
Aboard the beautiful Merlijn, a comfort plus class ship.
What's
Included
7 nights' accommodations on board the Merlijn
Daily cabin cleaning service
Welcome drink
Breakfast buffets, packed lunches, and 6 x 3-course dinners
Coffee, tea, hot chocolate & water on board
21-speed hybrid bicycle, including a bike bag, towel, and a universal sized helmet
Route Information
Tour Guide
Complimentary water bottle
Ferry fares en route
WiFi on board
Tour through a brewery and beer tasting in Miltenberg
What's
Not Included
Local transportation and airfare
1 dinner
Wine tasting
Organized city tours
Drinks other than mentioned
Entrance fees and excursions
Gratuities
Tour
Dates
2016
Bamberg to Mainz: September 24, 2016 Fully Booked!
2017
Mainz to Bamberg: August 19, 2017 Fully Booked!
Skill
Level
Routes take place on mainly flat, asphalted bike paths or country roads along the Main River with little traffic. Daily biking distances range anywhere from 22 to 35 miles.
Tour
Boats
Day-To-Day
Itinerary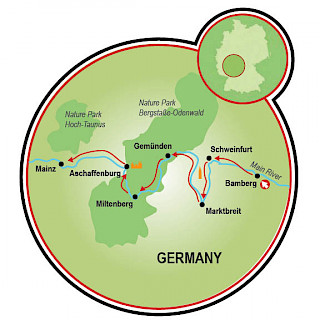 Day 1: Arrival in Bamberg
Day 2: Bamberg – Schweinfurt, 22 miles (35 km)
Day 3: Schweinfurt – Marktbreit, 35 miles (56 km)
Day 4: Marktbreit – Gemünden – Lohr, 29 miles (45 km)
Day 5: Lohrn - Gemünden – Miltenberg, 31 miles (50 km)
Day 6: Miltenberg – Aschaffenburg, 25 miles (40 km)
Day 7: Aschaffenburg – Mainz, 28 miles (45 km)
Day 8: Depature
*All distances are approximate. The above planned itinerary is subject to change due to changing wind and weather conditions and other unforeseen circumstances having to do with mooring requirements, etc. 
Day 1: Arrival in Bamberg
Guests are greeted on board the Merlijn with a welcome cocktail. The afternoon is free, allowing time to explore Bamberg, a UNESCO World Heritage City that not only embodies a thousand years of art and culture but also, remains vibrant and young at heart.
Dinner and overnight stay.
Day 2: Bamberg – Schweinfurt, 22 miles (35 km)
Departing Bamberg, you will cycle Germany along the Main River passing the famous pilgrimage church Maria Limbach and the town of Eltmann. The day's destination is in Hassfurt, famous for the late gothic Ritter chapel and thechurch full of valuable paintings such as 'John the Baptist' and 'Maria with Child' by artist Tilmann Riemenschneider. From Hassfurt, the Merlijn will cruise to Schweinfurt, a cozy little town full of museums, galleries, and artificial 'Schweine' (pigs).
Dinner and overnight stay in Schweinfurt.
*If you would like to bike the entire trip to Schweinfurt, it will be approximately 12 miles (20 km) more.
Day 3: Schweinfurt – Marktbreit, 35 miles (56 km)
The Merlijn sails you to Wipfeld, where your bike tour will start. We head for a cultural highlight: the pilgrimage church 'Maria im Weingarten' and the famous 'Madonna im Rosenkranz' by Tilmann Riemenschneider. You will cycle through vineyards passing villages that all are very well known to wine connoisseurs like Volkach, Nordheim, Sommerach, and Dettelbach. You will bike further along the Main river, passing Kitzingen that's famous for its leaning tower, of which the story goes that's its leaning because the builders, who because of water shortage, mixed the mortar with wine instead of water, had too much wine while mixing.
Dinner and overnight stay in the charming village of Marktbreit.
Day 4: Marktbreit – Gemünden – Lohr, 29 miles (45 km)
Breakfast will be enjoyed en route to Würzburg, the Baroque town on the river Main. Here, cyclists can disembark and explore this beautiful city. For a magnificent view of the historic center of Würzburg, climb the steps to the huge Fortress Marienberg. From Würzburg, the bike tour to Gemünden will start. The tour will lead you further along the river Main via Zellingen and Erlabrunn and into wine country. You will be able to see hills full of vines and ride through charming wine villages like Eibelstadt and Sommerhausen. From Gemünden, the barge cruises to Lohr during dinner.
Day 5: Gemünden – Miltenberg, 31 miles (50 km)
Today's bike tour starts in Gemünden and goes through historic monuments like the Triefenstein monastery, and half-timber castle Homburg, through the varying landscape with both wine mountains and afforested mountain slopes with bizarre rocks, passing Lohr am Main and its Gothic and Baroque buildings. You will arrive at Wertheim, situated right where the rivers Main and Tauber meet. From Wertheim, the Merlijn will cruise to historic Miltenberg. The city has a certain charm due to its meandering streets and alleys, old restored half-timber houses, and the monumental market square. Here, you can enjoy a beer at the oldest pub in Germany. Tonight, dinning at your own expense, you can explore this unique town.
Overnight stay at Miltenberg. 
Day 6: Miltenberg – Aschaffenburg, 25 miles (40 km)
Following the river, you will pass several small villages. Groszheubach and Klingenberg are famous for their fine red wines. Continuing via Bürgstadt to Freudenberg and further on to Aschaffenburg, you will be able to experience museums, churches, and of course the beautiful castle that is situated on the river bank.
Day 7: Aschaffenburg – Mainz, 28 miles (45 km)
Today's bike tour leads through Kleinostheim and Dettingen. After crossing the River Main on a small ferry, the tour continues to the small and romantic city of Seligenstadt with its windings alleys, wood framed houses, and  basilica. Further along the river to Klein-Krotzenburg, Hainstadt, Kleinauheim via Steinheim to Hanau, the town where the famous Grimm Brothers were born. Via Mühlheim, you will ride to Offenbach where the Merlijn will be waiting. You will cruise from Frankfurt to Mainz, your final destination.
Day 8: Mainz
Departure after breakfast.
2017 ITINERARY COMING SOON!
You can view all of our bike and boat tours or look at our featured bike trips, specials, and news.
Email or Call 800-951-4384 +1 570-965-2064
---
Bamberg to Mainz
Boats + Barges
Merlijn Germany, Netherlands Comfort Plus Class Boat The Merlijn has 12 luxurious cabins with two comfortable airbeds that can be pushed together or separated, a desk, a wardrobe closet, a hairdryer, and a safe. The lounge is comfortably furnished in a modern style with a restaurant area and lounge near the bar. You can enjoy fresh air, water, and nature in all weather on the sun deck. The entire ship is climate controlled and you can adjust the temperature in your own cabin.