5

/

5

(

5

reviews)
Bike & Sail the Frisian Sea
Exploring the Frisian Islands by bike
You have heard of bike and barge tours and now we offer you a bike and sail adventure in the Netherlands!

Experience the purity of nature; the water, sun, and sea breezes as you explore the open water of the northern part of the Lake IJsselmeer and the Wadden Sea, listed as a Unesco World Heritage Biosphere.

The Frisian region is a world in itself, a fragile balance between land and sea. High and low tide alternate every six hours, transforming the landscape as if by magic. One moment everything is totally submerged and the next moment you can walk on the seabed across to the islands that lie just off the coast. The first islands are the five Dutch Wadden Islands and they are all "pearls in the sea", each with a unique atmosphere and character.

Highlights:

North Sea Islands of Texel and Terschelling
Beautiful natural areas
Small, picturesque villages
Picture perfect beaches
Bird watching

The Frisian islands and the coasts of North-Holland and Friesland are a true "El Dorado" for cyclists.

What are you waiting for? Cast off!

Watch a preview of the tour:

Be sure to check out all of our bike and boat tours in Holland.

 

Cabin typed/pricing

May 2, May 9, Sept. 19, & Sept. 26

May 16 - Sept. 12

Junior Suite (Leafde & Mare)

$

2022

£

1028

$

1,791

€

1149

$

2108

kr

12748

$

1,280

$

2268

£

1153

$

2,009

€

1289

$

2365

kr

14301

$

1,436

Small twin (Leafde)

$

1441

£

733

$

1,277

€

819

$

1503

kr

9086

$

913

$

1582

£

804

$

1,401

€

899

$

1649

kr

9974

$

1,002

Twin 

  $ 1758 £ 894 $ 1,557 € 999 $ 1833 kr 11084 $ 1,113

  $ 1934 £ 983 $ 1,713 € 1099 $ 2016 kr 12193 $ 1,224

Twin  for single-use

  $ 2549 £ 1296 $ 2,258 € 1449 $ 2658 kr 16071 $ 1,614

  $ 2813 £ 1430 $ 2,492 € 1599 $ 2933 kr 17735 $ 1,781

Single (Leafde & Mare)

$

2233

£

1135

$

1,978

€

1269

$

2328

kr

14079

$

1,414

$

2462

£

1251

$

2,181

€

1399

$

2567

kr

15521

$

1,559

Triple 

  $ 1582 £ 804 $ 1,401 € 899 $ 1649 kr 9974 $ 1,002

  $ 1758 £ 894 $ 1,557 € 999 $ 1833 kr 11084 $ 1,113

Only one small twin cabin, 1 junior suite, 1 single cabin, and 1 twin cabin for single use available per departure

Mare fan Fryslân

Saturday to Saturday
May 29, June 5, June 12, June 19, June 26, July 3, July 10, July 17, August 7, August 14, August 21, August 28, September 4, & September 11, 2021

Cabin type/pricing

May 1 - May 9 & Sept. 19
May 15 - Sept. 18
Twin

$

1890

£

961

$

1,674

€

1074

$

1971

kr

11916

$

1,197

$

2031

£

1032

$

1,799

€

1154

$

2117

kr

12803

$

1,286

Junior suite

$

2242

£

1140

$

1,986

€

1274

$

2338

kr

14135

$

1,419

$

2383

£

1211

$

2,111

€

1354

$

2484

kr

15022

$

1,509

Single 

$

2418

£

1229

$

2,142

€

1374

$

2521

kr

15244

$

1,531

$

2559

£

1301

$

2,266

€

1454

$

2668

kr

16132

$

1,620

Twin/single-use

$

2742

£

1394

$

2,429

€

1559

$

2860

kr

17291

$

1,736

$

2954

£

1501

$

2,616

€

1679

$

3080

kr

18622

$

1,870

Triple

$

1714

£

871

$

1,518

€

974

$

1787

kr

10806

$

1,085

$

1855

£

943

$

1,643

€

1054

$

1934

kr

11694

$

1,174

Wapen fan Fryslân

Saturday to Saturday
May 1, May 8, May 15, May 22, May 29, June 5, June 12, June 19, June 26, July 31, August 7, August 14, August 28, September 4, & September 11, 2021

Cabin type/pricing

May 1 - May 9 & Sept. 19
May 15 - Sept. 18
Twin

$

1890

£

961

$

1,674

€

1074

$

1971

kr

11916

$

1,197

$

2031

£

1032

$

1,799

€

1154

$

2117

kr

12803

$

1,286

Twin/single-use

$

2742

£

1394

$

2,429

€

1559

$

2860

kr

17291

$

1,736

$

2954

£

1501

$

2,616

€

1679

$

3080

kr

18622

$

1,870

Triple

$

1714

£

871

$

1,518

€

974

$

1787

kr

10806

$

1,085

$

1855

£

943

$

1,643

€

1054

$

1934

kr

11694

$

1,174


Leafde fan Fryslân

Sunday to Sunday
May 9, May 16, May 23, May 30, June 6, June 13, June 20, June 27, July 4, July 11, July 18, July 25, August 1, August 8, August 15, August 22, August 29, September 5, September 12, & September 19, 2021

Cabin type/pricing

May 1 - May 9 & Sept. 19
May 15 - Sept. 18
Small twin

$

1538

£

782

$

1,362

€

874

$

1604

kr

9697

$

974

 
Twin

$

1890

£

961

$

1,674

€

1074

$

1971

kr

11916

$

1,197

$

2031

£

1032

$

1,799

€

1154

$

2117

kr

12803

$

1,286

Junior suite

$

2242

£

1140

$

1,986

€

1274

$

2338

kr

14135

$

1,419

$

2383

£

1211

$

2,111

€

1354

$

2484

kr

15022

$

1,509

Single 

$

2418

£

1229

$

2,142

€

1374

$

2521

kr

15244

$

1,531

$

2559

£

1301

$

2,266

€

1454

$

2668

kr

16132

$

1,620

Twin/single-use

$

2742

£

1394

$

2,429

€

1559

$

2860

kr

17291

$

1,736

$

2954

£

1501

$

2,616

€

1679

$

3080

kr

18622

$

1,870

Triple

$

1714

£

871

$

1,518

€

974

$

1787

kr

10806

$

1,085

$

1855

£

943

$

1,643

€

1054

$

1934

kr

11694

$

1,174

 

extra

options

Electric bicycle rental: $ 176 £ 89 $ 156 € 100 $ 183 kr 1109 $ 111 Helmet rental: $ 18 £ 9 $ 16 € 10 $ 18 kr 111 $ 11 Gluten-free and dairy-free meals, payable onboard: $ 88 £ 45 $ 78 € 50 $ 92 kr 555 $ 56

Electric bicycle rental: $ 176 £ 89 $ 156 € 100 $ 183 kr 1109 $ 111 Helmet rental: $ 18 £ 9 $ 16 € 10 $ 18 kr 111 $ 11 Gluten-free and dairy-free meals, payable onboard: $ 88 £ 45 $ 78 € 50 $ 92 kr 555 $ 56

---

 

please

note

Rates are per person based on double occupancy.

A non-refundable admin fee of 20 Euros per person is included in the deposit amount.

Information to read before you book.

We recommend purchasing bike trip insurance.

† Currency exchange rate set 90 days before travel.

Travel

Fly to Amsterdam Schiphol Airport (AMS).

Local Travel

From the airport, you can take a train to Enkhuizen. Travel time is 1 1/2 hour with one transfer. Cost is approximately €15. The train station at AMS is located on the lower level of the airport. A good app to download to your mobile device is the NS app (which can be found on the App Store or Google Play). You can use the app to plan your journey using every mode of public transport, not just from the train station to train station, but to any address. You can also see the current location of your bus, tram, and metro, as well as the current departure times.

Climate

Please check local conditions before your arrival. There are many good websites to visit to explore regional weather conditions. Summers are generally very comfortable in this region with average high temps in °F as follows: June, 66º, July, 69º, August, 70º, and September, 64º.

Remarks

The tour guide remains on board and provides daily briefings of the route. Children are welcomed onboard providing that they are able to manage a cycle trip of ca. 30-55 km. Children's bikes, tandems, parent-child-tandems, slip streamers, etc. are available on request. Of course, you may stay one or more days onboard instead of cycling (children under the age of 18 years must be under supervision). Child discount on request. Life jackets for children can be arranged on request.

Travel documents

Before you travel, please check the passport and visa requirements of the country/countries you plan to visit. For US citizens, the US Department of State website is a good source of information. The Country Information tab in the International Travel section provides details about passport validity, blank passport pages required, etc.

*Important note: Beginning July 1, 2021, additional documentation from the European Travel Information and Authorization System (ETIAS) will be required to visit any of the 26 Schengen-member countries for tourism, business, medical, or transit. This is an additional check on security rather than a visa.

Tour documents

Your final travel information will be emailed approx. one month before your tour date. If you are interested in having the route on your personal smart device, Ride With GPS is an app that you can download for free on your mobile phone. Your phone then becomes your own cycling navigation device, a bike route mapping tool for cyclists. This option is in addition to traditional printed route notes and printed maps. Once the app is installed, you can then download tour maps and daily itineraries directly to your smartphone. You will be able to use voice navigation on all the routes and access your tour content anytime, all from your phone. In your final travel information,  you will find the code you can use to access your specific tour. An account is not required.

Life on board

 A little bit of adventure is a part of every Bike and Sail tour as this is a tour that depends on the wind! The captain decides the best route to be taken each day and discusses all options with the participants. The crew does everything in its power to ensure that the program runs according to plan and to offer you as fascinating, varied, and active week as possible, in which nature and culture play a major part. It is, however, also possible that departure times and the time spent on the water – and even the order of the program itself – may be adjusted. Enjoy the ride and let yourself be led by the elements! Whenever possible, various passages will be undertaken fully rigged and anyone who would like to help the crew to sail and steer the boat is welcome to do so. This is of course absolutely up to you and no sailing experience is necessary!

 

---
Tour
Dates
Mare fan Fryslân
Saturday to Saturday
May 2, May 9, May 16, May 30, June 13, June 20, June 27, July 4, July 11, July 18, August 8, August 15, August 22, August 29, September 5, & September 12, 2020

Wapen fan Fryslân
Saturday to Saturday
May 2, May 9, May 16, May 23, May 30, June 6, June 13, June 20, June 27, August 8, August 29, September 5, September 12, & September 19, 2020

Leafde fan Fryslân
Saturday to Saturday
June 20, June 27, July 4, July 11, July 18, July 25, August 1, August 15, August 22, August 29, September 5, September 12, September 19, and September 26, 2020
Mare fan Fryslân
Saturday to Saturday
May 29, June 5, June 12, June 19, June 26, July 3, July 10, July 17, August 7, August 14, August 21, August 28, September 4, & September 11, 2021
Wapen fan Fryslân
Saturday to Saturday
May 1, May 8, May 15, May 22, May 29, June 5, June 12, June 19, June 26, July 31, August 7, August 14, August 28, September 4, & September 11, 2021

Leafde fan Fryslân
Sunday to Sunday
May 9, May 16, May 23, May 30, June 6, June 13, June 20, June 27, July 4, July 11, July 18, July 25, August 1, August 8, August 15, August 22, August 29, September 5, September 12, & September 19, 2021
Skill
Level
Este é um passeio de bicicleta e vela fácil e autoguiado, com distâncias diárias médias entre 1 a 65 km. A rota é predominantemente plana sobre ciclovias bem conservadas e com pouco tráfego. Cada dia / percurso pode ser realizado no seu próprio ritmo. Há instruções diárias a bordo e estão disponíveis mapas detalhados de bicicletas e notas de rota. As faixas de GPS serão enviadas a você 4 semanas antes da data de início do passeio.
Where
You'll Stay
Accommodations aboard the sailing ships, the Mare Fan Fryslan, the Wapen Fan Fryslan, or the Leafde Fan Fryslan
What's
Included
Accommodations on board selected boat for 7 nights
7 breakfasts, 5 packed lunches, 1 lunch onboard, 6 three-course dinners onboard & 1 packed dinner
Welcome drink
Coffee & tea onboard until 4 pm
7-speed unisex city touring bicycle (handmade in the Netherlands by Azor) aluminum frame, Selle-Royal adjustable gel saddle, integral frame lock, anti-puncture tires, & pannier bag
Onboard tour guide (remains on board, does not cycle with group)
Daily briefings of the tours
Fresh towels on request
Light daily cleaning of cabins
Route descriptions and maps (one set per cabin)
GPS tracks
WiFi
What's
Not Included
Transfers to and from the docking place in Enkhuizen
Entrance fees and excursions
Fees for ferries
Drinks on board other than those mentioned
Helmet ( available for a surcharge)
Gratuities
Day-To-Day
Itinerary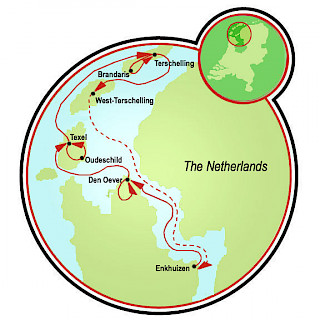 Day 1 Arrival and embarkation in Enkhuizen
Day 2: Enkhuizen - Medemblik, 14 or 22 mi. (24 or 37 km) |  Medemblik - Den Oever -Texel
Day 3: Texel - round tour from Oudeschild,  26 or 30 mi. (43 or 49 km)
Day 4: Island of Texel | Island of Terschelling, sailing day (5 to 6 hrs)
Day 5: The Island of Terschelling, 1 to 24 mi. (1 to 40 km) | Terschelling - Harlingen
Day 6: Harlingen - Franeker - Makkum, 29 or 36 mi. (48 or 58 km)
Day 7: Makkum - Stavoren | sailing to Enkhuizen, 19 to 30 mi. (32 to 49 km)
Day 8: Enkhuizen
*All distances are approximate. The planned itinerary is subject to change due to nautical, technical or meteorological reasons and other unforeseen circumstances. If there is low or high water, the captain reserves the right to change the route in view of your safety even with no advance notice. During the days when two tour length options are possible, you can make a choice for the longer or the shorter option, but not all mentioned highlights will be visited during the short bike option.
Italicized portions are by boat.
Day 1 Arrival and embarkation in Enkhuizen
It is possible to bring your luggage on board from 11 am, but the cabins will not be ready for check-in at this time. Embarkation and check-in where the crew will welcome you on board is from 2 p.m. near the beautiful center of Enkhuizen and close to the railway station. After unpacking your luggage the skipper will join you for an aperitif before giving you a rundown of what to expect on the journey, details about the ship,  and will discuss safety on board. In the evening take a stroll through the historical center of Enkhuizen, a quaint town that was the home of the Dutch merchant fleet during the Golden Age of The Netherlands. Enjoy your first night on board in Enkhuizen on the western bank of Lake IJsselmeer.
Day 2: Enkhuizen - Medemblik, 14 or 22 mi. (24 or 37 km) |  Medemblik - Den Oever -Texel
Today the ship sails from Enkhuizen to Den Oever. You can stay on board and sail over the IJsselmeer or you can hop on your bike and start your first cycling tour along the IJsselmeer coast through the beautiful polder-landscape via Medemblik up to the fishing harbor of Den Oever. Depending on the weather, in the evening, the ship will sail across the Wadden Sea to the Island of Texel.
Day 3: Texel - round tour from/to Oudeschild, 26 or 30 mi. (43 or 49 km)
The island of Texel has varied scenery and picturesque villages. On the agenda today is a roundtrip cycling tour on the largest of the Dutch North Sea islands. It is highly recommended that you use the well-signposted Thijsse-route (about 24 miles/40 km) and visit some villages and the seal sanctuary station, EcoMare. Also along the way is the traditional beer brewery in the harbor of Oudeschild.
Day 4: Island of Texel - Island of Terschelling, sailing day (5 to 6 hrs)
If the tide and weather cooperate, the ship will sail to the island of Terschelling. You will maneuver through the sandbanks of the Wadden Sea and maybe even be able to see seals resting on the sandbar. In the afternoon, the ship will arrive on the Island of Terschelling,  which features a number of picturesque villages situated between the polder and sand dunes along its 30 km expanse. While sailing you will enjoy an extensive lunch on board. In 2019, no dinner will be served tonight, to enable you to explore the island, but you can make yourself a picnic meal or try one of the nice restaurants at Terschelling (not incl.).
Day 5: The Island of Terschelling, 1 to 24 mi. (1 to 40 km) | Island of Terschelling - Harlingen 
Terschelling has a lot to offer including nature, culture, cycling paths that stretch 70 km, and four beautiful villages. You decide how much or how little you would like to cycle.  West Terschelling is the largest village on the island with quaint little shops and pubs. The landmark of the island, the 400-year-old lighthouse, "Brandaris", can already be seen well from a distance. Also worth seeing is the European nature reserve, "Boschplaat". It captivates with its mud, beaches, and dunes. You might even spot a number of ducks, black-winged stilts, and large colonies of spoonbills and great black-backed gulls. After a day of cycling, you can relax in comfort once you have arrived on board. In the late afternoon, the ship will cross the Wadden Sea sail to Harlingen, the most important harbor city of the province of Friesland.
Day 6: Harlingen - Franeker - Makkum, 29 or 36 mi. (48 or 58 km)
Via Franeker, with the famous planetarium of Eise Eisinga, you cycle through the beautiful wide Frisian countryside along several rural villages to the small harbor of Makkum on the eastern bank of the lake IJsselmeer. If you take the long cycling trip, you will also visit Bolsward, one of the Eleven Frisian Cities.

Day 7: Makkum - Stavoren | sailing to Enkhuizen, 19 to 30 mi. (32 to 49 km)
From Makkum you will cycle to Stavoren. The short tour leads you via the old trading town of Hindeloopen. This local art of painting – a type of traditional decorative painting – is quite famous. Apart from this, you'll find the First Frisian Museum of Ice Skating in Hindeloopen. The long tourruns along several Frisian lakes and shows you a different type of landscape. From Stavoren the ship will set sail to cross the IJsselmeer to Enkhuizen in the late afternoon
Day 8: Enkhuizen
Disembarkation by 10:00 am. A beautiful journey full of new experiences has come to an end.
Looking for a different flavor?  Check out our entire list of bike and boat tours or view all our featured bicycle tours, news, and specials.
Email or Call 800-951-4384 +1 570-965-2064
---
Bike & Sail the Frisian Sea
Boats + Barges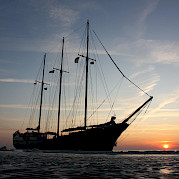 Mare Fan Fryslan Netherlands Standard Class Boat The Mare Fan Fryslan was built in 1960 as a freight ship and was then completely renovated in 2006 to be used as a beautiful, extravagant, three-masted schooner. On the lower deck there is an air conditioned saloon also used as a restaurant. Next to the saloon is the wheelhouse fitted with bar, music, video equipment and TV. This room offers large, panoramic window which offers a breathtaking view over the water. On the lower deck there are 12 comfortable cabins (floor area of about 10 m2, 2 floor-level single beds 90 x 200 cm), 1 junior suite with a small corner sitting area and a flat screen TV (about 12 m2) as well as a 1-bed cabin with bunk beds (floor area of about 7 m2).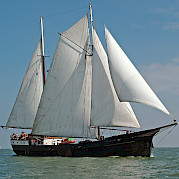 Wapen Fan Fryslân Netherlands Standard Class Boat In 1965, the sailing ship was launched as a freight ship and then in 2003 it was completely transformed into a sailing passenger ship. On board, you will immediately notice its warm and luxurious atmosphere. On deck there is a the large pilothouse with a cozy and stylish bar and seating area. The panorama windows offer a perfect all around view of the water. The afterdeck has an outdoor cafe with draught beer taps and a Jacuzzi, and on the middle deck with plenty of seating allowing you to enjoy a lovely meal outdoors The sundeck offers plenty of seating including comfortable deckchairs.
Leafde Fan Fryslân Netherlands Comfort Class Boat The Leafde Fan Fryslân is an imposing, three-masted barquentine, managed by its owner/operators, Joris and Rinske de Wit, who bring years of maritime experience. The ship has 13 well-appointed cabins, ten twin cabins, 1 smaller twin cabin, 1 junior suite, and 1 single cabin.