4.3

/

5

(

6

reviews)
Central Greek Aegean Sea
Greece Bike + Barge Tours
Cycle Greece by island hopping the Aegean from Bodrum
On this Greece bike tour, you will explore the sunny islands of the Greek Aegean and stay aboard a comfortable Turkish Gulet. Although this Greece bicycle tour begins in Turkey, all the islands that will be visited are part of Greece. These islands are magical and mystical, rich in history and legends. This is a world where the sun paints its pictures and the sea provides life. Join this tour and sail the Greek Aegean, relax in idyllic bays, enjoy the wonderful views and follow the traces of a moving and glorious past.

Highlights include:

The ancient Asclepion where Hippocrates, the famous physician, practiced modern medicine
The lovely island of Lipsi
Patmos, the holy island
Astonishing panoramic views

Interested in more tours like this? Check out our full list of bike and boat tours in Greece.

2020 

Osman Kurt

April 11 and April 18:  $ 2511 £ 1252 $ 2,165 € 1390 $ 2591 kr 15517 $ 1,544

May 2,  May 3, and October 3:  $ 2691 £ 1342 $ 2,321 € 1490 $ 2777 kr 16634 $ 1,656

September 19:  $ 2872 £ 1432 $ 2,476 € 1590 $ 2963 kr 17750 $ 1,767

Single supplement double cabin below deck (limited): $ 903 £ 450 $ 779 € 500 $ 932 kr 5582 $ 556

extra

options

Electric bicycle rental (limited number, advanced reservation required): $ 181 £ 90 $ 156 € 100 $ 186 kr 1116 $ 111

Hybrid bicycle protection: $ 18 £ 9 $ 16 € 10 $ 19 kr 112 $ 11

Electric bicycle protection: $ 36 £ 18 $ 31 € 20 $ 37 kr 223 $ 22

Collective transfer between Bodrum airport and boat (embarkation/disembarkation days, must be reserved in advance, flight information necessary):  $ 27 £ 14 $ 23 € 15 $ 28 kr 167 $ 17   Customized transfers are also available on request.

please

note

Rates are per person based on double occupancy.

A non-refundable admin fee of 20 Euros per person is included in the deposit amount.

Information to read before you book.

We recommend purchasing bike trip insurance.

† Currency exchange rate set 90 days before travel.

Travel

The most convenient airport to fly into and out of is Bodrum Airport (BJV). Transfers to and from the ship are available. See pricing. Alternatively, you can fly via the Greek island of Kos with continuation by ferry to Bodrum. You can reach the island of Kos by scheduled flights through Athens or directly from many European cities. Use one of the many flight search engines for the cheapest rates.

Local Travel

Flying into/out of Bodrum
From the Bodrum airport, a transfer to the ship can be arranged with advanced reservation. See pricing.
Flying into/out of Kos
If you opt to arrive via Kos, from Kos Airport , you can take a taxi to the ferry terminal in Kos Town. The travel time is about 30 minutes and the cost is about €37 - €45. Taxis can be found directly at the airport terminal.
You can also use public transportation. When you go out of the arrivals hall, you will find the bus station on your left, at a walking distance of about 25 meters. Here the bus departs to Kos town via Mastichari. The journey time is 40 minutes to Kos city. Tickets can be bought onboard the bus for a price of € 3.20. The ferry crossing to Bodrum takes about 1 hour. You should be in Kos harbor at least 30 minutes before the ferry departs to allow time for border formalities. The departure is usually at 16:30, so you arrive at 17:30 in Bodrum. In Bodrum, a staff person can be waiting after the border check to escort you to the ship but you will need to provide your travel details. The return trip from Bodrum is usually at 09:30 with arrival in Kos at 10:30. The ferry ticket costs about 19 euros each way and should be booked in advance online.

Climate

Check local conditions prior to departure. Average high/low temperature in °F for the Bodrum area is: 68/57 for April, 76/63 for May, and 85/71 for September.

Recommended

Helmet use is mandatory on all bike rides. You are strongly encouraged to bring your own well-fitted helmet. There are helmets available on board in limited number (reservation required).

Remarks

Please be aware that you will be part of an international group of people. Minimum number of participants is 14, maximum number is 30. This tour is operated parallell with a MTB tour in the same boat. One guide will cater for the hybrid bike riders while the other guide leads the MTB group.

Travel Documents

Before you travel, please check your country's passport and visa requirements and the passport and visa requirements of the country/countries you plan to visit. For US citizens, the US Department of State website is a good source of information. The Country Information tab in the International Travel section provides details about passport validity, blank passport pages required, etc. For our other international clients, please be sure that you research your own country's travel requirements. It is each traveler's responsibility to ensure proper documentation.

*Important note: Beginning July 1, 2021, additional documentation from the European Travel Information and Authorization System (ETIAS) will be required to visit any of the 26 Schengen-member countries for tourism, business, medical, or transit. This is an additional check on security rather than a visa.

Other important information


Please book outward flights after midday into afternoon hours to allow yourself enough time to get from the ship to the airport.

---
Skill
Level
This is a moderate to difficult guided bike and boat tour. It is assumed that participants have good stamina, ideally acquired by frequent biking. The routes reach an altitude of 200 – 400 meters. The roads are mostly asphalted and lightly trafficked as much as possible. The daily biking distances range from 9 to 19 miles (15 to 30 km). Routes cover hilly and mountainous terrain but can be completed without time restraints. You will also come across some long and rather steep climbs, where you may want to push your bike. The tour guides will inform you about the course of the tour in due time. You may have the option to cycle individually or with other participants but this cannot be guaranteed. Your tour guide will assist with recommending suitable routes.
Where
You'll Stay
Aboard the Premium class ship, the Osman Kurt.
What's
Included
Accommodations below deck for 8 days/7 nights on a comfort class boat
7 days half board (2 meals per day)
Bed linen and towels
Bike tours and sightseeing as described in itinerary
21-gear trekking bike with an Ortlieb saddle bag
Overview-maps for the daily tours, on board
Entrances to museums and archaeological sites (group visit only)
English and German speaking tour guide
What's
Not Included
Drinks (tally sheet; to be paid to the captain); flat fee for drinking water: 20 Euro/adult; 10 Euro/children till age of 16
Meals on land
Gratuities for crew & tour guide (optional)
Transfer to and from the airport/harbor (reservation required)
WiFi - the Turkish boats do not offer WiFi connection
Extra
Stay
Extra nights before or after the tour: Hotel Comca Manzara in Bodrum or 5* Hotel Hapimag Seagarden near Bodrum - pricing on request
Tour
Dates
2020 
Osman Kurt: April 11, April 18, May 2, September 19, and October 3, 2020.
Tour
Boats
Day-To-Day
Itinerary
Day 1: Arrival in Bodrum
Day 2: Island of Kos, Kos Town 16 mi. (25 km)
Day 3: Island Leros, 16 mi. (25 km)
Day 4: Island of Patmos - Island of Lipsi, 7 - 10 mi. (12 - 16 km)
Day 5: Island of Lipsi - Island of Kalymnos, 6 - 10 mi. (9 - 16 km)
Day 6: Island of Kalymnos, 19 - 29 mi. (30 - 45 km)
Day 7: Island of Kos - Bodrum, 12 mi. (20 km)
​Day 8: Disembarkation in Bodrum
*All distances are approximate. The itinerary is subject to change due to changing wind and weather conditions and other unforeseen circumstances having to do with mooring requirements, etc.
Day 1: Arrival in Bodrum
Individual arrival to Bodrum harbor. Collective transfers from Bodrum Airport to the harbor is available for an extra cost on request. Check-in begins on your ship at 2 pm. Alternatively, you can fly to Kos Airport and take the ferry across to Bodrum for check in (if you choose to arrive via Kos, make sure that your flight arrives no later than 2 pm in Kos in order to catch the ferry connection). You can use the evening hours to enjoy the lively vibe in the city of Bodrum and relax with a typical Turkish tea. In the evening, a collective dinner on board can be enjoyed in the company of your travel companions and tour guides.
Day 2: Island of Kos, Kos Town 16 mi. (25 km)
In the morning, you will cross over to Kos. You will cycle to the picturesque Tingaki Beach to enjoy a lengthy swim in the sea. On the way, you will pass the world famous archaeological site of the Asclipion of Kos - the place where Hippocrates, the famous physician, practiced modern medicine. Continuing along, the group will reach the town of Kos. An entourage of cultural sights in Kos town will give you an insight into the town's turbulent historical past: The Roman Forum, the Fortress of the Knights and the mosques from the time when Kos was still part of the Ottomans Empire. The evening is rounded off in one of the numerous bars and cafes.
Day 3: Island Leros, 17.5 mi. (28 km)​
Early morning crossing to the scenic Island of Leros. Leros is green, varied, and always offers new and surprising views and many small harbors. As you cycle Greece in the morning you will head to the fort of the Knights of St. John of Jerusalem in Agia Marina and into the small laneways of the town. After an espresso break in the idyllic harbor of the town, it is on to the seaside chapel of Agios Isidoros. Following the sea, you reach a beautiful sandy beach where you may stop for a swim or a coffee. Upon arrival, the boat will cast off for Patmos or a nearby bay.
Day 4: Island of Patmos - Island of Lipsi, 7 - 10 mi. (12 - 16 km)
On a short panoramic cycle tour, you will visit Patmos and it's grotto. It is said that St. John received the revelation during his captivity here. The world-famous monastery of St. John of Chora is found in a village with numerous white alleys, 34 churches and chapels radiating heavenly peace. After a visit, you will continue along the coast until reaching the port. The group will enjoy lunch on the boat before cruising on to Lipsi. Enjoy the afternoon in the charming harbor town and do not miss a visit to the legendary pastry shop!
Day 5: Island of Lipsi - Island of Kalymnos, 6 - 10 mi. (9 - 16 km)​​​​​​
​In the late morning, you will explore Lipsi by bicycle and gain an impression of its rich agriculture following a tour once around the island. A short crossing in the afternoon takes you to the green island of Kalymnos. Overnight stay in a bay.
Day 6: Island of Kalymnos, 19 - 29 mi. (30 - 45 km)
After a nourishing breakfast, you will cycle across the island. Starting at Emporios, you first cycle along the western coast and continue over a mountain pass opening up into a surprisingly green valley. Today's route goes through varied landscapes leading to the main village of Pothia. In the afternoon, you will have enough time to explore the old town center in Pothia on foot. One can clearly identify the wealth which sponge diving brought to the inhabitants of this town. Overnight stay at the harbor or in anchor.
Day 7: Island of Kos - Bodrum, 12 mi. (20 km)
In the morning, you cross over to Kos. The last cycling trip begins here and leads you to the Embros thermal springs, where you can enjoy a lengthy swim. After lunch ashore, you will enjoy the last cruise aboard before reaching Bodrum. Here you can once more go for a walk through the lively and eastern old town of Bodrum with its impressive castle of the Knights of St. John of Jerusalem and the remains of the famous Mausoleum of Halicarnassus, one of the Seven Wonders of the World. An evening meal is enjoyed together in the company of guides and guests.
Day 8: Disembarkation in Bodrum
After breakfast, check-out and transfer to the airport or you may extend your stay in Europe.
Looking for more?  View all of our featured bike and boat tours, or our full list of bicycle tours.
Email or Call 800-951-4384 +1 570-965-2064
---
Central Greek Aegean Sea
Boats + Barges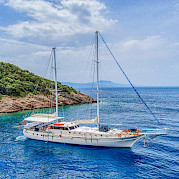 Osman Kurt Greece Premium Class Boat The Osman Kurt is an beautifully designed, 32-meter Gulet made of wood that has been crossing the sea since 2000. It was rebuilt in 2007 and features seven comfortably furnished guest cabins. The cabins, four with double beds and three with twin beds, are situated near the comfortable lounge for your relaxation. All cabins are equipped with a bathroom, a shower / WC , and air-conditioning. Numerous reclining options offer plenty of space on the sun deck for you to relax while sailing, giving you time to sit back and enjoy the view! The friendly crew do their best to provide you with a trouble free trip.