5

/

5

(

1

rating)
Dalmatia from Dubrovnik
Croatia Bike + Barge Tours
Bike and boat tour in Southern Dalmatia
Very similar to our Dalmatia from Dubrovnik Plus tour, this bike and boat tour in Croatia is more for those who prefer to ride in a group with the majority riding hybrid bicycles. Dubrovnik is the main highlight, whose simple beauty, simply inspires. This is the city to which George Bernard Shaw referred to as "paradise on earth". There are marble streets, ancient city walls, and Gothic, Renaissance and Baroque churches, monasteries, palaces, and fountains. The Adriatic Sea shimmers in pristine blue off the coast.
On this tour, there are days when the mileage is less than on the plus tour of the same name, but you will still earn your dinner, for sure! As one of our clients has written:
"We biked up long mountainous terrain and were rewarded with views that were breath taking (we were also rewarded with a nice long downhill ride). After our rides, we would tuck into a cove and swim in the beautiful, blue, clear, Adriatic Sea. It just doesn't get better than this! The eight days were over in a heartbeat - I will certainly take another trip like this though how it can be topped is beyond my comprehension."
Highlights:
Dubrovnik, Unesco World Heritage Site
Swimming in the Adriatic Sea
Islands of Southern Dalmatia both inhabited and uninhabited!
See our other bike and boat tours in Croatia here!
Tour
Dates
On the Leonardo:
Sundays: August 28, September 4, September 11, September 18 *, September 25 *, October 2 *, and *October 9 *, 2016

On the Harmonia:
Sundays October 16 *, October 23*, and October 30 *, 2016.
*On dates marked with an asterik, a mountain bike itinerary is offered as well. We will gladly send you the details! Just ask!
Skill
Level
The cycle tours require an advanced level of fitness, reaching a height of 200 - 500 m above sea-level. The route includes asphalted back roads as well as pathways, unpaved or gravel roads. Mileage is from 12 mi. to 25 mi. (20 to 40 km) that will include hilly and mountainous terrain, completed without any time-constraints. Participants will also need to master long and steep climbs. You are free to set aside a half or full day to swim or spend time on board the boat to rest.
Where
You'll Stay
On board the comfort plus boat, the Leonardo, or the deluxe comfort plus boat, the Harmonia.
What's
Included
7 nights in a double/twin cabin with private shower & toilet
3 x half board, 4 x full board
English-speaking tour guide
21 speed hybrid bicycle, equipped with pannier
7 guided cycling tours as described in itinerary
Bed linen & towels
Overview-maps for the daily tours, on board
City tour in Dubrovnik and Korcula
What's
Not Included
Visitor's tax, local charges, and unlimited water on board and during cycling: €40 (€20 for children 16 and under) to be paid on board
Drinks on board (tally sheet)
Bicycle Protection: €10 (hybrid bike) to €20 (e bike)
Meals ashore
Tips for crew and tour guides
Day-To-Day
Itinerary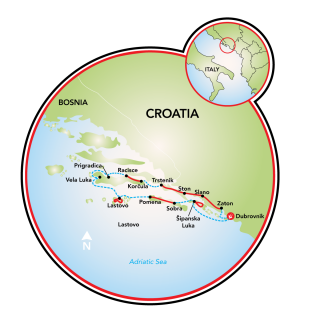 Day 1: Dubrovnik (Embarkation)
Day 2: Islands of Šipan and Mljet (Cycle route approx. 6 + 19 mi./10 km + 30 km)
Day 3: Lastovo Island (Cycle route approx. 19 mi./30 km)
Day 4: Island of Korčula (Cycle route approx. 28 mi./45 km)
Day 5: Island of Korčula (Cycle route approx. 7 - 19 mi./12 - 30 km)
Day 6: Peninsula Pelješac (Cycle route approx. 22 mi../35 km)
Day 7: Mainland Slano - Zaton - Dubrovnik, (Cycle route approx. 16 mi./25 km)
Day 8: Dubrovnik (Disembarkation)
Day 1: Dubrovnik (Embarkation)
After your arrival to Dubrovnik, and the port town of Gruž, you can begin to check in at 2 pm. At 5 pm, a guided tour through Dubrovnik is offered. You will learn interesting details of the town's history and visit the most important sites, such as the Roland, the city walls or the Franciscan monastery. The boat will spend the night in Gruž offering the guests an opportunity to experience Dubrovnik's nightlife.
Day 2: Islands of Šipan and Mljet (Cycle route approx. 6 + 19 mi./10 km + 30 km)
The day's cycling begins after breakfast past the lavish villas of Dubrovnik's rich and noble citizens, followed by the verdant forests, fertile valleys and subtropical parks of Šipan Island. Afterwards, on board, the boat navigates to the green and forested island Mljet - known as the honey island. Consisting of 90 % woodland, it is the most forested island in the Mediterranean area. Homer mentioned this lovely island in his epic poem "Odyssey". He made it a home for the Nymph Calypso and the legendary Greek king Odysseus, whom could not resist Calypso and stayed on Mljet for seven years. In the afternoon, the itinerary leads across the island from the ferry harbor Sobra to Pomena. Overnight in the quiet bay of Pomena.
Day 3: Lastovo Island (Cycle route approx. 19 mi./30 km)
In the morning, the ship takes you to Lastovo Island. The island of Lastovo is one of the smallest inhabited islands in the Adriatic Sea. Already Emperor Augustus appreciated the mild climate, and in Roman times it was even named "Augusta Insula" after him. The barely more than 1,000 inhabitants still live today mainly from fishing the extremely rich waters, agriculture and viticulture. The gold-colored white wine "Marastina", known even beyond Croatia's borders, is grown here. Today's cycle tour encircles this beautiful island.
Day 4: Island of Korčula (Cycle route approx. 28 mi./45 km)
After crossing over to Korčula Island by boat, there is a loop ride around Vela Luka. Lunch is on board and in the afternoon there is enough time to take an extensive swimming break right off the boat. Overnight stay either in Prigradica or in the quiet bay. 
Day 5: Island of Korčula (Cycle route approx. 7 - 19 mi./12 - 30 km)
On today's bike ride, Eastern part of Korčula Island is explored. It leads from Rašćiče to the island's capital, Korčula town, which competes with Venice for the honor of being the birthplace of the famous explorer Marco Polo. There will be ample time in the evening to wander through the fabulous old town and its narrow lanes laid out in a herringbone pattern.
Day 6: Peninsula Pelješac (Cycle route approx. 22 mi../35 km)
After a short crossing, the boat arrives to Pelješac peninsula. The cycle tour is from Trstenik to Ston where there is enough time to take a walk along the famous city wall. This is the longest, intact, fortification wall in Europe and is often compared with the Great Wall of China. Continuing on, the tour takes us further to the small harbor of Slano on the mainland.
Day 7: Mainland Slano - Zaton - Dubrovnik, (Cycle route approx. 16 mi./25 km)
The last cycling day is from Slano to the beautiful harbor of Zaton. Here, the ship awaits for the last crossing to Dubrovnik. A cheerful evening meal on board the boat gives you time to celebrate the success of the week with fellow travelers and tour guides.
Day 8: Departure
If you're looking for a different flavor, check out our full list of bike and boat tours or view all our featured bicycle tours, specials, and news.
Email or Call 800-951-4384 +1 570-965-2064
---
Dalmatia from Dubrovnik
Boats + Barges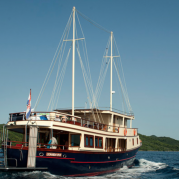 Leonardo Croatia Comfort Plus Class Boat The Leonardo, belonging to the Novaković family, was constructed in 1953 for a private client in Monaco and has been hosting Mediterranean passenger cruises ever since. In 2007 it received a complete restoration, bringing her colors and elegance back to life without losing her character and nostalgic charm.
Harmonia Croatia Comfort Plus Class Boat The Harmonia is a new boat that was launched in the beginning of the 2013 season. This double masted ship meets the highest expectations of both comfort and luxury. It has been specifically designed for plus tours with a special room that offers the possibility to store and recharge electric bicycles. The saloon and numerous sun mats and beds are at the guest's disposal. With the bathing platform at the stern, taking a dip in the sea is uncomplicated – unrestricted bathing fun is guaranteed. The experienced crew and the captain offer a warm-hearted and considerate service, leaving no wish unattended.