Greek Aegean - Cyclade and Dodecanese Islands
Cycle Greece by island hopping the Aegean from Bodrum
Explore the pretty islands of the Cyclades and Dodecanese on this bike and boat tour in Greece. The islands are home to archaeological ruins, lovely beaches, rugged landscapes, and iconic white and blue villages. Each day you will discover the history, culture, and traditions that these islands are well known for. Stroll through ancient temples and quaint towns, take a refreshing swim in the crystal clear Aegean Sea and enjoy delicious seafood. You will stay aboard a traditional Gullet at night and explore the islands by day. Exquisite views and fascinating history will keep you pedaling for more.

Highlights include:

Old town and Apollo Temple of Naxos
White marbled islands of Naxos and Paros
The picturesque island of Astypalaia
The ancient Asclepion where Hippocrates, the famous physician, practiced modern medicine
Turquoise blue sea and sandy beaches

Interested in more tours like this? Check out our full list of bike and boat tours in Greece.

2020 

Love Boat
May 2 and May 16: $ 2741 £ 1359 $ 2,378 € 1490 $ 2797 kr 16808 $ 1,693

May 30, June 13, September 5, and October 3: $ 2925 £ 1451 $ 2,538 € 1590 $ 2985 kr 17936 $ 1,806

Supplement above deck cabin: $ 276 £ 137 $ 239 € 150 $ 282 kr 1692 $ 170

Single supplement below deck cabin: $ 920 £ 456 $ 798 € 500 $ 939 kr 5640 $ 568

Single supplement above deck cabin: $ 1288 £ 639 $ 1,117 € 700 $ 1314 kr 7896 $ 795

Elara 1
September 19: $ 2925 £ 1451 $ 2,538 € 1590 $ 2985 kr 17936 $ 1,806

Single supplement below deck: $ 920 £ 456 $ 798 € 500 $ 939 kr 5640 $ 568

extra

options

Electric bicycle rental (limited number, advanced reservation required): $ 147 £ 73 $ 128 € 80 $ 150 kr 902 $ 91 Touring bicycle protection: $ 18 £ 9 $ 16 € 10 $ 19 kr 113 $ 11 Electric bicycle protection: $ 37 £ 18 $ 32 € 20 $ 38 kr 226 $ 23

Collective transfer between Bodrum airport and boat (embarkation/disembarkation days, must be reserved in advance, flight information necessary):  $ 28 £ 14 $ 24 € 15 $ 28 kr 169 $ 17   Customized transfers are also available on request.

please

note

If you combine this tour with the Islands of the Sun God tour or the Lykian Coast, you will receive a $ 184 £ 91 $ 160 € 100 $ 188 kr 1128 $ 114 discount per person for the second tour.

Single supplement can be avoided if you are willing to share your cabin with someone of the same gender.

Rates are per person based on double occupancy.

A non-refundable admin fee of 20 Euros per person is included in the deposit amount.

Information to read before you book.

We recommend purchasing bike trip insurance.

† Currency exchange rate set 90 days before travel.

Travel

The most convenient airport to fly into and out of is Bodrum Airport (BJV). Transfers to and from the ship are available. See pricing. Alternatively, you can fly via the Greek island of Kos with continuation by ferry to Bodrum. You can reach the island of Kos by scheduled flights through Athens or directly from many European cities. Use one of the many flight search engines for the cheapest rates.

Local Travel

Flying into/out of Bodrum
From the Bodrum airport, a transfer to the ship can be arranged with advanced reservation. See pricing.
Flying into/out of Kos
If you opt to arrive via Kos, from Kos Airport , you can take a taxi to the ferry terminal in Kos Town. The travel time is about 30 minutes and the cost is about €37 - €45. Taxis can be found directly at the airport terminal.
You can also use public transportation. When you go out of the arrivals hall, you will find the bus station on your left, at a walking distance of about 25 meters. Here the bus departs to Kos town via Mastichari. The journey time is 40 minutes to Kos city. Tickets can be bought onboard the bus for a price of € 3.20. The ferry crossing to Bodrum takes about 1 hour. You should be in Kos harbor at least 30 minutes before the ferry departs to allow time for border formalities. The departure is usually at 16:30, so you arrive at 17:30 in Bodrum. In Bodrum, a staff person can be waiting after the border check to escort you to the ship but you will need to provide your travel details. The return trip from Bodrum is usually at 09:30 with arrival in Kos at 10:30. The ferry ticket costs about 19 euros each way and should be booked in advance online.

Climate

Check local conditions prior to departure. Average high/low temperature in °F for the Bodrum area is: 68/57 for April, 76/63 for May, 86/68 for June, 85/71 for September, and 77/61 for October.

Recommended

Helmet use is mandatory on all bike rides. You are strongly encouraged to bring your own well-fitted helmet. There are helmets available on board in limited number (reservation required).

Remarks

The riding pace is determined by the cyclists on regular bicycles. We ask guests who have reserved an e-bike to be mindful of this and to acknowledge that the regular cyclists need time to rest and longer to climb the hills.

Travel Documents

Before you travel, please check your country's passport and visa requirements and the passport and visa requirements of the country/countries you plan to visit. For US citizens, the US Department of State website is a good source of information. The Country Information tab in the International Travel section provides details about passport validity, blank passport pages required, etc. For our other international clients, please be sure that you research your own country's travel requirements. It is each traveler's responsibility to ensure proper documentation.

*Important note: Beginning July 1, 2021, additional documentation from the European Travel Information and Authorization System (ETIAS) will be required to visit any of the 26 Schengen-member countries for tourism, business, medical, or transit. This is an additional check on security rather than a visa.

Other important information

Please book outward flights after midday into afternoon hours to allow yourself enough time to get from the ship to the airport.

---
Skill
Level
This is a moderate to difficult guided bike and boat tour. The bike routes require a basic level of fitness, ideally acquired by regular cycling. The day-tours take you through mainly hilly, even mountainous terrain and can be completed without any time constraints. There are also some extended climbs where walking your bike may be necesary. The daily biking distances range from 10 to 21 miles (17 to 35 km). Most of the roads are asphalted and are roads "less traveled". Your tour guide will inform you each day about the tour details. You can either decide to cycle self-guided, using the information and maps provided, or join one of the tour guides and other participants. You are free to set aside a half or full day to swim or spend time onboard the boat, instead of participating in a planned cycle tour.
Where
You'll Stay
Aboard the Premium class ship, the Love Boat. Please note that, depending on the ports where the boat is moored, it is possible that on some nights the AC cannot run after midnight because it is not permissible by the harbor.
What's
Included
Accommodations below deck for 8 days/7 nights on a premium class boat
7 days half board (2 meals per day)
Bed linen and towels
Guided bike tours and sightseeing as described in the itinerary
21-gear trekking bike with an Ortlieb saddle bag
Overview-maps for the daily bike tours (on board)
Entrance fee to archaeological sites (group visit only)
English speaking tour guide
Crew on board
What's
Not Included
Drinks (tally sheet, to be paid to the captain)
Flat fee for drinking water: €20/adult
Meals on land
Gratuities for crew and tour guide (at your discretion)
Transfer to and from the airport/harbor (reservation required)
Entrance fee for sights not included in the tour price
Beach towel for shore use (if needed)
Wifi - the Turkish boats do not offer Wifi connection
Extra
Stay
Extra nights before or after the tour: Hotel El Vino or Hotel Comca Manzara in Bodrum - pricing on request
Tour
Dates
2020 
Love Boat
Season 1: May 2 and May 16, 2020
Season 2: May 30, June 13, September 5, and October 3, 2020
Elara 1: September 19, 2020
Tour
Boats
Day-To-Day
Itinerary
Day 1: Bodrum - Kalymnos Island
Day 2: Kalymnos Island - Amorgos Island, 19 mi. (30 km)
Day 3: Amorgos Island, 13 mi. (21 km)
Day 4: Naxos Island, 22 mi. (35 km)
Day 5: Paros and Astypalaia Island, 19 mi. (30 km)
Day 6: Astypalaia Island,10 mi. (17 km)
Day 7: Kos island, 21 mi. (35 km)
​Day 8: Disembarkation in Bodrum
*All distances are approximate. The above-planned itinerary is subject to change due to changing wind and weather conditions and other unforeseen circumstances having to do with mooring requirements, etc.
Day 1: Bodrum - Kalymnos Island
Individual arrival to Bodrum harbor. A collective transfer from Bodrum Airport to the harbor is available for an extra cost on request. Check-in begins on the Gullet at 2 pm. At 4 pm the ship takes you to the island of Kalymnos where you will spend the night.
Day 2: Kalymnos Island - Amorgos Island, 19 mi. (30 km)
Your first cycle tour takes you from the harbor of Pothia, a town that thrived in the past off the local sponge trade, to Kalymnos, on the other side of the island. In the afternoon, you will enjoy the sea breeze on a longer boat crossing to Amorgos Island.
Day 3: Amorgos Island, 13 mi. (21 km)
The island of Amorgos is picture-perfect in white and blue with a very peaceful atmosphere. On today's bike tour you are able to gather traditional Greek impression as the Island of Amorgos, fortunately, maintains a low profile in the world of modern-day tourism. You will cycle from Ormos Aigiali across the island to Katapola. You also pass the island capital, Chora along the way, whose winding streets and pretty cafes beckon you to visit. In the afternoon you cross over to Naxos by boat. The sunset at the Apollo Temple in the town of Naxos is legendary and the impressive old town, with its towering fortress, invites you to an extended stroll in the evening.
Day 4: Naxos Island, 22 mi. (35 km)
After breakfast, you start your cycle tour, which leads you through the untouched mountain landscape around the island of Naxos. On the way, you will visit the beautifully situated sanctuary of Demeter, the Greek goddess of harvest and agriculture, a wonderful example of classical Greek architecture. Back in Naxos Town, the ship already awaits the group for the crossing to Naoussa on Paros. The picturesque town of Naoussa will keep all the hobby photographers in the group busy. A stroll through the winding streets and a visit to one of the many beautiful taverns in the harbor rounds off an eventful day by boat and bike.
Day 5: Paros and Astypalaia Island, 19 mi. (30 km)
Paros is tranquil, and in parts, a very green island, most commonly known for its famous export of radiant white, translucent marble. Today you start your cycling tour in Naoussa to the island capital, Parikia, where a visit to the famous Panagia Ekatontapyliani, the Church of 100 Doors is recommended. You continue your trip across Paros Island to the small port of Piso Livadi, where the ship awaits you to continue to Astypalaia.
Day 6: Astypalaia Island,10 mi. (17 km)
Astypalaia, the westernmost Dodecanese Island, is also known as the bridge to the Cyclades. Unspoiled nature, white villages, and the surrounding deep blue sea characterize this lovely island. Today's bike tour takes you from the main town of Chora with its fortress towering high above the village, to Analipsi with an almost constant view of the sea. The ship awaits you in Analipsi for a crossing to Kos.
Day 7: Kos island (Asklepion tour, 7 mi. (12 km), Thermal springs tour, 14 mi. (23 km)
Your last cycling tour leads you to the famous Asklepion, home to Hippocrates, father of modern-day medicine. An alternative for those who wish to ride more is a tour to the Embros thermal springs, which is invitingfor a relaxing bath. In the afternoon you have your final crossing back to Bodrum. A cheerful evening meal is spent in the company of your guides, crew, and fellow guests.
Day 8: Disembarkation in Bodrum.
After breakfast disembarkation. Collective transfers to Bodrum Airport on request.
Looking for more?  View all of our featured bike and boat tours, or our full list of bicycle tours.
Email or Call 800-951-4384 +1 570-965-2064
---
Greek Aegean - Cyclade and Dodecanese Islands
Boats + Barges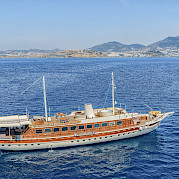 Elara 1 Turkey Deluxe Class Boat The Elara 1 (formerly the Halis Temel), a deluxe class vessel, is the perfect setting for your bike and boat tour in Turkey.
Love Boat Turkey Premium Class Boat The Love Boat has all the amenities and the elegance of an exclusive yacht. While sailing or mooring, the sun beds spread out on the deck will offer you an excellent opportunity to sunbathe and relax. The professional and experienced crew ensures the safety and convenience of all guests. Enjoy the sea from the comfort of your home.