5

/

5

(

1

rating)
Highlights of Holland
Discover the world of Rembrandt
Go to the Netherlands and discover for yourself the world's #1 bike country personally during this bike and boat tour in the land of Rembrandt. You will ride through Holland's country side: polders in Purmerend, 18th century windmills in Zaanse-Schans, and the flower auctions of Aalsmeer. You will see Holland's art: The Maurits House Museum full of paintings by Rembrandt, Rubens, and Vermeer, the Panorama Mesdag cylindrical painting that is over 45 feet tall, the Stedelijk Museum (Museum of Modern Art), and the Van Gogh Museum. You can also explore Holland's history: St. Bavo's Church in Haarlem where Mozart once played, 17th century almshouses or 'hofjes', and the Cruquius Pumping Station museum, illustrating the Dutch's battle with the sea.

This is only a taste of what can be experienced on this tour, so come along and see for yourself!

A list of all of our bike barge tours in Holland can be found here.

2017 Prices

Jelmar:  £ 810 $ 1,275 € 850 NOK 8500 kr 7846 $ 1,020

Tijdgeest: £ 743 $ 1,170 € 780 NOK 7800 kr 7200 $ 936

Clair de Lune: £ 743 $ 1,170 € 780 NOK 7800 kr 7200 $ 936

Single Supplement (all boats): £ 210 $ 330 € 220 NOK 2200 kr 2031 $ 264

2018  Prices

Jelmar:  £ 814 $ 1,283 € 855 NOK 8550 kr 7892 $ 1,026

Tijdgeest: £ 776 $ 1,223 € 815 NOK 8150 kr 7523 $ 978

Clair de Lune: £ 776 $ 1,223 € 815 NOK 8150 kr 7523 $ 978

Single Supplement (all boats): £ 210 $ 330 € 220 NOK 2200 kr 2031 $ 264

extra

options

Electric bicycle rental: Please contact us

Extra night in Amsterdam: Please contact us

please

note

Rates are based on double occupancy.

Information to read before you book.

We recommend purchasing bike trip insurance.

† Currency exchange rate set 90 days before travel.
Tour
Dates
2017 Dates
Aboard the Comfort class boat: 
Jelmar: July 22, September 2, and September 9, 2017
Aboard Standard Plus boats:
Tijdgeest: July 1, and July 29, 2017
Clair de Lune: July 15, 2017
2018 Dates
Aboard the Comfort class boat: 
Jelmar: June 2, July 14, July 28, and September 8, 2018
Aboard Standard Plus boats:
Tijdgeest: June 9, June 30, and August 18, 2018
Clair de Lune: August 4, 2018
Where
You'll Stay
On the comfort class boats the Jelmar or the Tidjgeest
What's
Included
Accommodations for 8 days/7 nights
Breakfasts, packed lunches, and 3 course dinners on board
7 speed hybrid bicycle equipped with pannier bags
Bicycle protection
Tour guide
Route information
Ferry fares
Museum entrance fees
What's
Not Included
Travel insurance
Drinks on board
Entrance fees and excursions not mentioned in program
Gratuities

Skill
Level
Easy, guided bike and boat tour with variable cycling distances per day in and around interesting cities and towns.
Tour
Boats
Day-To-Day
Itinerary
Day 1: Amsterdam - Uithoorn/Kudelstaart, 12 miles (20 km)
Day 2: Uithoorn/Kudelstaart - Leiden, 33 miles  (55 km)
Day 3: Leiden - Haarlem, 30 miles (50  km)
Day 4: Haarlem - Alkmaar, 30 miles (50 km)
Day 5: Alkmaar, round trip, 33 miles (55 km)
Day 6: Alkmaar - Purmerend, 27 miles (45 km)
Day 7: Purmerend - Amsterdam, 30 miles (50 km)
Day 8: Departure from Amsterdam 
*All distances are approximate. The above planned itinerary is subject to change due to changing wind and weather conditions and other unforeseen circumstances having to do with mooring requirements, etc.
Day 1: Amsterdam - Uithoorn/Kudelstaart, 12 miles (20 km)
Boarding time in Amsterdam begins at 12:30 PM. The boat begins cruising at 1:30 pm and will take you right through the city's center. There is a short cycle trip following the banks of the Amstel river ending in Uithoorn/Kudelstaart,  a small town bordered by the Westeinderplassen.
Day 2: Uithoorn/Kudelstaart - Leiden, 33 miles (55 km)
Today's route uses bike paths and crosses the real Green Heart of Holland through the lake areas of Langeraarse Plassen and Braasemer Meer. It ends in the university town, Leiden. You will spend the night in Leiden, birthplace of the great painter Rembrandt. Leiden originated around 800 AD as a market place at the confluence of the Old and New Rhine Rivers, the Vliet River, and the Mare. For a long time, it was the center of the textile industry in Medieval Times. A well-known episode from Leiden history is the siege of 1574 by the Spanish. They were finally driven away after dikes were broken through and a Watergeuzen fleet had come to help. The rescue of Leiden is still celebrated every year on October 3. In 1575, Leiden was given the right to establish a university as a reward for the courage shown during the siege. It boasts 13 museums, including the Rijksmuseum for Anthropology with many priceless foreign items, the Municipal Museum (Lakenhal, 1640) with works by Dou, Steen, Rembrandt, and Van Goyen, and the Rijksmuseum of Antiques with ancient Egyptian artifacts. There is also the Hortus Botanicus (Botanical Garden). It is home to a 400-year-old-garden with innumerable exotic plants and trees and is definitely worth a visit. The center of town has several shops and places to eat, or you can sit on an outdoor terrace on the water's edge and enjoy the unique and lively atmosphere. 
Day 3: Leiden - Haarlem, 30 miles (50  km)
Today you will cycle to the seaside resort, Katwijk, and then through the dune area to Zandvoort. If weather permits, you may spend some time on the beach. Cycling on the path that was used by the fishermen's wives to go to the market, you will end today's tour in Haarlem. The small city center is an inviting place to shop and has been called "best shopping town of the Netherlands". You may also want to relax after a day of cycling at one the of terraces at the big market place. 
Day 4: Haarlem - Alkmaar, 30 miles (50 km)
The first village you arrive in is Spaarndam (the Village of Hans Brinker). After the crossing of the North Sea canal by ferry, you continue your Netherlands cycling through rural villages like Nauerna. The itinerary allows for a visit to the open air museum the Zaanse Schans. After a visit to the museum, you continue following the river Zaan and the Knollendammer canal to the cheese town of Alkmaar. 
Day 5: Alkmaar, round tour, 33 miles (55 km) 
The boat stays docked in Alkmaar. Today's route leads to the unique wood and dune area near the villages Bergen and Schoorl and to the Hondsbossche Zeewering, a sea wall. There will be plenty of time to have a drink at an outdoor cafe or to walk on the beach. You may also choose to spend the day on your own sightseeing in Alkmaar or relaxing at the seaside. 
Day 6: Alkmaar - Purmerend, 27 miles (45 km)
After passing Oterleek and Avenhorn, you arrive in Hoorn, a historic port town. The road along the coast offers a splendid view over the Ijssel Lake and follows the canal "Beemsterringvaart" to Purmerend. Along the way, you will visit the windmill museum in Schermerhorn. 
Day 7: Purmerend - Amsterdam, 30 miles (50 km)
Today your Holland bike tour takes you to the picturesque village of Edam and through the fishing village of Volendam. You will ride along the coastline of the Ijsssel lake and via the ferry crossing, you will arrive back in Amsterdam. Of the many interesting places to explore in Amsterdam, we recommend the rings of canals, the Jordaan area with its many pubs, outdoor cafes and quaint shops, the Vondelpark and its outdoor concerts, the antique shops in the Spiegel district; Museum square with the Rijksmuseum (National Museum), Stedelijk Museum (Museum of Modern Art), the Van Gogh Museum, and of course the Anne Frank House. Other typical features of Amsterdam are its numerous 'hofjes' or almshouses, the floating flower market, and the hundreds of houseboats that line the canals.
Day 8: Amsterdam, end of the tour after breakfast
You can view all of our bike and boat tours or look at our featured bike trips, specials, and news.​
Email or Call 800-951-4384 +1 570-965-2064
---
Highlights of Holland
Boats + Barges
Clair de Lune France Standard Plus Class Boat In May 2014, Marco Pouw and his wife Astrid assumed ownership of the ship Clair de Lune. In the winter of 2014, the ship was renovated and made ready for a new bike and boat adventure in and around Paris, launching in the spring of 2015.Marco has great experience as a skipper on freighters in the Netherlands, Belgium and Germany and looks forward to this venture with great anticipation and enthusiasm.
Jelmar Netherlands Comfort Class Boat The Jelmar, recently renovated during the winter of 2006/2007, has 10 twin cabins with level beds, washbasin and shower/toilet, and 1 twin cabin with a bunk bed. The well upgraded ship is ready to receive new guests while sailing in the Netherlands.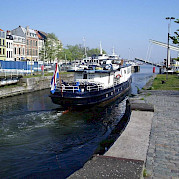 Tijdgeest Belgium, Netherlands Standard Plus Class Boat Built in the year 1897, the Tijdgeest was one of the first passenger barges on the river Rhine in Germany. More than 100 years later, in 1998, the ship was completely renovated and rebuild into a hotel ship. On the lower deck you'll find the cabins, all with private facilities. A number of cabins have twin beds, while others use bunk beds. On the upper deck you'll find a very spacious living/dining room with panoramic view. An on-board computer is available for you to use.