4.9

/

5

(

11

ratings)
Holland Southern Tulip Tour
Cycle some of Holland's most beautiful cities during the Tulip Season!
This Southern Tulip bike and boat tour leads through some of Holland's most popular cities but also through fields of beautiful Tulips! One highlight, among many, will be the Keukenhof gardens, the most beautiful flower garden in the world!

Your bike and boat adventure begins and ends in Amsterdam and includes the prestigious towns of Gouda, Delft, Leiden, and Haarlem.

Gouda, city of cheese, is one of your first stops. Delft, of course, is famous for its Delftware (handsomely painted blue and white china) that was developed in the 1500's. This quaint little town was also the workplace of the great Dutch painter Vermeer. Rembrandt's city of birth, Leiden, will embrace you with its lively atmosphere and shop-filled narrow streets. Haarlem, is a lovely small town has a beautiful square on which the famous St. Bavokerk sits. This impressive Gothic Basilica contains the magnificent Christian Muller organ (1727) with 5,000 pipes on which Mozart, Handel and Liszt have all tested their skills. The city is also known for its monuments (it has over 1000!) and beautifully restored hofjes (courtyards).

Highlights will include:

Keukenhof
Tulips and other wonders
Historic town centers
Biking on one of the world's greatest cycling networks

This tour truly allows you to sample the best of Holland: quaint villages, lively metropolises, tulips, canals, and biking!

To browse all of our bike boat tours in Netherlands, follow the link!

2018 Prices

Sailing Home

Twin cabin: £ 1176 $ 1,763 € 1185 NOK 12344 kr 11394 $ 1,481 Twin cabin for single use:  £ 1657 $ 2,485 € 1670 NOK 17396 kr 16058 $ 2,088

Wending

Twin cabin:   £ 1071 $ 1,607 € 1080 NOK 11250 kr 10385 $ 1,350 Triple cabin: £ 1017 $ 1,525 € 1025 NOK 10677 kr 9856 $ 1,281 Twin cabin/single use: £ 1275 $ 1,912 € 1285 NOK 13385 kr 12356 $ 1,606

Zwaan 

Twin cabin: £ 1176 $ 1,763 € 1185 NOK 12344 kr 11394 $ 1,481 Triple cabin: £ 1146 $ 1,719 € 1155 NOK 12031 kr 11106 $ 1,444   Single cabin/single use: £ 1657 $ 2,485 € 1670 NOK 17396 kr 16058 $ 2,088

Liza Marleen

Regular twin: £ 1156 $ 1,734 € 1165 NOK 12135 kr 11202 $ 1,456 Large twin: £ 1255 $ 1,882 € 1265 NOK 13177 kr 12163 $ 1,581 Twin cabin/single use: £ 1617 $ 2,426 € 1630 NOK 16979 kr 15673 $ 2,038 Triple cabin: £ 1066 $ 1,600 € 1075 NOK 11198 kr 10337 $ 1,344

Feniks

Regular twin: £ 1066 $ 1,600 € 1075 NOK 11198 kr 10337 $ 1,344 Bunk bed cabin: £ 922 $ 1,382 € 929 NOK 9677 kr 8933 $ 1,161 Bunk bed cabin for single use: £ 1176 $ 1,763 € 1185 NOK 12344 kr 11394 $ 1,481

Anna Antal

Comfort twin cabin (low beds): £ 1071 $ 1,607 € 1080 NOK 11250 kr 10385 $ 1,350 Bunk bed cabin: £ 922 $ 1,382 € 929 NOK 9677 kr 8933 $ 1,161 Bunk bed cabin for single use: £ 1176 $ 1,763 € 1185 NOK 12344 kr 11394 $ 1,481

extra

options

2018

Electric bicycle rental: £ 64 $ 97 € 65 NOK 677 kr 625 $ 81

Bike maps for self-guided option (price includes two maps): £ 19 $ 28 € 19 NOK 198 kr 183 $ 24

Helmet rental (must be reserved at the time of booking): £ 10 $ 15 € 10 NOK 104 kr 96 $ 13

Entrance fees to museums (approximate): £ 20 $ 30 € 20 NOK 208 kr 192 $ 25

Gluten free diet: £ 50 $ 74 € 50 NOK 521 kr 481 $ 63

Discounts available for children. Ask us for details.

please

note

Please note:  Pricing is based on fuel costs as of June 2017. If the fuel cost increase 5%, additional fees may apply  (even for reservations already booked).

Rates are based on double occupancy.

Information to read before you book.

We recommend purchasing bike trip insurance.

† Currency exchange rate set 90 days before travel.

Travel

Fly to Amsterdam.

Local Travel

Arrival in Amsterdam, short train ride to Amsterdam center where you board the boat at 2 PM.

Climate

Check local weather conditions prior to departure. Always bring full rain gear. The average high/low temperature in °F is approx. 48/37 for March, 53/40 April, 61/46 May, 66/52 June, 69/55 July, 70/55 August, and 64/51 September.

Remarks

Please be aware that you will be part of an international group of people, but your tour guide and crew members will always speak English.

---
Tour
Dates
2018 Dates
On the Comfort Plus class boat:
Sailing Home: April 14, April 21, April 28, and May 5,  2018
Liza Marleen: April 7 and April 28, 2018
On the Comfort class boats: 
Wending: April 7, April 14, and April 21, 2018
Zwaan: April 28, 2018
On the Standard Plus/Comfort class boat:
Feniks: April 21, 2018
Anna Antal: May 5, 2018
Where
You'll Stay
For this tour different class boats are used on different dates. Please see dates and pricing.
What's
Included
Accommodations for 7 nights on board
7 x breakfast buffets, 6 x packed lunches, 7 x 3-course dinners
Coffee and tea on board
Tour guide
24-speed hybrid bicycle
Route information
Ferry fares en route
Road book (one per cabin)
Entrance fee to the Keukenhof
What's
Not Included
Helmet rental (must be reserved in advance)
Museum entrance fees, approximately €15 per tour
Beverages (incl. alcohol), available on board
Maps for self-guided option (see pricing)
Surcharge for gluten free diets
Skill
Level
Easy, guided tour with variable cycling distances per day in and around interesting cities and towns.
Tour
Boats
Day-To-Day
Itinerary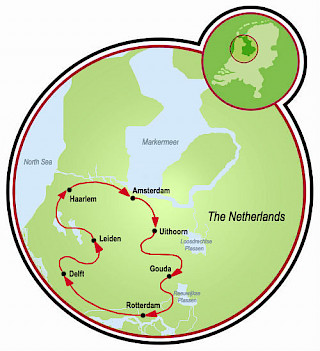 Day 1: Amsterdam, sailing to Ouderkerk a/d Amstel, cycling to Uithoorn, 9 mi. (15 km)
Day 2: Uithoorn - Gouda, 28 miles (45 km)
Day 3: Gouda - Alblasserdam - ferry to Rotterdam - sailing to Delft, 25 mi. (40 km)
Day 4: Delft - via Katwijk - Leiden, 23/30 mi.  (36/48 km)
Day 5: Leiden, visit to Keukenhof by public transportation
Day 6: Leiden - via flower bulb fields to Haarlem, 25 mi. (40km)
Day 7: Haarlem - Amsterdam, 25 mi. (40 km)
Day 8: Amsterdam, disembark at 10 am
*All distances are approximate. Itinerary is subject to change due to unforeseen circumstance, including but not limited to weather, last minute mooring changes, and restructuring of locks or bridges.
Day 1: Amsterdam, sailing to Uithoorn, cycling around Uithoorn
Embarkation on Saturday before 2 pm.  The barge needs to leave the mooring place in Amsterdam at 2:15 PM. It is very important you are on time. The barge can't wait due the opening hours of bridges and/or locks.
During dinner on board, the weekly program is discussed. After dinner, you will have a short bike tour around Uithoorn.
Day 2: Uithoorn - Gouda, 28 mi. (45 km)
From Uithoorn you will continue your tour over country roads, along river banks and channels through the Green Heart to the city known for its cheese: Gouda. Who thinks of Gouda, not only thinks of cheese, pipes, 'stroopwafels' (treacle-waffle) and pottery, but also of beautifull stained glass windows, a fairy-like town hall and atmospheric canals. Gouda is a beautiful Old Dutch city with a mostly intact city centre. As on most days, after dinner you can take a walk through the city.
Day 3: Gouda - Alblasserdam, sailing to Delft, 25 mi. (40 km)
From Gouda you cycle past scenic polders via Kinderdijk to Rotterdam. Kinderdijk has the largest group of windmills in the Netherlands. The windmills at Kinderdijk were still actively used until 1950. These days, a large pumping station is responsible for controlling the water level in the polder.
After visiting the windmills of Kinderdijk you continue on to Rotterdam. In Rotterdam you embark and from there the ship takes you to Delft, famous for its pottery, the 'Delft blue'. The Prinsenhof Museum is housed in the former St. Agatha's monastery. In 1572 William of Orange chose the convent as one of his residences. It was from here that he led the revolt against the Spanish tyranny of Holland. He was murdered on the steps of the Prinsenhof on July 10, 1584, by Balthazar Gerards, a Spanish sympathiser. Two bullet holes in the wall of the stairs bear witness to this event.
Day 4: Delft - via Katwijk - Leiden, 23/30 mi. (36/48 km)
From Delft, you will cycle Holland in the direction of The Hague, through the Haagse Bosch, a large park, and past the Royal Huis ten Bosch Palace. A tranquil cycle path through the dunes leads you to Wassenaarse Slag. Here, some remains of the Atlantikwall can still be seen. The Atlantic Wall was an extensive system of coastal fortifications built by the German Third Reich in 1942 until 1944 during World War II along the western coast of Europe to defend against an anticipated Allied invasion of the mainland from Great Britain. Five bunkers are connected by nearly 3,000-foot long brick tunnels. Now this underground network serves as a bat reserve! It was nearly 1,700 miles long. This defense line, which was never completed, not only consisted of bunkers, but also of canons and mine fields. At some places the bunkers are still there, such as in Zandvoort, Scheveningen, Oostende (Belgium) and Normandy (France).
Continuing on through the dunes, to Katwijk aan Zee, an old fishing village (the inhabitants still speak their own dialect called Kattuks), you will follow the course of the Oude Rijn (Old Rhine) ending in Leiden. Leiden originated around 800 AD as a marketplace at the confluence of the Old and New Rhine rivers, the Vliet river and the Mare ('Leyten' means 'at the waters'). For a long time, it was the second city after Amsterdam. It was the center of the textile industry in Medieval times. A well-known episode from the history of Leiden is the siege of 1574 by the Spanish. These were finally driven away after dikes had been broken through and a Watergeuzen (see Rotterdam) fleet had come to help. Leiden is the birthplace of Rembrandt (van Rijn!). It boasts 14 museums, including the Rijksmuseum for Anthropology with many priceless foreign objects, the Municipal Museum (Lakenhal, 1640) including works by Dou, Steen, Rembrandt and Van Goyen, the Rijksmuseum of Antiquities with Egyptian antiquities. The Hortus Botanicus (Botanical Garden), a 400-year-old garden with innumerable exotic plants and trees, is certainly worth seeing. In the center of town, you can go shopping or enjoy sitting on an outdoor terrace on the water's edge.
Day 5: Leiden, visit to Keukenhof by public transportation
Today you visit the Keukenhof gardens, the most beautiful spring park in the world. The Keukenhof is the place where the spring breaks. In the Keukenhof various gardens and gardening styles can be found: the English Landscape Garden, the Historical Garden, the Natural Garden, the Japanese Natural Garden, the Formal Garden and three special colors gardens. Spread throughout the entire park there are approximately eighty sculptures from well-known Dutch artists as well as several other art objects, such as the collection 'Surprising Tulips'. 
Day 6: Leiden - via flower bulb fields to Haarlem, 25 miles (40 km)
From Leiden, you cycle through wonderful flower beds in the direction of Haarlem. In the period of March to May the bulb fields are blooming, starting with daffodils and followed by hyacinths, tulips, and lilies. Once in the city of Haarlem, you make a short tour through the city to see some typical  'hofjes' (almshouses), old houses around a central courtyard, now usually housing elderly people. These 'hofjes ' are definitely worth a visit. Haarlem, which rendered its name to Harlem, New York, is a lively city with good shopping possibilities. The ship is berthed in the city center, with a view of St. Bavo's Church and with easy access to the Grote Markt with its many outdoor cafés.
Day 7: Haarlem - Amsterdam, 25 mi. (40 km)
From Haarlem, you sail to Spaarndam, a picturesque village on the edge of Haarlem, in the direction of Amsterdam. Spaarndam's name comes from the dam built in the Spaarne river to limit the danger of flooding from the sea. Here you can find the statue of Hansje Brinker on the IJdijk. Hansje is a character from an American novel, who saved the country from flooding by putting his finger in the dike. The Buitenhuizen ferry takes you across the North Sea Canal and from there you cycle to the Zaanse Schans. The Zaanse Schans, with its traditional weatherboard houses, warehouses and windmills may give you the feeling of stepping back into the 17th or 18th century. Yet this is no open air museum, but a lively neighborhood where people live and work. Among other things a cheese farm, a clog maker and an old bakery can be visited here.
Day 8: Individual departure from Amsterdam
If you're looking for a different flavor, check out our full list of bike and boat tours or view all our featured bicycle tours, specials, and news.
Email or Call 800-951-4384 +1 570-965-2064
---
Holland Southern Tulip Tour
Boats + Barges