4

/

5

(

1

rating)
Islands of the Sun God
Cycle Greece from/to Marmaris
Since ancient times, the island of Rhodes has been called the Island of the Sun God with good reason! With over 3000 sunshine hours each year, it is one of the sunniest regions in Europe. Aboard the Vesta 1 Sevil and atop your bicycle, you will explore Rhodes and its neighboring islands. Let yourself be mesmerized by this exquisite place with it's sandy, pristine beaches and history dating back to the Byzantine era. The landscape is varied and ranges from arid and rocky to lush and forested. The island of Nissyros, located between Tilos and Kos, is famous mainly for its volcano but is ideal for a quiet and relaxing vacation. You will discover the Castle of Spiliani, the villages, and pebbled beaches, as well as the thermal springs of the island on a journey full of blue and white. Impressive is the towering volcanic crater of Nissyros or the charm of Symi,the island capital, with its wonderful neo-classical buildings. Follow the tracks of the midget elephant on the island of Tilos which fortunately hasn't lost its tradition and character. You will be enchanted with the picturesque port of Chalki and fascinated by Aegean history, mythology and legends as you hear the stories of the rock throwing Poseidon, the Colossus of Rhodes, the Knights of St John and the famous sponge diver of Symi!
A comprehensive list of all of our bike boat tours in Greece can be found here.
Skill
Level
Moderate guided bike and boat tour with daily distances averaging approximately 25 miles (40 km). Route will take you through partly hilly and mountainous terrain. There will also be extended climbs but walking your bike is of course permitted. Most of the roads are asphalted. Your tour guide will inform you each day about your tour details. You can set aside a whole day or half day for swimming or relaxing on board.
Where
You'll Stay
On the Comfort Plus class ships, the BB2.
What's
Included
Accommodations for 7 nights in double cabin with private bathroom
7 x half board
Bed linen and towels
6 guided and individual tours as described in itinerary
21-gear trekking bike with an Ortlieb saddle bag
Overview maps for the daily tours, on board
All entrances to museums and archaeological sites
English and German speaking tour guide
What's
Not Included
Beverages on board (tally sheet). There is a flat rate of €20 per person for unlimited drinking water
Gratuities crew and tour-guides (optional)
Meals on land
Bicycle protection (€10 to €20/bike)
Transfer to/from the airport to the harbor
Tour
Dates
Bodrum to Marmaris: May 28, June 11, September 3, September 24, October 8, 15 and October 29, 2016
Marmaris to Bodrum: June 4, June 18, and October 1, 2016
Tour
Boats
Day-To-Day
Itinerary
Day 1: Marmaris (Embarkation)
Day 2: Rhodes Island, Rhodes town – Mount Flerimos, 15 mi. (25 km)
Day 3: Rhodes Island; Rhodes town – Stegna - Lindos, 19 mi. (30 km)
Day 4: Rhodes Island; Lindos – Plimiri – Halki Island, 22 mi. (35 km)
Day 5: Islands of Halki and Symi; Monastry of Panormitis – Symi town, 16 mi. (25 km) 
Day 6: Islands of Symi, Nissiros and Kos, 19 mi. (30 km)
Day 7: Kos Island; Kos town – Asclepeion - Bodrum, 12.5 mi. (20 km)
Day 8: Bodrum (Disembarkation)
*All distances are approximate.
Day 1: Marmaris (Embarkation)
Individual arrival to Marmaris. On request collective group transfer from Bodrum airport to your ship in Marmaris port and check-in starting at 2 pm. You may take a stroll across the huge bazaar or simply grab the chance to enjoy a delicious Turkish tea. Afterwards, enjoy your first dinner on board. 
Day 2: Rhodes Island, Rhodes town – Mount Flerimos, 15 mi. (25 km)
In the morning, cross over to Rhodes Town. On an exciting bike expedition, explore the 2,400-year-old history of the island's capital. The stag and the hind on the entrance of the Mandraki harbor offer a first photo subject. Could this be the place of the famous Colossus of Rhodes? Continue our expedition over the moat of this crusader town with its imposing walls, which give Rhodes its unique character. Afterwards, the tour guide leads you to Mount Flerimos, from there you can enjoy a great view to the sea and Rhodes town. In the evening, there is enough time for an extensive walk through the enchanting alley of Rhodes old town.
Day 3: Rhodes Island; Rhodes town – Stegna - Lindos, 19 mi. (30 km)
In the morning, your ship takes you to the charming fishing harbor of Stegna, where you go ashore for cycling. Today's tour leads you along the fertile, agricultural interior of Rhodes. Cycle through ancient olive groves to Archangelos, where you can have your lunch in a characteristic Greek tavern. Continue cycling to Lindos, which might be one of the nicest villages around the Greek islands. After a climb, an amazingly beautiful view will take your breath. The mighty Acropolis towers over vivid Lindos, which nestles ashore with its square buildings and narrow lanes. Grab the chance to visit this impressive ruin to top the day off.
Day 4: Rhodes Island; Lindos – Plimiri – Halki Island, 22 mi. (35 km)
Beginning in Lindos, you'll cycle close to the coastline. Have a coffee break by the sea and meet the boat at Plimiri and spend the afternoon cruising to Halki Island. Its capital Halki town with its main harbor and its classical buildings will give you a foretaste of Symi Island. Spend the night in the harbor of Halki town.
Day 5: Islands of Halki and Symi; Monastry of Panormitis – Symi town, 16 mi. (25 km)
Cruise to the marvelous bay of Panormitis, where its big monastery of Michalis Panormitis awaits you to come for a visit. Afterwards, cycle to explore the other side of the island. Following a winding road, slowly crest the mountain and admire the astonishing panoramic view. The impressive island's capital is where you're heading to next. Classical, pastel-colored buildings charm the visitor's eye and bear witness of the telling past of the famous sponge diver's island.
Day 6: Islands of Symi, Nissiros and Kos, 19 mi. (30 km)
In the morning, cruise to the port of Mandraki at Nissyros Island. From there, start today's cycle tour to Nikia, a village directly built at the edge of the crater in 1,400 ft./430 m height. From here, enjoy a fascinating view into the volcano crater. The volacano, impressive white houses, and the numerous mosaics made of pebble will truly amaze you. When you arrive at the village square, do not miss the opportunity to try a Greek coffee. From here, cycle on to the crater with its steaming sulphur springs and finally back to the small port town of Mandraki – its charm has attracted visitors for centuries. After a short cruise, you reach Kos Island, where you stay overnight. You will meet history at every corner while strolling through Kos town. The evening is rounded off in one of the numerous bars and cafes.
Day 7: Kos Island; Kos town – Asclepeion - Bodrum, 12.5 mi. (20 km)
In the Morning, cycle to the world famous archaeological site of the Asclepeion of Kos - the place where Hippocrates is said to have received his medical training. From herr, cycle along the coast until reaching the town of Kos. Enjoy an afternoon on board while cruising to Bodrum, where you can walk through the lively town before dinner. The last evening aboard you'll enjoy the communal dinner in a cosy atmosphere you will have the chance for a last get-together with your crew and your tour guides.
Day 8: Bodrum (Disembarkation)
Disembarkation after breakfast.
Want to see more?  View all of our featured bike and boat tours, or our full list of bicycle tours.
Email or Call 800-951-4384 +1 570-965-2064
---
Islands of the Sun God
Boats + Barges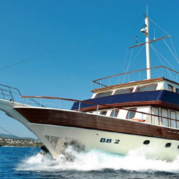 BB2 Turkey Comfort Plus Class Boat The BB2 has all the amenities and the elegance of an exclusive yacht. While sailing or mooring, the sun beds spread out on the deck will offer you an excellent opportunity to sunbathe and relax. The professional and experienced crew ensures the safety and convenience of all guests. Enjoy the sea from the comfort of your home.