4

/

5

(

1

rating)
South Greek Aegean Sea
A bike and boat tour island hopping in the Southeastern Aegean Sea
On this bike and boat tour in Greece and Turkey, you will explore the Dodecanese islands in the Southern Greek Aegean. Let yourself be mesmerized by this exquisite place with it's sandy, pristine beaches and history dating back to the Byzantine era. The landscape is varied and ranges from arid and rocky to lush and forested.

You will be fascinated by Aegean history, mythology, and legends as you hear the stories of the rock-throwing Poseidon, the Colossus of Rhodes, the Knights of St John, and the famous sponge diver of Symi!

Highlights:

Island of Nissyros and its towering volcanic crater
Castle of Spiliani
Island of Tilos
The picturesque port of Chalki
Datca Peninsula- pristine nature
Bay of Knidos and its ruins
Legends and history

A comprehensive list of all of our bike boat tours in Greece can be found here.

April 25, May 9, October 10, October 17, and October 24 twin/double cabin:   $ 2291 £ 1193 $ 2,078 € 1390 $ 2385 kr 14873 $ 1,567

May 23, June 6, September 12, and September 26 twin/double cabin: $ 2456 £ 1279 $ 2,228 € 1490 $ 2557 kr 15942 $ 1,680

Twin/double on or above deck surcharge (only available on the Love Boat): $ 247 £ 129 $ 224 € 150 $ 257 kr 1605 $ 169

Single supplements

Double cabin for single use below deck: $ 824 £ 429 $ 748 € 500 $ 858 kr 5350 $ 564

Double cabin for single use above deck (only available on the Love Boat): $ 1154 £ 601 $ 1,047 € 700 $ 1201 kr 7490 $ 789

extra

options

Electric bicycle rental (limited number, advanced reservation required): $ 132 £ 69 $ 120 € 80 $ 137 kr 856 $ 90

Hybrid touring bicycle protection:  $ 16 £ 9 $ 15 € 10 $ 17 kr 107 $ 11

Electric bicycle protection:  $ 33 £ 17 $ 30 € 20 $ 34 kr 214 $ 23

*Collective transfers (only on embarkation/disembarkation day):
Dalaman Airport and Marmaris port:  $ 33 £ 17 $ 30 € 20 $ 34 kr 214 $ 23 Bodrum Airport and Marmaris port: $ 33 £ 17 $ 30 € 20 $ 34 kr 214 $ 23 Bodrum airport and Bodrum harbor: $ 25 £ 13 $ 22 € 15 $ 26 kr 160 $ 17 *Exact flight details are obligatory 

*Private transfers available as well. Please ask us for pricing.

please

note

Rates are per person based on double occupancy.

Information to read before you book.

We recommend purchasing bike trip insurance.

† Currency exchange rate set 90 days before travel.

Travel

The nearest airport to your embarkation is Bodrum Airport (BJV). Alternatively, you can fly via the Greek island of Kos and continue by ferry to Bodrum. If you are planning on flying to Kos, please inform us and we can provide you with detailed local travel information as travel from here to Bodrum is more complicated. If you do decide to fly to Kos, you should choose a return flight with departure midday or in the afternoon hours to ensure a stress-free return journey.

Local Travel

We advise that you book one of the fee-based group transfers that are offered on arrival and departure days. See pricing.
Bodrum:
Your vessel will be moored on embarkation day in the port of Bodrum. Check-in begins at 2 pm. The actually mooring assignment within the port may not be available until embarkation day. For this reason, organized transfers are the most practical means of arriving to the boat. The boat will remain in port overnight.


Climate

Please check local conditions before your arrival. The Mugla province in Turkey has a warm Mediterranean climate. A good website to research average high/low temperatures, average rainfall and other weather related facts is weatherbase.com

Remarks

Bike helmets are available onboard in limited number. Please request at time of booking.


DOCUMENTS

Before you travel, please check your country's passport and visa requirements and the passport and visa requirements of the country/countries you plan to visit. For US citizens, the US Department of State website is a good source of information. The Country Information tab in the International Travel section provides details about passport validity, blank passport pages required, etc. For our other international clients, please be sure that you research your own country's travel requirements. It is each traveler's responsibility to ensure proper documentation.

*Important note: Beginning July 1, 2021, additional documentation from the European Travel Information and Authorization System (ETIAS) will be required to visit any of the 26 Schengen-member countries for tourism, business, medical, or transit. This is an additional check on security rather than a visa.

---
Skill
Level
Moderate to difficult, guided bike and boat tour with daily distances averaging approximately 25 miles (40 km). The route will take you through partly hilly and mountainous terrain. There will also be extended (longer) climbs but walking your bike is of course permitted. Most of the roads are asphalted. Your tour guide will inform you each day about your tour details. You can set aside a whole or half day for swimming or relaxing on board.
Where
You'll Stay
On the Premium Class vessel, the Love Boat. Please note that in certain ports, due to harbor regulations, it is not permitted for the vessel to run the air conditioning during the night.
What's
Included
Accommodations for 7 nights in twin cabin with private bathroom
Breakfast
7 days with either lunch or dinner
Bed linen and towels
Guided tours as described in itinerary
21-gear trekking bike with an Ortlieb saddle bag
Overview maps for the daily tours, on board
All entrances to museums and archaeological sites
English and German-speaking tour guide
What's
Not Included
Beverages on board (tally sheet).
Bottled water (€20 flat rate for unlimited water)
Gratuities crew and tour-guides (optional)
Remaining meals
Transfer to/from the airport to the harbor
Wifi (it is NOT available on the vessels in Turkey)
Tour
Dates
From/to Bodrum
Love Boat: April 25, May 9, May 23, June 6, September 12, and September 26, 2020
Elara 1: October 10, October 17, and October 24, 2020
Tour
Boats
Day-To-Day
Itinerary
Round trip from Bodrum

Day 1: Bodrum (Embarkation)
Day 2: Bodrum – Yalıçiftlik – Kos (approx. 11.5 mi./18 km)
Day 3: Kos Island/Kos Town - Nissyros Island (approx. 16 mi./25 km) 
Day 4: Nissyros Island – Tilos Island (approx. 19 – 25 mi./30 - 40 km)
Day 5: Tilos Island - Chalki island (approx. 14 mi./22 km)
Day 6: Chalki Island – Symi Island (approx. 16 mi./25 km)
Day 7: Datça (Datça-Peninsula) – Knidos - Bodrum (approx. 26 mi./41 km)
Day 8: Bodrum (Disembarkation)
All distances are approximate. Any and all planned itineraries are subject to change, even on very short notice, due to changing wind and weather conditions, and other unforeseen circumstances having to do with mooring requirements, docking location changes, lock repairs, etc.

Day 1: Bodrum (Embarkation)
Individual arrival to Bodrum harbor. A collective transfer from Bodrum Airport to the harbor is available for an extra cost, on request. Check-in begins at 2 pm. Alternatively, you can fly to Kos Airport and take the ferry across to Bodrum for check-in. If you choose to arrive via Kos, make sure that your flight arrives no later than 2 pm in Kos in order to catch the ferry connection. Use the evening hours to enjoy the lively vibe in the city of Bodrum and relax with a typical Turkish tea. In the evening, a group dinner on board can be enjoyed in the company of your travel companions and tour guides.
Day 2: Bodrum – Yalıçiftlik – Kos (approx. 11.5 mi./18 km)
The first cycle tour of the week takes you to Kızılağaç, which is famous for its local farmer's market. After a break, continue cycling to Yalıçiftlik. Board the boat for lunch and a cruise to Kos town. An entourage of cultural sights in Kos town will give you insight into the town's turbulent historical past: The Roman Forum, the Crusader fortress, and the mosques from the time when Kos was still part of the Ottoman Empire. The evening is rounded off in one of the numerous bars and cafes. 
Day 3: Kos Island/Kos Town - Nissyros Island (approx. 16 mi./25 km) 
Cycle in the direction of the world-famous archaeological excavation site of the Asclepion in Kos, the former realm of Hippocrates, the father of modern medicine. From here, cycle along the coast back towards the town of Kos. Here we board the boat and cruise to the volcanic island of Nissyros. 
Day 4: Nissyros Island – Tilos Island (approx. 19 – 25 mi./30 - 40 km)
Begin in the morning with a cycle tour to Nikia - a village built directly on the Stefanos crater rim at 1,400 ft./430 m above sea level. From here, enjoy a fascinating view of the volcano crater. The white houses and the numerous pebble mosaics bring great character to the village. From here, cycle on to the crater with its steaming sulfur springs and finally back to the small port town of Mandraki where the boat awaits to take you to Tilos Island, inhabited since ancient times.
Day 5: Tilos Island - Chalki island (approx. 14 mi./22 km)
The morning bike ride takes you from Livadia to Megalochorio. Enthusiasts can visit the pygmy elephant museum before returning back to the boat. A tasty lunch awaits you onboard followed by a relaxing cruise from Tilos to the island of Chalki. 
Day 6: Chalki Island – Symi Island (approx. 16 mi./25 km)
In the morning, the boat crosses to Panormitis Bay in front of the island of Symi, where the local monastery offers us a pleasant visit. After, follow the motto "off to the other side of the island!" Scaling several switchbacks, slowly conquer the hill, allowing yourself enough time to enjoy the picturesque views on the way up. Today's destination is the Islands capital of Symi, with its classical cityscape and harbor. In the evening, you can climb to the upper part of Symi town. From the top, enjoy a breath-taking view over the harbor and the coastline of the bay. An evening visit to a remote tavern enables you to enjoy the evening away from the hustle and bustle of city life.
Day 7: Datça (Datça-Peninsula) – Knidos - Bodrum (approx. 26 mi./41 km)
From Symi, make your way to the neighboring, Datça Peninsula. Today's bike tour takes you from the Datça district along the peninsula to the historical ruins of Knidos (4th Century BC) with a wonderfully preserved amphitheater. A stroll through this historical site leaves a lasting impression. Depending on the departure times of the guests on board the following day, you can either spend the night in Knidos or cross over to Bodrum. An evening meal is enjoyed together in the company of guides and guests. 
Day 8: Bodrum (Disembarkation)
After breakfast, you disembark. Fee-based collective transfers to Bodrum Airport with advanced reservation. If you wish to fly home from the Island of Kos, your ferry will depart at 9:30 am. Please ensure that your flight departure from Kos is no earlier than 1 pm.
Be sure to check out our full list of bike and boat tours or view all our featured bike trips, specials, and news.
Email or Call 800-951-4384 +1 570-965-2064
---
South Greek Aegean Sea
Boats + Barges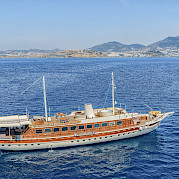 Elara 1 Turkey Deluxe Class Boat The Elara 1 (formerly the Halis Temel), a deluxe class vessel, is the perfect setting for your bike and boat tour in Turkey.
Love Boat Turkey Premium Class Boat The Love Boat has all the amenities and the elegance of an exclusive yacht. While sailing or mooring, the sun beds spread out on the deck will offer you an excellent opportunity to sunbathe and relax. The professional and experienced crew ensures the safety and convenience of all guests. Enjoy the sea from the comfort of your home.