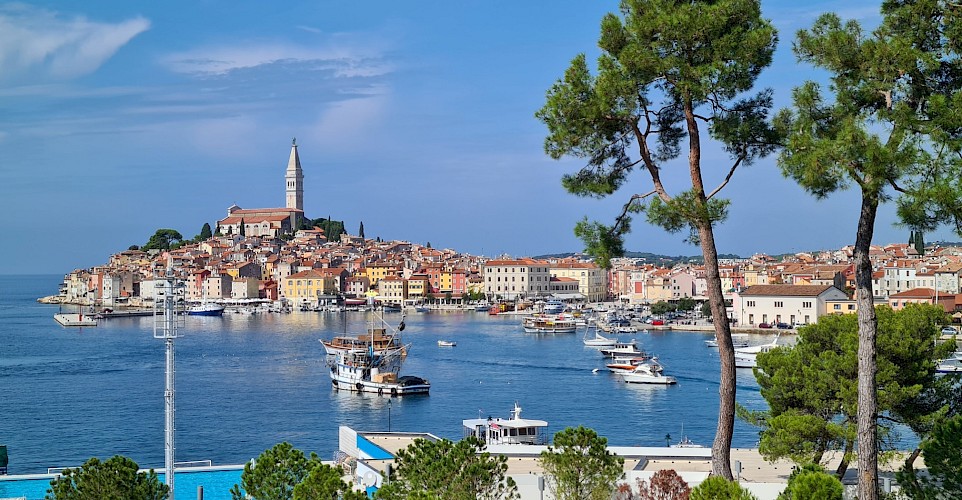 Istria E-Bike & Boat
The magical landscape of the Istrian peninsula!
Overview

The Istrian Peninsula is the largest in Croatia and offers an incredible backdrop for this e-bike and boat tour.

The Romans called this land "Terra Magica" and magical it is! Situated between the Kvarner Bay and the Gulf of Triest, Istria's picture-perfect beaches and fascinating historical harbor towns such as Pula, Porec, and Rovinj, are delightful.

As you travel inland, you will think you are in Italy! The fertile hinterlands are reminiscent of a Tuscan landscape, characterized by medieval hilltop villages, colorful vineyards, and silver-green olive groves. This is home to the world's best truffles, olive oil, and wine.

Istria is graced with over 2300 hours of sun each year so get ready for a sun-filled vacation.

Highlights

Medieval villages
Ancient harbor cities: Pula, Porec, Rovinj...and more
Impressive Roman amphitheater in Pula
The beautiful Limski-Canal
Exploring the coasts AND hinterlands
Rails to trails cycling on the Parenzana Rail Trails
Baredine limestone cave
Deluxe accommodations

Be sure to check out our full list of bike & boat tours in Croatia.

Itinerary

Day 1: Omisalj - Cres
Day 2: Cres - Liznjan - Pula, 29 mi. (47 km)
Day 3: Pula - Vrsar - Porec, 24 mi. (39 km)
Day 4: Porec - Visnjan - Porec - Rovinj,  29 mi. (47 km)
Day 5: Rovinj, 10 mi. (17 km)
Day 6: Rovinj - Fazana - Rabac, 21 mi. (35 km)
Day 7: Rabac - Omisalj, 22 mi. (37 km)
Day 8: Omisalj

*All distances are approximate and subject to change due to changing weather conditions, lock repairs,  or other unforeseen circumstances. The captain and crew reserve the right to make changes at any time with safety as the top priority.

There are times that the tour is conducted in reverse.

Day 1: Omisalj - Cres
Arrival in Omisalj and check in on board at 2 pm.  Please keep in mind that your ship will leave port at 3 pm for its first navigation so plan your flights accordingly. Omisalj is an ancient village port on the Island of Krk whose existence dates back more than ten thousand years. Tucked in among trees, and perched on a hill, Omisalj is a picturesque beginning to your bike and boat tour in Croatia. If you are arriving from Zagreb, please consider adding an organized transfer to the harbor of Omisalj. Check-in on board begins at 2 pm followed by the first cruise from the island to the city of Cres. A refreshing swim stop along the way can be enjoyed if the weather permits. In the evening your guide will take you for a walk through the charming old town, characterized by its Venetian heritage. Overnight mooring in Cres.

Day 2: Cres - Liznjan - Pula, 29 mi. (47 km)
As you enjoy breakfast, the Andela Lora navigates from Cres to Liznjan, on the southwest coast of Istria to Liznjan. This old fishing village with its small harbor is the starting point of your first bike tour on the Istrian peninsula. Enjoy quiet country roads and picturesque towns as you make your way to Pula, an enticing city characterized by decades of Roman rule. Highlights here are the mighty amphitheater, the Augustus Temple, and the Golden Gate. The night is spent in Pula

Day 3: Pula - Vrsar - Porec, 24 mi. (30 km)
You arrive in Vrsar by boat just after breakfast. Vrsar is the town where the famous seducer, Casanova took refuge from the furious husbands of his lovers. From Vrsar, your bike tour will take you along the Limski Channel to Klostar in the hinterlands. There will be an opportunity to try a delicious suckling pig for lunch and then you continue by bike to Porec. A guided city tour will reveal the multifaceted history of enchanting and vibrant Porec. A visit to the Euphrasian-Basilica with its intricate pre-Christian mosaics is highly recommended. The night is spent in Porec.

Day 4: Porec - Visnjan - Porec - Rovinj,  29 mi. (47 km)
Today's bike tour is a round trip from Porec through the vast vineyards of Visnjan, to the territory of the famous white Boskarin Cattle, and then further inland. You will follow the Parenzana Rail Trail, an old railway line converted into a scenic cycle path that winds its way through Istria. You stop to visit the Baredine limestone cave, with its five incredible chambers adorned with stalactites and stalagmites and its underground lake at a depth of 60m. The route then leads to Tar and Vabriga and after lunch, past Europe's biggest olive plantation back to Porec. Once back on board, the ship will cruise to Rovinj. The night is spent in Rovinj.

Day 5: Rovinj, 10 mi. (17 km)
A short cycling day is on the agenda today consisting of a loop along the coast and providing an opportunity for a lengthy swim in the Adriatic. A guided city tour through this picture-perfect town is offered. Idyllic Rovinj sits on a small peninsula surrounded by the blue sea and is a haven for artists from all over the world Art work can be admired in the numerous galleries in town. Overnight once again in Rovinj.

Day 6: Rovinj - Fazana - Rabac, 21 mi. (35 km)  
You cycle along the coast mainly on natural paths and through forests to Fazana with its delightful harbor and splendid promenade, lined with the colorful facades of the local houses. As you bike, the ship navigates to Fazana. Once the group is back on board, will cruise around the southernmost point of the Istrian Peninsula to the city of Rabac, one of the most popular holiday towns in Istria. The night is spent in Rabac.

Day 7: Rabac - Omisalj, 22 mi. (37 km)
Today starts with a long climb from Rabac, to the hilltop village of Labin where you can enjoy a coffee break with an incredible view over the bay of Rabac. You continue by bike through the incredibly diverse scenic landscapes and villages of the Istrian hinterlands before returning to Rabac to board the boat once again. An afternoon cruise back to Omisalj follows. The last evening on board is a festive occasion in the company of your fellow travelers, crew, and guides.

Day 8: Omisalj
Disembarkation by 9 am. See available extension programs!

If you're looking for something different, check out our full list of bike & boat tours or view all our featured trips, including hiking, multi-adventure, & active cruising.

Map

Boats & Bikes

---

Deluxe

5 out of 5 (10 Reviews)

We had the exciting opportunity to follow this boat through from construction to launching. The Andela Lora is an elegant boat launched in June of 2012 and is one of the largest of the Croatian fleet at 131 feet long and 28 feet wide. The friendly crew will always make sure that you have the most comfortable and relaxing journey on board! Read More

Inclusions

What's Included

Accommodation for 7 nights with breakfast
2 days with lunch & dinner and 5 days with lunch or dinner
High-quality pedelec electric bike with pannier
English-speaking cycling tour guide & 6 guided cycling tours as per itinerary
Overview-maps for the daily biking tours (on board)
A limited number of helmets available, advanced reservation required
Tourist tax

What's Not Included

Meals not indicated as included
Drinks on board (tally sheet)
Weekly flat rate for bottled water: €25 for adults & €15 for children up to age 16
Gratuities for crew & tour-guide
Meals ashore

Dates & Pricing

Dates & Pricing

2023

Deluxe Class

Friday departures

Season 1: April 28 & October 6, 2023
Season 2: May 19, July 14, July 28, & August 11, 2023
Season 3: June 23, & September 22, 2023

On many dates, an  MTB itinerary is offered. This is perfect for travelers who wish to spend their holiday together, but do not share the same riding preference. If you are interested, we will send you the complete itinerary as well as information regarding the mountain bike available for rental.

This tour is also offered onboard the Comfort Class vessel, the Linda. Most of the participants will be using regular touring bikes. If that interests you, please check out our tour Istria. 

 
Season 1
Season 2
Season 3
Below deck | Twin/double

$

2629

£

1516

$

2,507

€

1695

₪

6467

NZ$

2895

NOK

18591

kr

19375

$

1,880

$

2784

£

1605

$

2,655

€

1795

₪

6848

NZ$

3066

NOK

19688

kr

20518

$

1,991

$

2939

£

1695

$

2,803

€

1895

₪

7230

NZ$

3237

NOK

20785

kr

21661

$

2,102

Above deck | Twin/double, supplement 

$

388

£

224

$

370

€

250

₪

954

NZ$

427

NOK

2742

kr

2858

$

277

Below deck | Twin/double for single-use, supplement

$

930

£

537

$

888

€

600

₪

2289

NZ$

1025

NOK

6581

kr

6858

$

665

Above deck | Twin/double for single-use, supplement

$

1241

£

716

$

1,183

€

800

₪

3052

NZ$

1367

NOK

8775

kr

9145

$

887

 

Extra Options

Discounts

Discount for 21-gear hybrid bike (non-electric): $ 155 £ 89 $ 148 € 100 ₪ 382 NZ$ 171 NOK 1097 kr 1143 $ 111

Discount for 3rd person sharing a triple cabin, regardless of age (calculated from basic tour price): 50%

Discount for children up to age 16 (calculated from basic tour price, cannot be combined with 50% discount): 25%

Surcharges

Unlimited bottled water (fee to be paid to captain):

Adults:  $ 39 £ 22 $ 37 € 25 ₪ 95 NZ$ 43 NOK 274 kr 286 $ 28 Children (16 & under):  $ 23 £ 13 $ 22 € 15 ₪ 57 NZ$ 26 NOK 165 kr 171 $ 17

Extra nights

Hotel Villa Isabella in Omisalj
A small family-run hotel located directly on the beach. Breakfast is included.

Hotel Villa Isabella in Omisalj
Apr., May, June, Sept. & Oct. 
July & Aug.
Double
Pending
Pending
Triple
Pending
Pending
Single

Not available

Extensions

2-Day Pre or Post-Tour Extension (Zagreb)

| | | |
| --- | --- | --- |
|   | 3 star | 4 star |
| Double/twin | Pending | Pending |
| Single | Pending | Pending |

Transfers*

Zagreb to Omisalij

$

93

£

54

$

89

€

60

₪

229

NZ$

102

NOK

658

kr

686

$

67

Departs 11:30 am from Zagreb Center
Departs 12:15 from Zagreb Airport

Omisalij to Zagreb

$

93

£

54

$

89

€

60

₪

229

NZ$

102

NOK

658

kr

686

$

67

Departs 8 am from Omisalj Port

Rijeka Airport to Omisalj
On request
Omisalj to Rijeka Airport
On request

*Only available on embarkation and disembarkation days.

 

Please Note

Rates are based on double occupancy
Tour prices are based on the fuel costs at time prices are set, often months or years in advance. In rare cases, additional fees may apply for fuel cost increases.

Extra Info

Skill Level — Easy–Moderate

This tour is designed as an electric bike tour and could be easy, moderate, or difficult, depending on the level of assistance you utilize! For those who will be riding a touring bike, you will work harder to keep up with the group on electric bikes who will set the pace. You will most likely find this tour moderate depending on your fitness level. Do note for every participant, this tour assumes that you are an experienced cyclist. The itinerary will feature cycling up to a height of 300 m above sea level with an average daily distance of 37 km.

Airport Info

The closest airport to your embarkation/disembarkation harbor in Kvarner Bay is the Rijeka Airport (RJK). Because it is a small airport, you may find flying to Zagreb (ZAG) more practical. The distance to the harbor from Zagreb airport is approximately 2 hrs by car. Please keep in mind that your ship will leave port at 3 pm for its first navigation so please plan your flights accordingly.

Local Travel

There is a collective transfer available from/to Zagreb to/from Omisalj on the days of embarkation and disembarkation. The transfer leaves at 11:30 am from Zagreb Center and 12:15 pm from Zagreb Airport. PLEASE PLAN FLIGHTS ACCORDINGLY Return transfer to Zagreb Airport is at 8 am on the last morning of your tour. Again, plan your flights accordingly.
If you are flying into Rijeka Airport, a taxi transfer can be arranged for you in advance.
You can also book a transfer from the train station in Rijeka that departs at 9:30 am and a return transfer from the boat back to Rijeka Train Station. See pricing.

Climate

The Istrian Peninsula is situated in the northwestern part of Croatia between the Gulf of Trieste and the Kvarner. In general, temperatures are slightly lower here than in Dalmatia. The Mediterranean climate and the many hours of sunshine make this an ideal location for a bike and boat tour. Several types of winds blow here that determine the climate: the 'Yugo', a warm southerly wind that brings rain. The 'Bura' which brings clear weather and the 'Maestral' that blows during the summer and offers refreshing air from the sea. Because of the abundant rainfall, Istria is one of the greenest places in all of Croatia with its vast pine forests. Be sure to check local conditions prior to your arrival.

Day of Rest

If you need a day or two off the saddle, you can always stay on board the ship sunbathing and enjoying the passing scenery.

Recommended

It is advised for you to use soft-shell luggage as storage in the cabin is very limited. Softshell luggage when empty collapses easily and can then be stored under your bed.

Remarks

Helmet use is mandatory. Though there is a limited number of helmets available on board for borrowing, it is STRONGLY recommended to bring your personal, well-fitted helmet.

Important to know

It is each traveler's responsibility to research travel requirements and to ensure that you are in compliance with the country or countries you plan to visit.  This includes and is not limited to passport validity,  blank visa pages required for your destination (s), and any other requirement.

US citizens:  A good website to research the requirements of the Schengen Agreement and other countries is travel.state.gov.

Non-EU citizens: Please research the requirements of your country of residence for international travel and the destination country.

EU-citizens:  (without special situations like dual citizenship, main residence abroad or a limited-validity passport) are required to have a valid passport or ID-card, not expiring within six (6) months from the end of your tour.

*Important note: Please check on the  European Travel Information and Authorization System (ETIAS) status as once implemented, this will be required to visit any of the 26 Schengen-member countries for tourism, business, medical, or transit. This is an additional check on security rather than a visa.

2 Day Pre-tour Extension in Zagreb

Day 1 (Thursday): Arrival in Zagreb
A private transfer collects you at the Zagreb airport and brings you to the doorstep of your hotel. In the late afternoon, your guide will meet you in the lobby of your hotel to take you on an interesting and inspiring walk through the Croatian capital. The old town, built by the Austro-Hungarian Empire, will charm you at every turn. During this 3-hour guided city tour, you will be enlightened and educated regarding this amazing city and its history. The Kaptol (the center of the Roman Catholic Church in Croatia) and Gardec (the upper old town) are of course included in the program. In the evening you will dine in a specially selected restaurant. The delicious local specialties will be a great way to end the day. Overnight stay in a hotel in the town center of Zagreb.

Day 2 (Friday): Onward journey to Omišalj 
 After breakfast, at 11:30 am, a transfer to Omišalj for embarkation will be provided.

2 Day Post-tour Extension in Zagreb

Day 1 (Friday): Arrival in Zagreb from Omisalj
An exclusive transfer collects you at 8.00 am from the ship in Omišalj and brings you to the hotel in Zagreb. Afterward, you can begin exploring the city. A local tour guide leads you on a city tour and shows you all the secrets of this exciting metropolis. In the evening, you enjoy dinner in a specially selected restaurant. The night is spent in a hotel in the city center.

Day 2 (Saturday):  Departure
A transfer will collect you from your hotel in Zagreb and take you to Zagreb Airport, according to your departure time.

 Included:

Accommodations near town center
3-hour sightseeing tour in Zagreb (entry fees not included)
Dinner in a local restaurant
Transfer from Zagreb airport to your hotel in Zagreb and from the hotel to the ship in Omišalj if booking the pre-tour extension.
Transfer from the ship in Omišalj to your hotel in Zagreb and from the hotel to Zagreb airport if booking the post-tour extension.
Tourist information
Local taxes

Additional information regarding transfers

All airport transfers require a reservation with exact flight details. Please inform us well in advance of departure.

For the smooth execution of airport transfers, please send us the following data:

Arrival date and departure date
Departure or arrival airport 
 Airline and flight number 
Estimated arrival or departure time

For hotel transfers please send us the following information:

Date of transfer 
Exact hotel address 
Preferred transfer time

 

Covid-19 Info

Country Entry Requirements

Due to the changing requirements for entry, it is imperative that you stay up to date on requirements set by the country/countries that you are visiting. Please visit our Travel Restrictions Tool page and the country/countries government webpage for this information.

Extra Stay

See the "Important to Know" section for more information regarding the pre or post-tour extension available.

---

Photos
Have you been on this tour?
Please leave your feedback