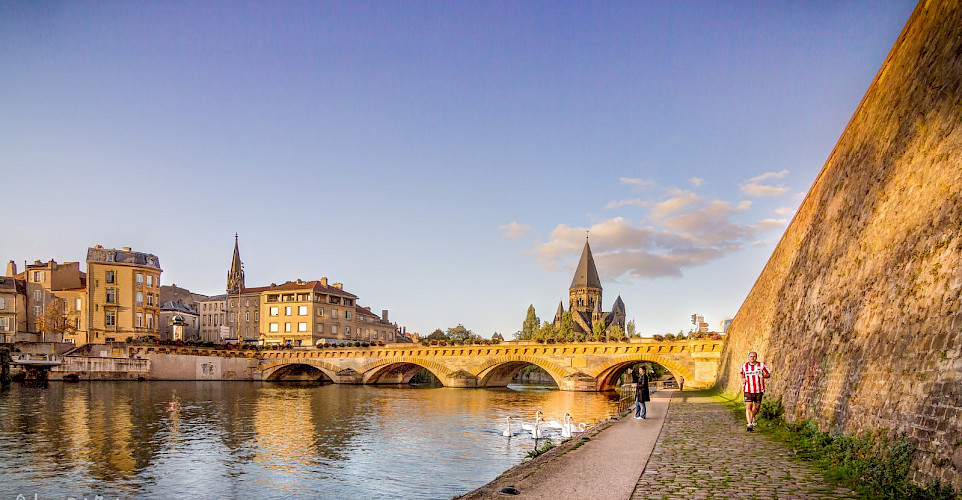 Koblenz to Metz
Bike in France, Germany, & a little of Luxembourg, too!
Overview

Enjoy a week of cycling in Europe as you bike along the Moselle River, touching three countries. Paved bike paths, well-marked signage and easy cycling along the Rhine's largest tributary make this a cycling paradise. Throw in medieval market squares, half-timbered villages, gothic cathedrals, castle ruins, and WINE and you have the complete wonderful package.

You follow the breadcrumbs of history. The Romans "civilized" this "barbaric" region bringing their culture and the first grapevines. On both sides of the river, the precisely-tended vineyards hug the steep slopes.

You will see the remnants of this glorious past in Germany, then onto Luxembourg and France, finishing your tour in Metz, with its great architecture and Gothic cathedral that took 300 years to build.

Highlights

Trier, a former Imperial Roman city.
Koblenz, gateway to the Unesco World Heritage Upper Middle Rhine
Burg Eltz
Cochem
Reichsburg Cochem Castle

Make sure you check out our full list of bike and barge tours in Germany.

Itinerary

Day 1: Koblenz
Day 2: Koblenz - Burg Eltz -  Cochem, 31 mi. (50 km)
Day 3: Cochem - Zell - Bernkastel, 31 mi. (50 km)
Day 4: Dau - Bernkastel, Rails to Trail Mare Mosel, 31 (50 km)
Day 5: Bernkastel - Pfalzel, 31 mi. (50 km)
Day 6: Trier
Day 7: Trier - Saarburg, 22 mi. (35 km)
Day 8: Saarburg - Remich (Luxembourg), 31 mi. (50 km)
Day 9: Remich - Metz (France), 25 mi. (40 km)
Day 10: Metz -Jouy-aux-Arches-Metz 10 mi. (17 km)
Day 11: Departure 

*All distances are approximate. The itinerary is subject to change, even on very short notice,  due to variables in wind and weather conditions and other unforeseen circumstances having to do with mooring requirements, docking location changes, lock repairs,  etc. The captain and crew reserve the right to make adjustments at any time with safety as the top priority.

Day 1: Koblenz
Arriving in Koblenz you will find the IRIS, moored close to the Deutsche Eck, the triangel landmark at the confluence of the Moselle with the Rhine. We have a nice view at the mighty Ehrenbreitenstein fortress. Here the noble Riesling grape is the Queen of Cups. Trocken means dry. Order one and prepare to become a convert for life. Prefer a beer in the Koblenz' Biergarten? Just steps away from the barge.Koblenz is a lively and touristic place, worth a visit. A cablecar can take you up to the Fortress for a great view of this area! What a way to start!

Day 2: Koblenz - Burg Eltz -  Cochem, 31 mi. (50 km)
On a morning sail we cross the first lock and enter the Moselle! Drop off gives us a headstart to the foot of the hills where the Burg Eltz is hidden. Untouched by wars or fires, you will find this beautiful castle worth the effort of walking to it. The guided tour takes you back through the ages. This is the best castle ever. After our visit, we continue cycling to Cochem, the most visited village on the Moselle River. A bustling and characteristic Mosel town with steep wine-clad mountains, wooded hills, an impressive castle and a picturesque square with beautiful timber-framed houses and cafes. Time for a Moselle wine!

Day 3: Cochem - Zell - Bernkastel, 31 mi. (50 km)
In the early morning, while you are having breakfast, the IRIS sails to the village known as the Sleeping Beauty on the Mosel. It's a precious medieval village next to our mooring pier. You can't imagine a prettier place. Beilstein has been the backdrop for many German films. You will have the chance to see the venerated and rare relic the Black Madonna in the chapel of the Carmelite Monastery overlooking the valley. Superb photo ops here.  After the visit, our bike journey follows the river upstream passing the steepest vineyards in the world to arrive in Zell, a beautiful hamlet where the river slices through slate mountains in dramatic oxbows and S turns. Zeller Schwarze Katz (black cat) is a legendary Mosel Wine. Continuing onto Traben-Trarbach, this town features world-class Art Nouveau architecture that proves its great importance in international wine trade during the 19th century. From here we cruise to Bernkastel-Kues, the darling of the famed middle Mosel. This is Valhalla for Riesling aficionados. A good size village with great shopping, wine bars and ice cream. One of the prettiest town squares with timber-frame buildings dating back to the 1400s! The castle ruins on the hill are base-lit at night. An evening stroll along the river is a must…words can't describe the feeling of Old Europe.

Day 4: Daun - Bernkastel, Rails to Trail Mare Mosel, 31 (50 km)
This morning we leave the river and vineyards behind. We bus you UP to an agricultural region called the Eifel (and yes, there is a connection to the famed Parisian tower). From here, it's an exhilarating ride for the most part downhill along a rails-to-trails path. Amazing! It will be the ride of a lifetime for many—through German forests and former train tunnels, over bridges and around small lakes formed from volcano craters eons ago. After the last tunnel, we have a break in a little local town where you will love to have an icecream on the terraces, well deserved! This day is the highlight of our biking-experiences.

Day 5: Bernkastel - Pfalzel, 31 mi. (50 km)
From Bernkastel, the valley opens up and vineyards expand as far as the eye can see. Today you cruise past the heavy-hitters in the wine world: Brauneberg, Piesport, Trittenheim. Piesport is beloved by the Brits for the "little golden droplets." Trittenheim lies in a sharp hairpin turn on the river surrounded by mountains coated with grapes. The chapel in the vineyard is one of the most photographed on the river. In the end, we cruise on the Iris to Pfalzel. This tiny little town just outside Trier houses the old stone residential building in Germany dating back to the 4th century. Having been part of a small palace outside the city it later became a monastery and a residence for the Carolingian emperors.  

Day 6: Trier
Today we sail one mile to the port of Trier so we can spend all day exploring this spectacular city. Trier is the oldest city in Germany dating back to before the Romans. They made it their northern Capitol, though, and made it famous. It has more UNESCO World Heritage Sites than we can name here but the 'Porta Nigra' is probably worth mentioning. This Roman city gate is 90 feet high and forms an impressive start of a day filled with extraordinary sights. From Constantine Karl Marx they all left their mark on this city.  

Day 7: Trier - Saarburg, 22 mi. (35 km)
After vibrant Trier, our path leads us to a place that's a throw-back in time. The name Saarburg means "fortress on the river Saar" to give you a hint of what to expect there. The ruins date back to the 10th century, a summer palace for the Archbishops of Trier—powerful men and power brokers in the Holy Roman Empire. We love Saarburg. There's a natural, steep drop between the "upper and lower" towns, but they're connect by a high waterfall. Town fathers back in the 1300s diverted a local river to run through the center so they'd have access to water to fight fires quickly and have continual energy to run their mills. All of this is well-preserved in the 17th-18th century homes that cling to the hillside. It's medieval German engineering at its best.

Day 8: Saarburg - Remich (Luxembourg), 31 mi. (50 km)
From Saarburg we pedal toward Luxembourg, the tiny nation about the size of Rhode Island. Don't let size fool you, Luxembourg is an important finance center and EU administrative city. On the way to the Grand Duchy, we visit a wine cellar to taste the whites from the upper Mosel. The wines here are different than the middle Mosel styles. When the terroir (geology) changes, so too do the wines. We also take you to a hidden gem. It's a great story of historic preservation…imagine you're a farmer in 1852 and you're tilling your field. Suddenly, these colorful square pieces start appearing in the plough sod. What that farmer soon discovered was pieces that belonged in a tiled mosaic floor—dating back 1,600 years! The tile floor which lies in its original place, was once the centerpiece in a palatial Roman villa. The scene (in 3 million individual tile pieces) reveals scenes from gladiator games in the amphitheater. It's breathtaking and original.

Day 9: Remich - Metz (France), 25 mi. (40 km)
Leaving, Germany and Luxembourg behind, it is off to France.  You pass the fortress high up on the rocky outcrop, one of the palaces inhabited by the powerful Dukes of Lorraine. The route is lovely French countryside, riparian landscapes, and tiny villages. You ride past wheat fields and pastures of white cows (Charolais) praised for their strength as draft animals and excellent meat. Thionville was the centre of the steel industry until the 1980s. That might sound modern and industrial, but the city is ancient. The historic centre reveals medieval ramparts, lovely gardens, old streets, and St.Maximin basilica which houses one of the finest organs in the world. Thionville is also part of the infamous Maginot line, an enormous defence network of forts and bunkers built between World Wars against the Germans. It failed miserably—one of the worst military strategies ever conceived. After spending millions on it, the Germans simply marched around in their Blitzkrieg warfare style. You experience the last leg of the day onboard the Iris, cruising on to Metz. 

Day 10: Metz -Jouy-aux-Arches-Metz 10 mi. (17 km)
Today we spent one more day on the bike in France. We make a round trip to Jouy-aux-Arches to see the Roman aquaduct that crosses through their town. After a coffee and a stroll, we head back to Metz to have enough time to experience this hidden gem. This heavily fortified city has German and French roots as both countries fought each other multiple times over these lands. We can find the strange combination of German Timber frame and stone designs next to French 'Belle Epoque city houses as both cultures made their mark on the city. We'll be sure to visit the Cathedral, which has one of the highest naves in the world, but also the Basilica Saint-Pierre-aux-Nonnains, which is the oldest church building in France dating back to the 4th century.  

Day 11: Departure 

Be sure to check out all of our featured bike and boat tours, or our full list of bicycle tours.

Boats & Bikes

Inclusions

What's Included

Accommodation for 8 nights in an air-conditioned cabin
Breakfasts, lunches, & six dinners
Packed lunches for cycling itineraries
Coffee & tea
Daily cabin cleaning
8-speed city touring bike with helmet, panniers, & water bottle
Bike protection
Tour guide (with more than 18 guests, a second guide will be added)
Entrance and guided tour in Burg Eltz
Wine tasting
Transport to start of Rails to Trails ride
Visit to Castle Eltz
Visit of Cave Cooperative in Luxembourg
WiFi (signal speed and strength varies)

What's Not Included

Miscellaneous beverages not mentioned as included
Entrance fees not mentioned as included
2 dinners
Gratuities

Dates & Pricing

Dates & Pricing

2022

Premium Class Boat

This route is not being offered in 2022

| | |
| --- | --- |
| Cabin Type |   |
| Twin/double |   |
| Twin for single-use | On request |

Extra Options

Electric bike rental: $ 252 £ 140 $ 231 € 160 ₪ 583 NZ$ 270 NOK 1670 kr 1770 $ 172

Please Note

Rates are based on double occupancy
Tour prices are based on the fuel costs at time prices are set, often months or years in advance. In rare cases, additional fees may apply for fuel cost increases.

Extra Info

Skill Level — Easy

This is an easy, guided bike and boat tour. Routes follow mainly flat areas on asphalted country roads or bike paths.

Airport Info

The closest international airport to your tour start in Koblenz is Frankfurt (FRA) located approx. 99 kilometers from Koblenz. You can depart from Frankfurt as well.

Local Travel

Frankfurt Airport is well connected by public transportation. Frankfurt Airport Train Station, located next to Terminal 1, offers connections to popular German cities via Deutsche Bahn, the national railway company of Germany. There are local S-bahn lines (lines S8 and S9) that take travelers into central Frankfurt in about 10-15 minutes. From the airport, it is approximately 2 1/4 to 2 1/2 travel time with generally one transfer.The German rail site, bahn.de, is good resource when researching train travel in Germany.

Climate

Please check local conditions before arrival. The Mosel wine region has a northernly cooler continental climate conducive to wine growing.

Day of Rest

If on any day, you do not feel like cycling, you can remain on board and enjoy the passing scenery!

Remarks

Due to steel construction of the ship, cruising locations, and other factors, WiFi signal speed and strength may not be what you are accustomed to and may not meet your expectations. If you are dependent on a strong, fast, and reliable signal at all times, please consider a personal hotspot.

Important to know

Documents

It is each traveler's responsibility to ensure that you are in compliance with the country or countries you plan to visit.  This includes and is not limited to passport validity, visa requirements and acquisition, blank passport pages required for your destination (s), etc.

US citizens:  A good website to research the requirements of the Schengen Agreement and entry into other countries is travel.state.gov.
Non-EU and EU residents: Please research the requirements of your country of residence for international travel and your destination country or countries.

*Important note: Please check on the  European Travel Information and Authorization System (ETIAS) status as once implemented, this will be required to visit any of the 26 Schengen-member countries for tourism, business, medical, or transit. This is an additional check on security rather than a visa.

Covid-19 Info

Country Entry Requirements

Due to the changing requirements for entry, it is imperative that you stay up to date on requirements set by the country/countries that you are visiting. Please visit our Travel Restrictions Tool page and the country/countries government webpage for this information.

---

Photos
Have you been on this tour?
Please leave your feedback