4.2

/

5

(

6

ratings)
Loire Valley
France Bike + Barge Tours
Burgundy by bike!
The small region in Burgundy between Montargis within the Loire Valley and Nevers is well-suited for both cycling and boating. Following the flow of the Loire River, this Loire Valley bike tour gently rolls through the green countryside with charming little villages sporadically intermingled. The rich landscape bears many fruitful vineyards. Of particular fame are the wines from Pouilly-sur-Loire and Sancerre, and of course there are the Burgundy (Bourgogne) wines, said to be among the most prestigious in the world.

The first full day of this Loire bike tour will take you to the Château of Apremont, dating back to the 12th century and lavishly surrounded by gardens. The ancient Roman town of La Charité-sur-Loire follows with a 16th century stone bridge. Wine-tasting in the region of the Pouilly Fumé wines and the Sancerre vineyards will not be missed, followed by a trek through St. Brisson Forest. With the forest's fresh air, you will next cycle to the Château of Pont Chevron. Through a beautiful region of lakes and past a few more castles you will cycle the Loire and visit Chatillon-Coligny and it's famous market. You will spend some extra time Rogy-les-Sept-Ecluses and this is also where the tour comes to an end.

Be sure to view all of our bike tours in France.

2017 Prices

Price £ 813 $ 1,404 € 915 NOK 8540 kr 7883 $ 1,025

High season surcharge (September 2, 9, 16, and 23): £ 70 $ 121 € 79 NOK 737 kr 681 $ 88

extra

options

Discount per person for cabin with shared facilities: £ 53 $ 92 € 60 NOK 560 kr 517 $ 67

Electric bicycle rental*: £ 174 $ 301 € 196 NOK 1829 kr 1689 $ 220

*includes mandatory bike protection

please

note

Rates are based on double occupancy.

Information to read before you book.

We recommend purchasing bike trip insurance.

† Currency exchange rate set 90 days before travel.
Where
You'll Stay
On the Standard Plus class boat, the Anna Maria IV
What's
Included
Accomodations for 7 nights on board the Anna Maria IV
Breakfast, packed lunches, and 3-course dinners
24-speed hybrid bicycle with bike bag
Tour guide
Visit to castle
Visit to winery
Transfer from Paris/Gare du Nord to ship (and v.v)
What's
Not Included
Journey to and from Paris Gare du Nord
Entrance fees and excursions not mentioned in program
Drinks on board
Gratuities
Tour
Dates
2017 Dates
May 6, May 13, May 20, May 27, June 3, June 10, June 17, June 24, July 22, July 29, August 5, August 12, August 19, August 26, September 2, September 9, September 16, September 23, September 30, 2017
Skill
Level
This is a moderate guided tour with average of 25 miles per day. Routes follow the Loire, are slightly hilly at times, but mostly flat.
Tour
Boats
Day-To-Day
Itinerary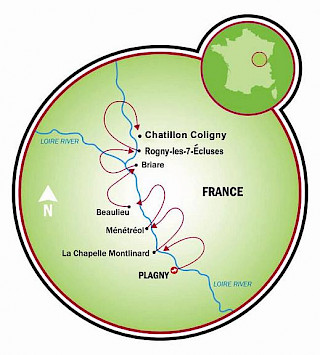 Day 1: Transfer by bus from Paris/Gare du Nord train station - meet at station at 3pm. Arrival in Cours-les-Barres.
Day 2: Cours-les-Barres, round tour, 31 mi. (50 km)
Day 3: Sailing to Beffes, Cycling to Ménétréol, 34 mi. (55 km)
Day 4: Ménétréol - Beaulieu-sur-Loire, 31 mi. (50 km)
Day 5: Beaulieu-sur-Loire - Briare, 25 mi. (40 km)
Day 6: Briare - Rogny-les-Sept-Écluses, 28 mi. (45 km)
Day 7: Rogny-les-Sept-Ecluses round trip, 31 mi. (50 km)
Day 8: Departure by bus to Paris - Gare du Nord (train station).
*All distances are approximate. The above-planned itinerary is subject to change due to changing wind and weather conditions and other unforeseen circumstances having to do with mooring requirements, etc.
Below is the daily itinerary for the route from Cours-les-Barres to Rogny-les-Sept-Écluses. With each following departure date, the route will run in reverse (i.e. from Rogny to Cours-les-Barres) and thus have a slightly different itinerary.
Day 1: Arrival
During the afternoon, you will be picked up at the Gare du Nord train station in Paris and taken to the ship for boarding in Cours-les-Barres. It is recommended to arrive at Gare du Nord by 3 in the afternoon, the bus transfer must leave at 3:30. Upon arrival at the barge, you'll meet your tour guide for the week as well as the rest of the crew on board ship, who are there to make your stay as comfortable as possible. After settling in, dinner will be served on board.
Day 2: Cours-les-Barres, round tour, 31 mi. (50 km)
From Cours-les-Barres, the boat will sail over an aqueduct over the Allier River. After passing two impressive locks both measuring about 9 meters high, the boat will head in the direction of Apremont, where you will have the opportunity to visit the 12th-century castle and surrounding fabulous gardens. After, you will continue to town of Nevers where there are many sites to see including the winding streets filled with houses dating back from the 14th to 17th century. At the end of today's cycle tour, the barge will be waiting in Cours-les-Barres.
Day 3: Sailing to Beffes, Cycling to Ménétréol, 34 mi. (55 km)
While breakfast is being served, this morning will begin by sailing to Beffes. Upon arrival, you will hop on your bikes and begin the days cycling tour to La Charité-sur-Loire, an ancient Roman town. Crossing the 16th century stone bridge to the center, there is a splendid view overlooking the town and its Notre Dame church. Then you will enter the region of the Pouilly Fumé wines. In Ménétréol, situated under the Sancerre vineyards, will be an opportunity to try some wine before returning to the ship.
Day 4: Ménétréol - Beaulieu-sur-Loire, 31 mi. (50 km)
To start off, you will visit Sancerre and then take a picturesque route right across the Sancerre vineyards. The tour will continue past a few of the wine villages that are situated in the impressive scenery. 
Day 5: Beaulieu-sur-Loire - Briare, 25 mi. (40 km)
Today, as you cycle, you will pass the historical locks of Châtillon-sur-Loire and further on, cross the aqueduct over the Loire River. After passing through St. Brisson, where you will pass an impressive medieval castle, you will cycle back to the Anna Maria IV, while enjoying the fresh forest air in the For't de St. Brisson. This evening, the boat will cross the Loire through the magnificent aqueduct and stop for the night in Briare.
Day 6: Briare - Rogny-les-Sept-Écluses, 28 mi. (45 km) 
The morning will allow some time to explore the town of Briare. Today will lead us to the castle of 'Pont Chevron,' situated on a small, picturesque lake. Via Ouzouer-sur-Trézée, you will cycle through a region of lakes to the 16th-century castle near Bléneau. The cycling day will end in the village Rogny-les-Sept-Écluses, known for its historical seven locks.
Day 7: Rogny-les-Sept - Ecluses round trip, 31 mi. (50 km)
Today, enjoy a trip to the market in Châtillon-Coligny, from where you will continue to the castle in La Bussière. Via Escrignelles, the tour will end back in Rogny, which is right next door to Châtillon-Coligny.
Day 8: Departure by bus to Paris - Gare du Nord (train station)
In the morning, you may wish to go for a stroll around Rogny. At approximately 11:00 AM, you will say farewell to the guide and crew and be transported by bus back to Paris. You should reach Gare du Nord by 3:30 PM.
If you're looking for a different flavor, check out our full list of bike tours in Europe or view all our featured bicycle tours, specials, and news.
Email or Call 800-951-4384 +1 570-965-2064
---
Loire Valley
Boats + Barges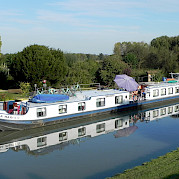 Anna Maria IV France Standard Plus Class Boat The Anna Maria IV was built specifically for the French canals with it's length, width, and height all adjusted to sail the narrow waterways of the country. She sails in the Loire Valley region during the season. You will feel right at home in the relaxed atmosphere of this barge. Total 7 cabins (2 with private facilities) are equipped with a sliding window and an electrical fan. On board limited WIFI access.