4.7

/

5

(

9

ratings)
Lorraine Tour
Bike in Europe along the Moselle and Saar Rivers!
The lovely setting for this bike and boat adventure in France is the green heart of Lorraine, a region of culture and history. The art and architecture in cities like Nancy and Metz will delight the art lovers. Rodemack, listed among the most beautiful villages in France will be a highlight with its surrounding well preserved fortified walls and for the historians, the WWI battlefields have a beauty all their own. The Maignot Line, a vast fortification that spread along the French/German border will fascinate. For those that travel for the culinary experience, you will not be disappointed, and will find the signature foods and wine of the region, hearty and satisfying.

Beginning in Wasserbillig and ending in Toul, or reverse, depending on your tour date, you will cycle recently constructed and beautifully maintained bicycle paths and historic towpaths beside the Moselle and Saar Rivers and French canals.

Highlights:

Lovely villages
History
Art and Architecture
Stress-free cyling

If your interest is to cycle France, check out all of our tours! As well as our bike tours in Germany, and Luxembourg!

2017 Pricing

Price £ 830 $ 1,433 € 934 NOK 8717 kr 8047 $ 1,046

Single supplement: £ 222 $ 384 € 250 NOK 2333 kr 2154 $ 280

Discount for third person in triple cabin: £ 44 $ 77 € 50 NOK 467 kr 431 $ 56

Discounts

August 26 and September 2 (valid for reservations made after June 28): £ 741 $ 1,280 € 834 NOK 7784 kr 7185 $ 934

extra

options

2017: 

Electric bicycle rental (only 5 available on a first come, first serve basis): £ 76 $ 130 € 85 NOK 793 kr 732 $ 95

Supplement for specific dietary requests (to be paid on board): £ 44 $ 77 € 50 NOK 467 kr 431 $ 56

Arrival and departure transfers to and from boat (roundtrip, payable on the spot):  £ 49 $ 84 € 55 NOK 513 kr 474 $ 62

Extra night in Luxemburg: £ 116 $ 199 € 130 NOK 1213 kr 1120 $ 146

please

note

Please note that the tour prices are based on the current fuel price.

If the fuel price increases more than 5% (after July 2015), then a supplement will be charged even for reservations already made.

Rates are based on double occupancy.

Information to read before you book.

We recommend purchasing bike trip insurance.

† Currency exchange rate set 90 days before travel.
Tour
Dates
2017 Dates
Wasserbillig to Toul
August 19, September 2*, September 16, September 30, October 14, 2017
Toul to Wasserbillig
August 26*, September 9, September 23, October 7, October 21, 2017
*Discount now being offered. See pricing.
Where
You'll Stay
Aboard the comfort class boat, the La Belle Fleur
What's
Included
Accommodations on board for 6 nights
*Breakfast, packed lunches, and dinners
Coffee and tea on board in the afternoon
Tour guide that cycles
Route information
Port and lock fares
8-speed bicycle equipped with pannier bag, water bottle holder, helmet, and bike lock (for use only during planned guided cycling routes)
*Special diets and vegetarians, please advise at time of booking. A supplemental fee for some requests may be incurred.
What's
Not Included
Entrance fees to museums
Excursions
Any other beverages other than those mentioned
Bicycle protection
Arrival and departure transfers (available for supplement, see pricing)
Skill
Level
This France bike tour is classified as an easy to moderate guided bike and boat tour with an average daily distance of approximately 25 miles. Longest day is 34 miles and shortest day is 9 miles. Terrain is varied with rolling hills.
Tour
Boats
Day-To-Day
Itinerary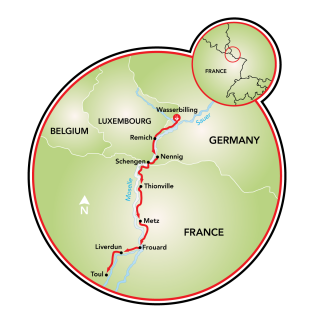 Wasserbillig to Toul
Day 1: Arrival in Wasserbillig, short bike ride through the surrounding area, 9 mi. (15 km)
Day 2: Waserbillig - Remich - Nennig, 21 mi. (35 km)
Day 3: Nennig - Schengen - Thionville, 24 mi. (40 km)
Day 4: Thionville - Metz, 22 mi. (35 km)
Day 5: Metz - Frouard, 34 or 15 mi. (55 or 25 km)
Day 6: Frouard - Liverdun, 19 mi. (30 km)
Day 7: Liverdun - Toul, 11 mi. (17 km)
DAY 1: Wasserbillig, 9 mi. (15 km)
The crew of the La Belle Fleur welcomes you on board at around 3 PM, in the border village of Wasserbillig. You will enjoy a short bike ride along the Sauer; a tributary of the Moselle river where the boat will be moored. While cycling, you will pass through several typical German Villages.
DAY 2: Wassserbillig - Remich - Nennig, 21 mi. (35 km)
After breakfast, you will cycle to Remich, the pearl of the Moselle River. En route,  there is opportunity to  visit the small village of Ehnen with its wine museum. After a walk through the old streets and narrows alleys,  your bike tour continues to the old roman villa in Nennig with its beautiful, well-kept tiles.
DAY 3: Nennig - Schengen - Thionville, 24 mi. (40 km)
Today you will ride into France, and with that the scenery will change too. The narrow Moselle valley becomes flatter and wider. This gives you the opportunity to make a deeper acquaintance with the country. But before we leave Luxemburg we visit the small but famous village of Schengen. There were once one of the most important treaty's was signed, is now a European museum.
But a visit to the Maginot-line is certainly also a part of the program today. The underground defence system stretches across the whole area, which was meant to protect France, and at the same time make all facilities available for pure survival. In other words, you'll be looking at a masterpiece of wartime architecture.
When it is coffee time, La Belle Fleur expects you in Thionville; a city that was rich in metal industry, but today it is primarily a city of beautiful buildings, left behind by the many conquests, such as the Romans, the Luxembourgers, and the Spaniards. 
Day 4: Thionville - Metz, 22 mi. (35 km)
Cycling along the Moselle, this is a day dedicated to all that made this region great, exploring the industrial heritage, nature, and perfect examples of cultural achievements. You will cycle along shady bike paths pass old steel mills. After arriving in Metz, guided city walk will be offered including a visit to  the Centre Pompidou, the Cathedral. You will enjoy the atmosphere of the many squares and terraces. 
Day 5: Metz - Frouard, 34 or 15 mi. (55 or 25 km)
Now it's time for a somewhat more adventurous trip; the old towpaths of the Moselle take you to the picturesque Pont-à-Mousson. Or you can stay on board and start your bike tour at Pont-à-Mousson.
After a visit to this city, which has a typical character because it is situated on both banks of the Moselle, you'll bike through an old canaled part of the Moselle. As you ride through, you will be amazed by the beauty of the area, as you eventually arrive at one of those typical quiet little French villages of Frouard. 
Day 6: Frouard - Liverdun, 19 mi. (30 km)
Today the cycle path leads you along the connecting channel between the Moselle and the Meurthe to Nancy. After a visit to this metropolitan city, the tour continues to the old fortress-city of Liverdun. There, the La Belle Fleur will await you at an idyllic spot. 
Day 7: Liverdun - Toul, 11 mi. (17 km)
From Liverdun, cycle in the direction of Toul. A small, charming fortress-city with a rich history situated at the Moselle's riverside. After a cup of coffee in the afternoon, the team of the La Belle Fleur says goodbye. 
Toul - Wasserbilling
Day 1: Arrival in Toul
Day 2: Toul - Liverdun, 11 mi. (17 km)
Day 3: Liverdun - Frouard, 19 mi. (30 km)
Day 4: Frouard - Metz, 34 or 15 mi. (55 or 25 km)
Day 5: Metz - Thionville, 22 mi. (35 km)
Day 6: Thionville - Schengen - Remich, 29 mi. (40 km)
Day 7: Remich - Wasserbillig, 32 mi. (35 km), departure
Be sure to check out all of our bike tours in Europe or look at our featured bike trips, specials, and news.
Email or Call 800-951-4384 +1 570-965-2064
---
Lorraine Tour
Boats + Barges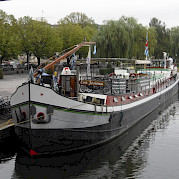 La Belle Fleur Netherlands Comfort Class Boat The La Belle Fleur was built in 1929 and converted into a passenger ship in 1993. The former inland freighter, which has been restored into a hotel barge, is 44 meters long. The boat features cabins for 19 guests, a tastefully designed lounge area, and an expansive sun deck complete with tables and benches.