5

/

5

(

1

review)
Ludwigsburg to Mainz
Germany Bike + Barge Tours
A bike and boat tour through the Romance of the Rhine and Neckar Rivers
This bike and boat tour in Germany aboard the Merlijn needs no introduction. There is just something about the Merlijn, aka, The Magic of the Water.

You board in Ludwigsburg, city of palaces, and disembark in Mainz, with its lovely old town, medieval market, and half-timbered houses. Along the way, you will bike through some of the most romantic cities along the Neckar and Rhine Rivers and lovely small German towns and villages.

There is an opportunity to stop and enjoy the culinary culture of the region and taste some local wines. Occasionally, you come upon a road with a slight climb to a fortress well worth the effort as the views are the reward!

Your wonderful accommodation, the Merlijn, will make you feel right at home after a day of cycling.

Highlights:

Mainz with its history, attractive town squares, impressive churches, and half-timbered houses
The historic center of Heidelberg
Vineyards and wine tasting in Nierstein
The picturesque village of Marbach

All of our bike and barge tours in Germany can be found here

2020

Twin/double: $ 2805 £ 1376 $ 2,396 € 1525 $ 2872 kr 17126 $ 1,681

Single (limited) on request

2021

Twin/double: $ 3007 £ 1475 $ 2,569 € 1635 $ 3079 kr 18361 $ 1,802

Single (limited) on request

extra

options

Electric bicycle rental (price is per day, payable onboard, advanced reservation required): $ 55 £ 27 $ 47 € 30 $ 56 kr 337 $ 33

please

note

Rates are per person based on double occupancy.

A non-refundable admin fee of 20 Euros per person is included in the deposit amount.

Information to read before you book.

We recommend purchasing bike trip insurance.

† Currency exchange rate set 90 days before travel.

Travel

We recommend that you fly to Frankfurt International Airport (FRA). Frankfurt is well connected by train to both Ludwigsburg and Mainz.

Local Travel

Frankfurt am Main Airport long-distance station (German: Frankfurt am Main Flughafen Fernbahnhof) is the railway station served by long-distance trains, mostly ICE services running on the Cologne–Frankfurt high-speed rail line. The long-distance train station is operated by German Rail (Deutsche Bahn). Information on schedules and fares is available on the website. Travel time from the airport to Ludwigsburg is approx. 1 hour and 30 minutes with one or two transfers depending on type of train and departure time. To return to the airport from Mainz, it is only about a 30-minute train ride with 0 transfers.

Climate

Please check local conditions before your arrival. A good website to research regional weather conditions including high/low temperatures, average rainfall, and other related weather information is weatherbase.com. Average high/low temperatures in degrees Fahrenheit in September are 68°/50° and in degrees Celsius, 20°/10°.

DOCUMENTS

Before you travel, please check your country's passport and visa requirements and the passport and visa requirements of the country/countries you plan to visit. For US citizens, the US Department of State website is a good source of information. The Country Information tab in the International Travel section provides details about passport validity, blank passport pages required, etc. For our other international clients, please be sure that you research your own country's travel requirements. It is each traveler's responsibility to ensure proper documentation.

*Important note: Beginning July 1, 2021, additional documentation from the European Travel Information and Authorization System (ETIAS) will be required to visit any of the 26 Schengen-member countries for tourism, business, medical, or transit. This is an additional check on security rather than a visa.

---
Where
You'll Stay
On board the beautiful Deluxe class vessel, the Merlijn
What's
Included
Accommodations for 7 nights
Daily cabin cleaning
Welcome drink
7 breakfast buffets, 6 packed lunches, and 6 three-course dinners.
Unlimited water, hot chocolate, coffee, and tea on board
Daily tour presentation
27-speed hybrid bike of the brand Sensa, a famed Dutch company. Bikes come equipped with hydraulic disc brakes, waterproof pannier, water bottle, towel, and universal helmet
Tour guide
Mountain tour and wine tasting
Canal, bridge, and harbor fees en route
†Wifi
†Important to note, due to steel construction of the ship, cruising locations, and other factors, Wifi signal speed and strength may not be what you are accustomed to and may not meet your expectations. If you are dependent on a constant, strong, fast, and reliable signal at all times, please consider a personal hot spot. See our FAQ page.
What's
Not Included
1 dinner
Drinks other than those mentioned
Entrance fees and excursions
City maps
Bike maps
Tour
Dates
2020
September 12, 2020
2021
October 2, 2021
Skill
Level
This is rated as an easy to moderate, guided tour. Cycling takes place on good asphalted bike paths and country roads. Daily biking distances range from 16 to 35 miles. The routes follow the flow of the rivers and are therefore mainly flat with only a few small climbs.
Tour
Boats
Day-To-Day
Itinerary
Day 1: Ludwigsburg - sail to Marbach
Day 2: Ludwigsburg - Heilbronn, 16 mi. (26 km)
Day 3: Heilbronn - Bad Wimpfen - Eberbach, 25 mi. (40 km)
Day 4: Eberbach - Heidelberg, 20 mi. (32 km)
Day 5: Heidelberg - Worms, 25 mi. (40 km)
Day 6: Worms - Nierstein, 28 mi. (45 km)
Day 7: Nierstein - Mainz, 12 mi. (20 km)
Day 8: Mainz, departure
*All distances are approximate. The itinerary is subject to change due to unforeseen circumstances, including but not limited to weather, last-minute mooring changes, and restructuring of locks or bridges. The owner/captain of the Merlijn reserves the right to change the schedule and/or program. If part of the route is not navigable, the captain is entitled to change the schedule for safety reasons.
Day 1: Ludwigsburg - Marbach
Check-in begins at 3:30 pm. You can drop off your luggage at 10 am and explore Ludwigsburg. After arriving on board the Merlijn, you are welcomed with a cocktail. You will enjoy meeting the crew, learning about the Merlijn and the tour, and being informed regarding safety during your tour.  At 5 pm, the boat will sail to Marbach, a charming city on the Neckar River while you enjoy your dinner. After dinner, there will be a chance to visit the city, where the famous writer Schiller was born.
Day 2: Marbach - Besigheim - Heilbronn, 26 mi. (42 km)
While, you enjoy your breakfast, the Merlijn sails to Besigheim. Your bike tour starts here along the Neckar river and leads to Benningen. Roman history is evident here in the Castle Vicus. Dinner on board and overnight stay in Heilbronn.
Day 3: Heilbronn - Neckarzimmern - Eberbach, 34 mi. (55 km)
You will enjoy a sailing breakfast to Neckarzimmern, where your bike tour begins. It will be just a short distance to the castle of Hornberg. This castle is considered one of the most beautiful castles in the Neckar valley. After 1259, the bishop of Speyer had his quarters here and in the 16th century, it became the house of Berlichingen. The tour ends in Eberbach where the Merlijn is waiting. Enjoy dinner and overnight stay in Eberbach.
Day 4: Eberbach - Heidelberg, 20 mi. (32 km)
Today you will bike through the southern part of the Odenwald. From Eberbach, you will pass Hirschhorn, one of the pearls on the Neckar river. Hirschhorn has a charming castle, a Carmelite Monastery, and an interesting Market Church. In the afternoon you will be offered a city tour through Heidelberg, a charming city nestled between the Neckar river and the foothills of the Odenwald forest. After the tour, you will enjoy your dinner in one of the many restaurants in Heidelberg.
Day 5: Heidelberg - Ladenburg -  Worms, 26 mi. (42 km)
The Merlijn sails during breakfast to Ladenburg, where the bike tour to Worms starts. Partly Neckar, partly Rhine river today, ending in Worms. Worms is famous for its Cathedral and Marten Luther. In the afternoon you will have time to explore this interesting city. After dinner, you may want to have a look at the famous Nibelungen tower, which is located directly at the Rhine river, close to the Merlijn.
Day 6: Worms - Nierstein, 34 mi. (55 km)
After breakfast, the cycling begins and soon leads you away from the Rhine, through vineyards on rolling paths. Lovely landscapes will be your backdrop and your reward. In Nierstein you will board the Merlijn to change and drop your bikes, and enjoy a wine tour through the mountains including wine tasting. The Merlijn will overnight in Nierstein.
Day 7: Nierstein - Mainz, 16 mi. (25 km)
After breakfast your bike tour leads you along the Rhine river, the ride is not too long which gives you a good opportunity to pay a visit in the afternoon to the city of Mainz, the capital of Rhineland-Palatinate. Farewell dinner and overnight stay in Mainz.
Day 8: Mainz
All good things must come to an end. Check-out after breakfast and either extend your stay in Mainz or onward travel home.
Be sure to check out all of our bike tours in Europe or look at our featured bicycle tours, specials, and news.
Email or Call 800-951-4384 +1 570-965-2064
---
Ludwigsburg to Mainz
Boats + Barges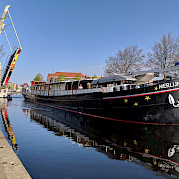 Merlijn Germany, Netherlands Deluxe Class Boat "The Divine Miss M" as we lovingly call the Merlijn is a diva, for sure. What can we say? Is it the luxurious cabins with most comfortable beds you have ever slept in? Is it the lovely dining area with the large windows and skylight that let the air, light, and sun pour in? Or perhaps it is the sun deck, where you can relax with newfound friends, sharing good wine and good conversation. We think you will find it is the entire divine package! Step onboard and discover for yourself!