3.7

/

5

(

7

ratings)
Mainz to Basel
Bike and Boat tour along the Rhine River
Flowing through four countries, the Rhine River courses through Europe. On this bike and boat tour in Germany, Switzerland, and France, you will follow the river beginning in either Basel or Mainz. This is a region with blurred borders, but the independent cultures maintain their unique identities.
If you begin in Basel, you will travel from the Alsace region to the German Upper Black Forest, before continuing the journey to the Palatinate region and finally to the city of Mainz.
If you begin in Mainz, the route will lead you all the way up to Basel, the tripoint between Switzerland, Germany, and France.
You will cross the French-German border several times during your tour. Large churches, Baroque castles, and idyllic Old Towns with half-timbered medieval houses will line your way. Both the French region of the Alsace and the German Black Forest area have many delicacies to entice you such as wonderful chocolate, very fine wine, and great cuisine.
*This tour runs in both directions.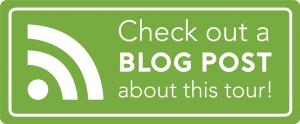 Be sure to check out our full like to bike and barge tours in France.
Skill
Level
Easy self-guided bike and boat tour with daily distances between 30 and 70 km. You will mostly be biking on car-free paths, rural country roads with little traffic and asphalted bike lanes but also some dirt paths and dirt roads, with a few short sections on federal highways. The routes are mostly flat but there are some hilly sections with only a few graded steep.
Where
You'll Stay
On board the comfort plus vessel, the MS Andante
What's
Included
Accommodations for 7 nights on board
Welcome drink
All meals included (breakfast buffet, packed lunch for cycle tours or lunch snack, coffee and tea in the afternoon and three-course dinner)
Daily cabin cleaning
Change of bedding and towels
Passenger and port fees
Daily tour briefing
Tour director on board
Maps and information material 1x per cabin
7 speed hybrid bike rental equipped with hand and back pedal brakes and one pannier bag. There is a very limited number of bikes with hand brakes available and must be reserved in advance.
What's
Not Included
Drinks other than those indicated as included
Entrance fees and excursions
Gratuities
Tour
Dates
2017:
Mainz to Basel: July 15, July 29, August 26, and September 23, 2017
Basel to Mainz: July 22, August 5, September 2, and September 30, 2017
Tour
Boats
Day-To-Day
Itinerary
2016 Mainz to Basel:
Day 1: Arrival in Mainz, sail to Gernsheim 
Day 2: Gernsheim - Mannheim (by ship) | Mannheim - Heidelberg - Speyer, 19 to 37 mi. (30 - 55 km)
Day 3: Speyer - Sondernheim, 12 mi. (20 km) | Sondernheim - Rastaat/Plitterdorf, by ship
Day 4: Plittersdorf - Gambsheim | 25 mi. (40 km) Gambsheim - Kehl/Strasbourg, by ship
Day 5: Kehl - Breisach, 25 mi. (40 km)
Day 6: Breisach, two cycling options, either 28 mi. (45 km) or 44 mi. (70 km)
Day 7:  Breisach-Basel, 25 mi. (40 km)
Day 8: Basel
*All distances are approximate. The above planned itinerary is subject to change due to changing wind and weather conditions and other unforeseen circumstances having to do with mooring requirements, etc.
There are slight changes to the itinerary in 2017. Please ask us!
Day 1: Arrival in Mainz, sail to Gernsheim
Individual arrival in Mainz.  Boarding time between 3 and 5 PM. There may be time to see the capital of Rhineland-Palatinate with its lovingly restored half-timbered houses.  At 6 PM, the ship sails to Gernsheim, where you will spend the night.
Day 2: Gernsheim - Mannheim, by ship | Mannheim - Heidelberg - Speyer, 19 to 37 mi. (30 - 55 km)
First on the agenda is a morning boat ride to the the lovely town of Mannheim. The Baroque Palace here is the largest in Germany and took forty years to erect. From Mannheim, two options are provided.  One route leads directly to Speyer and the other via Heidelberg with its world-famous castle ruin and Heidelberg University. The cathedral in Speyer, today's destination, was listed as a UNESCO World Heritage Site in 1981.
*In 2017, you will have the opportunity for an optional excursion exploring the city of Speyer on a guided walk. Payable on board.
Day 3: Speyer - Sondernheim, 12 mi. (20 km) | Sondernheim - Plitterdorf, by ship
Cycling through the Palatinate countryside you will reach the small town of Sondernheim, a former fishing and sailing village. The entire surrounding area has been designated as an environmentally protected area. The MS ANDANTE (in 2017, ship will be the MS Alessia) awaits here to motor to Rastatt-Plittersdorf, a town characterized by its Baroque buildings and two marvelous Baroque palaces. The Plittersdorf district is close to the Nature Reserve, Rastatter Rheinaue (Floodplains of the Rhine River).
*In 2017, optional excursion, Brick Museium will be available to reserve and pay for on board.
Day 4: Plittersdorf - Gambsheim | 25 mi. (40 km) Gambsheim - (Kehl) Strasbourg, by ship
Today you will set foot on French soil when cycling to the village of Gambsheim in Alsace. From here, the ship sails to Kehl in the afternoon. Only the Rhine River separates the German town from Strasbourg, the capital of the Alsace region. You can decide whether to enjoy the charm of the German small town Kehl or to have a guided tour in Strasbourg (not included) and see the famous historic squares like the Cathedral Square and the Suckling Pig Market as well as fascinating buildings like the Cathedral.
Day 5: Strasbourg - Rhinau, by ship| Rhinau - Breisach, 26 - 28 mi. (42 - 49 km)
In the morning, the boat motors to the village of Rhinau in France, situated amidst an amazing landscape shaped by the Rhine River. Here you leave the ship and continue the tour by bike, cycling towards the town of Breisach upon Rhine. From the rocky hill on which the Romanesque cathedral Saint Stephen towers over the town, there is an amazing view reaching from the Vosges Mountains over the Rhine valley to the Black Forest, with the local vineyards surrounding the town. This is home to Europe's largest producing wine cellar.
Day 6: Breisach, two cycling options, to either Colmar or Freiburg, 39 mi. (63 km)
Two options will be provided this day. While the ship remains moored in Breisach upon Rhine, you can decide to go for a cycle tour to Colmar, the unofficial capital of Alsatian wine, or to Freiburg in Breisgau, with its gorgeous buildings like the Freiburger Münster, a gothic cathedral, in the wonderful Old Town. Return to the boat is possible by train if you prefer (train ticket not included).
Day 7: Breisach - Basel, 38 mi. (62 km)
The MS ANDANTE will cruise to the small French village of Chalampé from which the cycling itinerary begins along the French bank of the River Rhine via Ottmarsheim and across the border to Switzerland. You can choose to cycle the route or enjoy a rest day on board! Enjoy your stay in this marvelous Swiss city in the tripoint between Germany-France-Switzerland. Basel calls itself the "City of Gourmets" and has more than 20 restaurants.
Day 8: Basel
Disembarkation after breakfast approximately 9 am.
Text in italics above is covered by boat.
Itinerary for Basel to Mainz
Day 1: Basel. Boarding between 3 & 5PM.
Day 2: Basel - Breisach 
Day 3: Breisach 
Day 4: Breisach to Kehl
Day 5: Kehl - Plittersdorf
Day 6: Plittersdorf - Speyer
Day 7: Speyer - Mainz
Day 8: Mainz. Departure following breakfast.
Looking for a different flavor? Check out our entire list of bike and boat tours or view all our featured bike trips, news, and specials.
Email or Call 800-951-4384 +1 570-965-2064
---
Mainz to Basel
Boats + Barges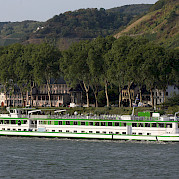 MS Andante France, Germany, Switzerland Comfort Plus Class Boat Last refurbished in 2008/2009, the spacious river barge, the MS Andante, will provide comfortable accommodations for your active vacation. There is a lounge/bar and dining room with panoramic windows on the promenade deck. Cabins are equipped with two low beds, dressing table with mirror, flat screen TV, individually controlled air conditioning, and windows that open. There is also a partially covered sundeck with seating.