3.9

/

5

(

7

ratings)
Mainz to Cologne
Germany Bike + Barge Tours
Bike and boat the Rhine River Valley!
This bike and boat tour in Germany from Mainz to Cologne and reverse along the most beautiful stretch of the great Rhine River. A rich and varied history unfolded along these banks and has left its mark in culture, landscape, and the arts.

Today the entire Upper Middle Rhine Valley is designated a Unesco World Heritage Site, meeting the criteria for such on many levels. The gorges rise steeply on both river banks, protected now by strict building and developing codes, allowing the sheer beauty of the area to remain. It is not hard to step back in time.

This romantic river valley, with precipitous cliffs, steep vineyards, typical villages, and hilltop castles is best explored by bike and boat, land and river!

Highlights:

Loreley Rock
Rüdesheim near St. Goarshausen
Koblenz
Bonn
Unsurpassed and timeless scenery
Wonderful world famous wine and beer

All of our bike and barge tours in Germany can be found here.

2019

| | | |
| --- | --- | --- |
|   | Season A | Season B |
| Twin cabin main deck with large window |   £ 848 $ 1,708 € 989 NOK 9396 kr 8673 $ 1,127 |   £ 933 $ 1,881 € 1089 NOK 10346 kr 9550 $ 1,241 |
| Twin cabin upper deck with floor to ceiling window  |   £ 1019 $ 2,054 € 1189 NOK 11296 kr 10427 $ 1,355 |   £ 1105 $ 2,226 € 1289 NOK 12246 kr 11304 $ 1,469 |
| Twin bed cabin main deck for single use with large window |   £ 1233 $ 2,486 € 1439 NOK 13671 kr 12619 $ 1,640 |   £ 1361 $ 2,743 € 1588 NOK 15086 kr 13926 $ 1,810 |
| Single bed cabin upper deck with floor to celing window |   £ 1319 $ 2,658 € 1539 NOK 14621 kr 13496 $ 1,754 |   £ 1447 $ 2,916 € 1688 NOK 16036 kr 14802 $ 1,924 |


*Single cabins are limited.

extra

options

Electric bike: £ 81 $ 164 € 95 NOK 903 kr 833 $ 108

please

note

Rates are per person based on double occupancy.

Information to read before you book.

We recommend purchasing bike trip insurance.

† Currency exchange rate set 90 days before travel.

Travel

Closest international airport is Frankfurt International Airport (FRA).

Local Travel

If your tour begins in Mainz and ends in Cologne, upon arrival to the Frankfurt International Airport, you can take a direct train to Mainz. The Frankfurt Airport Regional Station is located below Terminal 1. S-Bahn train services S8 and S9 link the airport with central Frankfurt at Hauptbahnhof (central) station and surroundings. From Cologne, back to Frankfurt Airport, there is an ICE (Inter City Express Train) that can arrive in as little as one hour. If your tour begins in Cologne, again, the ICE inner city express train can travel between the airport and the city in less than an hour.

Climate

Please check local conditions before your arrival! A good website to research average high/low temperatures, average rainfall and more is weatherbase.com.

Documentation:

Before you travel, please check your country's passport and visa requirements and the passport and visa requirements of the country/countries you plan to visit. For US citizens, the U.S. Passports & International Travel  website is a good source of information. The Country Information tab provides details about passport validity, blank passport pages required, etc. It is your responsibility to research the entry and document requirements for the country (s) you plan on visiting and insure that you have obtained the necessary documentation. We recommend that you make copies of your important documents and papers (insurance cards, etc.). Leave a copy at home and have a copy with you. In the unfortunate situation that you lose your original documents, having copies facilitates the replacement process.

---
Where
You'll Stay
On board the Comfort Plus vessel, the MS Arkona
What's
Included
Accommodations for 7 nights on board
Welcome drink
All meals (breakfast, packed lunch, coffee and tea in the afternoon, three-course dinner)
Daily cabin cleaning
Change of bedding and towels if requested
Passenger and port fees
Daily briefing on board and explanation of cycling itinerary
Tour guide on board (does not cycle with group)
Maps and information material 1 x per cabin
7 speed unisex bicycle with hand and back pedal brakes and pannier. Very limited number of bikes with freewheel hubs.
Bicycle protection
What's
Not Included
All beverages
Entrance fees and excursions
Gratuities
Tour
Dates
Mainz to Cologne:
Season A: August 24, 2019
Season B: June 1 and July 27, 2019
Cologne to Mainz:
Season A: May 11, 2019
Season B: June 22 and August 17, 2019
Skill
Level
This 8 day self-guided bike and boat tour is rated easy on paved, flat surfaces.
Tour
Boats
Day-To-Day
Itinerary
Below is itinerary for 2018. There will only be slight variations in 2019.

Mainz to Cologne
Day 1: Mainz
Day 2: Mainz - Rüdesheim, 21 mi. (33 km)
Option excursion: guided city walk around Rüdesheim. Can be reserved on board.
Day 3: Rüdesheim - St. Goar, 19 mi. (31 km)
Day 4: St. Goar - Koblenz, 24 mi. (38 km)
Cableway tickets available on board.
Day 5: Koblenz - Andernach, 19 mi. (30 km)
Day 6: Andernach - Bonn, 28 mi. (45 km)
Day 7: Bonn - Cologne, 23 mi. (37 km)
Optional excursion: guided city walk of Cologne's old town and the cathedral. Can be reserved on board.
Day 8: Departure
Day 1: Mainz
Embarkation on board the MS Arlene in Mainz  5 pm. Be sure to explore the old town of Mainz with its lovely alleys and public squares!
Day 2: Mainz - Rüdesheim, 21 mi. (33 km)
Today you will experience firsthand why the Rhine River and its surroundings are part of the UNESCO World Cultural Heritage list. Beautiful islands, steep slate rocks and vinyards shape the region around Rüdesheim. By bike you will pass Eltville, the Kurfürstliche Burg fortress and the famous landmark, Oestrich-Winkel, a former wine-loading crane from the 18th century. Completed in 1745, it was functioning until 1926. The day's destination is Rüdesheim, the wine making town in the Rhine gorge. Be sure to visit the  famous street, Drosselgasse and stop at a cafe for a taste of the world famous Ruedesheimer Riesling.
You can also bok a guided city city tour around Rudesheim, payable on board.
Day 3: Rüdesheim – St. Goar, 19 mi. (31 km)​
Following the  Rhine through the Upper Middle Rhine Valley, you cycle pass romantic castles and ruins, including the  Reichenstein and Rheinstein fortresses. The famous Loreley rock will be passed on the way to St. Goar, your destination for today. Legend has it  that  a beautiful but melancholy siren would sit on the rock and sing as she combed her golden hair, distracting sailors while the strong currents smashed their ships to pieces against the rock. This has been called the most beautiful stretch of the Rhine River. From the top of the rock you will have a beautiful view of St. Goar and St. Goarshausen.
Day 4: St. Goar - Koblenz, 24 mi. (38 km) 
Boppard and the Marksburg are on the itinerary today as the route leads to Koblenz with its famous "Deutsche Eck" (German corner). Against a  backdrop of vineyards, forests, and mountain ranges, the Moselle and Rhine Rivers merge here. From the Ehrenbreitstein Fortress, reached by cableway,  you can enjoy a fantastic view over the splendid landscape of the Rhine. Koblenz is one of the oldest and most beautiful towns in Germany.  Tickets for the cableway are available on board.
Day 5: Koblenz - Andernach, 19 mi. (30 km)
The cycling itinerary today will lead you past Neuwied and the Engers Castle to Andernach, the destination for today. Like Koblenz, Andernach is one of the oldest cities of Germany. Here you will find the famous geyser that shoots 50 to 60 meters and is said to be the highest in the world. In Andernach you can enjoy sights like the Round Tower or visit the wine village Leutesdorf, which can be reached by ferry.
Day 6: Andernach - Bonn, 28 mi. (45 km)​
On the way to Bonn it is worthwhile to visit the Drachenburg Castle on the Drachenfels Königswinter or Sea Life, complete with the brand new Octopus Cave. Bonn is the former capital of Germany and the birthplace of Ludwig van Beethoven. You can visit the great composer's birth place, top-rated museums, and stroll the lovely riverside setting and the old government quarter.

Day 7: Bonn - Cologne, 23 mi. (37 km)
Before you reach Cologne by bike, there is the possibility for a stop at the Isle of Groov situated in the vast landscape of the Rheinaue wetland in the Cologne suburb Porz-Zündorf. The "island"  is actually a peninsula and popular as a local recreation area with numerous outdoor restaurants as well as a rowing and pedal boat rental station. Final destination city and end of your tour is Cologne, overseen by the towering Cologne Gothic Cathedral. Yet amidst the antiquity, an energetic and youthful spirit shine. Life in Cologne is uncomplicated and vivacious. The breweries with their famous beer "Kölsch" will introduce you to the more relaxed side of the city.
In Cologne you have opportunity to  join a walking tour of Cologne's Old Town and Cathedral to explore the city's must sees. This excursion is optional and can be reserved on board. Also worthwhile are museums like the Ludwig Museum or the Chocolat Museum at the river Rhine as well as the modern parts of Cologne, which can be found at the port of the Rheinaue wetland with its crane houses. 
Day 8: Departure
Cologne to Mainz
Day 1: Cologne, embarkation at 3 pm -  5 pm
Day 2: Cologne - Bonn, 23 mi. (37 km), optional excursion of Cologne's Old Town and Cathedral
Day 3: Bonn - Andernach, 28 mi. (45 km)
Day 4: Andernach - Koblenz, 19 mi. (25 km), tickets for cable car available on board
Day 5: Koblenz  - St. Goar, 24 mi. (38 km)
Day 6: St. Goar - Rudesheim, 19 mi. (32 km), guided city walk is available
Day 7: Rudesheim - Mainz, 21 mi. (32 km)
Day 8: Mainz

In case of flood or low tide, the shipping company reserves the right to bridge parts of passages with buses. In extreme situations, the shipping company reserves the right to cancel the journey on short notice. No legal right shall be constituted of both situations. (Water level is force majeure). The same applies for officially ordered - previously not announced - repair work on locks or bridges or in case of undeserved breakdown of engine or power unit and unexpected changes in itinerary or mooring locations.
If you're looking for a different flavor, check out our full list of bike and boat tours or view all our featured bike trips, specials, and news.
Email or Call 800-951-4384 +1 570-965-2064
---
Mainz to Cologne
Boats + Barges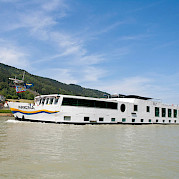 MS Arkona Austria, Germany, Hungary, Slovakia Deluxe Class Boat The MS Arkona is new to our program and was refurbished in the winter of 2017/2018. Both the upper and the main deck hold comfortable cabins of 11 m² which are modernly and tastefully furnished. All cabins feature hotel-style beds, en-suite facilities with shower and hair dryer, TV, safe and individually controlled air conditioning.