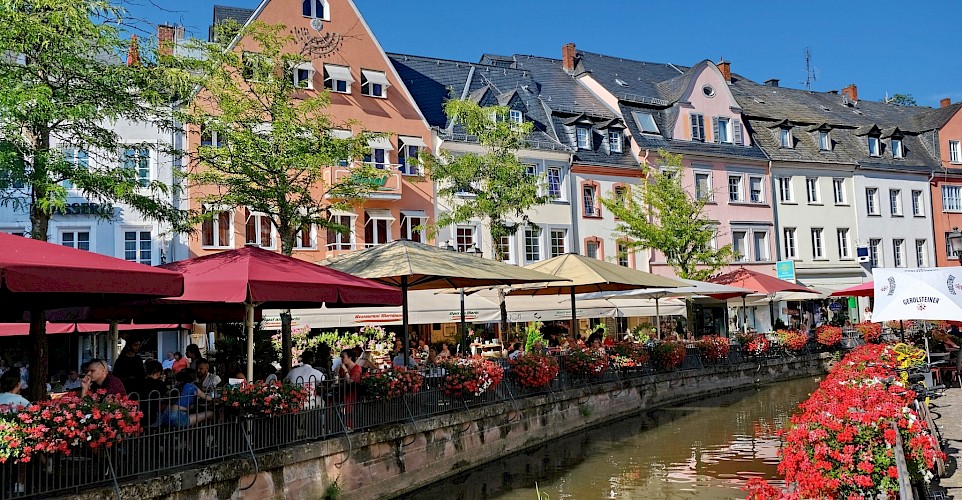 Merzig to Nancy
A Spectacular Journey Through Nature: Bike & Boat From Merzig to Nancy Along the Saar & Mosel Rivers.
Overview

Welcome to an incredible adventure along the Saar and Mosel Rivers! This bike and boat tour will take you from Merzig, Germany, all the way to Nancy, France, touching on Luxembourg as well!

Three countries, three cultures, guided stress-free cycling, and deluxe accommodations are the ingredients for a perfect active river cruise.

You will have the chance to explore the picturesque landscapes along two rivers, marveling at the cliffs, old castles, and villages that make up the unique blend of cultures along the way.

Highlights

The scenery of the Mosel and Saar Rivers
Enchanting Mosel Valley with its vineyards, castles, and quaint villages
Historic towns of Metz and Thionvile
The unique culture of three countries
Nancy, Unesco World Heritage site

Be sure to check out all of our bike & barge tours in Germany.

Itinerary

Day 1: Merzig
Day 2: Schwemlingen - Saarburg, 20 mi. (32 km) 
Day 3: Saarburg - Trier, 12.5 mi. (20 km)
Day 4: Trier, 36 mi. (58 km) 
Day 5: Trier - Wasserbillig - Remich, 21 mi. (34 km) 
Day 6: Remich - Thionville - Metz, 22 or 27 mi. (35 or 44 km)
Day 7: Metz - Pont-à-Mousson, 22 mi. (35 km) 
Day 8: Pont-à-Mousson -  Nancy - Frouard, 29 mi. (47 km) 
Day 9: Nancy/Frouard

All distances are approximate. The itinerary is subject to change sometimes without prior notice.  Some waterways may be subject to occasional closures due to drought, storms, floods, canal or lock repairs, or other unforeseen circumstances that make navigation unsafe or impossible. The captain reserves the right to make any changes deemed necessary.

Day 1: Merzig - Schwemlingen
Embarkation and check-in begin at 3:30 pm. Enjoy a complimentary beverage as you are introduced to your captain, crew, and fellow travelers. At 4:30 pm,  the Merlijn will set sail for Schwemlingen, a small village, surrounded by woodlands.

Day 2: Schwemlingen - Saarburg, 20 mi. (32 km) 
Your first cycling route leads through the wonderful Saarland region. From Schwemlingen, it is approximately 5 km to an incredible overlook, the "Cloef", or "cliff". From this vantage point, atop the striking sandstone cliffs, visitors can enjoy stunning views of the surrounding countryside, including the rolling green hills, lush forests, and winding rivers of the Saarland. Depending on the group's cycling ability, you can either bike or hike to the viewpoint. Then, via the village of Mettlach, it is on to Saarburg. This picturesque town is known for its impressive castle ruins and its picturesque old town, which is filled with charming half-timbered houses, cobblestone streets, and a medieval town square. You can visit one of the museums here. After dinner, there is time for a stroll through the city to enjoy a splendid view over the Saar valley. 

Day 3: Saarburg - Trier, 12 mi. (20 km) 
You follow the Saar River by bike downstream. At Konz, the Saar and Mosel Rivers meet and you then follow the Mosel to Trier. You are now very close to the border with Luxembourg and France. Trier is the oldest city in the country, having been founded by the Romans in 16 BC. In the afternoon you can enjoy a tour around this magnificent city by a local guide and view the many monuments from the Roman period, including the Porta Nigra, a large Roman city gate, and the remains of a Roman bathhouse. The city also has numerous churches, including the Cathedral of Trier, which was built in the 13th century and is the oldest in Germany. Trier also has a vibrant nightlife so perhaps you can explore after hours too!

Day 4: Trier, 36 mi. (58 km)
The Merlijn will stay docked in Trier for another full day and so you have options on how to spend your day. For those who are all about the bike, get ready to enjoy one of the cycling highlights on this trip! Where most routes lead along the river, today's route is entirely through the mountains and plains, and, the best part, it is mostly downhill! In the morning, you and your bike go by bus into the mountains and then follow a recently converted rail-to-trail path along the Mosel.
Those who want some time off the bike can shop and explore. Your guide will be happy to help you with your plans for the day. You choose where to dine tonight in one of the many restaurants in the city.

Day 5: Trier - Wasserbillig - Remich, 21 or 33 mi. (34 or 52 km)
Two cycling distances are offered today. If you choose the longer bike route you will start cycling directly from Trier. On the shorter route, you stay on the Merlijn until Wasserbillig, just past the border between Germany and Luxembourg. You will then join the group coming from Trier and cycle along the meandering Moselle to Remich. You will love its picturesque old town.  After dinner, you will visit a wine cellar to taste wines of the upper Mosel. Due to the cooler climate and steep, slate-rich soils, these wines tend to have higher acidity and a more pronounced minerality than the middle Mosel wines.

Day 6: Remich - Thionville - Metz, 22 or 28 mi. (35 or 44 km)
After another delicious breakfast on board, it's time to get pedaling again. First up, Schengen, home to the famous 'Schengen Agreement", first signed by 5 European countries in 1985, and today, agreed upon by 26, allowing for the free movement of people across the Schengen Area, eliminating border checks. You then cross the border into France with your first stop at the fortress of Sierck-les-Bains, one of the palaces inhabited by the powerful Dukes of Lorraine. Further along, the tour will lead you through the French countryside, riparian landscapes, wheat fields, and tiny villages. You will reach Thionville, once the modern and industrial center of the steel industry, now merely a historical city. The old center is home to medieval ramparts, lovely gardens, old streets, and the St. Maximin basilica, which houses one of the finest organs in the world.
In Thionville, you can board the Merlijn, or extend the tour by a few more miles until Richemont. Afterward, your afternoon is spent cruising the French Moselle. After dinner, you arrive in Metz, another ancient city strategically situated on the Roman trading route. Its cathedral is the third largest Gothic church in France, Metz is full of stunning architecture, flowers, and great cafes. Don't forget to visit Temple Neuf, as this church is lovely from every angle.

Day 7: Metz - Pont-à-Mousson, 22 mi. (35 km) 
Today, you will ride through the French countryside again, the precise route will be adjusted to the biking level of the group: mostly flat terrain following the Moselle - or a more challenging route across the hills. Each route will end in the calm and serene town of Pont-à-Mousson which possesses an incredible architectural heritage from the Gothic Saint-Etienne Church, to the Renaissance Chateau de I'Isle. Pont-à-Mousson is also home to many beautiful examples of Baroque architecture and an impressive collection of Art Nouveau buildings,

Day 8: Pont-à-Mousson - Nancy -  Frouard, 29 mi. (47 km) 
Your last bicycle tour will lead you to Nancy. The old city center's heritage spans from the Middle Ages to the 18th century. The cathedral of Nancy, the Triumphal Arch, and Place de la Carriere are fine examples of 18th-century architecture. The 'Place Stanislas" is known for its World Heritage buildings. Visit one of the many interesting museums, do a spot of shopping, or simply relax at an outdoor cafe. After your visit, you'll bike to the little town of Frouard, where the Merlijn is docked in the Nancy/Frouard harbor. In the evening, there is a farewell dinner.

Day 9: Nancy/Frouard
Your tour officially ends after breakfast.

Map

Boats & Bikes

---

Deluxe

4.8 out of 5 (10 Reviews)

"The Divine Miss M" as we lovingly call the Merlijn is a diva, for sure. What can we say? Is it the luxurious cabins with the most comfortable beds you have ever slept in? Is it the lovely dining area with the large windows and skylight that let the air, light, and sun pour in? Or perhaps it is the sun deck, where you can relax with newfound friends, sharing good wine and good conversation. We think you will find it is the entire divine package! Step on board and discover for yourself! Read More

Inclusions

What's Included

Accommodation for 8 nights on board the Merlijn
Complimentary drink on arrival
Daily cleaning of your cabin
8 breakfast buffets, 7 packed lunches, & 7 three-course dinners
Coffee, tea, & iced water throughout the day
Cycling tour guide
27-speed bicycle, including a waterproof pannier, water bottle, towel, & universal helmet
Canal, bridge & harbor fees.
Ferry fares en route
Guided city tour of Trier
Wine tasting session in Luxembourg
Wifi - signal speed and strength varies considerably along the route
Daily tour briefing

What's Not Included

1 dinner
Drinks other than those mentioned
GPS tracks
Route descriptions
Gratuities

Dates & Pricing

Dates

Merzig to Nancy - 9-Day Tour

Saturday departure

October 12, 2024
 

Please Note

Rates are per person, based on double occupancy
Tour prices are based on the fuel costs at time prices are set, often months or years in advance. In rare cases, additional fees may apply for fuel cost increases.

Pricing

2024

Twin/Double

$

4081

£

2140

$

3,665

€

2445

kr

374345

₪

9973

¥

386387

Mex$

47052

NZ$

4362

NOK

29299

kr

28012

$

2,697

Twin for Single-Use
On Request

Extra Options

Electric bike rental:  $ 350 £ 184 $ 315 € 210 kr 32152 ₪ 857 ¥ 33187 Mex$ 4041 NZ$ 375 NOK 2516 kr 2406 $ 232

Extra Info

Skill Level — Easy

This bike and boat tour is rated easy. You meander the Mosel and Saar Rivers on mainly flat terrain. The average daily distance is about 25 miles. Overall the bike paths along the Mosel and Saar are perfectly developed and the quality of the bike trail is superb. On Day 4, there are hills but you cycle mostly downhill. In France, on Days 6, 7, and 8, you will be challenged as the paths are not as developed.

Airport Info

The closest international airport to both Merzig, at the beginning of your tour, and Nancy, at the end is Luxembourg Findel Airport (LUX), located 64 km from Metz and 124 km from Nancy.

Local Travel

If you are traveling to Luxembourg city center before your travel to Merzig, you can take a city bus from the airport.
If you are traveling from the airport to Merzig, you can take a bus from the airport, and change buses in Kirchberg, Luxexpo, for a bus to Merzig. Travel time is generally 1 1/4 hours.
At the end of your tour, traveling from Nancy to Luxembourg, you can first take a train to Metz, change trains here in Metz and travel onward to the central train station in Luxembourg. You can then take the city bus to the airport or extend your stay in Luxembourg. Total travel time is approx. 2 3/4 hours from Nancy to the airport.

Climate

The Mosel and Saar River valleys have a temperate seasonal climate, with warm summers and mild winters. The rivers create a cooler, more humid microclimate and help to maintain consistency in temperature. This, combined with the diverse landscape of rolling hills, create conditions that are perfect for growing grapes. The cool night temperatures help to preserve the natural acidity of the grapes, while the moderate warmth during the day helps to ripen them.

Recommended

Due to variations in wifi signal strength and speed, If you are dependent on a constant, strong, fast, and reliable signal at all times, please consider a a personal hot spot.

Remarks

All cycling tours are guided by a knowledgeable guide who designs the cycling route. During the trip, the guide will adjust the plans when necessary based on the ability of the group.
The ship's cruising program is predetermined and is the guideline for the daily cycling routes. On board, you are given an overview of the itinerary each day.
If you would like to cycle on your own, this may be possible. The guide and/or captain can inform you where to find the ship at the end of the day, or what time to be at a location to board. There are several maps available on board for you to use.
GPS tracks and written turn-by-turn route descriptions are not available.

Important to know

Before you travel, please check the passport and visa requirements of the country/countries you plan to visit. Please be informed that it is your responsibility to ensure that you have proper identification. For US citizens, the U.S. Passports & International Travel website is a good source of information. The Country Information tab provides details about passport validity, blank passport pages required, etc.  It is important to research before you travel as airlines will not permit boarding if you do not have the required valid documents. 

*Important note: Please check on the  European Travel Information and Authorization System (ETIAS) status as once implemented, this will be required to visit any of the 26 Schengen-member countries for tourism, business, medical, or transit. This is an additional check on security rather than a visa.

Extra Stay

If you would like to book extra days during your time in Germany and France, we advise Booking.com for researching and reserving your extra nights. You can read a detailed description of the hotels offered including a clear listing of amenities, customer reviews, and ratings.

---

Photos
Have you been on this tour?
Please leave your feedback