Miltenberg to Koblenz
Germany Bike + Barge Tours
Cycle along the Main and Rhine Rivers
This Germany bike and boat tour follows the main river that winds through the diverse countryside of Franconia and Hesse in serveral wide loops, passing historical old cities and towns. Cycling through charming vineyards, orchards, and lovely meadows along the bank of the Main river is the perfect way to begin your cycling adventure.
From Mainz, you follow the Rhine downstream, passing by numerous fortresses. Perhaps you will hear the Rhinemaidens sing, made immortal in Wagner's opera The Ring of the Nibelung. Apart from the beautiful landscape, you will see cultural highlights, art treasures, and enjoy regional culinary specialities.
Looking for more, you can view all of our bike and barge tours in Germany here.
Where
You'll Stay
Aboard the comfort class boat, the Allure.
What's
Included
Accommodations for 7 nights on board
7 x breakfast, 6 x packed lunch, and 6 x dinner
7 speed hybrid bicycle with panniers, helmet, and water bottle
Welcome drink
Bed linens and towels
Tour guide
Bike Protection
What's
Not Included
1 x dinner
Gratuities
Beverages (other than those mentioned)
Bicycle protection
Trip insurance
Tour
Dates
August 27, 2016
Skill
Level
This is an easy guided bike and boat tour 22 to 27 miles (35 to 45 km). The route is planned along dedicated bike paths and quiet roads.
Tour
Boats
Day-To-Day
Itinerary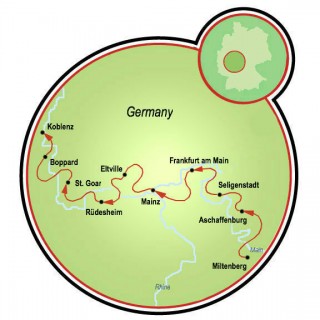 Day 1: Arrival in Miltenberg
Day 2: Miltenberg - Asschaffenburg, 24 mi. (40 km)
Day 3: Asschaffenburg - Frankfurt-am-Main, 27 mi. (45 km)
Day 4: Frankfurt-am-Main - Mainz, 27 mi. (45 km)
Day 5: Mainz - Rüdesheim/Bingen, 22/30 mi. (35/50 km)
Day 6: Rüdensheim/Bingen - St. Goar, 24 mi. (40 km)
Day 7: St. Goar - Koblenz, 24 mi. (40 km)
Day 8: Departure from Koblenz
All distances are approximate.
Day 1: Arrival in Miltenberg
Miltenberg is an cozy little town, located between Oldenwald and Spessart. Miltenberg has many cross-timbered houses. You can follow the paths of the Celts and the Romans as you walk along the red sandstone,  meandering alleys, and market squares. It is also known for its delicious wine. Taste a glass in the oldest inn in Germany, "den Riesen".
Day 2: Miltenberg - Asschaffenburg, 24 mi. (40 km)
The route today leads through a region known for its wine. Following the river, pass several small villages, the landscape is gentle, passing through Groszheubach and Klingenberg, famous for their fine red wines. Continuing via Bürgstadt to Freudenberg and further on to Aschaffenburg, you will be able to experience museums, churches, and of course, the Johannisburg Palace, located on the banks of the Main River. This castle will be the first thing you see as you enter Aschaffenburg as it is the grandest of all Renaissance palace complexes. The upper levels of this castle serve as the town library where you can read scripts from past centuries and the lower levels are art and science museums.
Day 3: Aschaffenburg - Frankfurt-am-Main, 27 mi. (45 km)
Today's bike tour leads through Kleinostheim and Dettingen. After crossing the River Main on a small ferry, the tour continues to the romantic city of Seligenstadt with its windings alleys, wood framed houses, and basilica. Further along the river to Klein-Krotzenburg, Hainstadt, Kleinauheim via Steinheim to Hanau, the town where the famous Grimm Brothers were born. The barge will meet you in Frankfurt-am-Main.
Day 4: Frankfurt-am-Main - Mainz, 27 mi. (45 km)
From Frankfurt to Mainz, the route continues following the Main. In the afternoon there will be time to explore this interesting city. Mainz's inner city is its pride and joy, filled with spacious plazas, lovingly restored half- timbered houses and magnificent Baroque style churches. The 'Old Town' has a very charming and warm atmosphere.
Day 5: Mainz - Rüdesheim/Bingen, 22/30 mi. (35/50 km)
The beautiful first stage leads through rolling vineyards and well-known wine villages. The Rhine is flowing quite unhurriedly, forming little islands and broadening its bed up to 800 m width! Before you reach Rüdesheim you may visit the half-timbered town of Eltville and monastery Eberbach, which are worth seeing. Tonight's stay is in Rüdesheim, a historic city of winegrowers. The old town, dating from the Middle Ages, and parts of the city's fortifications like the Adlerturm (eagle tower) are restored. Here you will find cozy traditional wine taverns in historic half-timbered houses. No tourist leaves this international well-known city without visiting the world-famous Drosselgasse. The Drosselgasse is the heart of Rüdesheim's old town, a "magnet" for guests from all continents.
Day 6: Rüdenshein/Bingen - St. Goar, 24 mi. (40 km)
You continue biking along the lovely banks of the middle Rhine to St. Goarhausen. You'll pass numerous castles along the way and you should definitely climb up to the Loreley! A hiking path leads up to this lovely spot and offers a beautiful sight to the narrowest part in the romantic Rhine Valley.
The Loreley is a 433 feet high slate cliff in the Upper Middle Rhine Valley World Heritage. The view of St. Goarshausen, from the Loreley outlook point, is one that will be remembered! The Rhine, at the Loreley, is up to 82 feet deep and only 371 feet wide. Because this area is so deep and narrow, it is one of the most dangerous places in the World Heritage Upper Middle Rhine Valley. Ships passing here are directed by light signals. 
Day 7: St. Goar - Koblenz, 24 mi. (40 km)
First on the agenda today is a visit to the ancient city of Boppard. Here, the Rhine takes an amazing turn of nearly 180 degrees. Boppard, also called the pearl on the River Rhine, is home to the most famous observation spot on the river which can be reached via chairlift.
Boppard has always been a popular town due to its vineyards and one of the nicest promenades on the Middle Rhine and the oldest preserved Roman fort walls north of the Alps. Later, you continue to the beautiful city of Koblenz, where the Rhine and the Mosel rivers meet.
Day 8: Departure from Koblenz
Individual departure after breakfast.
Be sure to check out our comprehensive list of bike and boat tours or look at our featured bike trips, specials, and news.
Email or Call 800-951-4384 +1 570-965-2064
---
Miltenberg to Koblenz
Boats + Barges
Allure Netherlands, Germany, Luxembourg Comfort Class Boat The Allure is a very comfortable Comfort class ship. It has 10 2-person cabins, each with their own private bathroom. There is no air conditioning on the ship, however.