4.6

/

5

(

7

ratings)
Multi-Adventure Tour from Trogir
Croatia Bike + Barge Tours
A family friendly tour of Southern Dalmatia
This summer cruise is a new kind of experience that is well-suited for those looking for more than just a bike tour in Croatia. It is also perfect for families! Spend a week on a charming ship that takes you from island to island, sparing you the nuisance of packing suitcases and searching for accommodations each evening.

Along with overnights in ports, you also spend some nights in quiet bays. Decide each day whether you would like to go for a bike ride, go rafting, or take a stroll leisurely through the unique small harbor towns of the Adriatic.

You might decide to spend the day relaxing on board. This is indeed a pleasant way of exploring Southern Dalmatia, possibly Croatia's most attractive landscape. A well-informed tour guide is always available and can point out the various possibilities of creating an active or a cycling holiday. You surely will not want to pass up the opportunity of jumping directly from the boat to the sea for a daily swim! Through stories, legends, and the country's cultural treasures, you will get in touch with Croatia's eventful history.

Be sure to check out all our bike and boat tours in Croatia.

PRICES 2018

Princess Diana:  £ 1106 $ 1,967 € 1350 NOK 13275 kr 12254 $ 1,593

San Snova:  £ 942 $ 1,675 € 1150 NOK 11308 kr 10438 $ 1,357

Surcharge for cabin on deck: £ 123 $ 219 € 150 NOK 1475 kr 1362 $ 177

Single cabin supplement, below deck: £ 410 $ 728 € 500 NOK 4917 kr 4538 $ 590

Single cabin supplement, above deck: £ 574 $ 1,020 € 700 NOK 6883 kr 6354 $ 826

Single supplement can be avoided if you are willing to share your cabin with a roommate of the same gender (below deck only).

extra

options

Electric bicycle: £ 66 $ 117 € 80 NOK 787 kr 726 $ 94

Bicycle protection, Hybrid bike:  £ 8 $ 15 € 10 NOK 98 kr 91 $ 12

Bicycle protection, Electric bike:  £ 16 $ 29 € 20 NOK 197 kr 182 $ 24

Bike trailers or bike seats: £ 16 $ 29 € 20 NOK 197 kr 182 $ 24

Transfer between Split Airport and harbor in Trogir (per person/each way): On request

3-Day Extension in Plitvice Lakes and Zagreb with transfers:

3 Star Double/twin: £ 483 $ 860 € 590 NOK 5802 kr 5355 $ 696

3 Star Single Room: £ 565 $ 1,005 € 690 NOK 6785 kr 6263 $ 814

4 Star Double/twin: £ 565 $ 1,005 € 690 NOK 6785 kr 6263 $ 814

4 Star Single Room: £ 680 $ 1,209 € 830 NOK 8162 kr 7534 $ 979

3-Day Extension in Plitvice Lakes and Zagreb without transfers:

3 Star Double/twin:  £ 238 $ 422 € 290 NOK 2852 kr 2632 $ 342

4 Star Double/twin:  £ 320 $ 568 € 390 NOK 3835 kr 3540 $ 460

*Tansfers that are not included:

Boat-Plitvice
Plitvice-Zagreb
Zagreb-Zagreb airport

Extra nights in/near Trogir

Prices on request

please

note

With 3 or 4 persons sharing a cabin, we can offer a 50% discount from standard cabin price (regardless of age).  If you book the above deck cabin, the on deck surcharge will be waived for the third and fourth person.

Children up to the age of 16 receive a 25% discount on the basic tour price (can not be combined with other discounts).

In combination with another Croatia bike & boat tour, there is a £ 41 $ 73 € 50 NOK 492 kr 454 $ 59 per person discount.

Rates are per person based on double occupancy.

Information to read before you book.

We recommend purchasing bike trip insurance.

† Currency exchange rate set 90 days before travel.

Travel

Fly to Split airport (SPU).

Local Travel

Airport is approximately 3 mi (5 km) away from the harbor which is easily reached by taxi. (approximately € 20 each way)

Climate

Please check local conditions before arrival. Average high/low temperatures in ° F are: June: 79°/63°, July: 85°/67°, August: 84°/67° and September: 78°/61°

---
Skill
Level
This Croatia bike tour takes place under the expert guidance of your tour guide, who is familiar with the terrain. These bike tours are suited for leisurely weekend cyclists. The walks and short hikes follow good paths, which are in part even asphalted and not demanding. Should some activities require greater fitness, your tour guide will point this out beforehand. It is obligatory to wear a helmet on the bike tours. Please bring your own, well-fitting helmet. A limited number of helmets can be borrowed on board - reservations are necessary!
Where
You'll Stay
Aboard the beautiful ships, the San Snova or the Princess Diana
What's
Included
8 days / 7 nights tour on motor yacht in double cabin with shower/toilet
4 x full board and 3 x half board
Bed linens and towels
Guided walks and bicycle tours as described in itinerary
German and English speaking tour guide
7 or 21 gear hybrid bicycle (depending on availability)
What's
Not Included
Individual arrival to ship (taxi from Split airport to ship, €20)
Visitor's tax, local charges, and unlimited water on board and during cycling: €40 (€20 for children 16 and under) to be paid on board
Beverages on board (coffee and tea are provided)
Bicycle protection (€10 to €20/bike)
Possible transfer by bus or taxi during trip
3-Day Post-Tour Extension (see Extra Stay below, pricing listed on the right under extra options)
Entrance fees to museums and churches
Rafting on Cetina River, approx. 250 Kuna (€35) per adult
Extra
Stay
3-DAY POST-TOUR EXTENSION in Plitvice Lakes National Park and Zagreb
Saturday
After breakfast and disembarkation from the boat, a transfer will take you from Trogir to Plitvice Lakes, the most well-known of the Croatian National Parks. Upon arrival, you will have time to enjoy lunch and can then explore the park throughout the afternoon and evening. Night spent in a hotel near the park.
Sunday
After breakfast, a transfer will bring you to Zagreb, where you can spend the day exploring Croatia's amazing capital city. The old town, built by the Austro-Hungarian Empire, will charm you at every turn. A 3-hour guided tour will take you to the Kaptol (center of the Roman Catholic Church in Croatia) and Gardec (the upper old town). In the evening, enjoy dinner at a specially selected restaurant offering local cuisine. Night spend in a hotel in Zagreb's town center.
Monday
After breakfast, a transfer will take you to Zagreb airport for your journey home.
Extension Package Includes:
Transfer from boat in Trogir to Plitvice Lakes (3 hours), Entrance fee into Plitvice Lakes National Park, 3 or 4 Hotel near Plitvice Lakes National Park (your choice), Transfer from Plitvice Lakes to Zagreb (2.5 hours), 3-hour guided sightseeing tour in Zagreb (entry fees not included), Dinner in a local restaurant in Zagreb, 3 or 4 Hotel in Zagreb city center, Transfer from Zagreb hotel to Zagreb airport, Taxes
*Optional add-on: Sightseeing Bike Tour in Zagreb: €15 per person
EXTRA NIGHTS: In Trogir, at the 3 Hotel Adria located 3 km outside of Trogir, or stay at the 3 Hotel Concordia located in the old town of Trogir.
Tour
Dates
2018
On the Comfort Plus boats:
Princess Diana: July 28, August 4 and 11, 2018
San Snova: July 7, July 14, July 21, July 28, August 4, August 11, and August 18, 2018
Tour
Boats
Day-To-Day
Itinerary
Day 1: Embarkation in Trogir, sailing to Šolta 
Day 2: Islands of Hvar and Vis.  Swimming and/or cycling. 
Day 3: Island of Korcula. Swimming and/or hiking.
Day 4: Island of Hvar.  Swimming and/or walking.
Day 5: Islands of Hvar and Brač. Swimming and/or hiking.
Day 6: Cetina Canyon – Omiš - Split. Swimming and/or biking & walking.
Day 7: Split – Trogir. Swimming and/or walking.
​Day 8: Disembark in Trogir
DAY 1: Trogir (Embarkation) – Island of Šolta
Arrival by plane to Split airport. You can easily take a taxi to the harbor in Trogir, only about 3 miles (5 km) away, the cost is approximately €20.  Check-in on board begins at 2PM (14:00).  At 3pm, the first short sailing trip begins from Trogir to the Island of Šolta.  On the way, you have the opportunity to take a refreshing swim from the boat. The first night is spent on the Island of Šolta.
DAY 2: Islands of Hvar and Vis
First stop of the day is Hvar Island with its island capital Hvar town. After arrival we take a city tour across the large Renaissance Square which is surrounded by the cathedral and many late gothic palaces. There we hike to the Spanish fortress that towers above the town. From here we have a fabulous view onto the city and the surrounding islands. At about noon our boat takes us to Komiža on the island of Vis, which was already colonized by the Greeks and is the most remote inhabited island from the Dalmatian mainland. Take the opportunity for a refreshing swim. Ashore at Komiža our tour guide will take you on a nice guided group walk in the afternoon. Overnight stay at Komiža
DAY 3: Island of Korčula
Early in the morning crossing to Račišće on the island of Korčula. An afternoon cycle tour takes us eventually to the same island capital. We take a little tour through the town to see the highlights: St Mark's Cathedral where we can admire the famous altarpiece by Jacopo Tintoretto. The alleged birthplace of explorer Marco Polo is worth a visit as well. There is also a magnificent view from the tower of the house onto the sea. After a out-of-town dinner the evening is spent in the bustling port town Korčula.
DAY 4: Island of Hvar
Morning cruise to Stari Grad situated on the north side of Hvar Island. The old town of Stari Grad has become a Mecca for artists and art lovers. After a crossing including a swim break and lunch on board we cycle nicely from Stari Grad to Jelsa. Around 5:30 pm we enter the boat and leave for our overnight stay close to Brač. Let the evening fade away anchoring with a lovely Captains dinner.
DAY 5: Islands of Hvar and Brač
After breakfast the boat takes us ashore at Brač Island, where we will have a little olympic competition, before we leave for Lovrecina. From here a hike (aprx. 1.5 h) leads us along the shoreline to Postira for dinner and overnight stay.
DAY 6: Cetina Canyon – Omiš - Split
After a short crossing to Omiš with its pirate castles we have the opportunity to participate either in a rafting tour on the Cetina River (not included in the tour price) or to take a small cycle tour of 12 km/8 mi. along the Canyon. At about 4 pm we cruise to Split. Here we go for a walk and explore the phantastic old town of Split which is so rich in history. Sights in Split are e.g. the famous palace of the Roman Emperor Diocletian which is an integrated part of the town and a World Heritage Site. Overnight stay in Split.
DAY 7:  Split – Trogir
A morning walk onto the hill Marjan – the recreation area of the inhabitant of Split from where there is a beautiful view to whole Split. After lunch on board our boat takes us for a last crossing back to Trogir. In the afternoon we enjoy Trogir by taking a walk through the UNESCO protected old town. Traditionally the last evening before disembarkation is spent cheerfully with guests, crew and guides.
DAY 8: Trogir (Disembarkation)
After breakfast disembarkation until 9 am and individual trip home or extended stay in Croatia.
If you're looking for a different flavor, check out our full list of bike and boat tours or view all our featured bicycle tours, specials, and news.
Email or Call 800-951-4384 +1 570-965-2064
---
Multi-Adventure Tour from Trogir
Boats + Barges
Princess Diana Croatia Comfort Plus Class Boat At 40 x 8.5m the Princess Diana is a 3-masted deluxe class motor yacht that was launched in 2011. This ship is the princess of the Croatian fleet, an epitome of pure elegance. 16 spacious guest cabins with air conditioning, shower cabins and WC are at your disposal. The spacious salon as well as the canopied deck, with upholstered seating, are situated on the top deck. You're invited to play music on the piano and to relax to your heart's content. You will find sun mats and deckchairs on deck. The jacuzzi on the top deck is a highlight with its 360° panoramic view.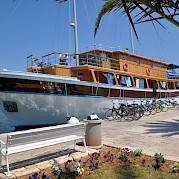 San Snova Croatia, Montenegro Comfort Plus Class Boat This ship, constructed entirely of oak, took 3 years to build by the Scherka familiy in their own carpentry workshop as a family project. The ship, 31m long and 8m wide, meets the highest expectations in regard to comfort, elegance and style, combining romantic seafaring with modernity and functionality.