Multi-Adventure Tour in the Ionian Islands
Greece Bike + Barge Tours
A bike and boat tour off the western coast of Greece
A bike and boat tour in Greece, combined with multi-adventure through the Ionian archipelago off the west coast of Greece, is the perfect family biking vacation. For seven days, you will discover this unique island and coastal world by boat, bicycle, canoe and, on foot.

From Corfu, with its Venetian-style old town, this tour leads to the island of Lefkada with its chalk cliffs and fantastic beaches, as well as to Kefallonia, which enchants with the picturesque village of Fiskardo and the Melissani Cave. On Meganisi and the olive-wooded island of Paxos, where time seems to stand still, you will gain unforgettable insights into traditional Greek island life.

The many wonderful bays in which the ship will anchor are certainly among the highlights of the trip. The family-friendly tours that are part of your itinerary leave plenty of room for spontaneity, such as a refreshing swim off the deck of the boat. Decide every day what you want to do. Your knowledgeable tour guide will be happy to give you tips, accompany you in the various activities, and can educate you on the eventful history of Greece.

Highlights:

A vacation designed with the family in mind
Boating, cycling, hiking, and canoeing
Island of Corfu and Corfu town
Olive island of Paxos
Enchanting Melissani cave
Idyllic and peaceful Arilla
Monastery of Agios Athanasios

A comprehensive list of all of our bike boat tours in Greece can be found here.

2020

Below deck cabin: $ 2547 £ 1260 $ 2,201 € 1390 $ 2628 kr 15488 $ 1,563

Above deck cabin surcharge: $ 183 £ 91 $ 158 € 100 $ 189 kr 1114 $ 112

Single cabin below deck surcharge: $ 733 £ 363 $ 633 € 400 $ 756 kr 4457 $ 450

Single cabin above deck surcharge: $ 1099 £ 544 $ 950 € 600 $ 1134 kr 6685 $ 675

 

extra

options

2020

Electric bike (very limited): $ 92 £ 45 $ 79 € 50 $ 95 kr 557 $ 56

Child seats (from 9 - 22 kg): $ 37 £ 18 $ 32 € 20 $ 38 kr 223 $ 22

Child trailers (for children up to 30 kg): $ 37 £ 18 $ 32 € 20 $ 38 kr 223 $ 22

Collective transfer on embarkation/disembarkation days between Corfu airport or hotel in Corfu and between boat and airport (per person/way): $ 37 £ 18 $ 32 € 20 $ 38 kr 223 $ 22

---

 

please

note

Single supplement can be avoided if you are willing to share your cabin with someone of the same gender.

Discount available for 3 people sharing a cabin, 50% of basic tour price for third person and no above cabin surcharge.

Discount available for children up to age 16 requesting their own cabin. Ask us for details.

Rates are per person based on double occupancy.

A non-refundable admin fee of 20 Euros per person is included in the deposit amount.

Information to read before you book.

We recommend purchasing bike trip insurance.

† Currency exchange rate set 90 days before travel.

Travel

The closest international airport to your tour start in Corfu Town is Corfu. You will most likely fly to Athens with transfer to Corfu.

Local Travel

Port of embarkation and disembarkation on the Island of Corfu is the Marina Gouvia, located 7 km north of the city of Corfu. To make your journey as relaxed as possible, we recommend that you book the transfers between Corfu airport/hotels in Corfu City and Marina Gouvia. See pricing. The transfer will bring you to the Restaurant Olympia from where the last meters must be traveled on foot as the Jetty P is a wooden jetty and taxis are not permitted.
Of course, you are also able to take a taxi yourself or take the bus from Corfu city. If you use a standard taxi, please insist that the driver turns on the taximeter to avoid unpleasant surprises regarding the fare. Bus No. 7 from Corfu City to Dassia/Ypsos/Pyrgi runs every half hour on Saturdays with several stops in Gouvia. The closest stop to the marina entrance is NOSOKOMEIO (Hospital), or alternatively KONTOKALI (Taverna Pipilas) or SPITI PRIFTI.

Climate

The Ionian Islands, located in the western part of Greece, have a Mediterranean climate. High summer can be quite warm which is why this tour does not have departures in July and most of August. Rainfall is sparse during the summer months is scheduled. Please check local conditions prior to departure. A good website to use to research average high/low temperatures, average rainfall, and other weather-related facts is weatherbase.com.

Remarks

Helmets are mandatory on this bike and boat tour in Greece. It is recommended to bring your own well-fitting helmet. There is a limited number of rental helmets available in limited numbers (reservation required). Children's helmets are unfortunately not available but required. The Panagiota does not offer a WiFi connection. If you need to connect to the internet during the tour, we recommend renting your own personal portable WiFi devise such as MyWebSpot or to take your smart device to a cafe or bar somewhere in the harbor. Free WiFi is offered almost everywhere. As long as your order something to eat or drink, then you are able to use the WiFi free of charge.

Documents

Before you travel, please check your country's passport and visa requirements and the passport and visa requirements of the country/countries you plan to visit. For US citizens, the US Department of State website is a good source of information. The Country Information tab in the International Travel section provides details about passport validity, blank passport pages required, etc. For our other international clients, please be sure that you research your own country's travel requirements. It is each traveler's responsibility to ensure proper documentation.

*Important note: Beginning July 1, 2021, additional documentation from the European Travel Information and Authorization System (ETIAS) will be required to visit any of the 26 Schengen-member countries for tourism, business, medical, or transit. This is an additional check on security rather than a visa.

Airport transfer information

All airport transfers require a reservation with exact flight details. Please inform us well in advance of departure.

For the smooth execution of airport transfers, please send us the following data:

- Arrival date and departure date 
- Airline and flight number 
- Estimated arrival or departure time

For hotel transfers please send us the following information:

- Date of transfer 
- exact hotel address 
- preferred transfer time

---
Skill
Level
This tour is rated as easy and is ideal for a family adventure. The longer tours on Lefkas and Paxos are described in detail by the tour guide. The walks and small hikes lead along good paths, some of which are even asphalted and do not require special training. If special activities require more physical fitness, the tour guide will point this out before. This adventure tour is very suitable for children. Please note that we can only provide rental bikes from a height of 1.30 m. Child seats and trailer bikes are available on request.
Where
You'll Stay
On board the comfort boat, the MS Panagiota
What's
Included
7 nights accommodations
Breakfast
2 days with lunch and dinner and 5 days with either lunch or dinner
Guided or individual bike tours or hikes as per program
21 or 24 speed touring/trekking bike rental with an aluminum frame, 28 inch hollow rims with puncture-resistant tires, rear rack, touring saddles, mudguards, and pannier
Overview maps of the individual bike tours on board
Entrances for jointly visited museums and archaeological sites
English and German-speaking tour guides
What's
Not Included
Getting to and from Corfu
Meals and drinks on land
Drinks on board (tally sheet with the captain)
Water fee: 20 Euro/adult, 10 Euro/child up to 16 years, to be paid to captain
Please bring beach towel
Entrance fee for individually visited sights
Tipping for crew and tour guide
WiFi
Tour
Dates
2020
July 18, July 25, August 1, August 8, and August 15, 2020
Tour
Boats
Day-To-Day
Itinerary
Day 1: Corfu Island/Marina Gouvia
Day 2: Corfu Island - Paxos Island
Day 3: Paxos Island - Lefkas Island
Day 4: Lefkas Islands and Cephalonia
Day 5: Cephalonia Island and Meganisi Island
Day 6: Meganisi Island and Arillas
Day 7: Arillas - Corfu Island
Day 8: Corfu
Cycling distance approximately 70 km total.  This itinerary is subject to change due to changing wind and weather conditions, and where required by organizational needs. 
Day 1: Corfu Island
Individual arrival. We advise that you take advantage of the collective transfer offered on embarkation and disembarkation day only.  If you have arrived early to spend some time in Corfu, you can request this transfer from/to a hotel. At 2 pm you can check-in on the Panagiota. The journey begins with dinner on board. Overnight in Corfu Town.
Day 2: Corfu Island - Paxos Island
After breakfast, the boat casts off and cruises to the olive island of Paxos. Paxos is the smallest of the seven Ionian Islands with a higher population of olive trees than people – 32 km² are home to over 250,000 olive trees! They cover the island in a wonderful silver-green shimmer. The natural harbor of Gaios is unique and provides a special atmosphere during your stay here. In the afternoon, you may enjoy cycle tour along the coast to Mongonissi bay. The evening can be spent relaxing in a local tavern in Gaios.
Day 3: Paxos Island - Lefkas Island
In the morning, cruise to Lefkas Island, Lefkas City, but before arriving the boat anchors near Antipaxos for a swim stop. After a long cruise, you will reach a narrow channel with an original swing bridge which connects the Greek mainland with the island. From Lefkas City, you begin your tour around the lagoon and enjoy a second swim at the white sandy beach, Agios Ioannis. After returning to the boat, you navigate your way to Nidri where you will spend the evening and the night.
Day 4: Lefkas Island and Cephalonia
From Nidri, you cycle through olive groves in the morning to a nearby waterfall. If you are lucky, a steady stream of water will enable you to take a refreshing swim. Following the excursion, you make your way to Fiskardo on the island of Cephalonia. This port, located at the northern tip of the island, delights with its colorful little houses and many cafes and bars along the picturesque harbor promenade. An evening walk of approx. 30 minutes will lead to a pretty lighthouse. Overnight in Fiskardo.
Day 5: Cephalonia Island and Meganisi Island
After a short crossing, you arrive at the harbor of Sami. From here you start your cycling tour along the coast to the enchanting Melissani cave, which can only be visited with a rowboat. A visit to a donkey farm, knowledge and fun at the same time for all ages, is next on the agenda before the tour takes you back to the boat. The boat meets you in Sami and takes you for a well-deserved swim break. The journey then takes you further to Meganisi, a charming island where you spend the night.
Day 6: Meganisi Island - Arillas
After breakfast, you have the opportunity to explore Meganisi by bike. Afterwards, a long crossing takes you to Arillas, an idyllic and peaceful place along the west coast of Greece, close to Perdika on the Greek mainland. A stroll along the sandy beach or a swim from you floating accommodations, the Panagiota rounds off the day. The night is spent in Arillas.
Day 7: Arillas - Corfu
In the morning, your bike tour leads along remote streets under the shade of old olive trees through a national park and along a little river until you reach the monastery of Agios Athanasios. The Panagiota awaits for your last crossing back to Corfu. Here you can enjoy a celebratory evening meal before reflecting on your wonderful adventures of the week in the beautiful old town.
Day 8: Corfu Town
After breakfast, check-out, collective transfer to the airport on request and individual return home, or holiday extension on the island of Corfu
Want to see more? View all of our featured bike and boat tours, or our full list of bicycle tours.
Email or Call 800-951-4384 +1 570-965-2064
---
Multi-Adventure Tour in the Ionian Islands
Boats + Barges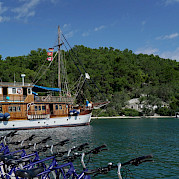 Panagiota Greece Comfort Class Boat The Panagiota is an affectionately restored two-masted motor yacht, 19 ft. wide and 75 ft. long. It was built in 1990 and modernized in 2001 in conformity with the requirements of cruises.