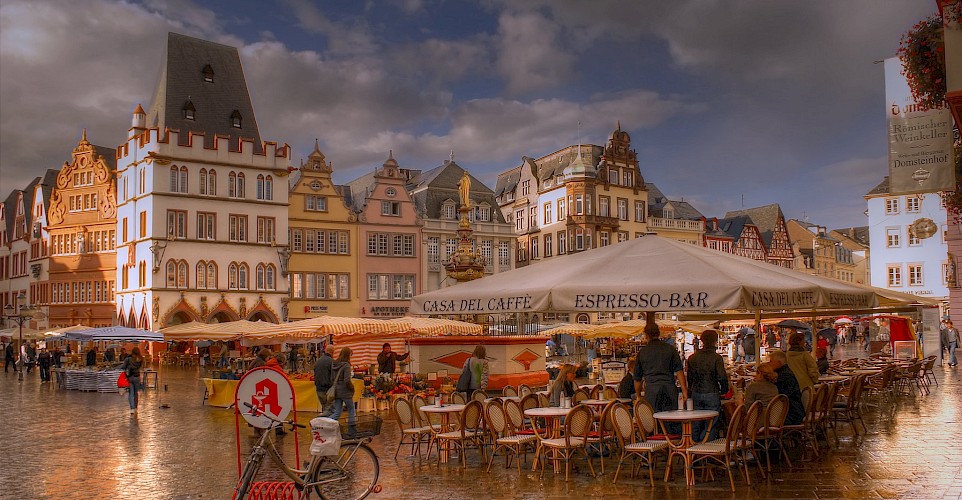 Nancy to Cochem
Three countries in one tour! Bike & Boat the Saar & Moselle Rivers!
Overview

There is nothing quite like cycling on riverside bike paths! On this three-country bike and boat tour, the Saar and Moselle Rivers are your guides, leading you through the romantic French countryside, dipping into Luxembourg for some fruit of the vine tasting, and then through German Saarland, with mountains as your backdrop.

All along the way you visit picturesque towns and ancient cities, mooring in overnight locations that will delight... Metz, Remich, and Trier, to name a few, each with its unique history and character.

This is old Europe at its best.

Highlights

River path cycling
Three countries/one tour!
Ancient French cities of Metz and Thionville
Former Roman city of Trier
Wine tasting in Luxembourg

Be sure to check out all our Bike & Boat tours in Germany!

Itinerary

Day 1: Nancy/Frouard 
Day 2: Pont-á-Mousson - Metz, 28 mi. (45 km)
Day 3: Metz – Richemont - Remich, 27 or 22 mi. (44 or 35 km)
Day 4: Remich - Trier, 28 mi. (45 km) 
Day 5: Trier, 36 mi. (58 km)
Day 6: Trier - Mehring - Bernkastel - Traben-Trarbach, 28 mi. (45 km)
Day 7: Traben-Trarbach – Zell - Cochem, 22 mi. (35 km) 
Day 8: Departure from Cochem

All distances are approximate. The itinerary is subject to change due to unforeseen circumstances, including but not limited to weather, last-minute mooring changes, and restructuring of locks or bridges.

Day 1: Nancy/Frouard 
Frouard is a small town (and the nearest port) just outside Nancy. Embarkation begins at 3:30 pm. Enjoy a complimentary arrival drink as you are introduced to the crew and informed of the wonderful week that awaits you. At 5 pm, the Merlijn will set sail for Pont-á-Mousson, a small typical French town with a rich architectural heritage. An after-dinner walk will showcase the treasures.  

Day 2: Pont-á-Mousson - Metz, 28 mi. (45 km)
After your first breakfast on board, the bike tour for the day will start. You will cycle through the French countryside, through wheat fields and tiny villages. Today's destination is Metz, an ancient French city strategically situated on a Roman trading route. Its cathedral is the 3rd largest Gothic church in France. Metz is awash with stunning architecture, flowers, and great cafés. Don't forget to visit Temple Neuf, as this church is stunning from any angle.

Day 3: Metz – Richemont - Remich, 27 or 22 mi. (44 or 35 km)
On board, you navigate to Richemont to begin your cycling day. Soon you'll reach Thionville, once the modern and industrial center of the steel industry, now merely a historical city. The old center is home to medieval ramparts, lovely gardens, old streets, and the St. Maximin basilica, which houses one of the finest organs in the world (you can also cruise a bit longer and start biking from Thionville). After your visit, you'll pedal to the fortress of Sierck-les-Bains, one of the palaces inhabited by the powerful Dukes of Lorraine. One more interesting stop before you reach the destination of Remich is a town called Schengen, home to the famous 'Schengen Agreement", signed by 5 countries in 1985, and known by everyone in Europe as it led to the free passage between borders. From here, you'll leave France and cycle into Luxembourg. After dinner, prepared by your onboard chef, you can visit a wine cellar to sample the wines of the upper Mosel. The wines here are different to the middle Mosel styles, due to the geology, which gives the wines different characteristics.

Day 4: Remich - Trier, 28 mi. (45 km) 
Cycling along the meandering Moselle River 'downstream' you will pass the Luxembourg-Germany border. You will bike on to Trier where the Merlijn will be moored and waiting. In the afternoon, you'll enjoy a guided tour of this magnificent city by a local guide. Trier was the Roman capital of the western territory of the Roman Empire. Many remnants remain such as the gigantic city gateway Porta Nigra and the Roman Baths. Dinner is on your own this evening giving you the opportunity to explore the local scene more thoroughly.

Day 5: Trier, 36 mi. (58 km)
The Merlijn will stay docked in Trier for another full day and you can choose from several options how to spend it. Those who want to cycle are in for a treat. Where most routes lead along the river, today's route is entirely through the mountains and countryside and is mostly downhill!  First you will be transferred by bus into the mountains and then by bike follow an old railroad line, transformed into a bicycle path, towards the Mosel. This ride will take most of the day.

Those who also deserve some rest during this vacation, want to go shopping or see more culture, will also find something to their liking. Leave the bike onboard for the day and walk into Trier to enjoy everything this city has to offer. Your guide will be happy to help you with your plans for the day. Tonight's dinner is once again on your own! 

Day 6: Trier - Mehring - Bernkastel - Traben-Trarbach, 28 mi. (45 km)
While enjoying your breakfast, the Merlijn will cruise from Trier to the holiday resort of Mehring. The Roman poet Ausonius already lauded this beautiful landscape in song. The Romans fell in love with this landscape more than 2000 years ago and built splendid country villas here. After visiting Neumagen-Drohn, you will bike further on to Bernkastel-Kues, where magnificent framework houses line the marketplace. After a visit to this famous and charming city, you will board the Merlijn and navigate to your day's destination.

Day 7: Traben-Trarbach – Zell - Cochem, 22 mi. (35 km) 
First on the agenda is a cruise to Zell, famous for its vineyard 'Zeller Schwarze Katz'. Then you cycle along the meandering Moselle and visit many charming villages, such as Alf, Sankt Aldegund (where you can visit a cellar brimming with liqueurs, wines, and Mosel mustards), Bremm, and finally Beilstein. After exploring this interesting medieval preserved village, you will cycle on to Cochem, where the Merlijn will await you.

Day 8: Cochem
After breakfast, it is time to say goodbye and continue your European trip or leave for the airport.

Boats & Bikes

---

Deluxe

4.8 out of 5 (10 Reviews)

"The Divine Miss M" as we lovingly call the Merlijn is a diva, for sure. What can we say? Is it the luxurious cabins with the most comfortable beds you have ever slept in? Is it the lovely dining area with the large windows and skylight that let the air, light, and sun pour in? Or perhaps it is the sun deck, where you can relax with newfound friends, sharing good wine and good conversation. We think you will find it is the entire divine package! Step on board and discover for yourself! Read More

Inclusions

What's Included

Accommodations for 7 nights in climate-controlled cabin
Welcome drink
Daily cleaning of your cabin
Tour presentation
Breakfast, 6 packed lunches, & 6 three-course dinners
27-speed touring bike (Sensa) equipped with hydraulic disc brakes, waterproof pannier, water bottle, towel & universal helmet
Supply of bedding, towels, facial tissues & soap
Coffee, tea, hot chocolate & ice water
Tour guide
Canal, bridge & harbor fees
Wine cellar visit in Luxembourg
Guided city tour in Trier
WiFi (signal speed & strength vary)

What's Not Included

One dinner
Drinks other than those mentioned as included
Electric bikes can be rented. Advance reservation required. E-bikes are German designed Gudereit brand, 7 speed, & come equipped with hydraulic brake & Bosch engine. Same accessories as for the touring bike are included.
Entrance fees not mentioned as included
Organized city tours
City maps
Bike maps
Gratuities

Bike protection

Dates & Pricing

Dates

2023

Deluxe Class

Nancy to Cochem

Saturday departure

October 21, 2023

Please Note

Rates are per person, based on double occupancy
Tour prices are based on the fuel costs at time prices are set, often months or years in advance. In rare cases, additional fees may apply for fuel cost increases.

Pricing

2023

Twin/Double

$

2935

£

1544

$

2,550

€

1740

kr

257887

₪

7198

¥

280401

Mex$

34800

NZ$

3169

NOK

20331

kr

21022

$

1,891

Twin for Single-Use
On Request

Extra Options

Electric bike rental (payable onboard): $ 304 £ 160 $ 264 € 180 kr 26678 ₪ 745 ¥ 29007 Mex$ 3600 NZ$ 328 NOK 2103 kr 2175 $ 196

Extra Info

Skill Level — Easy

This is an easy bike and boat tour that follows riverside bike paths through a mainly flat landscape.

Airport Info

The closest international airport to both your tour start in Nancy and tour end in Cochem is Luxembourg Airport (LUX). Nancy is located 124 km from Nancy and 89 km from Cochem.

Local Travel

Arriving at Luxembourg Airport (LUX), you will first take the city bus into Luxembourg Center to the Gare Rocade bus/train station. Here you can transfer to a train to Nancy. Generally, there is a stop in Metz but no change of train is necessary. Travel time from the station to Nancy is +/- 1.5 hours. For travel back to LUX after your tour ends in Cochem, you can take the train from Cochem (49 minutes) and in Trier, transfer to the airport bus (1 hour travel time) which will take you directly to the airport.

Climate

Please check local conditions before arrival. There are many wonderful sites that you can visit to research regional weather conditions and to see current weather reports. See below for average temperatures and rainfall.

Recommended

Due to variations in wifi signal strength and speed, If you are dependent on a constant, strong, fast, and reliable signal at all times, please consider a a personal hot spot.

Remarks

The cycling itinerary offered on the Merlijn has been designed and is guided by an expert guide. During the trip, the guide will adjust the plans when necessary based on the ability of the group. You are given an overview of the itinerary each day.
If you would like to cycle on your own, this may be possible. The guide and/or captain can inform you where to find the ship at the end of the day, or what time to be at a location to board. There are several maps available on board for you to use.
GPS tracks and written turn-by-turn route descriptions are not available.

Important to know

Travel Documents

It is each traveler's responsibility to ensure that you are in compliance with the country or countries you plan to visit.  This includes and is not limited to passport validity, visa requirements and acquisition, blank passport pages required for your destination (s), etc.

US citizens:  A good website to research the requirements of the Schengen Agreement and entry into other countries is travel.state.gov.
Non-EU and EU residents: Please research the requirements of your country of residence for international travel and your destination country or countries.

*Important note: Please check on the  European Travel Information and Authorization System (ETIAS) status as once implemented, this will be required to visit any of the 26 Schengen-member countries for tourism, business, medical, or transit. This is an additional check on security rather than a visa.

Covid-19 Info

Country Entry Requirements

Due to the changing requirements for entry, it is imperative that you stay up to date on requirements set by the country/countries that you are visiting. Please visit our Travel Restrictions Tool page and the country/countries government webpage for this information.

Extra Stay

Extra time in Germany is always enjoyable as there is so much to do and see. We advise Booking.com for researching and reserving your extra nights. You can read a detailed description of the hotels offered including a clear listing of amenities, customer reviews, and ratings.

---

Photos
Have you been on this tour?
Please leave your feedback