4.3

/

5

(

7

ratings)
National Parks of Dalmatia Plus
Croatia Bike + Barge Tours
Cycle Croatia and the National Parks with Ease!
Croatia is a country full of beautiful, well-kept coasts with thousands of islands, reefs, and bays. Numerous Roman ruins, charming hills, and breathtaking beauty awaits you here. Situated along the Adriatic Sea, Croatia stretches from the slopes of the alps, deep into the Pannonian Valley, to the banks of the Danube and Drava Rivers.
Come and spend a week on a ship cruising between the mainland and the sea. We are so excited to be offering this tour that is especially designed for electric bikers. If you have always desired to cycle in Croatia but have worried about the mountainous terrain, you need worry no longer. You can bike Croatia and will conquer the hills almost effortlessly. You will not be denied the breathtaking views that these mountain climbs provide. The e-bikes used on these tours are top quality Swiss Flyers. Your accommodations for this cruise, the Princess Diana, is the biggest and most comfortable boat in the Island Hopping fleet. It will be a pleasure to enjoy the islands and the Dalmatian coast with this ship. Regional cuisine and an exceptional crew with knowledgeable tour guides await.
Trogir can easily be reached via Split Airport. You will discover the charm of the Adriatic in a very unique way. After a hearty breakfast each morning, you cycle through history and culture and at midday meet the ship at a harbor for lunch. In the evening, the ship will be waiting in the next harbor for you to dine as the sun sets, followed by a stroll through the historic harbor towns.
Come bike in Croatia, land of a thousand islands!
Check out all our amazing bike and boat tours in Croatia.
Tour
Dates
On the Comfort Plus boats:
Princess Diana: July 2, July 16, August 20, September 17, October 1, and October 15, 2016
Melody: June 25, July 9, July 30, August 13, August 27, September 10, September 24, and October 8, 2016
2017 DATES
On the Comfort Plus boats:
Princess Diana: April 22, May 6, May 20, June 3, June 17, July 1, July 15, August 19, September 2, September 16, September 30, October 14,  2017
Melody: April 29, May 13, May 27, June 10, June 24, July 8, July 29, August 12, August 26, September 19, September 23, and October 7, 2017
Skill
Level
This tour requires a basic level of fitness acquired from steady cycling. The tours will traverse heights of between 200 and 500 m with daily distances ranging between 12 to 28 mi. ( 20 to 45 k ) through mountainous terrain. Tours can be completed without any time constraints. Participants will need to master long and steep climbs which present no problem with the use of the E bikes. Streets are mostly asphalted with little traffic. You can chose each day to cycle on your own with the maps and information provided or to join the two tour guides and group.
Where
You'll Stay
Aboard the comfort plus boats, the Princess Diana or the Melody.
What's
Included
8 days/7 nights' accommodations in double cabin with a crew of four
4 x full board (breakfast, lunch, and dinner) and 3 x half board (breakfast and lunch OR dinner)
English speaking tour guide
7 guided cycling tours as described in itinerary
Bed linen and towels
Daily cycling route maps
Limited number of helmets available
Entrance fees of the National parks (group visits only)
Electric bicycle with 8 gear hub shifting with pannier
21 speed hybrid bicycle also available for this tour (discount available, see pricing) with pannier
What's
Not Included
Individual travel to embarkation point
Drinks on board (tally sheet is utilized)
Taxi transfer from airport to the ship (approx. €20)
Bicycle Protection (€10 for hybrid bike and €20 for electric bike)
Visitor's tax, local charges, and unlimited water on board and during cycling: €40 (€20 for children 16 and under) to be paid on board
3-day extension module Plitvice Lakes and Zagreb (see price table)
Tips for crew and guides
Day-To-Day
Itinerary
2016
Day 1: Trogir – Rogoznica
Day 2: Rogoznica – Vodice – Slanica – Nature Park Telašcica, 15 mi. (23 km)
Day 3: Molat and Dugi Otok Islands, 23 mi. + 11 mi. (38 km + 18 km)
Day 4: Islands of Ugljan and Pašman - Zadar, 12 - 25 mi. (20 - 40 km)
Day 5: Biograd – Vodice – Skradin, 35 mi. (55 km)
Day 6: Krka Waterfalls – Šibenek - Zlarin Island,  6.2 mi. (10 km)
Day 7: Primosten – Trogir, 28 mi. (45 km)
Day 8: Trogir, disembarkation.
*All distances are approximate. The above planned itinerary is subject to change due to changing wind and weather conditions and other unforeseen circumstances having to do with mooring requirements, etc.
DAY 1: Togir – Rogoznica
Individual arrival by car to Trogir or by plane to Split airport which is about 3 mi. (5 km) away from the harbor of Trogir. Check in is between 2 and 2:30 pm. Be prompt as the boat will depart from the harbor in Trogir at about 3 pm. Covered with pine forests that reach the sea, the island of Rogoznica is a paradise. You may have opportunity to visit the the village of Rogoznica, a small fishermen's village, hidden in a deep bay well protected from the waves and open sea.
DAY 2: Rogoznica – Vodice – Slanica – Nature Park Telašcica, 15 mi. (23 km)
In the morning, the ship sails to Vodice where your cycling tour for today will begin. You will then cross the bridge to the island of Murter. In Slanica, in the Northwest of the island, the boat awaits to cross over to the island of Dugi Otok. On the way, you pass by the National Park Kornati - an archipelago in crystal clear water which is known for its rich, underwater world. Today's destination is the Telašćica Bay. The Mir salt lake is situated in this nature park. At the end of the day, you can take a short hike to the impressive cliffs.
DAY 3: Molat and Dugi Otok Islands, 23 mi. + 11 mi. (38 km + 18 km)
From the park you cycle across the almost traffic-free island of Dugi Otok until finally reaching the pine forest, agave and tamarisk bay of Božava. From there, the boat takes you to the flower island of Molat where you are free to explore by bicycle. Tonight is spent in the quiet port of the island.
DAY 4: Islands of Ugljan and Pašman - Zadar, 12 - 25 mi. (20 - 40 km)
During breakfast the boat cruises to Preko, on the island of Uglijan. From here the tour will take you to Tkon on the  island o Pasman.. Recently the two islands have been connected by a bridge. Along the east coast experience the beautiful ocean views and the opposite mainland. A short crossing takes your to Zadar. The city was the political, cultural, and spiritual center of Dalmatia for centuries. Your guide will take you on an informative walk through the streets of the lively old town. Over 3,000 years of history left its imprint on the character of this town. 
DAY 5:  Biograd – Vodice –- Skradin, 35 mi. (55 km)
First on the agenda is a passage by boat to the city of Biograd. The cycling itinerary starts with a bike ride around the Vraner Lake. Your destination is the  resort of Vodice. The Vrana Lake is the largest freshwater reservoir in Dalmatia and offers numerous migratory birds a welcome resting place. In Vodice you can enjoy lunch on board. An afternoon crossing by boat brings you closer to the Krka waterfalls which you will have time to explore the following day in the company of your tour guide. 
DAY 6:  Krka Waterfalls – Šibenek - Zlarin Island,  6.2 mi. (10 km)
After breakfast it is time to discover the unique naturally formed waterfalls of the national park of the Krka-Canyon. Afterwards the boat will take you to Šibenik out of the Krka river mouth and into the Adriatic. Here the Cathedral of St. Jacob is under UNESCO-World-Heritage protection and is regarded as the most magnificent sacral buildings on the Adriatic coast. The old town of Šibenik is also worth a visit before you cross over to the coral island of Zlarin in the afternoon. 
DAY 7: Primošten – Trogir, 28 mi. (45 km)
In the morning, the boat will cruise to Primošten. From here, you will cycle through the hinterland passing small villages, all the way to Trogir. Along the way, there are many magical views of the town and the island of Čiovo that invite all visitors to stop for a short while and take pictures. The afternoon offers enough time for a stroll through the world cultural heritage old town of Trogir. After dinner, you will enjoy the last night of this eventful trip with the crew and tour guides.
DAY 8: Disembarkation at Trogir
Your bike tour in Croatia will come to an end after breakfast
The above itinerary is for 2016.
If you are travelling in 2015, itinerary has been modified slightly. Ask us!
Looking for more?  View all of our featured bike and barge tours, or view our full list of bike trips.
Email or Call 800-951-4384 +1 570-965-2064
---
National Parks of Dalmatia Plus
Boats + Barges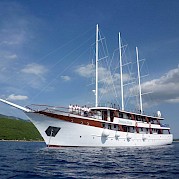 Princess Diana Croatia Comfort Plus Class Boat Built in the winter of 2011/2012, this 3-masted elegant motor yacht is the biggest boat we offer in Croatia. The saloon will offer enough space for everyone during evening meals, but you may also choose to enjoy your meal outside. A sun-bathing platform is available at the stern – offering an easy access for swimming in the sea! For relaxation, numerous sun mats and beds are available on the sundeck. The friendly crew will always help you to enjoy your Croatian vacation as much as possible!
Melody Croatia Comfort Plus Class Boat The Melody is a brand new boat launched in the 2015 season. Measuring 42 m long x 8.30 m wide, it is a ship of class and style, crafted for the regeneration of body and mind. Her exquisite décor and elegant form conjure a regenerative atmosphere for the comfort of small groups of up to 28 people. Eight highly experienced crew members are registered under Captain Pave to cater for the well-being of the passengers on board.