3

/

5

(

5

reviews)
Poland's Lake District
Poland Bike + Barge Tours
A bike and boat tour in Masuria, Poland
A bike and boat tour in Poland? You asked, we searched, and we found this bike and boat tour in Masuria, the lake district of northeastern Poland. You will pedal through a land of native forests and wide heather plains dotted with storks, villages, and farms, an area of simple, natural beauty with more than 2,000 lakes, connected by countless canals and rivers. This region was selected as one of 28 finalists of the New 7 Wonders of Nature!

Highlights:

Natural landscape of the Lake District
Baerenwinkel viewpoint
Historical sites such as Wolf's Lair
Boat tour at the Kruttinna
Boyen Fortress in Gizycko
Castle of Ryn

Tripsite has personally explored this bike and boat tour and has returned with first-hand information regarding the boat and the routes. This is a tour for those who love the water and the lakeside atmosphere and experience. It is a prime destination for nature and active enthusiasts and for history lovers. It is not a tour for someone who is looking for mainstream Europe, with paved cycling paths, and quaint villages. You will ride on very sandy forest paths through a very rural enviroment that require excellent balance and command of your bicycle. Though electric bikes are available for this tour, this may not be a solution for all. Remember that electric bikes are much heavier than regular touring bikes.

Read our blog on this tour so that you can be fully informed!

We have one other bike and boat tour in Poland. Check it out.

2020

Double/twin cabin - upper deck: $ 1953 £ 961 $ 1,684 € 1065 $ 2004 kr 11934 $ 1,190 Double/twin cabin - lower deck: $ 1770 £ 871 $ 1,526 € 965 $ 1816 kr 10813 $ 1,078 Double cabin/single use (only available on lower deck): $ 2495 £ 1227 $ 2,150 € 1360 $ 2560 kr 15239 $ 1,519  

extra

options

Touring bike rental to be paid onboard: $ 101 £ 50 $ 87 € 55 $ 104 kr 616 $ 61 Electric bike rental to be paid onboard: $ 303 £ 149 $ 261 € 165 $ 311 kr 1849 $ 184

please

note

This tour is operated by a German company and a favorite with German cyclists. Traditionally, the tours have been conducted in German. Many times the guides speak English as well. If a bilingual guide is not available, an exclusive English speaking guide can be brought on board for a supplement and can be shared between two, three, four, people or large groups. The crew speaks limited English but are always willing to learn and understand.

Rates are per person based on double occupancy.

A non-refundable admin fee of 20 Euros per person is included in the deposit amount.

Information to read before you book.

We recommend purchasing bike trip insurance.

† Currency exchange rate set 90 days before travel.

Travel

Fly to Warsaw Frederic Chopin Airport (WAW)

Local Travel

Included in your tour is an arrival or departure transfer either from the airport or the Central Train Station. At the airport, the meeting point is Arrival Hall, meeting point, exit 2. At the train station, the meeting point is the arrival hall of Warsaw Central Train Station. A representative will be waiting with a sign "Masuren - Transfer". Please let us know if your arrival is at another airport, train station, or by car and we can provide more details for you. After the tour, return transfer is provided to Warsaw Airport or train station. Timetable for transfers:

Warsaw - Masuria
Airport Frederic Chopin: 14:30 – arrival railway station Warsaw Central: 14:55 
Departure railway station Warszawa Central: 15:00 
Arrival in Piaski 19:45

Masuria – Warsaw
Departure Piaski 07:00 – arrival railway station Warsaw Central - 11:45
Departure railway station 11:50 – arrival airport Frederic Chopin 12:20 
Times approximate depending on traffic, etc.

Climate

Please check local conditions before your arrival. A good website to use to research average high/low temperatures, average rainfall, and other weather-related information is weatherbase.com.

Recommended

Please pack lightly as space in cabins is limited, measuring 11 m square.

Remarks

This tour is operated by a German company and a favorite with German cyclists. Traditionally, the tours have been conducted in German, but many of the guides do speak English. If an English speaking guide is not available on your tour date, you can request one. The supplement will be shared among the number of participants. Be sure to plan some extra time in Warsaw!

Travel Documents:


Before you travel, please check your country's passport and visa requirements and the passport and visa requirements of the country/countries you plan to visit. For US citizens, the US Department of State website is a good source of information. The Country Information tab in the International Travel section provides details about passport validity, blank passport pages required, etc. For our other international clients, please be sure that you research your own country's travel requirements. It is each traveler's responsibility to insure proper documentation. 

---
Skill
Level
Rating a tour is one of the most difficult things that we do. Where one might find a tour moderate, another may call it difficult. Overall, this tour is a moderate tour, but there are some very sandy sections that many will call difficult. Tne terrain varies from flat to rolling hills with a few steeper climbs. The roads that you will cycle are mostly paved, quiet country roads but you will also cycle as well on some very sandy forest and meadow paths. Keep this in mind because if weather is severely dry, or wet, there may be sections where you will need to walk your bike. There is very minimal cycling on roads with traffic, but when entering and exciting towns, some traffic is unavoidable. Daily stages are from 25 to 54 km with a total cycling distance of 260 km. Though electric bikes are available for this tour, this may not be a solution for all. Remember that electric bikes are much heavier than regular touring bikes and actually require a greater command of the bicycle on this varied terrain than the regular touring bikes.
Where
You'll Stay
Accommodation on the "MS CLASSIC LADY, a riverboat with 20 cabins
What's
Included
7 nights accommodation
Breakfasts and dinner
Airport transfers to and from the boat
Bed linens and towels
Harbor, bridge, and port fees
Tour guide
Ferry and punt ride
Entrance fees to the following: Wolfsschanze, Festivals Boyen, Museum of Local History in Zondern, sheep farm, Tarpan station in Popiellnen, Philippine monastery
1 informational packet per cabin
What's
Not Included
Rental bike, 7 gears unisex bike with back pedal brake equipped with one pannier (cost is to be paid directly on board)
Lunches
All beverages
Tour
Dates
2020 Dates:
Fully booked for 2020 season. Waitlist possible. Just ask!
July 18, August 8, and September 5, 2020
Tour
Boats
Day-To-Day
Itinerary
Day 1: Arrival in Piaski, Masuria Lake District
Day 2: Bärenwinkel - Johannisburg (Pisz), 28 mi. (45 km)
Day 3: Rhein (Ryn) - Wolf's Lair, 31 mi. (50 km)
Day 4: Lötzen (Gizycko) - Lake Goldapgar, 34 mi. (54 km)
Day 5: Rhein (Ryn) - Zondern - Nikolaiken, 26 mi. (42 km)
Day 6: Nikolaiken - Popiellnen - Piaski, 16 mi. (25 km)
Day 7: Eckertstorf - Kruttinnen - Piaski,  27 mi. (43 km)
Day 8: Individual departure or extension

All distances are approximate. Depending on water levels in the canals, for example, during extended periods of dry weather, the route can be subject to change. However, the characteristics of the tour remain unchanged. Depending on weather and conditions, daily routes may be altered.
Day 1:  Masuria
Included group bus transfer will make a stop at the Warsaw airport or Warsaw Central train station and transfer the entir group to the boat.  Travel time is approximately  4 1/2 hours from the central train station.Your accommodations for your adventure, the MS Classic Lady, awaits in Piaski, Mazuria in a camp-like setting in the woods. It is a lovely spot for swimming or exploring the lake by canoe. During this first day, you will receive personal tour information and if time permits, hand over of the rental bikes. If this does not occur on the first day, you will receive your bikes the morning of the second day.
Day 2: Bärenwinkel - Johannisburg (Pisz) by bike, Wejsuny - Nikolaiken, by boat, 28 mi. (45 km)
Your cycling adventure begins, leading eastward across Wejsuny, an old East Prussian village, Viewpoint on Lake Spirdingsee, providing a beautiful panorama of the passing sailboats and Devil Island. According to legend, evil spirits still live there. Frederick the Great once built a fortress on the island and today, a few ruins remain. As you cycle, you will pass through Pisz, located at the junction of Lake Roś and the Pisa River, with its gothic town hall and market place. Perhaps you would like to take the time to visit the museum in Pisz which houses  a rich collection of fauna and flora from the surrounding area and archeological, ethnographic and historical souvenirs.  You can also have an opportunity for swimming! Continuing on, the boat awaits in Wejsuny and will upon boarding, navigate to Nikolaiken.
Day 3: Nikolkaiken - Rhein (Ryn) - Wolfsschanze - Wilkasy,  31 mi. (50 km)
In the morning, the boat takes you to Rhein (Ryn). From here you bike to Wolf's Lair, where you can see the remains of Hitler's military headquarters during World War II. A side trip (adds about 17 km) to Rastenburg (Ketrzyn) with its castle and fortified church is recommended. Finally, you pass meadows, fields, and lonely hamlets until you reach Wilkasy where the MS CLASSIC LADY awaits you.
Day 4: Loop ride, Wilkasy - Lötzen (Gizycko) - Lake Goldapgar - Wilkasy, 34 mi. (54 km)
Lötzen is the water sports center of Masuria. The  Boyen Fortress and the church, which was built using the plans of the court architect Schinkel, are worth a visit. The fortress successfully withstood Russian attacks during WWI. In WWII, it was a defensive outpost of Wolf's Lair and was relinquished to the  Red Army without a fight during the 1945 offensive. The biking itinerary leads via Lötzen to Lake Goldapgar and follows the shores via Possessern back to  Wilkasy .
Day 5: Wilkasky - Rhein (Ryn) - Zondern - Nikolaiken, 26 mi. (42 km)
Today your day starts with a scenic cruise on the beautiful five-lakes-route to Szymonka. The first part of the bike tour goes to Rhein and its 14th-century castle. You continue to Zondern and along  Lake Talty, where you have an amazing view across the Lakes District. Finally, you return to the MS CLASSIC LADY in Nikolaiken and will overnight here.
Day 6: Nikolaiken - Popiellnen - Piaski, 16 mi. (25 km)
Today you can take an extra trip to the swan habitat on Lake Lucknaier (adds about 10 km). Otherwise, you have time for a stroll through Nikolaiken before taking the ferry to Spirding (Wierzba), where you visit Popiellnen (breeding station for the primeval Tarpan horse). Afterward, you cycle through Weissuhnen, where you can visit the beautiful church and through Ruciane Nida back to Piaski. (Alternative you cycle to Lake Niedersee (Ruciane Nida), before returning to the idyllic bay of Piaski).

Day 7: Loop ride, Piaski - Eckertstorf - Kruttinnen - Piaski,  27 mi. (43 km)
Today you cycle to Kruttinen via Eckertstorf (Wojnow) with its Russian Orthodox Old Believer Philipponen convent. In Kruttinen a short boat trip on the Kruttina Stream is recommended! Via Galkowo you cycle back to Piaski and join the MS Classic Lady for the last night on board.
Day 8: Individual departure or extension
Transfer to Warsaw (included in package price) and individual departure or continued stay in the Masurian Lakes District.  Group transfer leaves at 7 am.
Perhaps you are looking for other bike and barge tours, or view our full list of bike trips.
Email or Call 800-951-4384 +1 570-965-2064
---
Poland's Lake District
Boats + Barges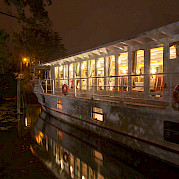 MS Classic Lady Poland Standard Class Boat MS Classic Lady was built in 2003 especially for bike and boat tours in the Masuria Lake District.