Paris to Reims
France Bike + Barge Tours
Cycle France to the most Romantic city in the World!
This bike tour in France follows the beautiful valley of the river Marne. Along the way, there will be plenty of opportunity to taste the cheese and the champagne that this part of France is famous for.

Depending on tour date, you will begin in Paris and end in Reims or begin in Reims and end in Paris. Paris of course is City of Light and Reims, important center of Champagne production.

Beginning in Reims, with its beautiful gothic cathedral, the cycling route follows the valley of the Marne downstream. On the first night, the boat docks in the city of Epernay, capital of the Champagne region. Here, you will visit the immense champagne cellars, as well as small champagne growers, who will be proud to let you taste their best champagne. From Epernay, you arrive in the real Champagne region and you bike straight across the vineyards on the rolling banks of the Marne.

Château-Thierry, scene of the American battles in World War I, is a fascinating stop in this France bike tour. Finally, you will reach the destination- Paris, the capital of France, Paris.

Be sure to check out all our bike tours in France!

8 day tour 
Low bed cabin:  £ 1012 $ 1,574 € 1045 NOK 10624 kr 9807 $ 1,275 Bunk bed cabin: £ 978 $ 1,521 € 1010 NOK 10268 kr 9478 $ 1,232

15 day tour
Low bed cabin: £ 1859 $ 2,892 € 1920 NOK 19520 kr 18018 $ 2,342 Bunk bed cabin: £ 1786 $ 2,779 € 1845 NOK 18758 kr 17315 $ 2,251  

 

extra

options

Electric bike rental per week: £ 50 $ 78 € 52 NOK 529 kr 488 $ 63

Bunk bed cabin (single use) per week: £ 1143 $ 1,777 € 1180 NOK 11997 kr 11074 $ 1,440      

please

note

Rates are based on double occupancy.

Information to read before you book.

We recommend purchasing bike trip insurance.

† Currency exchange rate set 90 days before travel.

Travel

Fly into Charles de Gaulle International Airport in Paris

Local Travel

From Paris Charles de Gaulle you can travel by TGV (fast train) to the train station Champagne-Ardennes and from there take a connecting train to the central station in the city of Reims. This trip will take ca. 1.5 hours

Climate

Check local conditions prior to arrival. Average high/low temperature in degrees Fahrenheit: July 76/56º.

---
Tour
Dates
Paris to Reims: July 7, August 18, 2018      
Reims to Paris: July 14, August 25, 2018                                                                                                                                                                                 
Where
You'll Stay
Accommodations aboard the Feniks, a Standard Plus boat.
What's
Included
Accommodations on board for the duration of the tour
21-speed bicycles with pannier, lock and water bottle
Multilingual tour guide
Route program with city maps
7 x breakfast, 7 x lunch package and 6 x dinner a week
Coffee, tea and biscuits
Afternoon snacks
Cabin with private bathroom including bed linen and fresh towels
Shampoo, shower gel and soap
Daily check of your cabin, once a week extra cleaning
Service for personal laundry
Ferry fares
What's
Not Included
Entrance fees for museums, monuments, etc.
Travel insurance
Bicycle protection
Beverages
Skill
Level
This bike tour in France is considered moderate as the cycling terrain has many rolling hills on small country roads
Tour
Boats
Day-To-Day
Itinerary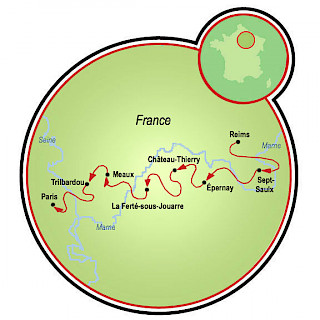 Itinerary aboard the Feniks: 
Paris to Reims
Day 1: Paris
Day 2: Paris - Lagny, 21 (35 km)
Day 3: Lagny - Meaux - La Ferte sous Jouarre, 21 or 31 miles (35 or 50 km)
Day 4: La Ferte sous Jouarre - Chateau Thierry, 28 miles (45 km)
Day 5: Chateau Thierry - Dormans, 21 miles (35 km)
Day 6: Dormans - Isse, 31 miles (50 km)
Day 7: Isse - Reims, 31 miles (50 km)
Day 8: Reims
Reims to Paris
Day 1: Reims
Day 2: Courcy - Bourg et Comin, 31 miles (50 km)
Day 3: Bourg et Comin - Soissons, 28 miles (45 km)
Day 4: Soissons - Verberie 31 miles (50 km)
Day 5: Verberie - Creil - Pontoise, 31 miles (50 km)
Day 6: Pontoise - Bougival, 24 or 31 miles (40 or 50 km)
Day 7: Bougival - Paris, 17 miles (27 km)
Day 8: Paris
(Itinerary is subject to change at the discretion of the captain or guide)
Can be combined into a 15 day tour!
Email or Call 800-951-4384 +1 570-965-2064
---
Paris to Reims
Boats + Barges
Feniks Belgium, Netherlands, France Standard Plus Class Boat Originally, the Feniks was built in 1928 as a freighter on the Dutch, Belgium and French inland waters. In 1992, the Feniks was converted to a hotel passenger ship and put in service for various sailing holidays. Since then, she has undergone several renovations to keep up-to-date with all modern facilities.