4

/

5

(

2

reviews)
Paris to Reims
France Bike + Barge Tours
Bike and boat in the famous Champagne Region of France
This bike tour in France follows the beautiful valley of the Marne River. Along the way, there will be plenty of occasions to taste the cheese and sip the champagne for which this part of France is famous.

Depending on your tour date, you will either begin in Paris and end in Reims or begin in Reims and end in Paris. Paris, of course, is the City of Light and Reims, an important center of Champagne production. You cycle through rural countryside via the region of Meaux, famous for its Brie cheese, into the vineyards of the Champagne Region.

You will visit extensive champagne cellars, as well as small champagne growers, who will be proud to let you taste their best champagne.

Highlights:

Reims and its immense Gothic Cathedral
Epernay, capital of the Champagne region
Champagne cellars
Château-Thierry, scene of the American battles in World War I
WWI memorial and park in Dormans

Would you like to see other bike and boat tours in France? Please click here for a complete list of all our bike and barge tours in France.

2020

Feniks
 
Luxury cabin

$

2628

£

1320

$

2,278

€

1465

$

2719

kr

16326

$

1,629

Low beds

$

2243

£

1126

$

1,943

€

1250

$

2320

kr

13930

$

1,390

Single cabin

$

2809

£

1411

$

2,435

€

1566

$

2906

kr

17452

$

1,742

Bunk bed cabin/twin use

$

1911

£

959

$

1,656

€

1065

$

1976

kr

11868

$

1,184

 

extra

options

2020

Electric bike rental: $ 90 £ 45 $ 78 € 50 $ 93 kr 557 $ 56 All-inclusive beverage package (wine, beer, soda): $ 179 £ 90 $ 155 € 100 $ 186 kr 1114 $ 111

 

please

note

Rates are per person based on double occupancy.

A non-refundable admin fee of 20 Euros per person is included in the deposit amount.

Information to read before you book.

We recommend purchasing bike trip insurance.

† Currency exchange rate set 90 days before travel.

Travel

Fly into Charles de Gaulle International Airport in Paris (CDG)

Local Travel

If tour begins in Paris:
To get from Charles de Gaulle airport (CDG) to the city center of Paris, you have three transfer options, train, bus or taxi. One inexpensive transfer option is to take the regional RER train. This takes around 50 minutes to reach the city and costs only €10. Another inexpensive transfer option is the bus. Bus tickets cost from €11.50 and journey time is around 70 minutes. There is also the Le Bus Direct, a faster service that is direct, and costs €17. Of course the fastest and most convenient option to reach the city center is by taxi. A taxi from Charles de Gaulle airport to Paris is charged by a flat rate and will cost you approx. €60.
If tour begins in Reims:
There are no direct trains from CDG to Reims. Take the RER train from the airport to Gare du Nord and walk (or short taxi)to Gare de l'est, then take a direct train to Reims.
Docking schedules will be provided with final travel information approx. one month before your tour date.

Climate

The climate of the Champagne region is mild and consistent, especially considering its northern location, and contributes as much as the grapes themselves to the production of champagne. This region has extended sunny days in the summer and early fall because of its northern location. Estimates indicate the the Champagne region experiences 500 hours of sunshine per year. Be sure you check local conditions before your arrival. A good website to visit to explore regional weather conditions including average high/low temperatures, average rainfall, and more is weatherbase.com.

Recommended

In France, it is not mandatory for adults to wear a helmet, however, we strongly recommend that you do so. There are a few helmets on board the Feniks available to borrow. We advise that you bring your own helmet for proper fit and safety.

Documents

Before you travel, please check your country's passport and visa requirements and the passport and visa requirements of the country/countries you plan to visit. For US citizens, the US Department of State website is a good source of information. The Country Information tab in the International Travel section provides details about passport validity, blank passport pages required, etc. For our other international clients, please be sure that you research your own country's travel requirements. It is each traveler's responsibility to ensure proper documentation.

*Important note: Beginning July 1, 2021, additional documentation from the European Travel Information and Authorization System (ETIAS) will be required to visit any of the 26 Schengen-member countries for tourism, business, medical, or transit. This is an additional check on security rather than a visa.

Life on board

Coffee and tea will be available starting at 7:15 am
Breakfast is served at 8 am 
Bread, cheese, fruit, drinks, and a snack are available to make your own lunch package
Cyclists are finished for the day between 3 - 5 pm. Coffee, tea, and a hearty snack will be available.
Soda, beer, wine is tallied, payable at end of tour. All inclusive package is available
A corkage fee of €7.50 applied for bringing own wine onboard
Dinner is served between 7 and 7:30 pm.
After dinner, the next day's itinerary is discussed. If you want to cycle self-guided, he can assist
Guided walks in the evening are offered
Cabins are air-conditioned
Water from tap is drinkable
Cabins are practical but small. Pack accordingly.
Laundry service is available. Clothes are returned freshly laundered but NOT dry. There is an area midship in which you can hand your clothes
 

---
Tour
Dates
2020
Paris to Reims: May 23, June 6, August 15, 2020
Reims to Paris: May 30, June 13, and August 22, 2020                                                                                                                                                                
Skill
Level
This is a moderate level tour that is at times challenging with hilly terrain and varied country roads. It is for experienced bikers in good physical condition. The tour is fully guided and every day you will cycle along small country roads (short distances on dirt or semi-paved roads and tracks) that go up and down the hills adjacent to the river valley and through Champagne vineyards. Cycling distances vary from 35–50 km (21 - 31 miles) per day.
Where
You'll Stay
Accommodations aboard the Feniks, a comfort class vessel
What's
Included
7 nights accommodations
Basic toiletries
7 breakfasts, 7 lunch packages, and 6 dinners
Coffee, tea, and biscuits
Afternoon snacks
24-speed Gazelle bicycles in both women's and men's frames with helmets, pannier, lock, and water bottle. Repair kit is provided if you want to cycle self-guided. Tandems may be available.
Multilingual tour guide
Route program with city maps
Daily cabin cleaning
Laundry service (clothes are returned freshly washed but not dry and can be hung mid ship)
Beverages other than those mentioned (beverage package available with supplement. See pricing.)
Ferry fares
†Wifi
†Important to note, due to steel construction of the ship, cruising locations, and other factors, Wifi signal speed and strength may not be what you are accustomed to and may not meet your expectations. If you are dependent on a constant, strong, fast, and reliable signal at all times, please consider a personal hot spot. See our FAQ page.
What's
Not Included
Beverages
Entrance fees for museums, monuments, etc.
Gratuities
Day-To-Day
Itinerary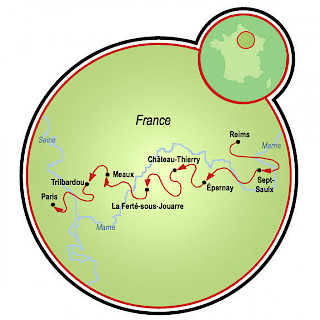 Paris to Reims
 
Day 1: Paris
Day 2: Paris - Lagny, 21 (35 km)
Day 3: Lagny - Meaux - La Ferté sous Jouarre, 21 or 31 miles (35 or 50 km)
Day 4: La Ferté sous Jouarre - Chateau Thierry, 28 miles (45 km)
Day 5: Chateau Thierry - Dormans, 21 miles (35 km)
Day 6: Dormans - Isse, 31 miles (50 km)
Day 7: Isse - Reims, 31 miles (50 km)
Day 8: Reims
Average daily distance is 45 km. This itinerary is subject to change, even on short notice, due to changing wind and weather conditions and other unforeseen circumstances having to do with mooring requirements, docking location changes, lock repairs,  etc.

Day 1: Paris
The barge will be moored in central Paris. Boarding  begins at 11 am. Please check-in before 2 pm as the boat does depart at 3 pm for a canal cruise to the Seine, navigating upstream to the confluence of the Seine and Marne Rivers. You can bring your luggage on board beginning at 10:30 am but cabins will not be ready to check in until 11.
Day 2: Paris - Lagny, 21 (35 km)
The cycle route takes place mostly on bike trails and quiet roads with relatively low traffic. You leave Paris near the Bois and chateau of Vincennes. Today's destination is Lagny. 
Day 3: Lagny - Meaux - La Ferte sous Jouarre, 21 or 31 miles (35 or 50 km)
Today you enter the region of Brie, famous around the world for its soft cheese. Cycle on to Meaux, with its unfinished Gothic cathedral. After a visit to the city center, there are some hills to contend with. The Feniks will be moored not far from the little town of La Fertésous-Jouarre. Here you can enjoy a visit to Jouarre (church, abbey, crypt) on the hilltop.
Day 4: La Ferte sous Jouarre - Chateau Thierry, 28 miles (45 km)
Today's cycle route is a nice ride in the countryside with some hills but your reward is your first encounter with the beautiful vineyards of the Champagne region. You will cycle in the river valley and visit Chateau Thierry.
Day 5: Chateau Thierry - Dormans, 21 miles (35 km)
Today's route takes you along the river with a few hills to climb. On the agenda is a visit to the WWI memorial and park in Dormans. The afternoon is free for you to explore Dormans.
Day 6: Dormans - Isse, 31 miles (50 km)
Leaving Dormans, you will cycle through vine-covered fields and over some hilly terrain. The route leads through Epernay, the center of the Champagne industry. Here you will visit one of the many Champagne houses for a guided tour of the cellars. Then, following the canal next to the Marne River, cycle to Condé, where the canal to Reims starts. The night is spent near Condé or Isse.
Day 7: Isse - Reims, 31 miles (50 km)
Leaving the Marne Valley, the terrain is undulating and the climbs are rewarded with beautiful views. Through a nice wooded valley, you will cycle to Verzy, a forest with crooked trees. A ride through vineyards brings you to the plain. After lunch in Sillery, you follow the bike path along the canal into Reims where a visit to the cathedral should not be missed.
Day 8: Reims
Departure following breakfast. You are asked to check out by 10 am but can leave your luggage onboard until 2 pm.  
Reims to Paris
 
Day 1: Reims
Day 2: Courcy - Bourg et Comin, 31 miles (50 km)
Day 3: Bourg et Comin - Soissons, 28 miles (45 km)
Day 4: Soissons - Verberie 31 miles (50 km)
Day 5: Verberie - Creil - Pontoise, 31 miles (50 km)
Day 6: Pontoise - Bougival, 24 or 31 miles (40 or 50 km)
Day 7: Bougival - Paris, 17 miles (27 km)
Day 8: Paris
Can be combined into a 15 day tour!
If you're looking for a different flavor, check out our full list of bike and boat tours or view all our featured bicycle tours, specials, and news.
Email or Call 800-951-4384 +1 570-965-2064
---
Paris to Reims
Boats + Barges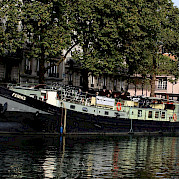 Feniks Belgium, Netherlands, France Comfort Class Boat Originally, the Feniks was built in 1928 as a freighter on the Dutch, Belgium and French inland waters. In 1992, the Feniks was converted to a hotel passenger ship and put in service for various sailing holidays. Since then, she has undergone several renovations to keep up-to-date with all modern facilities.